Terunobu Fujimori built fairy tale-like treehouse among cherry blossoms in Japan
This fairy tale-like treehouse supported only by a single cypress trunk standing alone among the variety of cherry blossoms in the Kiyoharu Art Village, Hokuto, Japan. This charming minimalist treehouse is actually designed as a teahouse, literally called Teahouse Tetsu, and creates the most funny space to sit, talk and look at the artful scene of the village from its tiny windows with the cherry blossoms in full bloom.
Designed by Japanese architect and architectural historian Terunobu Fujimori, the Teahouse Tetsu is a perfect expression of surreal beauty and of any treehouse, reflecting his vision and artful imagination as a revival of minimalism and modernism in this limited space. Considering its playful and sleek appearance, the house seems to exist solely for the purpose of beauty.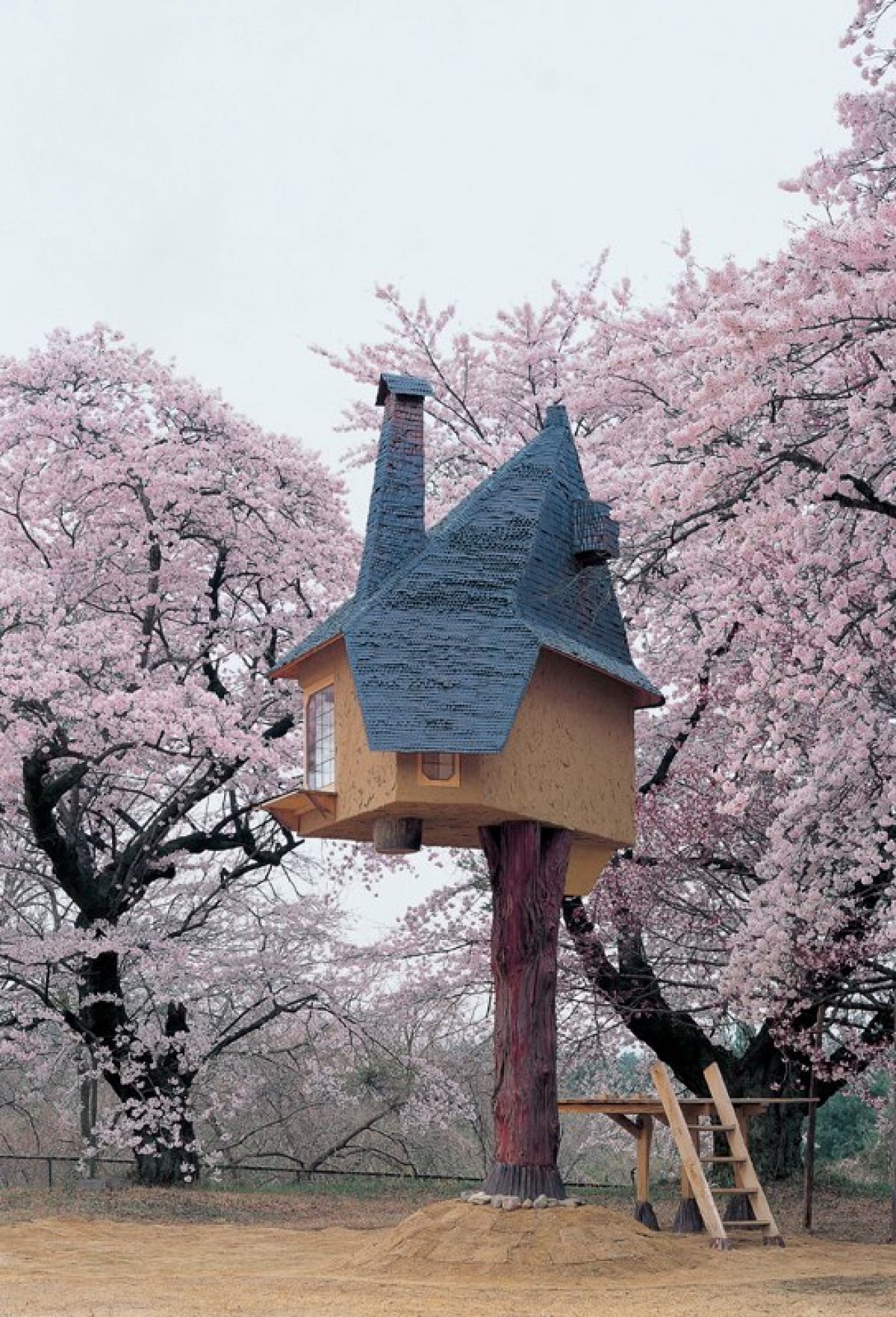 Image © Akihisa Masuda
Terunobu Fujimori designed this charming treehouse for the Kiyoharu Shirakaba Museum, set within the Kiyoharu Art Village, an art colony established on the former site of an elementary school and dotted with museums, studios, restaurants, which opened in 1983.
Map of the Kiyoharu Art Village. Image courtesy of Kiyoharu Art Village
The art village started to be shaped when art dealer Yoshii Chozo built the Shirakaba Art Museum, a dream project of a loose group of Japanese art lovers and intellectuals called the Shirakaba-ha.
Image courtesy of Kiyoharu Art Village
Kiyoharu Art Village includes La Ruche, Kiyoharushirakaba Museum, Museum of the Light, Rouault Chapel, Tearoom Tetsu, Ryuzaburo Umehara Atelier, Shirakaba Library, Kiyoharu Ceramic Studio, Eiffel Tower's Staircase, Kiyoharu Electric Kiln, Museum Shop, Organic restaurant "La Palette" and Cherry Tree.
Fujimori's Teahouse Tetsu is just one of 10 artful projects installed in this village, and visitors come to this site to experience paintings in an art museum, and take a little time to relax and be at peace.
Image courtesy of Kiyoharu Art Village
The Teahouse Tetsu is made of natural materials such as earth, wood and stone and built with a cypress of 80 years old which was grown in this Kiyoharu Art Colony.
The tea-room is raised four meters from the ground and the interior provides a 5,6-square-metre space, but visitors are strongly encouraged to enjoy the teahouses expansive view. The interior space features sliding wooden doors and shutters, which creates a contrast with its outer appearance.
Image courtesy of Kiyoharu Art Village
Many top Japanese artists also participated in its construction, for example, modern artists Genpei Akasegawa, Shinbo Minami, and Joji Hayashi laid the iron roof and spread on the plaster of the walls.
The Teahouse Tetsu is also included in a recently-published book titled "Tree Houses: Fairy Tale Castles in the Air" by Philip Jodidio, which has been listed in World Architecture Community's Top 10 Architecture Books of 2017.
Image © Akihisa Masuda
Image © Akihisa Masuda
Image © Dana + LeRoy Bunward
Terunobu Fujimori, 71, is not widely known in the West but he is mostly best known with his eccentric and otherworldly tree houses in Japan and his use of natural materials in these minimal spaces.
In the 1970s and 80s, he made studies of the city including early Western buildings and unusual occurrences but these researches did not turn into architecture until he was in his forties.
Fujimori represented Japan at the 2006 Venice Biennale. Roof House, built in 2009, in Shiga Prefecture, Chocolate House, built in 2009, in Kokubunji, Tokyo and Takasugi-an Tea House, built in 2004, in Chino, Nagano only a few of his well-known projects. He is currently a professor at the University of Tokyo's Institute of Industrial Science.
Top image © Sjonnie van der Kist
> via Kiyoharu Art Village