Top 10 Architecture Books Of 2017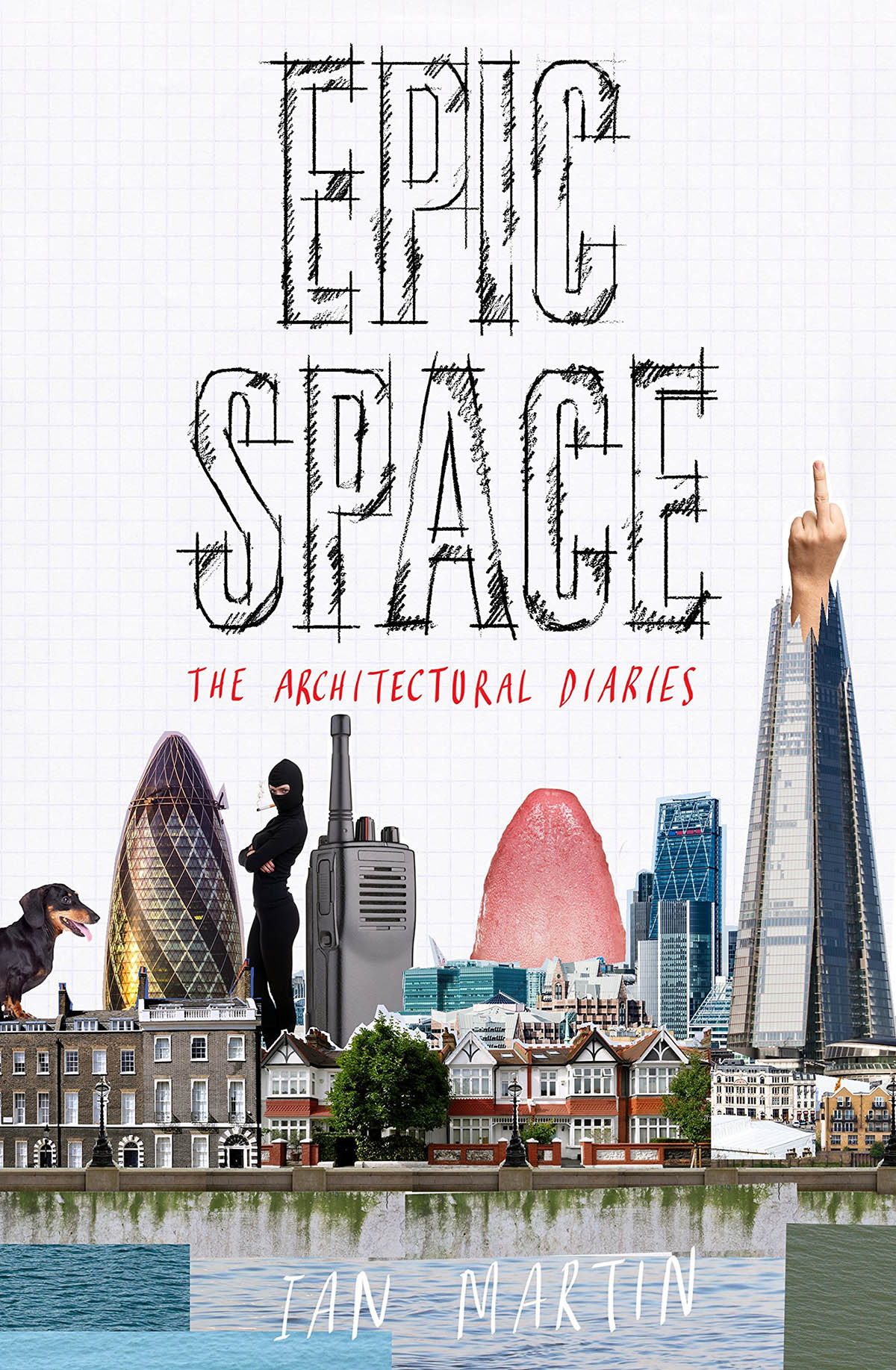 As we approach to 2018, we have rounded up the best architectural books of 2017 for our readers. Picked up from WAC Books, World Architecture Community's selection does not necessarily follows the same form of architectural production in similar lines, but lists a diverse selection of books with different social and political discourses in different categories.
Yayoi Kusama's illustrative children's book Yayoi Kusama: From Here to Infinity!, OMA Partner Reinier de Graaf's Four Walls and a Roof: The Complex Nature of a Simple Profession, examining the complex relationships of professional practice, and Philip Jodidio's Tree Houses: Fairy Tale Castles in the Air, exploring 50 of the most beautiful, inventive, and enchanting tree houses around the world, are just among the most captivating stories of 2017.
See our extensive archive on architectural books here and pick your favourite book below:
1. Design for Good: A New Era of Architecture for Everyone by John Cary (Author)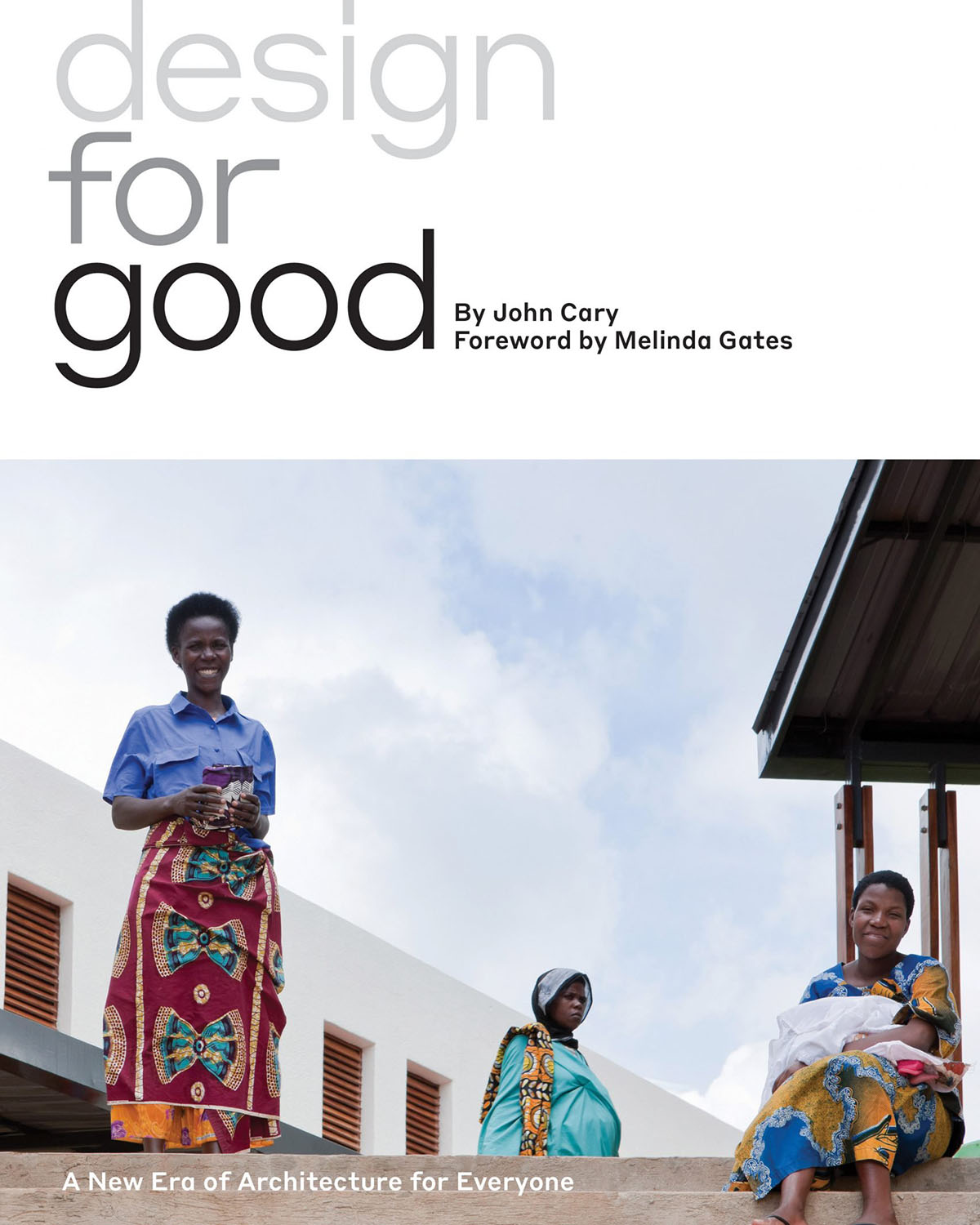 "I can't recommend John Cary's book, Design for Good, highly enough. His argument...is clear and revolutionary," said Melinda Gates.

"That's what we do really: we do miracles," said Anne-Marie Nyiranshimiyimana, who learned masonry in helping to build the Butaro Hospital, a project designed for and with the people of Rwanda using local materials. This, and other projects designed with dignity, show the power of good design. Almost nothing influences the quality of our lives more than the design of our homes, our schools, our workplaces, and our public spaces. Yet, design is often taken for granted and people don't realize that they deserve better, or that better is even possible.

"In Design for Good, John Cary offers character-driven, real-world stories about projects around the globe that offer more—buildings that are designed and created with and for the people who will use them. The book reveals a new understanding of the ways that design shapes our lives and gives professionals and interested citizens the tools to seek out and demand designs that dignify."
2. Four Walls and a Roof: The Complex Nature of a Simple Profession by Reinier de Graaf (Author)
"Reinier de Graaf's candid and witty dissection of the architectural professional incorporates ideas that must be challenged," said Patrik Schumacher in his comprehensive review.
"I predict that it will be a bestseller, and this anticipation motivates my review, because despite its playful inconclusiveness,de Graaf's analyses carry undercurrent messages that are problematic," added Schumacher.
"Architecture, we like to believe, is an elevated art form that shapes the world as it pleases. Four Walls and a Roof challenges this notion, presenting a candid account of what it is really like to work as an architect."
"Drawing on his own tragicomic experiences in the field, Reinier de Graaf reveals the world of contemporary architecture in vivid snapshots: from suburban New York to the rubble of northern Iraq, from the corridors of wealth in London, Moscow, and Dubai to garbage-strewn wastelands that represent the demolished hopes of postwar social housing. We meet oligarchs determined to translate ambitions into concrete and steel, developers for whom architecture is mere investment, and the layers of politicians, bureaucrats, consultants, and mysterious hangers-on who lie between any architectural idea and the chance of its execution."
3. Frank Lloyd Wright Paper Models: 14 Kirigami Buildings to Cut and Fold by Marc Hagan-Guirey (Designer)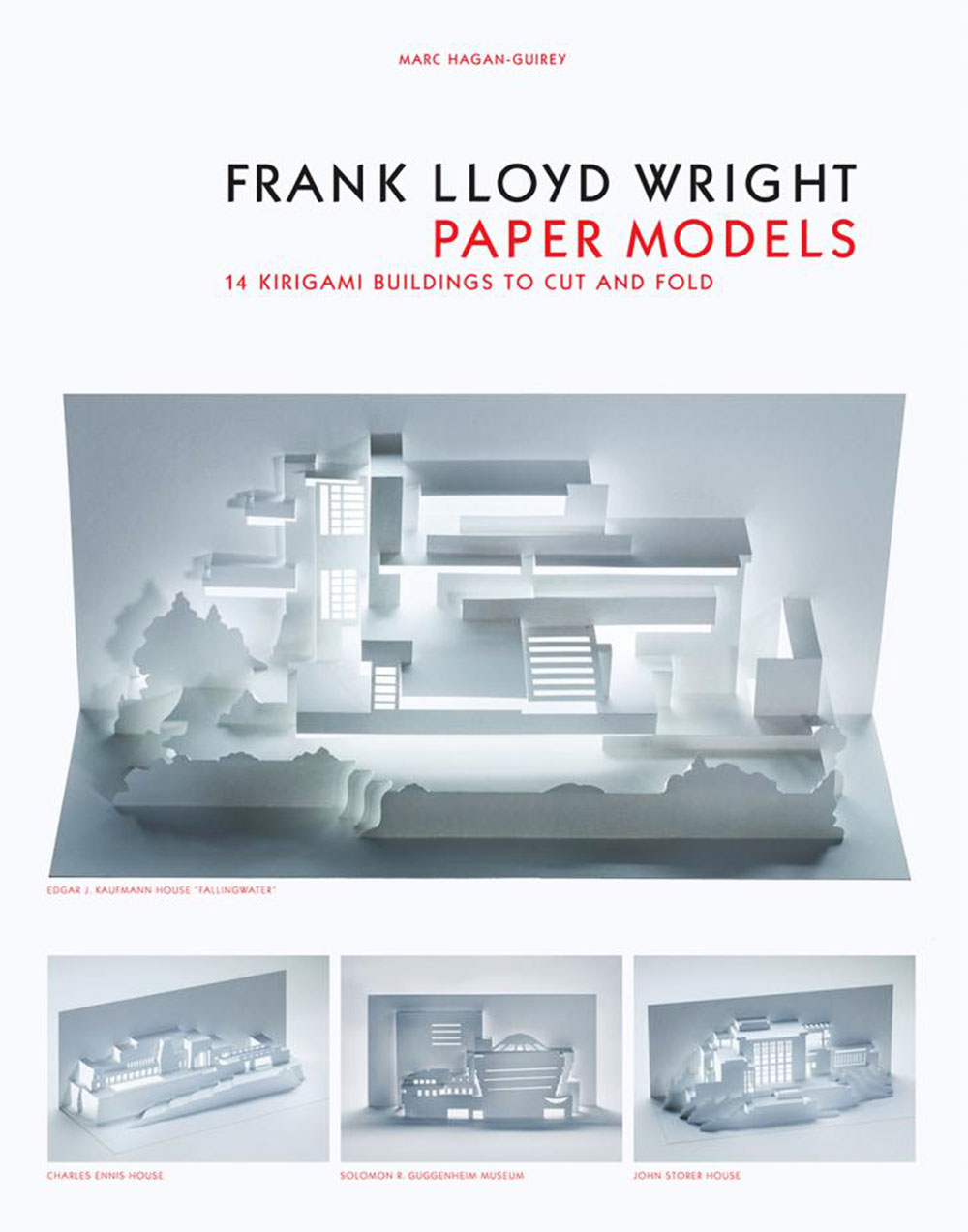 "Frank Lloyd Wright (1867–1959) is the most renowned and popular architect and designer in America. His buildings, including Fallingwater and New York's Guggenheim Museum, are iconic landmarks. Now you can create 14 of his best loved buildings using the art of kirigami (cutting and folding).
Each project features step-by-step instructions and a template that you remove from the book."
"You follow the lines on the template, cutting and folding to make your own model. All you need is a craft knife, a cutting mat, and a ruler. Clear cutting tips help you with the tricky stages, while photos of the finished model show you the final design. To make things easier, the most intricate parts of the templates are pre-die-cut. Then simply display your finished model and admire your handiwork."
4. Yayoi Kusama: From Here to Infinity! by Sarah Suzuki (Author), Ellen Weinstein (Illustrator)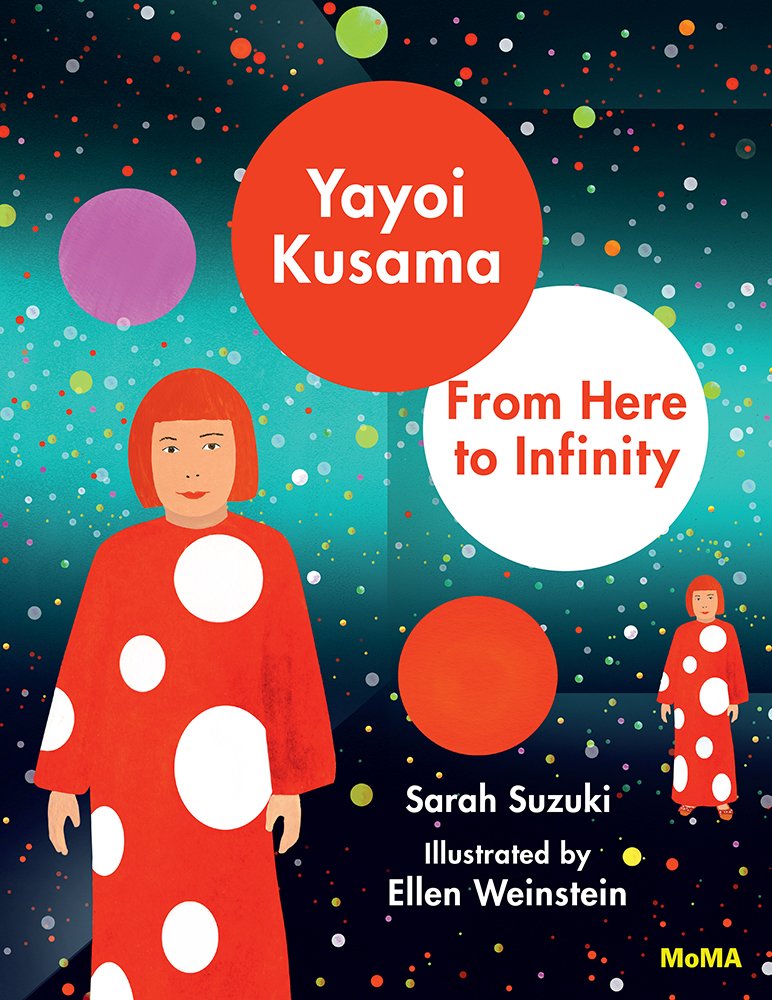 "Growing up in the mountains of Japan, Yayoi Kusama (b. 1929) dreamed of becoming an artist. One day, she had a vision in which the world and everything in it—the plants, the people, the sky—were covered in polka dots. She began to cover her paintings, drawings, sculptures, and even her body with dots."
"As she grew up, she traveled all around the world, from Tokyo to Seattle, New York to Venice, and brought her dots with her. Different people saw these dots in different ways—some thought they were tiny, like cells, and others imagined them enormous, like planets. Every year, Kusama sees more of the world, covering it with dots and offering people a way to experience it the way she does."
"Written by Sarah Suzuki, a curator at The Museum of Modern Art, and featuring reproductions of Kusama's instantly recognizable artworks, this colorful book tells the story of an artist whose work will not be complete until her dots cover the world, from here to infinity."
5. Fabricate: Rethinking Design and Construction by Achim Menges (Author), Bob Sheil (Author), Ruairi Glynn (Author)
"This entirely new essay collection brings together pioneers in design within architecture, construction, engineering, manufacturing, materials technology and computation to explore the progressive integration of digital design with manufacturing processes, and its impact on design and making in the 21st century."
"Discussion on key themes include: how digital fabrication technologies are enabling new creative and construction opportunities from component to building scales, the difficult gap that exists between digital modelling and its realization, material performance and manipulation, off-site and on-site construction, interdisciplinary education, economic and sustainable contexts."
6. Wood by William Hall (Author)
"Wood is a fresh, insightful and surprising look at the world's best timber architecture."

"With 170 structures from the last 1,000 years, Wood features projects from some of the world's most celebrated architects. Renzo Piano's otherworldly New Caledonian Cultural Centre is found alongside projects from Tadao Ando and Peter Zumthor. Even the work of Le Corbusier, an architect best known for his work in concrete, is shown - his humble Mediterranean log cabin, Le Cabanon, was his last home."
"Arranged to promote comparison and discussion, the selected projects take the reader on a global tour of inspiring and intriguing structures: a Vietnamese village hall sits beside a state-of-the-art Belgian laboratory, an Italian anatomical theatre alongside a luxurious Canadian sauna and an onion-domed Russian church next to a fortified Japanese castle."

"Illustrated with extraordinary photographs, each project includes an extended caption providing an insightful commentary on the building."
7. Tree Houses: Fairy Tale Castles in the Air by Philip Jodidio (Author)
"The sky's the limit with 50 ingenious tree houses around the world."
"The idea of climbing a tree for shelter, or just to see the earth from another perspective, is as old as humanity. In this neat TASCHEN edition, take a tour of some of our finest arboreal adventures with 50 of the most beautiful, inventive, and enchanting tree houses around the world."
"From romantic to contemporary, from famed architects to little-known craftsmen, you'll scale the heights to visit all manner of treetop structures, from a teahouse, restaurant, hotel, and children's playhouse to simple perches from which to contemplate life, enjoy the view, and discover that tree houses take as many forms as the imagination can offer. With an abundance of gorgeous photographs and illustrations, this is an ode to alternate living, where playful imagination meets eco-sensitive finesse."
8. Ethics of the Urban: The City and the Spaces of the Political by Mohsen Mostafavi (Editor)
"Is democracy spatial? How are the physical aspects of our cities, houses, streets, and public spaces—the borders, the neighborhoods, the monuments—bearers of our values? In a world of intensifying geo-economic integration, extreme financial and geopolitical volatility, deepening environmental crises, and a dramatic new wave of popular protest against both authoritarian government and capitalist speculation, cities have become leading sites for new claims on state power and new formations of political subjectivity."
"This volume brings together perspectives from history, sociology, art, political theory, planning, law, and design practice to explore the urban spaces of the political. A selection of contemporary photography from around the world offers a visual refl ection of this timely investigation."
9. Displacements: Architecture and Refugee by Andrew Herscher (Author), Nikolaus Hirsch (Editor), Markus Miessen (Editor)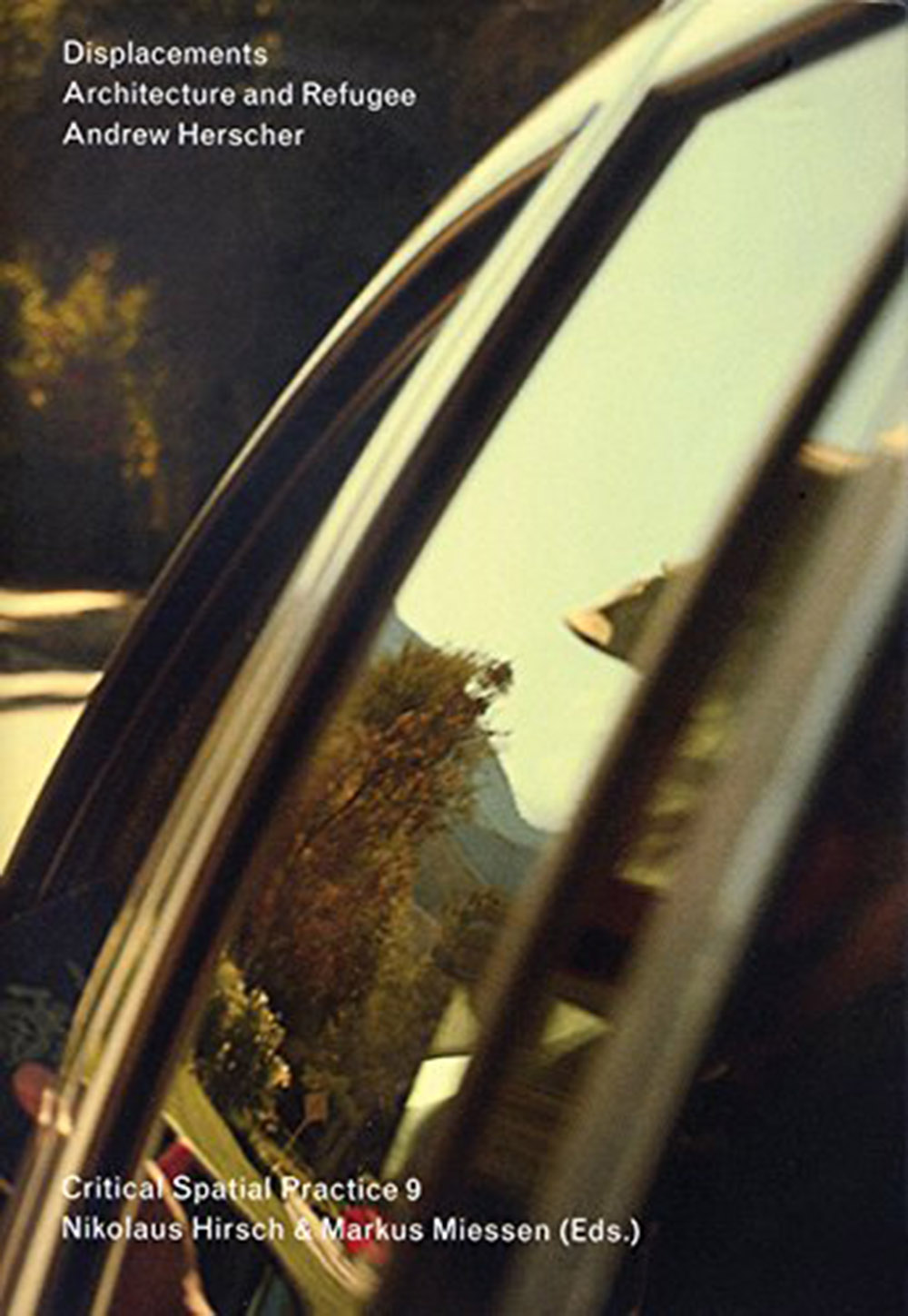 "Author and urban theorist Andrew Herschers Displacements: Architecture and Refugee, the ninth book in the Critical Spatial Practice series, examines some of the usually disavowed but arguably decisive intersections of mass-population displacement and architecture an art and technology of population placementfrom the 20th century to the present."
"In architectural history, just as in global politics, refugees have tended to exist as mere human surplus; histories of architecture, then, have usually reproduced the nation-states exclusion of refugees as people out of place. Posing the refugee as the preeminent collective political subject of our time, Displacements attempts to open up an architectural history of the refugee that reflects on the history of architecture and the history of the refugee alike."
10. Epic Space: The Architectural Diaries by Ian Martin (Author)
"Epic Space is a hilarious take on contemporary culture as viewed through the twisted prism of "Martin," amoral architectural consultant with a penchant for a long lunch and powerful friends, including members of the Cabinet and HRH the Prince of Wales. Written in weekly diary form, Martin's world is a mad and woozy version of our own: one in which Martin and his friend, the nanofuturologist Beansy, can invent Kryptogel—a new building material developed using "hard air." It's a world where the property wing of the Church of England builds buy-to-let almshouses while "bouncy mega-mosques" have helium-stiffened minarets."
"An arts correspondent is fired by a Sunday newspaper and replaced with his own overdressed architectural dachshund. Soot becomes a valuable stock market commodity. A hipster skyscraper is called the Blard. Big questions are asked: Is texture the new fragrance? Is modern modernism just post-modernism but with a neo-modernistic coat on? How fat is your faceprint? And, reassuringly, there are still plenty of boozy lunches."