A "Who's Who" Of Indigenous Architects Creates Historic Venice Biennale Exhibit For Canada
North America has a difficult history with its Indigenous population, but in Canada, government legislation and public dialogue are steering towards reconciliation. Since 2009, the month of June is recognized in Canada as National Indigenous (recently changed from "Aboriginal") History Month; more than a decade earlier, in 1996, National Indigenous Peoples Day was designated for June 21 – but only the Yukon and Northwest Territories currently recognize it as a statutory holiday. In 2008, former Prime Minister Harper officially apologized for Canada's treatment of its Indigenous peoples, and over the past decade, the country has made continued efforts to address its First Nations struggles, most notably with the establishment of the National Centre for Truth and Reconciliation.
The Canadian architectural industry also recently joined the initiative to recognize and support First Nations people: In 2016, the RAIC formed a dedicated task force "to foster and promote Indigenous design in Canada," and launched the International Indigenous Architecture and Design Symposium last year, with a one-day event that attracted more than 150 delegates from as far away as New Zealand and Australia. Also in 2017, the Canada Council for the Arts announced the historic selection of a collaborative Indigenous design project, Unceded: Voices of the Land, to participate in this year's Venice Architecture Biennale (open until November 25). "Unceded" refers to lands that were not surrendered through treaty or war.
Image © Cueyo Laux
The Unceded team is led by renowned Canadian architect, IAA "World Master of Contemporary Architecture" and human rights advocate Douglas Cardinal, PhD (of Blackfoot ancestry), with co-curators Gerald McMaster, PhD (professor of Indigenous Visual Culture and Critical Curatorial Studies at OCAD University in Toronto), and David Fortin, PhD (first-ever Métis/Indigenous director of a Canadian architecture program, at Laurentian University in Sudbury, Ontario).
From left to right: Douglas Cardinal, David Fortin and Gerald McMaster. Image © Douglas Cardinal Architect
Joining them are 15 architects from Canada and the U.S., which share the Indigenous territory of Turtle Island (otherwise known as North America). During an interview with CBC, Fortin explained that because the border between the two countries was a colonial decision, and with the Indigenous experience being so similar throughout North America, the Canadian curators decided early in the project to invite U.S.-based architects. Canada has an estimated 10,000 architects, but less than 30 (0.3 percent) are Indigenous or Métis (mixed descent).
Image © Cueyo Laux
The immersive multimedia project is presented as "a showcase of the tools, methods, and world-view that allows these incredible architects to shape our built environment in ways that foster loving and caring for the Earth and all people." Because of the recent renovation of the Canada Pavilion (which features an exhibit showcasing the 60-year-old building's history and renovation), Unceded occupies the Arsenale. The following video includes an on-site tour and interview with David Fortin, where he explains many of the principles that are inherent to Indigenous architecture.
Video © Vernissage TV
"This is a way that we can show the world the beauty, the vitality, the strength, and the resilience of our Indigenous people in surviving a terrible history, but rising above that," Cardinal said when the nomination was announced. The group also launched a fund-raising page to support the project, with incentives including signed copies of books authored by Cardinal and Stewart; although far from its goal, almost $10,000 has been raised to date. Several organizations have expressed interest in hosting the exhibit after it leaves the Biennale.
Following are the Unceded architects – notably, including six women:
(in alphabetical order)
_______________________________________________
Tamarah Begay
The sole founder of architectural firm IDS+A (Indigenous Design Studio + Architecture, based in New Mexico), Begay is the first female Navajo architect. She designed the Monument Valley Visitor Center (video below), located on a 16-million-acre Navajo reservation at the border of Arizona and Utah.
Video © IDS+A
_______________________________________________
Harriet Burdett-Moulton
Designer of more than 200 buildings in Nunavut and Fellow of the RAIC, Burdett-Moulton is currently working as a senior architect with Stantec (since 2005). One of her favourite recent projects is St. Jude's Anglican Cathedral (below) in Iqaluit, completed in 2012; the white domed structure evokes an igloo.
Image © Cwk36
_______________________________________________
Douglas Cardinal
One of Canada's most revered architects – perhaps best known for the Canadian Museum of History (below) – Cardinal is now in his mid-80s and actively leading a practice that is currently working on several projects, including a 39-storey condominium tower in Toronto which he described as "an Indigenous statement" in a recent interview with Canadian Architect. His firm was first in the world to implement computerized architectural technology for a built project (St.Albert Place in Alberta, completed in 1976).
Image © wladyslaw
_______________________________________________
Jake Chakasim
A Cree architect who teaches at Laurentian University (in Sudbury, Ontario), Chakasim specializes in bentwood forms such as the structure featured in the art installation "Integrated Opposition" (video below).
Video © Clayton Windatt
_______________________________________________
Chris Cornelius
Associate Professor at University of Wisconsin-Milwaukee School of Architecture and Urban Planning, and founding principal of design firm studio:indigenous; Cornelius served as cultural consultant and design collaborator with architect Antoine Predock for the award-winning Indian Community School of Milwaukee (below).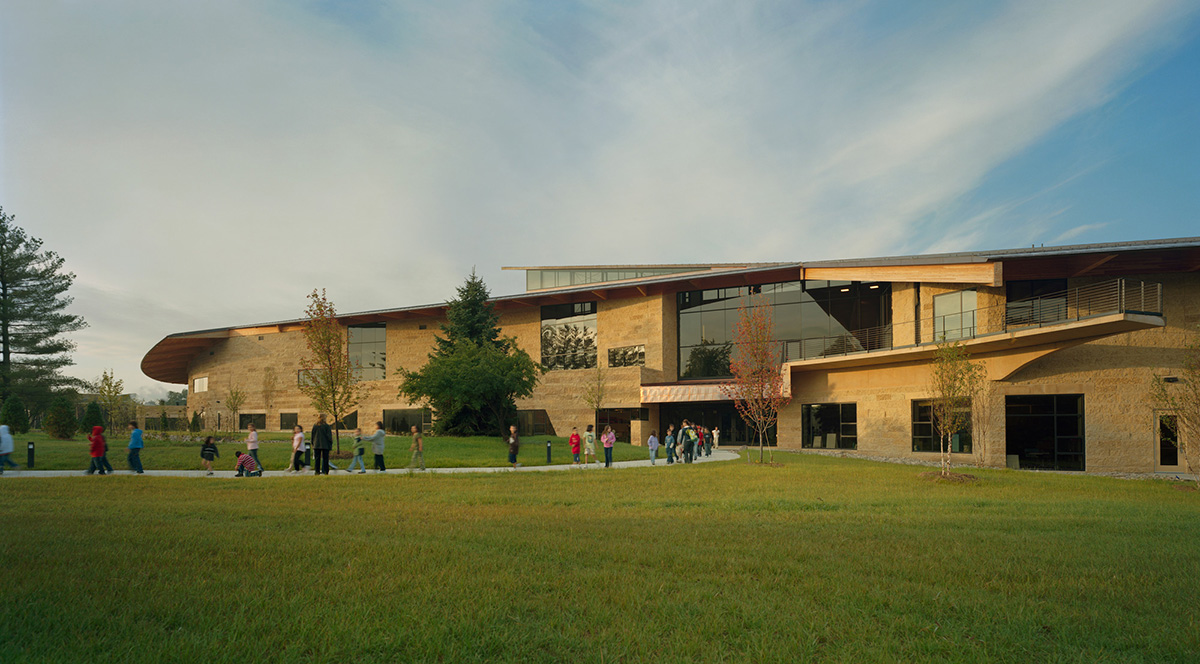 Images © Timothy Hursely
_______________________________________________
Wanda Dalla Costa
The first Indigenous woman in Canada to become a registered architect, Della Costa's company Redquill Architecture is based in Phoenix, Arizona, and Calgary, Alberta; she also teaches at Arizona State University. Recent projects include the Fort McMurray First Nation Community Recreation Centre (below).
Image © Redquill Architecture
_______________________________________________
Tammy Eagle Bull
The first female Native American architect in the U.S. and co-founder of Encompass Architects (est. 2002), Eagle Bull practices "environmentally responsible architecture," which considers solar orientation, conservation and energy efficiency. The Porcupine Day School (below), on the Pine Ridge Indian Reservation, was the first building in South Dakota to achieve LEED Silver certification.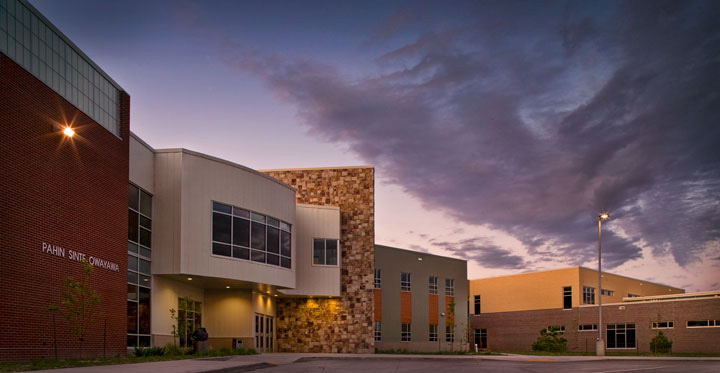 Image © Encompass Architects
_______________________________________________
David Fortin
Since 2005, Fortin has taught architecture in Canada, the UK and the U.S. One of his primary areas of interest is the impact of climate change on architecture. Fortin also runs a website dedicated to Métis architecture. He was appointed director of the McEwen School of Architecture (Laurentian University) in early 2018, becoming the first Indigenous director of a Canadian architecture school. Fortin was a founding faculty member for the new department, launched in 2012; he appears briefly in a video about the program (below).
Video © Laurentian University - Université Laurentienne
_______________________________________________
Daniel Glenn
Glenn is an expert in "culturally responsive" architecture and green affordable housing; also founder of 7 Directions Architects (with offices in Montana and Washington). The $12-million, 33,000-square-foot Skokomish Community Center (below) features more than 400 solar panels, making it one of Washington State's largest solar-powered sites.
Image © Doug Walker
_______________________________________________
Ryan Gorrie
Gorrie is an artist/architect who works as a senior associate at Brook/McIlroy; he was a lead member of the firm's design team for the Gathering Circle (below), part of the award-winning Spirit Garden in Thunder Bay, Ontario. A circular concrete platform is surrounded with a woven bentwood shroud of spruce and cedar, made using traditional techniques; laser-cut weathering steel panels feature images by local First Nations artist Randy Thomas.
Image © David Whittaker
_______________________________________________
Ray Gosselin
Based in Saskatchewan, Gosselin established his firm in 2014 but he has been an architect for 30 years. In 2016, Gosselin was nominated as the first Indigenous president of the Saskatchewan Association of Architecture. He emphasizes "healthy design" that respects the four essential elements: air, water, earth and fire. Shown below: plans for Four Directions Plaza (left); Kohkum Shelter Home (right).
Image © Ray Gosselin Architect
_______________________________________________
Matthew Hickey
Hickey has been with Two Row Architect (directed by Brian Porter, below) for more than a decade, and is currently a senior project architect; he is also a sessional instructor at OCAD University in Toronto. In 2010, Two Row Architect completed the $30-million Seneca Nation of Indians Administration Building (below), in association with Kideney Architects.
Image © Kideney Architects
_______________________________________________
Brian Porter
Founder/sole proprietor of Two Row Architect in Ontario (since 1992), Porter's firm was selected to create the Indigenous Visual Culture and Student Centre for OCAD University's $60-million campus expansion project, Creative City Campus, led by Morphosis and Teeple Architects (project completion is planned for 2020/2021). The Anishinabek Discovery Centre (below) is currently under construction on the Algoma University campus in Sault Ste. Marie, Ontario.
Image © Two Row Architect
_______________________________________________
Ouri Scott
Previously an architect at DIALOG for almost eight years, Scott's recent work with Vancouver-based Urban Arts Architecture includes an award-winning concept for a net-zero, mixed-use development featuring vertical farming; the firm is currently finishing a passive-design complex for multi-generational living on a B.C. First Nation reservation (Cook's Ferry Duplexes, below). Scott considers sustainable design to be intrinsic to her Indigenous identity.
Image © Urban Arts Architecture
_______________________________________________
Eladia Smoke
A practicing architect since 2002, Smoke established her firm, Smoke Architecture, in 2014 after working as a principal architect for Architecture 49 (architect of record for the acclaimed Remai Modern art gallery). Smoke is currently in the planning stages for the Henvey Inlet Community Centre (below), a $9-million facility that combines conference, wellness and recreational functions, including a sweat lodge, roundhouse and outdoor powwow grounds.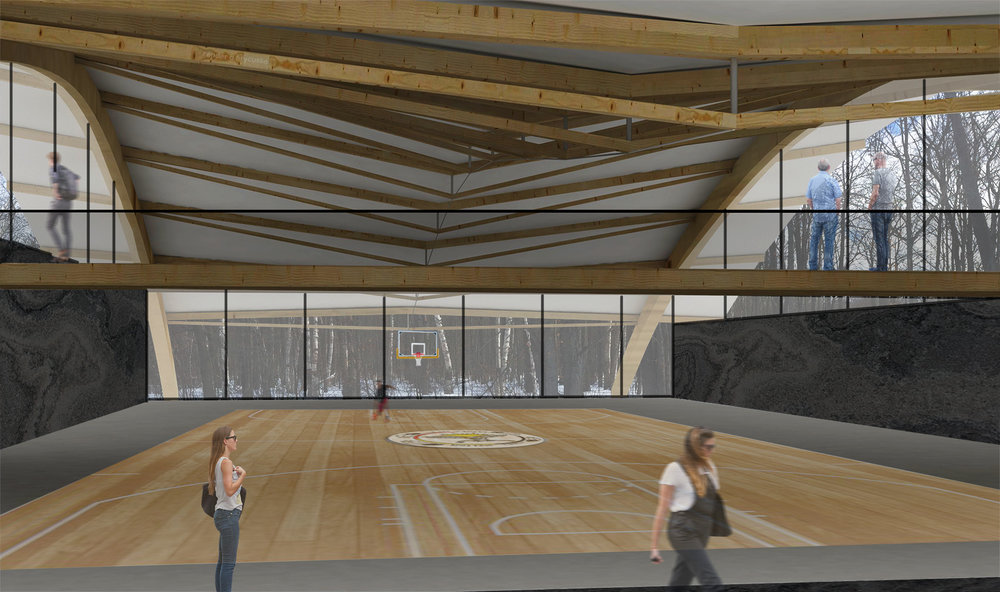 Image © Smoke Architecture
_______________________________________________
Patrick Stewart
A Haida architect based in Vancouver, Stewart made international headlines for writing his PhD thesis without punctuation, both to reflect the oral tradition of his culture and to challenge English language (and academic) conventions. He founded the first Indigenous-owned architectural practice in B.C. and was also the first person of Indigenous ancestry to become the president of an Architectural Association in Canada. Stewart devotes much of his professional work to housing projects and community centres such as the Sto:lo Resource Centre and Elders Lodge (below). He is also the chair of the RAIC Indigenous Task Force.
Image © Patrick Stewart Architect
_______________________________________________
David Thomas
Thomas – along with his daughter Cheyenne Thomas (below), who specializes in environmental design – is leading the development of the Indigenous Peoples' Garden in Winnipeg, part of a $200 million project to revitalize the 1,100-acre Assiniboine Park. (The following video includes a description at 6:10.)
Video © UCalgary Faculty of Environmental Design
_______________________________________________
Alfred Waugh
Some of Waugh's best-known projects originated with the collaborative firm Waugh Busby Architects: He was a design consultant for the Nicola Valley Institute of Technology (which won a 2004 Governor General's Medal in Architecture), and architect for the award-winning Squamish Lil'Wat Cultural Centre, a First Nations museum in Whistler, B.C. Waugh later launched his own firm, Formline Architecture (in Vancouver, B.C.), which has also won numerous awards. This April, he completed the $5.5-million Indian Residential School History and Dialogue Centre (below) at the University of British Columbia; during its opening, the president of UBC formally apologized for the university's involvement in residential schools.
Image © UBC/Formline Architecture
_______________________________________________
For detailed biographies and more information about the exhibit, visit Unceded: Voices of the Land.
Top image © Unceded: Voices of the Land
> via 7 Directions Architects, Antoine Predock, Brook/McIlroy, Canada Council for the Arts, Douglas Cardinal Architect, Encompass Architects, Formline Architecture, IDS+A, Kideney Architects, Patrick Stewart Architect, Ray Gosselin Architect, Redquill Architecture, Smoke Architecture, Stantec, studio:indigenous, Two Row Architect, UBC, Unceded.ca, Urban Arts Architecture.