10 Canadian companies that specialize in sustainable, eco-friendly architecture

Anyone who lives in Canada knows the natural environment plays a huge role in its citizens' lives. Hiking, camping, canoeing, skating and skiing are commonly enjoyed (as weather allows), and most Canadians take great pride in their country's natural wonders. Not coincidentally, the nation also tends to be a hub for environmentalists, so Canada has its fair share of "green" buildings.
Several larger projects and initiatives have gained international attention, such as North America's first carbon-neutral hospital (Sechelt Hospital in B.C., below, by Farrow Partners in association with Perkins+Will) and another North American first: Toronto's Green Roof Bylaw, in effect since 2010. "The T-Dot" – as locals call the city – was recognized by the Annual Green Roof Industry Survey (2016) for installing the most green roof area of all North American cities (more than 600,000 square feet), followed by Chicago in second place.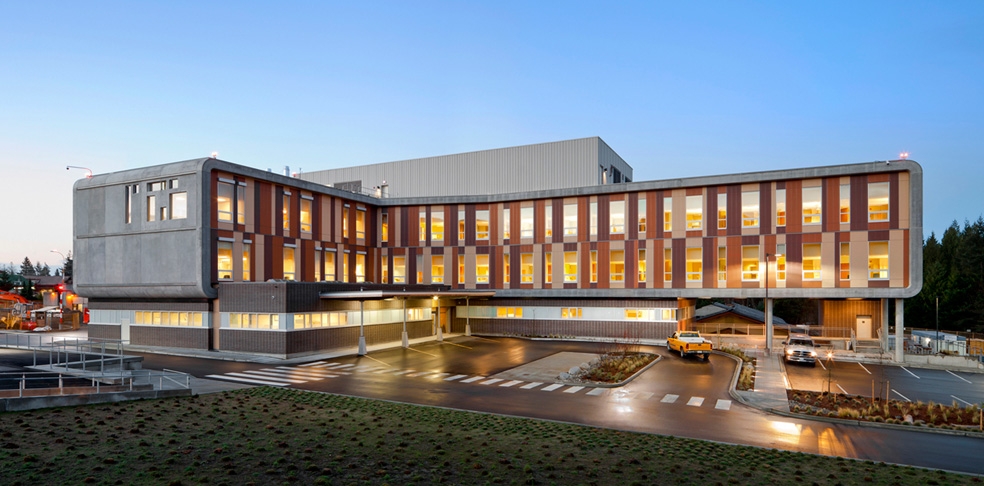 Image © Perkins+Will
Naturally, many grassroots architectural companies in Canada are engaged in green-building practices, but many are best known locally and often their most innovative projects are outside major cities. The Canadian "cottage culture" spans from coast to coast – usually a small cabin or farmhouse near a lake, river or other natural feature; remote hunting retreats are also fairly common. Straw bale, passive solar and off-grid, self-sufficient buildings are becoming more popular especially in remote areas, where access to supplies and utilities is often extremely expensive or, simply, unavailable. These humble structures have evolved into "second homes" often used as a country residence primarily during summer weekends, but with rising housing costs in Canada's major cities, many families are moving to rural properties that enable a less expensive, and more eco-friendly, lifestyle. With digital communication and remote offices, this often means commuting into the city (and the accompanying "carbon footprint") can be kept to a minimum.
In many cases these successful sustainable building projects have encouraged similar efforts in urban areas, either renovations to optimize energy efficiency or full-scale developments that achieve LEED Platinum and/or Passive House ratings. The resulting structures may not appear on the cover of magazines, but their appeal can be seen immediately in their low energy bills and low-impact building methods.
These 10 Canadian companies are at the forefront of sustainable construction and eco-friendly design:
(in alphabetical order)
Battle Lake Design Group
Project: The award-winning Mill Creek Flexhomes (below) consist of three two-storey units featuring plastered straw bale and passive solar design.
Image © Battle Lake Design Group
Based in Edmonton, Alberta, this full-service design firm specializes in straw bale construction and has completed single family residences as well as multi-unit dwellings.
Bow Crow Design
Project: EchoHaven House (below) incorporates passive solar design, LED lighting, solar thermal panels for heating water, an insulated "cool pantry" for natural refrigeration, grey water heat recovery and rainwater collection.
Image © Bow Crow Design
This Alberta firm is led by Kim Walton – an architect for almost 40 years – who designs and manages Passive House and Net Zero projects across Western Canada. The EchoHaven House was the first to be built on a 25-home sustainable development site in Calgary, complete with community greenhouse and composting/recycling facilities.
Building Better
Project: Six Nations Earthship was a volunteer project to construct a home for an Indigenous grandmother and her growing family, who had lived in a two-bedroom trailer on the Six Nations reservation (in Ontario) for 25 years. In 2016, the solar-powered, off-grid structure was completed in 11 days with a budget of approximately $40,000.

Image © Building Better
Carpenter-by-trade Marianne Griffith is the Canadian representative of Earthship Biotecture. Her Ontario-based non-profit organization Building Better is currently fund-raising for the Chippewa Sustainable Living Project, which will develop a "tiny home" sustainable community and tourism destination on reservation land. Earthships are constructed of recycled materials (including tires and bottles), reinforced with dirt and concrete.
Coolearth Architecture
Project: Off-grid "Ecocabin" concepts (below) – in sizes from 600-1,200 square feet – are designed for four-season use, with battery storage to provide up to three weeks of power during low-sun, unoccupied winter periods.
Image © Coolearth Architecture
A 10-year-old firm based in Toronto, Coolearth has expertise in permaculture design, Passive House and Net Zero projects. The company's portfolio of work includes multi-unit buildings and heritage restorations, along with numerous LEED consulting projects.
CSV Architects
Project: Karen's Place, Canada's first Passive House-certified apartment building, was completed in 2016. Yearly heating costs are estimated at $30 per studio unit, and the building is LEED Platinum certified.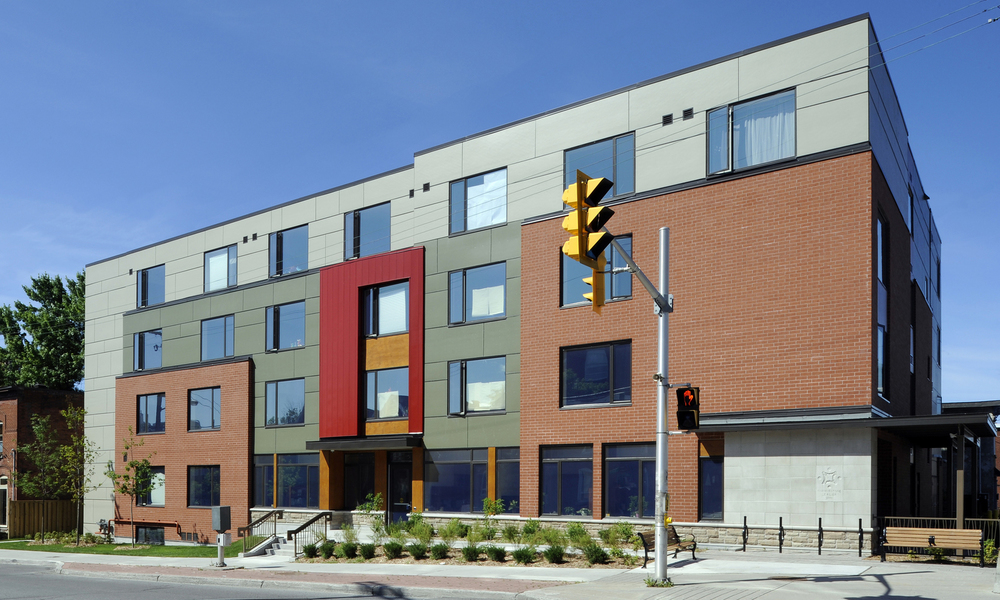 Image © CSV Architects
This award-winning Ottawa firm includes a full-time Sustainability Consultant, five LEED consultants and a large team that includes eight architects.
Evolve Builders
Project: For this new home (below), a passive solar design and radiant floor heating are supplemented by a wood stove in cold weather. A living roof features native wildflowers, and the steel roofing material is 70 percent recycled.
Image © Evolve Builders
With a focus on non-toxic renovations and passive solar design, this company in Ontario recently built a straw bale house designed by architect Nicolas Koff, featured by Dezeen. The firm also has two dedicated divisions: Harvest Homes, specializing in straw bale construction, and Fermata, specializing in plaster, adobe and compressed earth block walls.
Solares Architecture
Project: Elgin Loft (below) is a multi-use building renovation which involved adding a second storey while installing radiant flooring, energy recovery ventilators and a rooftop garden.
Image © Solares Architecture
This Toronto-based company – run by a husband and wife team who focus on sustainable residential design – recently won a National Canadian Green Building Award for Our House, a heritage home renovation that resulted in 90 percent energy savings and LEED Platinum certification.
Solterre Design
Project: The off-grid sustainable retreat Concept House (below) is Platinum LEED-certified and won the Lieutenant Governor Award of Merit for Architectural Design. A green roof, solar panels and passive solar design result in energy savings equivalent to 70-90 percent. While it is the architects' weekend home, the residence is also available to rent on Airbnb.
Image © Solterre Design
Based in Halifax, Nova Scotia, this husband-and-wife company is best known for their work as Sustainability/LEED Consultant for the Halifax Central Library, designed by Schmidt Hammer Lassen Architects with well-known local firm Fowler Bauld & Mitchell. Constructed using sustainable wood and more than 20 percent recycled materials, the library also features a green roof with rainwater collection that supplies water for the toilets.
Stone's Throw Design
Project: In partnership with rammed earth specialist Aerecura, this firm completed Ontario's first insulated, rammed earth home in 2012 (below), which uses the energy equivalent of approximately 20 tea candles for yearly heating.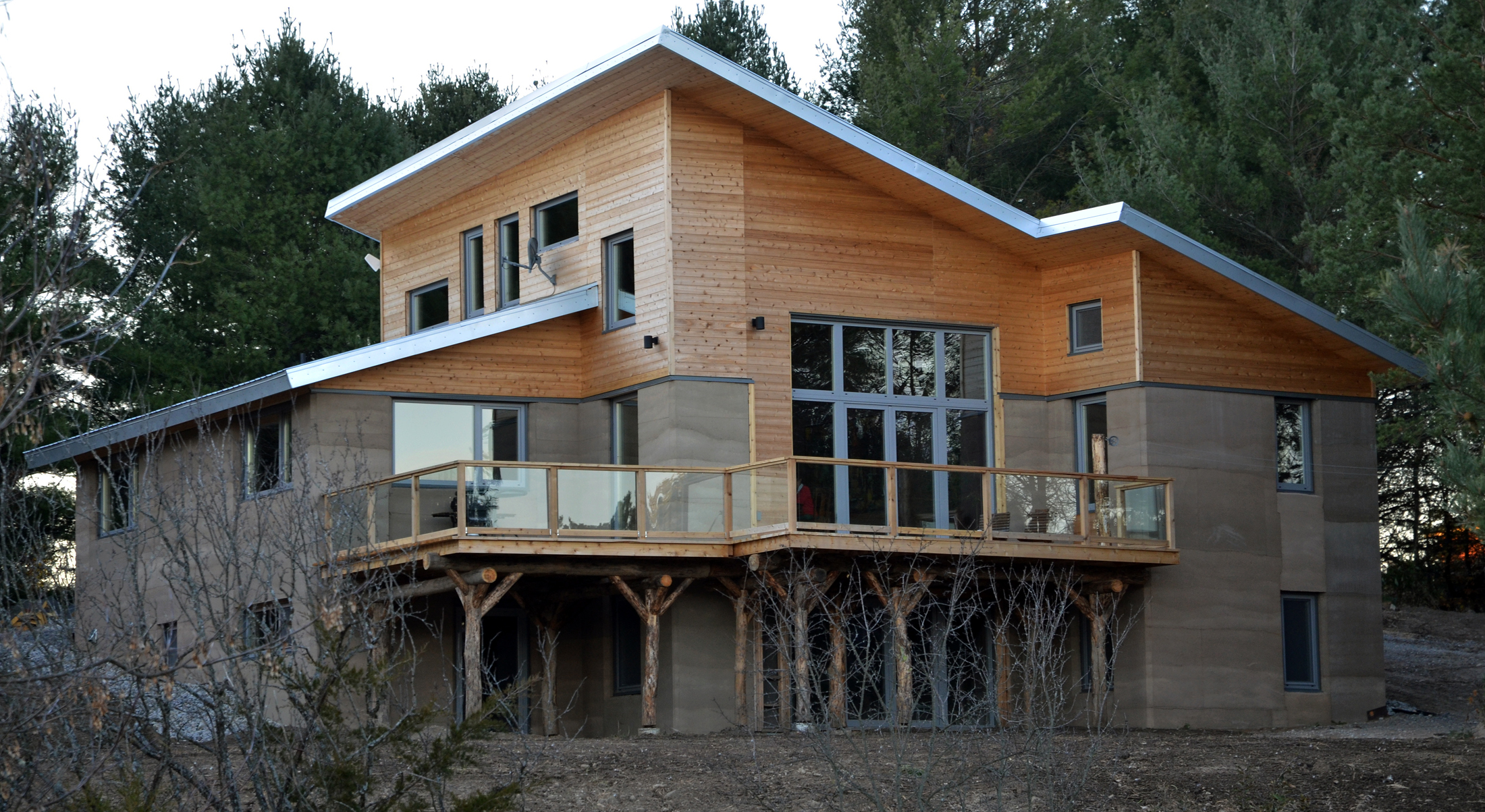 Image © Stones Throw Design
Architect Terrell Wong (also President of Passive Buildings Canada) leads this Toronto-based office, which specializes in restorations and renovations to optimize energy efficiency. The company motto is "conservation over technology – longevity over fashion."
Sustainable.TO
Project: A straw bale, off-grid passive solar home in rural Ontario (below) was completed in 2009.
Image © Sustainable.TO
This award-winning Toronto-based architecture firm is currently working on the Egale Centre, a $10-million shelter for LGBTQ youth in Toronto. Green-roof vegetable gardens will top an 1870s home (to contain common space and offices) and a 1970s apartment building, which was designed by well-known local architect Jerome Markson. After renovation, energy savings are estimated at close to 50 percent, with the installation of solar panels, LED lighting and energy recovery ventilators.
> via Perkins+Will, Battle Lake Design Group, Bow Crow Design, Building Better, Coolearth Architecture, CSV Architects, Evolve Builders, Solares Architecture, Solterre Design, Stones Throw Design, Sustainable.TO