Symposium In memory Of Pierre Jeanneret on His 50th Death Anniversary
Chandigarh College of Architecture (CCA) is organizing a symposium to commemorate the legacy of Pierre Jeanneret on his 50th death anniversary on December 4, 2017. The aim of the symposium is to get the people closer to the history of Chandigarh, the works of Pierre Jeanneret, and also involve them in the preservation of the city and its unique architecture. The two-day symposium (December 3-4, 2017) will include number of events like lectures, panel discussions, and guided tours.
Pierre Jeanneret joined hands with Le Corbusier in December 1950, to help him create a capital for Punjab, namely Chandigarh. Le Corbusier was fully confident that Jeanneret would translate into reality the vast avant-garde conception of his architectural and town planning theories. Jeanneret was mainly involved in the detailed designing of the living and amenity areas for mass housing, besides others.
Pierre Jeanneret (left) along with Le Corbusier (right). Photo Courtesy of Miguel Coutinho.
He gathered enough information about Indian architecture, its methods of construction, the types of materials available, the lifestyle of the people and the climatic variations. Then he sat at his drawing board to design buildings, contemporary in tone and functional in terms of habitation. He strove to achieve three-fold objectives of economy - economy of planning, of easy implementation, and of rapid execution.
Besides this, Jeanneret also researched into solutions for control of sun, wind and heat and developed the characteristic architectural features for which Chandigarh is now famous, these include the sun breakers, fins and perforated screen walls.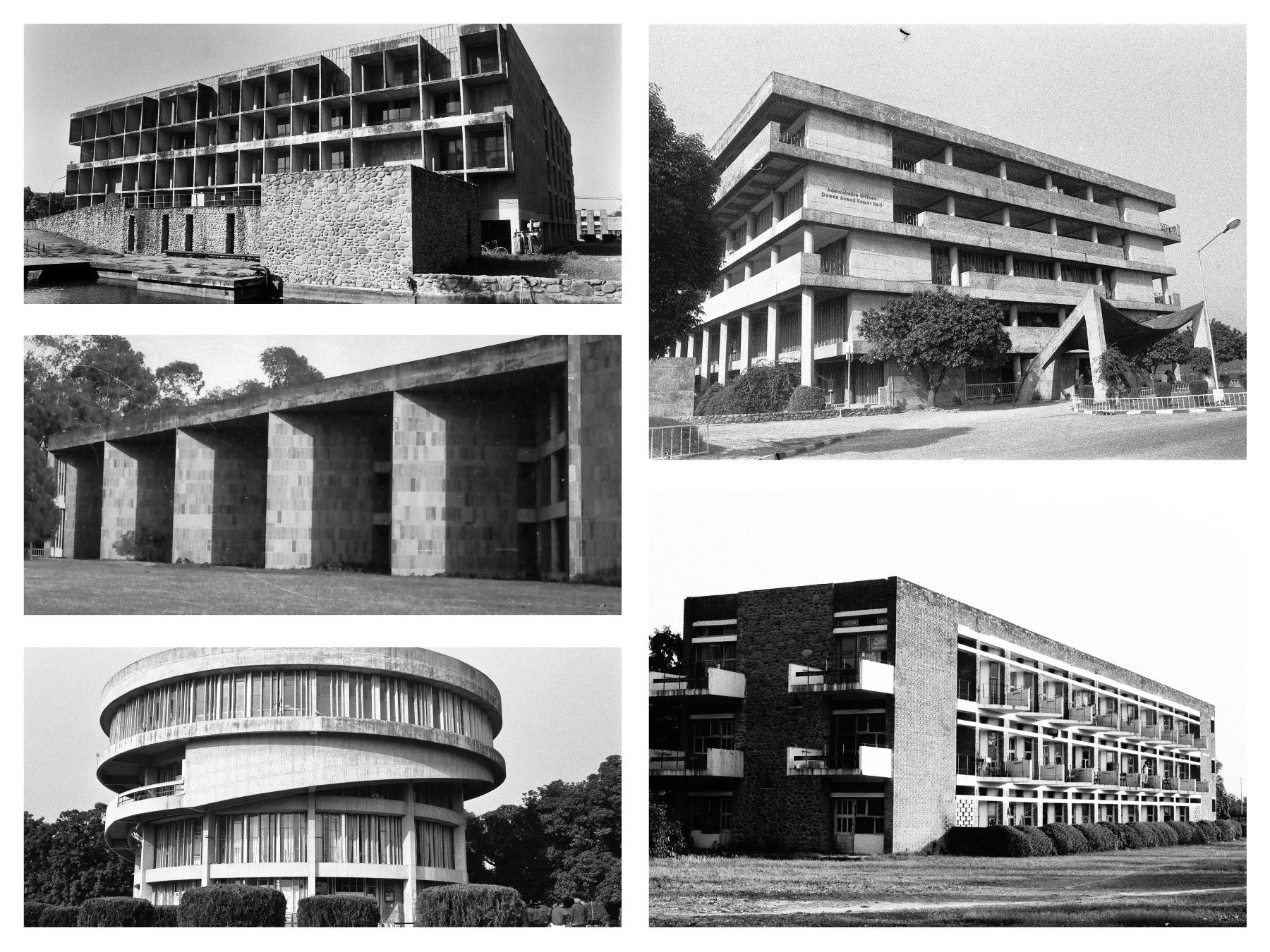 Panjab University Chandigarh designed by pierre Jeanneret.
Pierre Jeanneret always knew how to build with available resources and construction techniques. His main objective was to create architectural forms which take into account the nature of the construction, materials available and responded to the basic needs of the people who would live in them.
Working in this manner, Jeanneret was able to achieve a rich and varied output which consisted of a variety of buildings bearing the signature of his practical wisdom and vision; the Panjab University Campus, housing for different categories of officials, hostels and apartments for members of the Legislative Assembly, schools, the Town Hall, the Central Library and the shop-cum-flats in Chandigarh. His eye for form and detail on one hand and a holistic understanding of the relationship between form and function on the other are evident in the design of all these buildings.
Gandhi Bhawan: Pierre Jeanneret's Most Outstanding Building
Photo courtesy of dome.mit.edu
A small building of Gandhi Bhawan stands in a pool of water on the north-east of the sprawling Panjab University Campus. Rounded forms and a lotus flower-shaped roof distinguish the Gandhi Bhawan from the surrounding buildings.
It is perhaps one of the most outstanding buildings designed by Pierre Jeanneret in India. As the name suggests, it was established to promote Gandhian philosophy. Dr. S. Radhakrishnan, the then President of India, dedicated this Bhawan to the nation on December 1, 1962.
Photo courtesy of Lacharmante
Jeanneret's design of this memorial is a sensitive, quintessential tribute to the father of the nation. The aims of the Bhawan are to hold study classes and discussions on Mahatma Gandhi's life and works and make relevant literature available. These functions materialised into a three-winged structure jutting out in three directions.
One of these wings accommodates a library, an office, and a research scholars' room. The other two wings contain an auditorium and a seminar room. The building has been placed in the pool of limpid water to create a quiet, meditative atmosphere.
Photo courtesy of Sanyam Bahga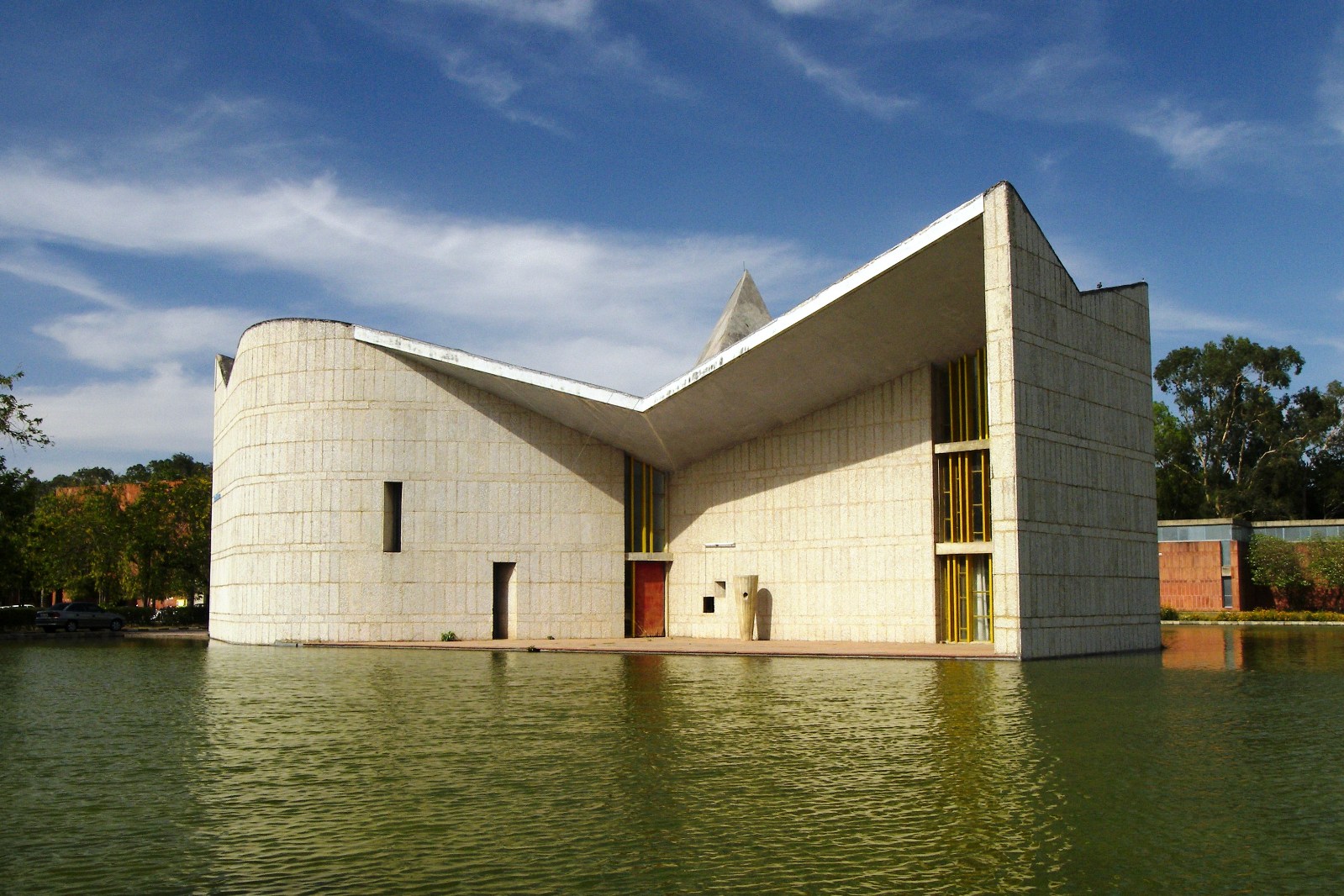 Photo courtesy of twitsnaps.com
A pedestrian approach leads to the entrance over which is written the phrase, 'Truth is God', the main theme of Gandhian Philosophy. The pointed forms suggest the sharp edge of truth and the rounded ones indicate harmony. Whole building is finished in white marble aggregate which has fared very well in the Indian climatic conditions.
Photo courtesy of Sanyam Bahga
Photo courtesy of dome.mit.edu
Photo courtesy of departmentofpeacestudies
Plans of Gandhi Bhawan. Photo courtesy of cca.qc.ca
Glimpses of other buildings designed by Pierre Jeanneret in Chandigarh
M.L.A. Hostels designed by Pierre Jeanneret
M.L.A. Flats designed by Pierre Jeanneret
Government Housing designed by Pierre Jeanneret
Schools designed by Pierre Jeanneret
Shopping Centres designed by Pierre Jeanneret
Self-made furniture designed by Pierre Jeanneret
All images courtesy of Sarbjit Bahga except where mentioned.
Top image courtesy of Sanyam Bahga
> via Indian Express & Le Corbusier and Pierre Jeanneret: The Indian Architecture.