Tree plantation along city roads: Chandigarh is second best after New Delhi
Capital city of Chandigarh came into being almost four decades after New Delhi. It happens to be perfect example of a city where different varieties of plants and trees have been planted from all over the world. The tree plantation in Chandigarh has played an important role in improving the quality of life in the city. Le Corbusier gave high priority to tree plantation due to which significant results have been produced and substantial achievements have been made in this direction.
Chandigarh is a perfect example where several outstanding varieties of trees are planted on city roads. These include trees that are structurally big, have tall strong trunks and spreading crowns. Most of the important roads have been planted with single kind of tree species in a well-planned manner.
P-2.
The trees in Chandigarh have spruced up the streets, buildings and all spaces around roads. Repeated use of trees has brought about cohesiveness due to homogeneity of structure, texture and pattern, and has greatly improved the entire landscape of the city. Trees have developed lovely green walls, ceilings, created outdoor rooms with their big branches, attractive foliage and have provided green covers around the architecturally well-planned buildings of the city.
P-3.
P-4.
The infrastructure of plant life created in Chandigarh is in itself a very big achievement. The city roads and streets have been planted aesthetically and several gardens have been manicured. Dr MS Randhawa, the first Administrator of the city was a plant lover and played a key role in beautifying the city. He encouraged the collection of decorative plants and trees from all over the world. The result was that the city got enriched with an extensive collection of all kinds of beautiful fauna from different parts of India as well as other parts of the world.
Le Corbusier and Dr Randhawa constituted a landscape committee of experts in Chandigarh. The committee put together a comprehensive list of plants and trees with details on their shapes, colours and textures. The list comprised of beautiful, ornamental, flowering and foliage trees. These trees were the foundation of tree plantation in Chandigarh.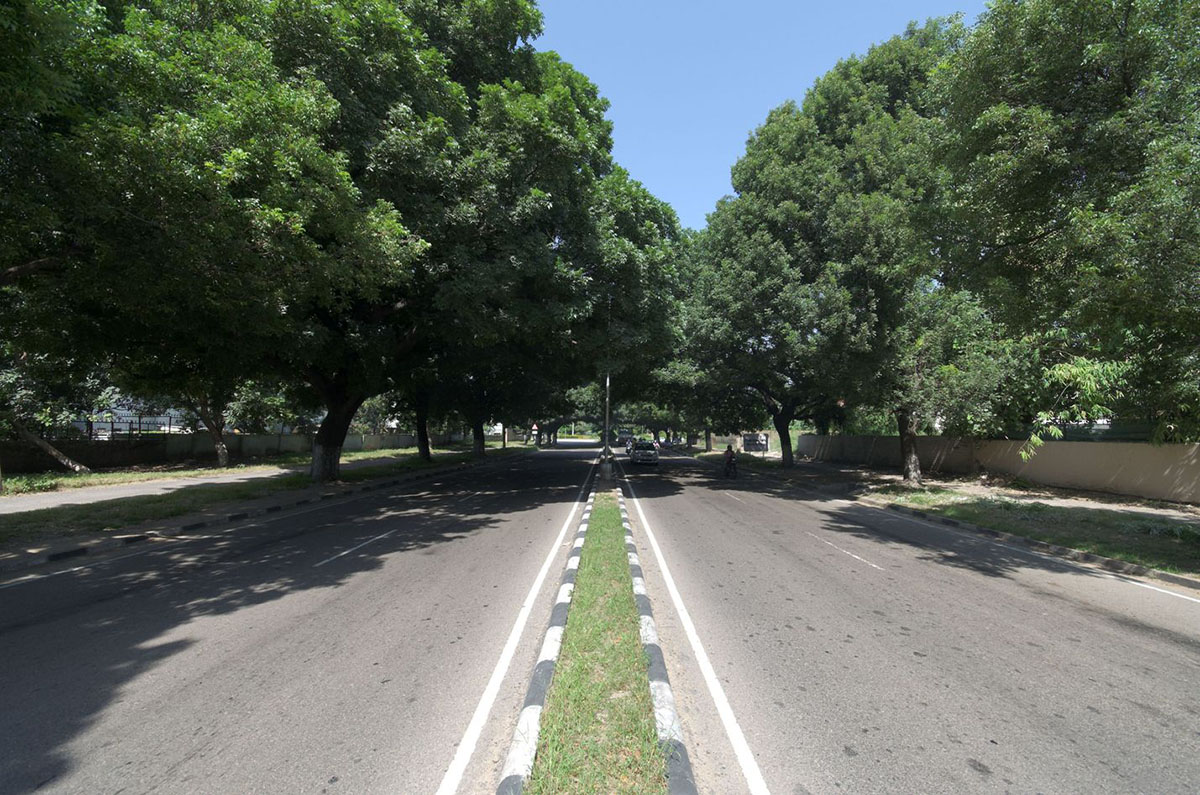 P-5.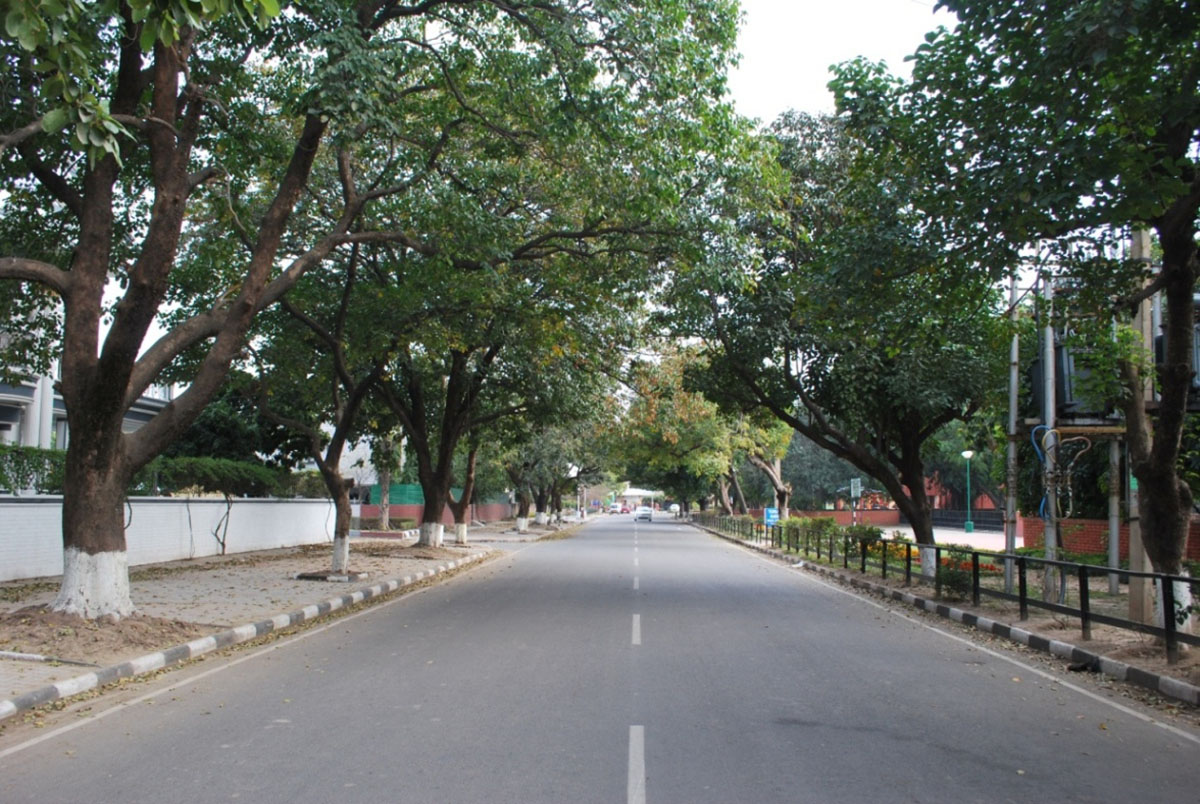 P-6.
Chandigarh proudly maintains the status of the Garden City and is considered the greenest city in India. This has been possible due to the large outstanding varieties of trees that are very suitable of road plantations. These have been extensively used on the most of roads as pure avenues of a single kind of species. They are structurally big, with excellent foliage, spreading crowns and have produced great results making Chandigarh an outstanding example of architectural and landscape beauty.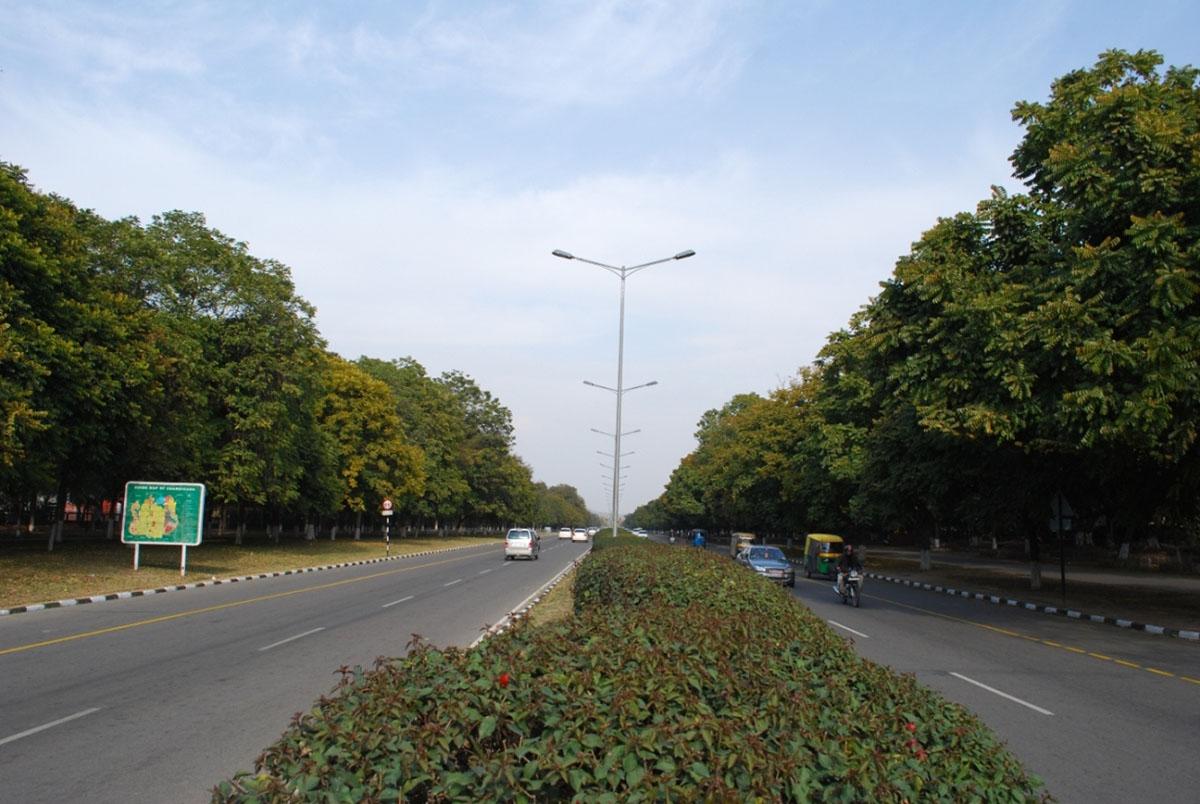 P-7.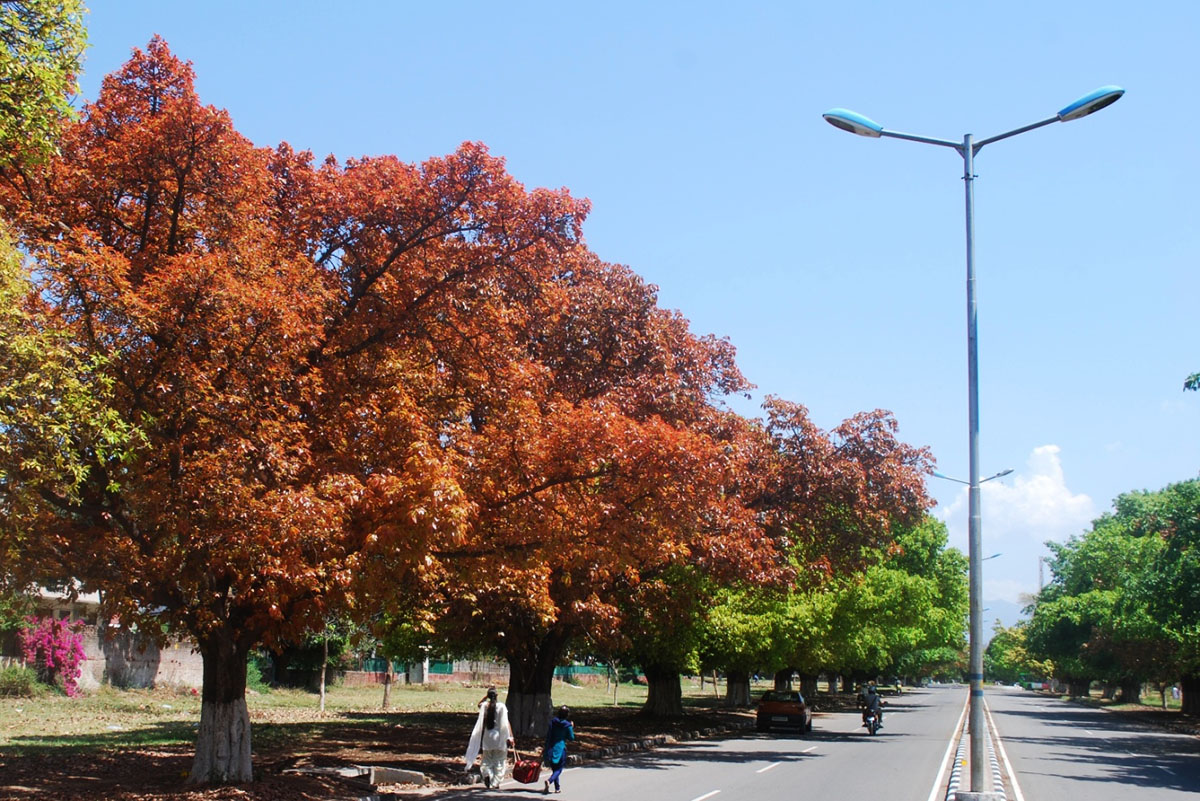 P-8.
A large variety of outstanding trees have been used to beautify Chandigarh. Prominent among these trees are: Chukrasia tabularis (Modern Neem), Swietenia macrophylla (Mahogani), Azadirachta indica (Neem), Schleichera oleosa (Kusum), Bischofia javanica (Bishop wood), Kigelia pinnata (Sausage tree), Terminalia bellirica (Bahera), Alstonia scholaris (Scholar tree), Pterospermum acerifolium (Kanak Champa), Haplophragma adenophyllum (Maror Phali), Mitragyna parviflora (Kaim), Ficus infectoria (Pilkhan), Terminalia arjuna (Arjun tree) Sterculia alata, and Eucalyptus citriodora.
They show the structure, form, and texture. These are hardy and stand pollution abuse, are easy to grow and possess all qualities for making them suitable for city plantation.
P-9.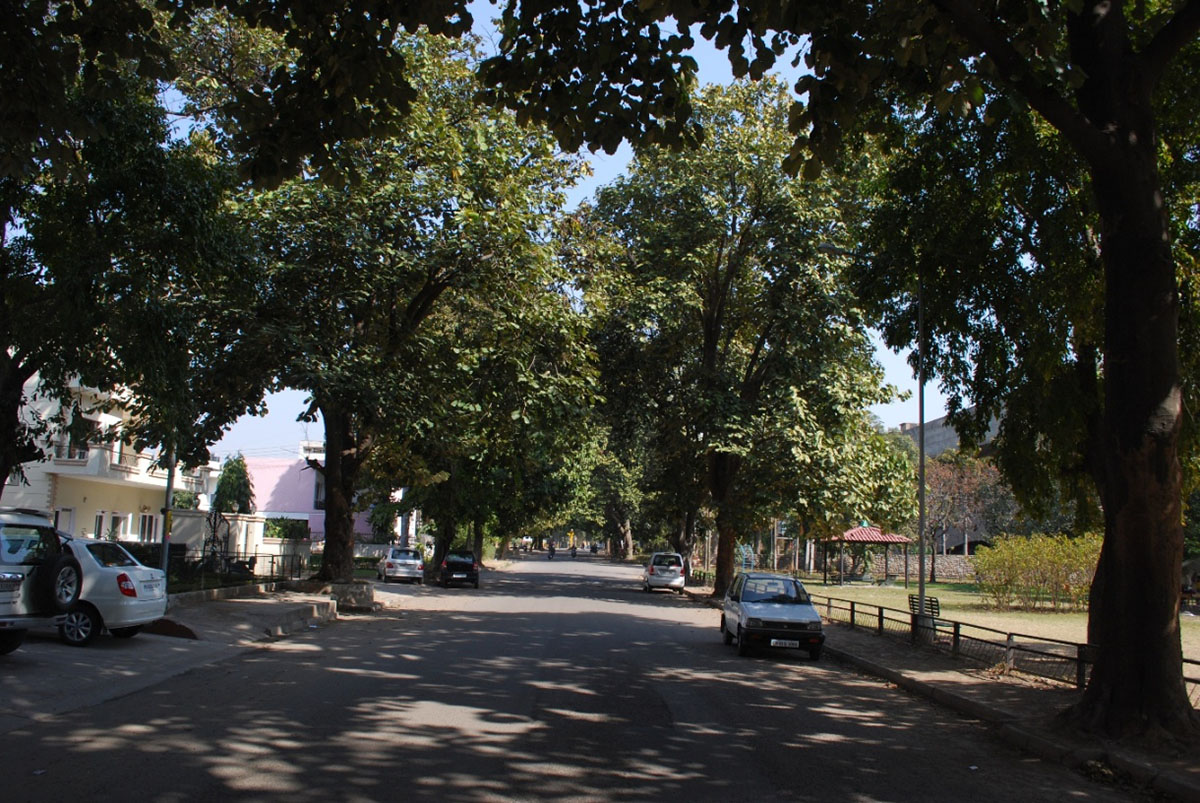 P-10.
P-11.
P-12.
P-13.
P-14.
Captions to photos:
P-1. (lead image) Mahogani avenue. View of a Sector dividing road planted formally in straight rows on geometric pattern looks exciting and glorious.
P-2. Vidya Path, a road dividing Sector 36 and 37. Scholar tree developed fabulous structures.
P-3. Dakshan Marg, between Sector 23 and 36 planted with Arjun tree (Terminalia arjuna).
P-4. Kigelia pinnata avenue. Large structured Kigelia tree with big branches has developed green walls, provided complete ceiling on the entire wide road. Single kind of tree has brought about complete homogeneity of structure, texture and foliage creating wonderful effect.
P-5. Udyog Marg. A beautiful, green and fascinating tree plantation with Swietenia macrophylla tree has brought about change in the quality of life in the city. Its continuous and repetitive use has brought about cohesiveness and enhanced the beauty of the city's landscape.
P-6. Circulation road in Sector 33. Masterful addition of amazing Bischofia tree added lot of beauty to the city. It is a neat large structured tree – does not spread litter.
P-7. Jan Marg. This road has been most extensively planted with mostly Chukrasia tree which gives a comforting effect to those using the road. Massive plantation of almost single kind of tree has brought about cohesiveness and has enhanced the landscape.
P-8. Entire foliage of Kusum trees becomes brilliant red in spring season.
P-9. Slow carriage approach road on Madhya Marg, Sector 16. Plantation of Mitragyna tree looks spectacular.
P-10. Circulation in Sector 37. Kanak Champa develops tall straight trunks; spreading crowns provide excellent green cover on the entire road space. Does not obstruct views of the city. Good for wide and narrow roads.
P-11. Main sector dividing road between Sector 22 and 23. Pure single tree avenue of Kigelia pinnata developed glorious green ceiling on the entire road space.
P-12. Himalaya Marg. Kusum trees look spectacular. Entire foliage of Kusam trees becomes yellow in autumn months.
P-13. Vidya Path dividing Sector 14 and 15. Single kind of species of Maror Phali tree looks gorgeous.
P-14. Udyan Path and Sarovar Path two sector dividing roads. Ficus infectoria (Pilkhan) has been planted on both these important roads.
All photos courtesy of Sanyam Bahga
> via Trees in Urban Habitat