10 must-see installations at the Istanbul Biennial 2017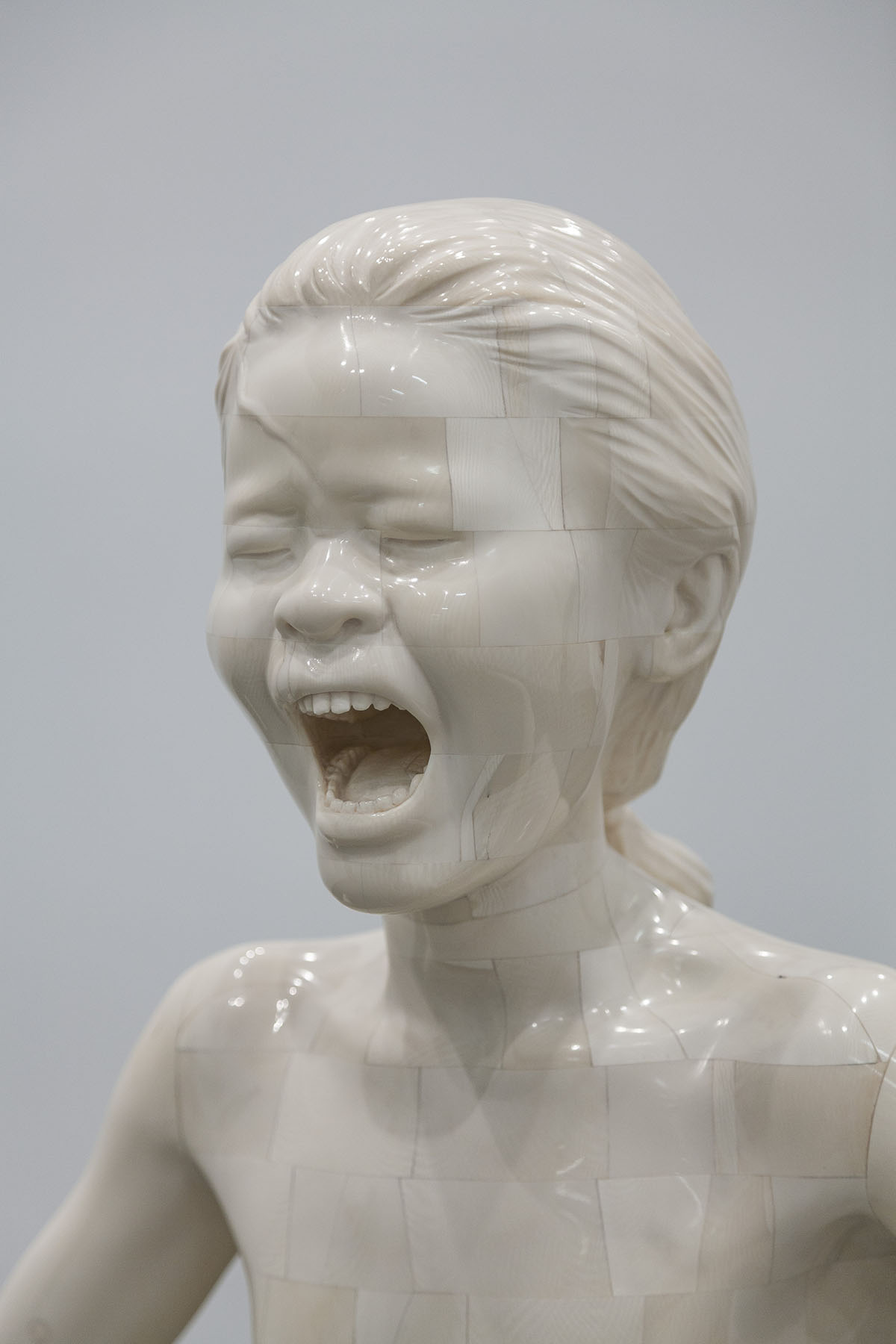 The 15th Istanbul Biennial is now open to the public - the biennial presents a variety of art pieces addressing to the theme of "a good neighbour" from different perspectives. World Architecture Community has selected 10 must-see installations and art works displayed in six venues under different themes.
The Istanbul Biennial is one of the most prestigious biennials of the world organised by The Istanbul Foundation for Culture and Arts (IKSV) since 1987 - the biennial's aim is to create a meeting point in İstanbul in the field of visual arts between artists from diverse cultures and the audience.
This year's biennial, curated by Danish and Norwegian artist duo Elmgreen & Dragset, hosted 55 artists from 32 countries and tackled neighbourhood relationships in different ways - ranging from the smallest scale (from room-to-room), street level to cross-continental.
The 15th Istanbul Biennial is open visitors in six venues at the heart of Istanbul: Istanbul Modern, Galata Greek Primary School, Ark Kültür, Pera Museum, Yoğunluk Atelier, and Küçük Mustafa Paşa Hammam - the biennial will open its doors until November 12, 2017.
Presented with site-specific installations, videos, maps, photographs, spatial performances, the artists' works are addressing different notions of home, belonging and neighbourhood, are based on 40 questions collected from different people at a living performance - each asking a question as to what constitutes a good neighbour.
Read on for World Architecture Community's selection to 10 artistic works that are not to be missed:
---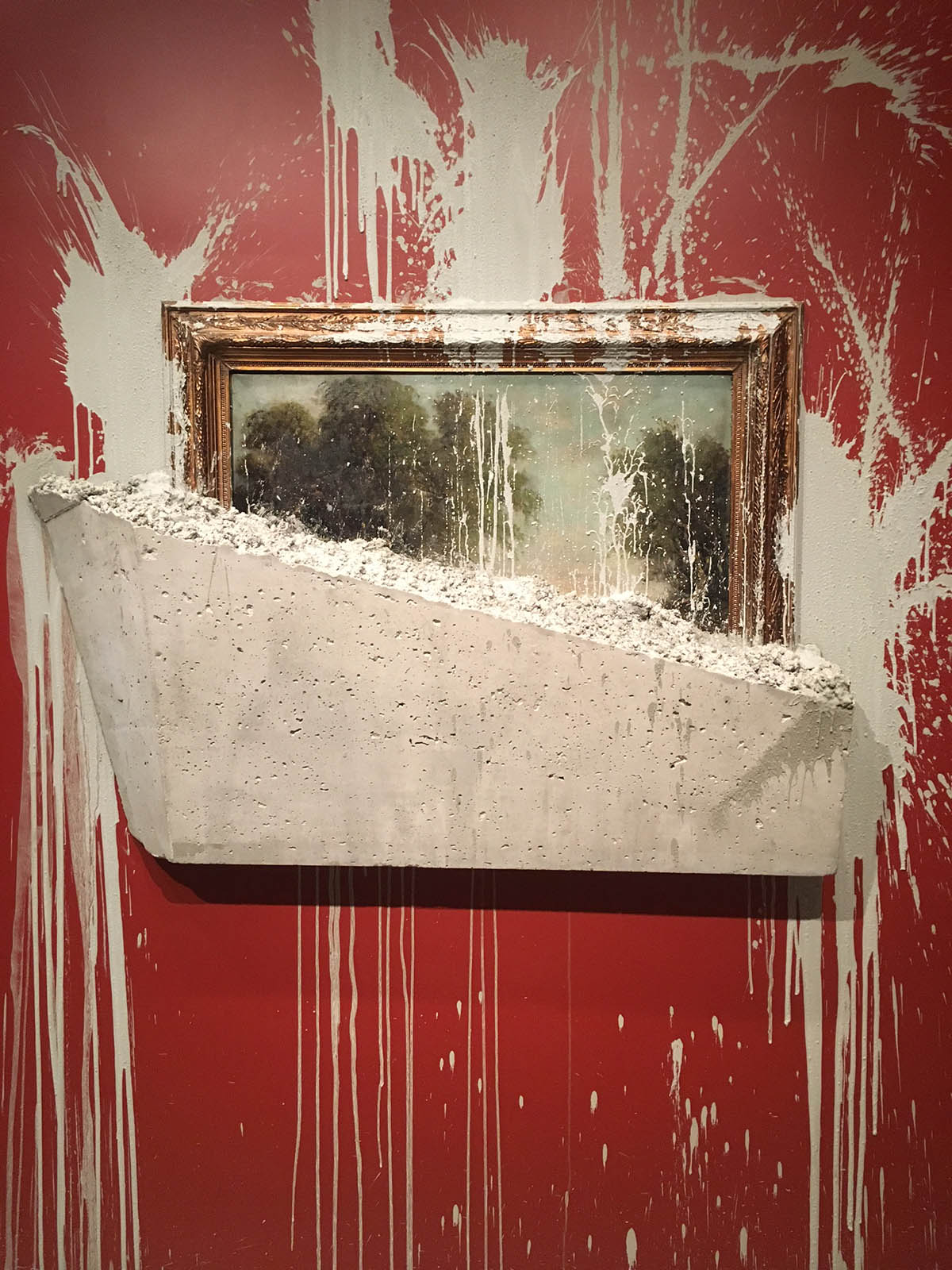 Image © WAC
Horror Vacui (Spring Scene #2), 2017: Alejandro Almanza Pereda
Pera Museum
"Alejandro Pereda's Horror Vacui (2010-17) series appropriates existing Romantic-style landscape and genre paintings, of which those shown at the 15th Istanbul Biennial are sourced by the artist from within Turkey."
"By contrasting these petit bourgeois depictions of outdoor space with a building material, such as concrete, Almanza Pereda calls attention to the space-filling processes of human construction. The series' title horror vacuo - 'fear of dislike of empty spaces' - refers to a traditional visual technique of filling a pictorial plane's negative space with detail."
Image © Sahir Uğur Eren, courtesy of IKSV
Recolecta: Liliana Maresca (1990/2017)
Pera Museum
"Recolecta, a car rented from a cartonero (or cart-pusher), dates from a time when human communication and union were under threat. The figure of the cartonero was prevalent in the early 1990s in Argentina and during the major economic crisis of 2001. After the neoliberal policies of the new government plunged many into poverty , wheelbarrows became a common sight, used by individuals to collect paper garbage in exchange for a small fee."
"Grounded in, but transcending, immediate politics and personal crisis, Maresca's work speaks quietly and authoritatively of loss, care, transition, and the fragility of livelihoods."
Image © Monica Bonvicini, courtesy of IKSV
Hausfrau Swinging (1997): Monica Bonvicini
Pera Museum
"Monica Bonvicini's Hausfrau Swinging is a video installation in which a naked woman bangs the house she is wearing on her head violently and inexhaustibly against the walls. Here, home is stripped of ideas of comfort and instead becomes a place of confinement and violence; a place against which to rebel."
"The work negates notions of architectural space as blank and engendered, and presents the body as a site of frustration, fantasy or entrapment. Bonvicini's video installation points to the home as a site of gender inequality."
Image © Sahir Uğur Eren, courtesy of IKSV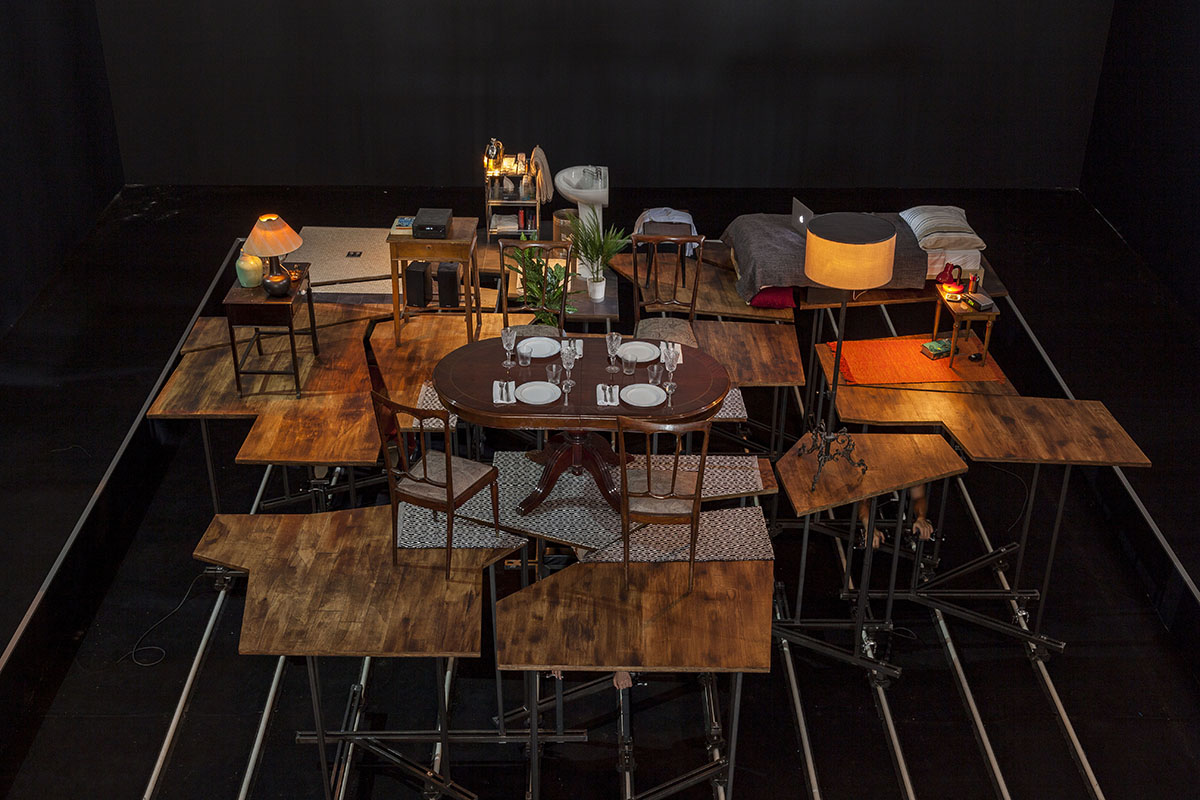 Image © Sahir Uğur Eren, courtesy of IKSV
Domain of Things (2017): Pedro Gómez-Egaña
Galata Greek Primary School
"Pedro Gómez-Egaña's work examines the dual notions of 'underground' space as a site for confinement and freedom alike. In his performance-driven installation Domain of Things, he interprets underground space as a site of refuge, yet also activity and pleasure, giving life to the space above."
"As individuals lie inside a wheeled basement structure on rails, slowly pushing and pulling, domestic space comes to resemble a machine. As the performers activate the machinery underneath, the 'home' above moves too - becoming fractured, disintegrated and re-forming itself."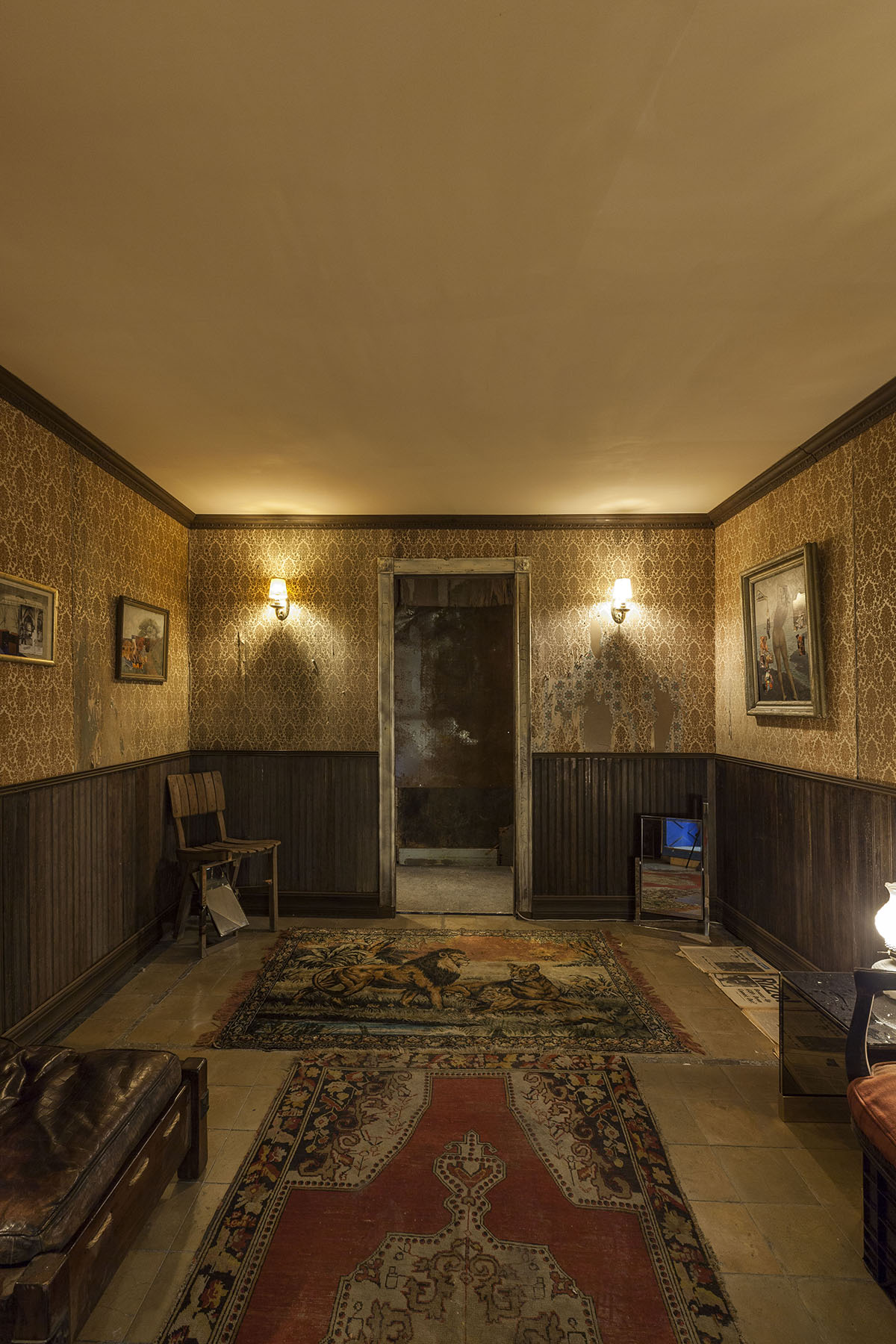 Image © Sahir Uğur Eren, courtesy of IKSV
Image © Sahir Uğur Eren, courtesy of IKSV
Image © Sahir Uğur Eren, courtesy of IKSV
Scenario in the Shade (2015-17): Jonah Freeman & Justin Lowe
Galata Greek Primary School
"Every society has its youth cultures. Within them, social communities and self-expression are closely linked, manifested through highly specific recreational activities, artistic styles, sports, commodities, slang and clothing.
Jonah Freeman & Justin Lowe's Scenario in the Shade is an architectural and cinematic articulation of fictional youth cultures in California, a world of accelerated subcultural development, as interpreted through the muse-en-scene of a cluster of underground habitats."
Image © WAC
Lawn 1 (2016/17): Lungiswa Gqunta
Galata Greek Primary School
"Lungiswa Gqunta's work is made of 3168 broken Coca Cola glass bottles. The sculptures of Lungiswa Gqunta investigate the ongoing and tense relationships surrounding race, architecture, dispossession and capitalism. They employ commonly found domestic objects, and are personal examinations of historical continuities and injustices that persist within post-Apartheid South Africa."
"In Lawn 1, she creates a 'lawn' out of broken Coca-Cola bottles. In apartheid South Africa, only affluent whites had lawns, which were tied to their prosperity and notions of domesticity, security and racial privilege. Upturned, broken bottles are placed on garden fences to deter outsiders. For Gqunta, who grew up in one of South Africa's biggest townships, this work symbolises the lawns of her childhood."
Image © WAC
Cri (2013): Adel Abdessemed
Istanbul Modern
"Adel Abdessemed's work Cri unites material history and human tragedy. The sculpture appropriates a black and white photograph, taken by the photojournalist Nick Ut in 1972, in which four young children can be seen running down the road, screaming as napalm rains down on them as North Vietnamese troops bombed South Vietnam."
"When decontextualised by Abdessemed, the figure appears alienated in a different way, as it frozen in time. It speaks to the loss of home, safety, dignity, and life, and conjures the tragic timelessness of suffering and violence."
Image © WAC
D8M, 2017: Alper Aydın
Istanbul Modern
"Progress, or the advancement of human history, encompasses a number of ruinous and destructive acts. Processes of construction and wreckage are closely linked. The ideologies, instruments and technologies of human advancement are intertwined with the reality of natural resource exhaustion, ecological collapse, war, displacement and the precariousness of financial and environmental systems."
"The work D8M by Alper Aydın responds to human interactions with nature in pursuit of urban expansion and development."
Image © Sahir Uğur Eren, courtesy of IKSV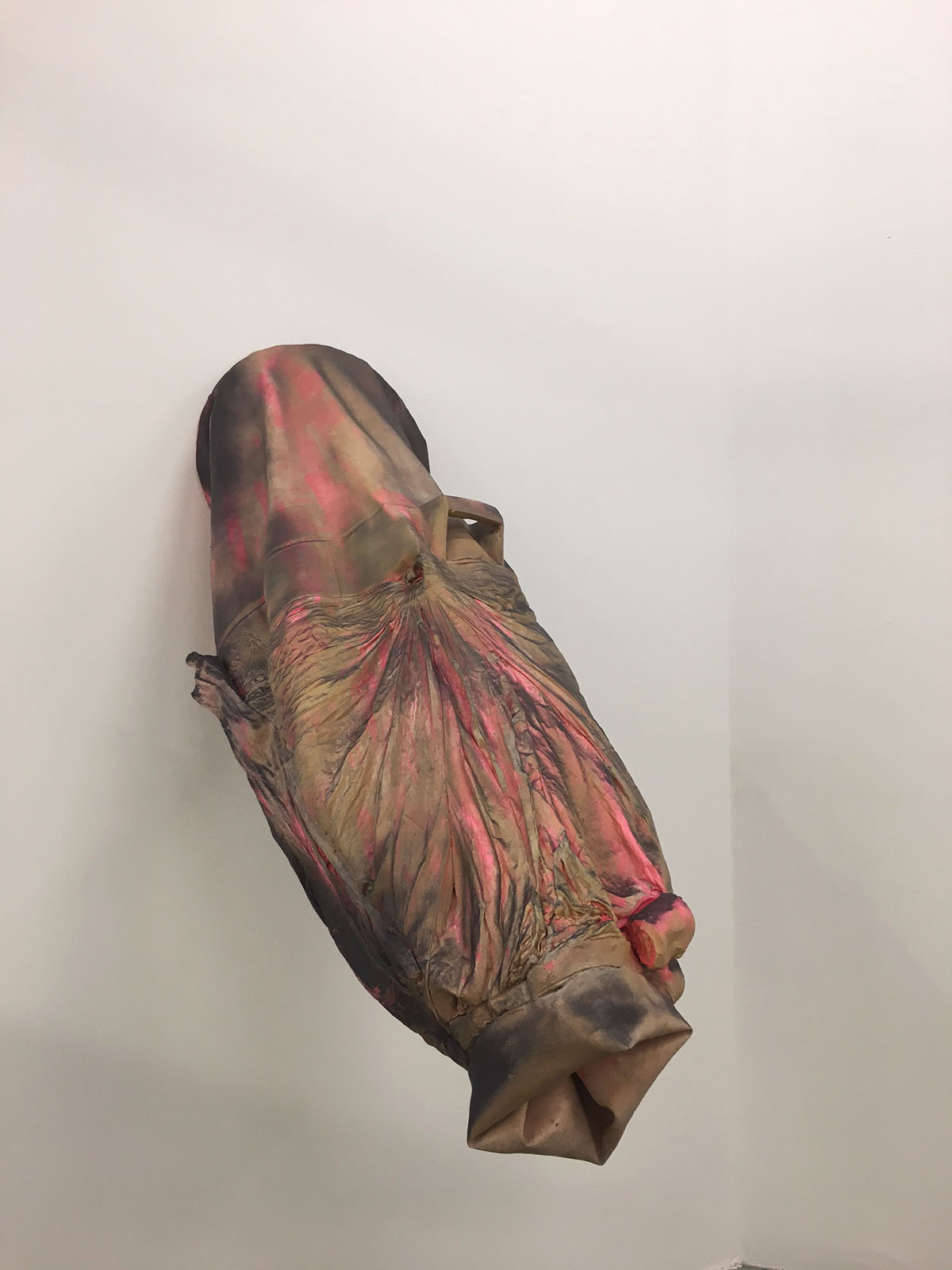 Image © WAC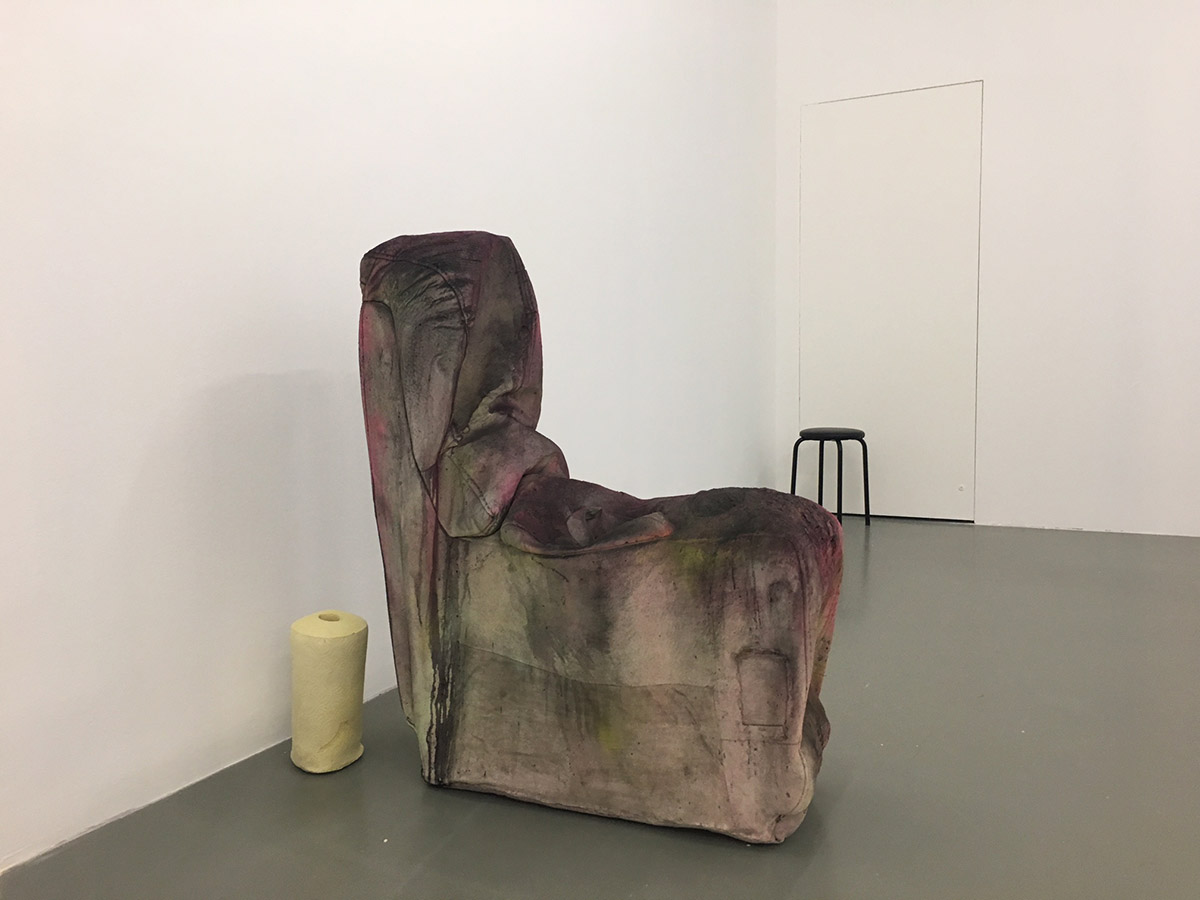 Image © WAC
Hommelette (2017): Kaari Upson
Istanbul Modern
"Kaari Upson takes an almost anthropological approach to the domestic sphere and its contents. Her work examines representations and experiences of memory and affect, of decoration and disorder, of desire and repulsion. For the 15th Istanbul Biennial, Upson expands on her investigation of what the Austrian philosopher Alexius Meinong has called the 'home-less object' - objects for which, as Slavoj Zizek has elaborated, 'There is no place...neither in reality nor in the domain of the possible."
"The sculptural inhabitants of Upson's spectral and dreamlike world - discarded furniture and objects found on the streets, weathered and mutated through their expulsion - uncannily evoke the familiarity of the domestic its seductive and unknowable inverse."
Image © Sahir Uğur Eren, courtesy of IKSV
The House, 2017
Yoğunluk Artist Atelier
The House is an interactive house produced by Yoğunluk Atelier (İsmail Eğler, Nil Aynalı Eğler ve Elif Tekir) displayed at the Yoğunluk Artist Atelier. Yoğunluk Atelier is situated on the fourth floor of a building on a busy restaurant street, and welcomes small groups of viewers on a timed viewing schedule due to the scale and the dimly lit nature of the site-specific installation.
When visitors enter the room, they come across a completely dark environment, only filled with silicon, dinner table, desk, plates, forks, knifes, spoons, glasses, candles, armchair, tea table, chairs, books, paintings, lamp, dimmer, speaker, lights, clock in a 30-square-metre area. This dark room is where our home is actually questioned and every place we feel ourselves can be our home.
Top image: Cri (2013) by Adel Abdessemed, image © Sahir Uğur Eren, courtesy of IKSV
> via Istanbul Biennial