"Never Built New York" opened its doors in Queens Museum, NY
The idea of the exhibition appeared after curators Greg Goldin and Sam Lubell published a book with the same title including unrealized projects in New York in 2016. Queens Museum, an art institution hosting community based programs for architecture and urbanism, launched a Kickstarter campaign in May this year to showcase these projects in a museum exhibition. With the support of community in reaching their goal $35,000 (the campaign reached $50,239 in the end), Never Built New York exhibition presenting unbuilt architectural and urban design & planning projects for New York has opened its doors on September 17 in Queens Museum.
Designed by architectural designer Christian Wassmann and co-curated by Sam Lubell, the exhibition invites you to imagine how New York could have been through more than 70 architectural and urban projects with original prints, drawings, 3D models, installations and sketches spanning 200 years of the city's history.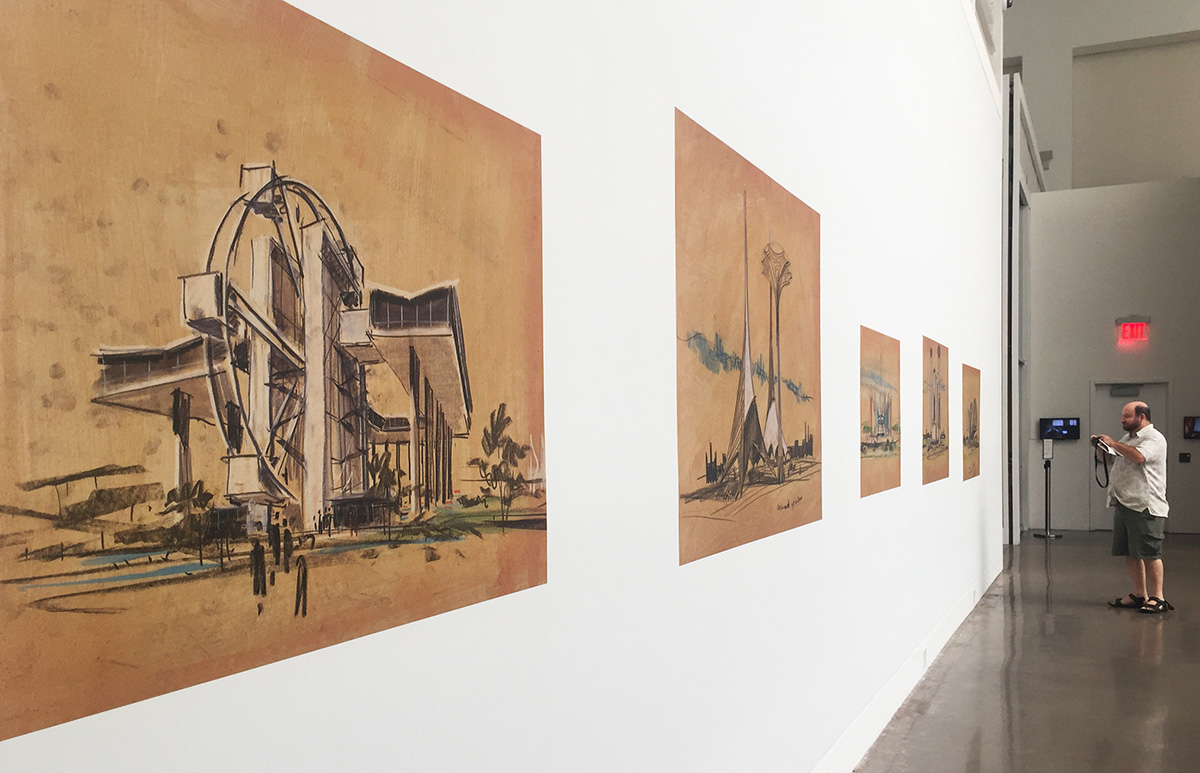 The Skylight Gallery: The sketches of unbuilt projects. Image © Elif Merve Unsal
The exhibition is displayed in three galleries. The skylight galleries contains 11x30 feet inflatable version of Westinghouse Pavilion proposal for 1964 World's Fair by Eliot Noyes.
For Westinghouse's entry at the fair, Noyes proposed a circular dome surrounded by a series of shiny spheres, each showcasing one of the company's technologies. Visitors would travel through each zone via moving sidewalk. For Never Built New York, his design was reimagined as a bouncy castle.
Eliot Noyes' Westinghouse Pavilion. Image © Courtesy of San Francisco Museum of Modern Art
The Rubin Gallery is organized as Manhattan-like venue in terms of location and density, which exhibits many unbuilt projects from a closer perspective from uptown to downtown. Geographically organized tapered room roughly resembling the shape of Manhattan, models, renderings, and drawings are arranged salon-style on the black walls.
View from the Rubin Gallery. Image © Elif Merve Unsal
Some projects exhibited at the Rubin Gallery are shown below:
World Trade Center Freedom Tower by Daniel Libeskind, 2002. The 1,776-foot-tall "Gardens of the World" 2002 : Study models (paper), ink and pastel on trace and paper. Image © Elif Merve Unsal
Plan of the Central Park by John Rink , 1858. His competition-losing vision of formal, symmetrical Central Park with tightly arranged arbors and glades crated shapes resembling stars and medallions bordered with formal sequences of trees, shrubs, flowers and a golf link. Image © Elif Merve Unsal
Dome Over Manhattan by Buckminster Fuller, 1960. A proposal of three-kilometer geodesic dome spanning Midtown Manhattan with the aim of regulating weather and reducing air pollution. Image © Courtesy Department of Special Collections, Stanford University Libraries and The Estate of R. Buckminster Fuller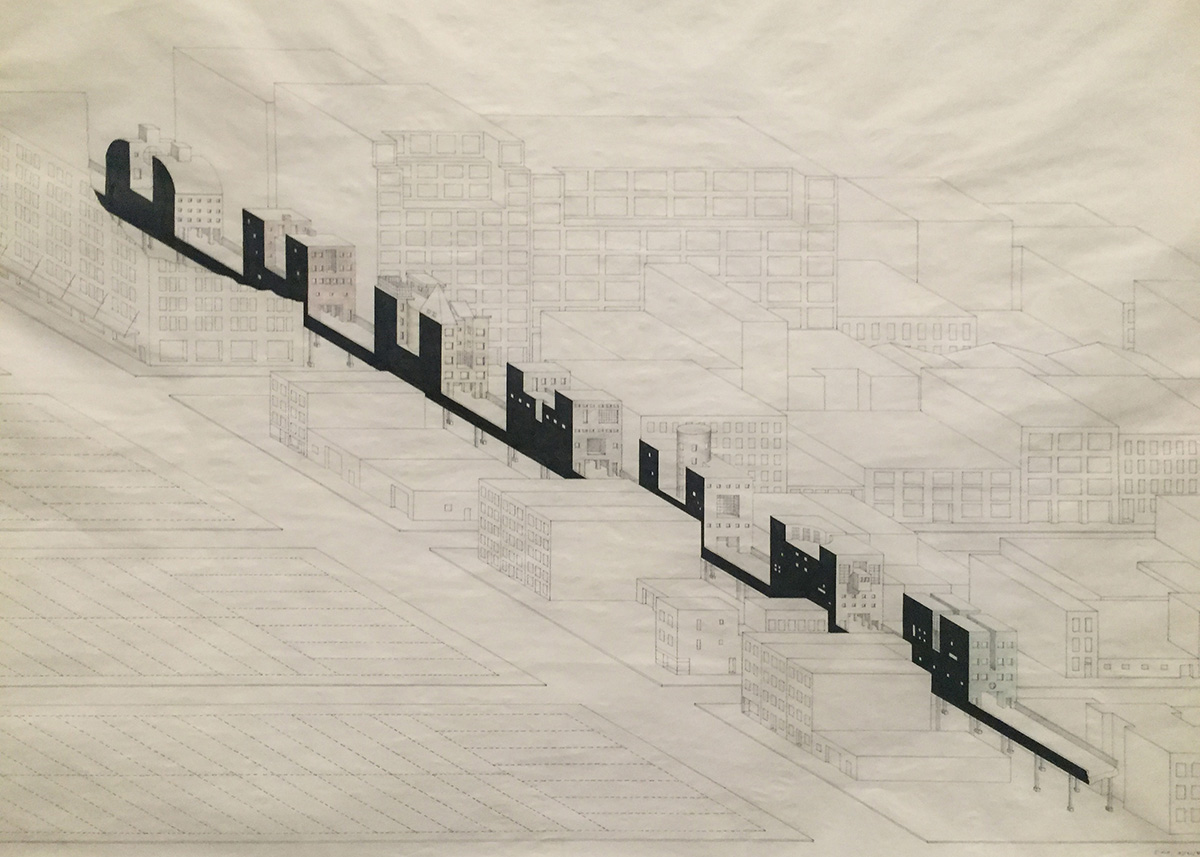 Bridge of Houses by Steven Holl, 1981. 30 years before the High Line Park opened in Chelsea, Steven Holl proposed of using the abandoned railway to create "an ornate collection of urban villas" from studios for homeless to luxury apartment. Image © Courtesy of Steven Holl Architects
On the "Panorama" of New York City, which is the world's largest scale model of its time, 3D model of unrealized projects of New York has been fabricated in Columbia University Graduate School of Architecture, Planning and Preservation's Fabrication Lab and placed in their originally intended locations. It functions as a visual guide in the "Never Built New York" exhibition.
The Panorama. Image © Elif Merve Unsal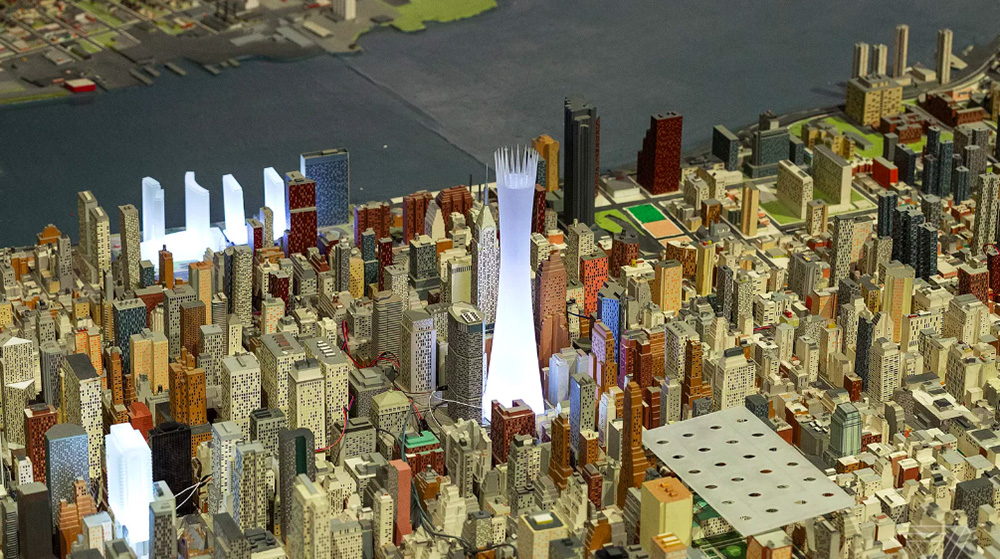 Hyperboloid by I.M.Pei, 1954-1956. The "Hyperboloid" would have been the tallest structure in the world at 102 stories, and would have replaced Grand Central Station. Image © Amelia Holowaty-Krales
Airport by William Zeckendorf, 1945. This model shows an airport stretching down the Hudson River and into Midtown Manhattan. Image © Amelia Holowaty-Krales
Model of Dome Over Manhattan by Buckminster Fuller, 1960. Image © Elif Merve Unsal
The exhibition lets you explore the possibilities, the never built architectural dreams that would have changed this metropolis for better or for worse and invites you to think about how it would have replaced.
The exhibition will be waiting for its visitors until February 18, 2018 in Queens Museum, New York.
"Never Built New York" included are alternate visions for Central Park, Columbus Circle, Lincoln Center, MoMA, the UN, Grand Central Terminal, the World Trade Center site and other highlights such as: Alfred Ely Beach's system of airtight subway cars propelled via atmospheric pressure; Frank Lloyd Wright's last project, his Key Plan for Ellis Island, on which he would have developed his dream city; Buckminster Fuller's design for Brooklyn's Dodger Stadium, complete with giant geodesic dome to shield players and fans from the rain; developer William Zeckendorf's Rooftop Airport, perched on steel columns 200 feet above street level, spanning from 24th to 71st Street, Ninth Avenue to the Hudson River; John Johansen's Leapfrog City proposal to create an entirely new neighborhood atop the tenements of East Harlem; and Stephen Holl's Bridge of Houses, offering options for what is now the High Line."
Top image: Eliot Noyes' proposal for the Westinghouse Pavilion at the 1964 World's Fair, reimagined by Never Built NY as a bouncy castle. Image © Jackson Rollings
> via Queens Museum