Tree Plantation Along City Roads: New Delhi Is The Best In India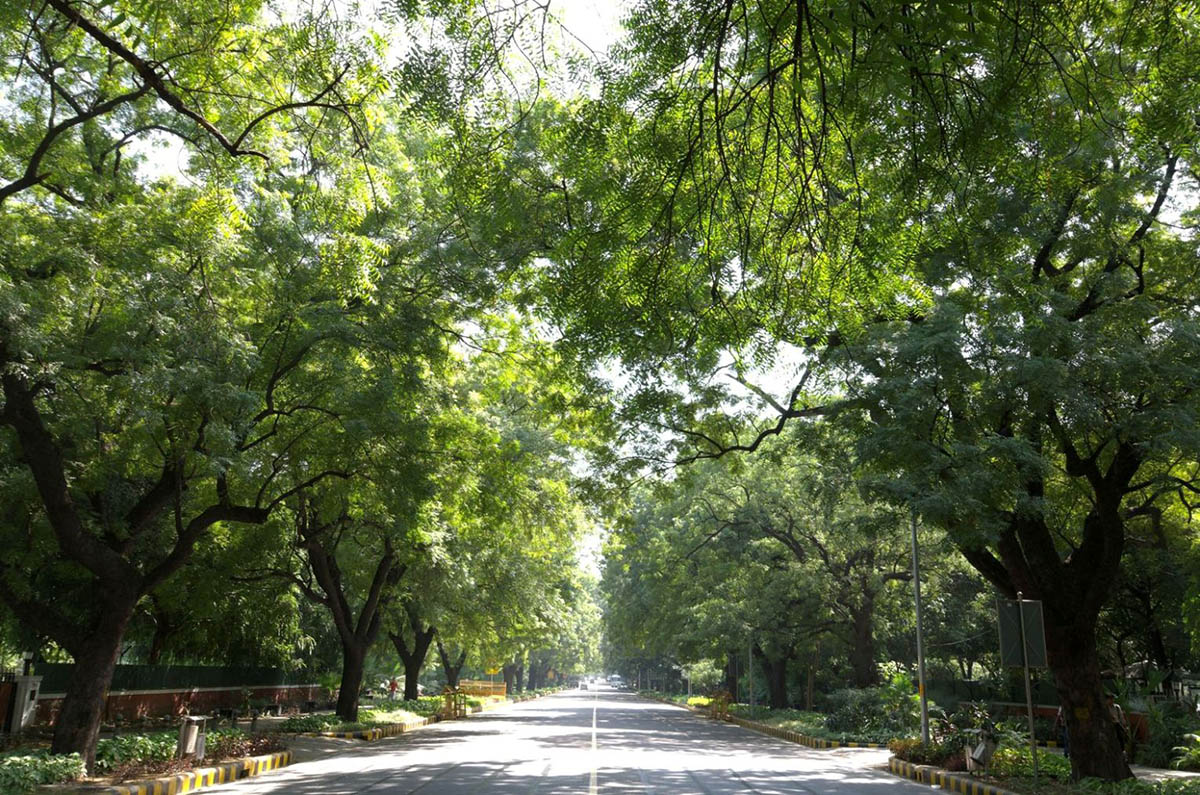 P-1.
Trees play tremendous role in conditioning our environment, they cut off sun's heat from the ground, reduce dust pollution, noise pollution, wind velocity, and more important, produce oxygen and consume carbon dioxide free of cost. Planting trees is the most effective and economical method to improve physical environment.
Trees once established do not need maintenance and continue to serve mankind for many hundred years. They not only provide comfort and beauty but also improve productivity of human beings. Therefore functionally suitable trees are very essential for the betterment of our built-environment - the cities.
P-2.
One of the best example of planned tree plantation along city roads in India is New Delhi.
The capital city of New Delhi which came into being 100 years ago is an exemplary work of urban planning. Sir Edwin Landseer Lutyens conceptualized the city's masterplan which broadly consists of the Presidential Estate, Janpath and India Gate in the Central Vista with Connaught Place on the one side and Lodhi Road on the other.
Lutyens also created the landscape design of this part of the city. He collaborated with William Robertson Mustoe, a gardener and Walter George, a town planner in planning, selecting, planting and maintaining this stretch of the city.
P-3.
Lutyens worked with a very short list of trees that were known to possibly grow in New Delhi. This list was prepared by A.E.P. Griessen of the Horticulture Department of New Delhi.
It consisted primarily of indigenous species of trees such as Neem (Azadirachta indica), Arjan (Terminalia arjuna), Jamboa (Engenia operculata), Jadi (Ficus amplissima), Imli (Tamarindus indica), Bahera (Terminalia bellirica), Tree of heaven (Ailanthus excelsa) etc. Lutyens used these trees on almost all the roads he planned and planted.
P-4.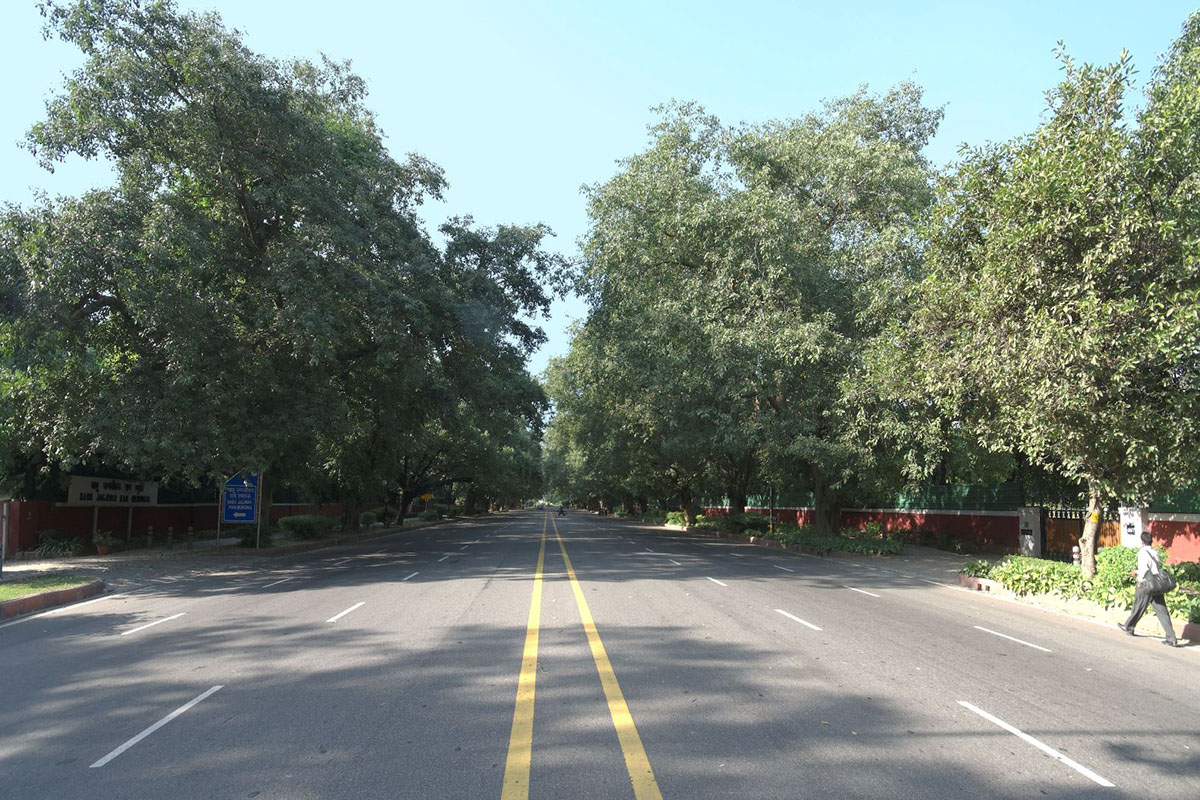 P-5.
Tree plantation along roads in New Delhi is one of the best in India. It is a an exemplary model of architectural, structural and aesthetic excellence. Some of the remarkable features that can be attributed to its artistry are:
Use of structurally large trees with very tall, straight trunks that form excellent sprawling crowns.
The use of indigenous species that are hardy, sturdy and durable that makes them easy to grow and maintain. They are able to withstand the extreme environmental pollution from toxic automobile exhausts that usually threaten delicate trees.
Evergreen varieties of trees used which lends to year-round green effect and protection from severe weather conditions.
The entire expanse of open space between the concrete buildings and roads covered, creating a soothing visual effect.

Avenues planted with single kind of trees that offers a glorious collective impact. The consistency, homogeneity of structure, texture and pattern it creates has helped bind the entire city together.

Trees planted in straight rows and geometric patterns help create a beautiful effect in a city the magnitude of Delhi.

Planting trees close to the verges, has helped separate vehicular and pedestrian traffic.

All flowering species of trees that are structurally small, short-lived and difficult to grow and maintain have deliberately not been used for roadside plantation. Instead these have been exclusively planted in parks and various open spaces where they grow well and provide colour and beauty to the city.
P-6.
P-7.
P-8.
Undoubtedly, the tree plantation along roads in New Delhi is a landmark in the history of landscape design in India which other cities should have followed. But unfortunately except for Chandigarh, no other city in India is anywhere near to New Delhi and Chandigarh. In an era of, the so called, Smart Cities, the administrators, planners, and landscapists should follow these cities and make all human settlements worth living.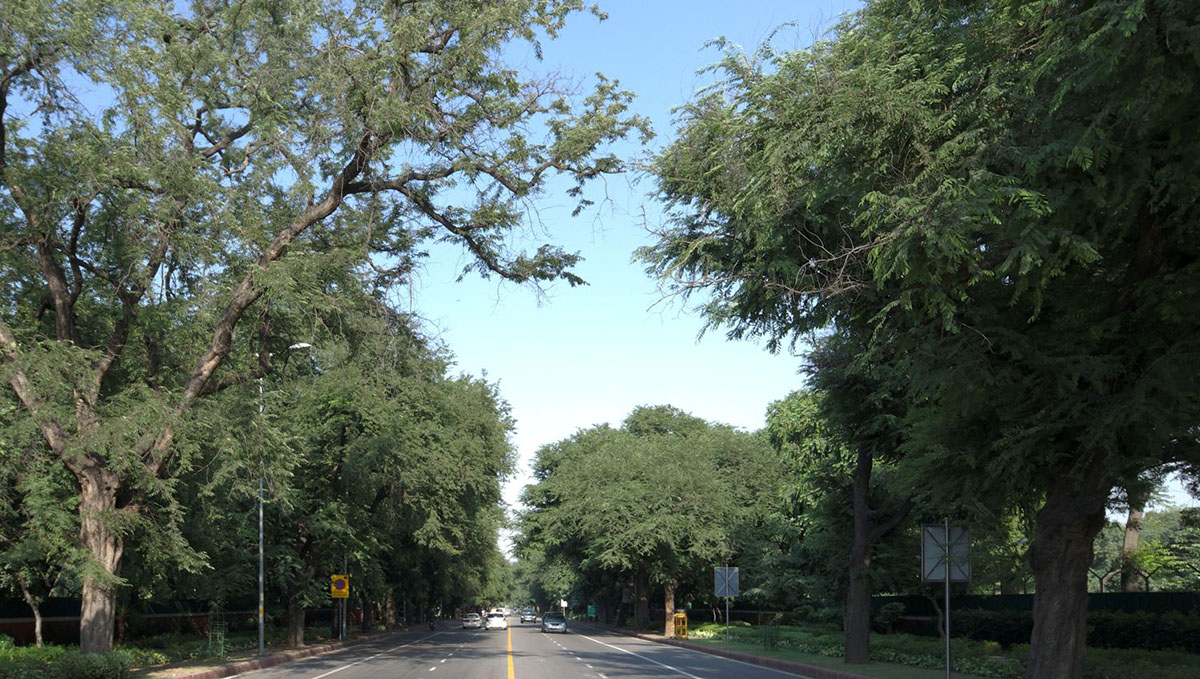 P-9.
Captions to photographs:
P-1. Tees January Marg, Single kind of evergreen Neem tree created glorious collective impact due to homogeneity of structure, texture and pattern. This tree has also been extensively used on Prithviraj road, Aurangzeb road, Ashoka road, Safdarjang road and Lodhi road.
P-2. Tees January Marg, Large structural Neem trees on this road have created extensive green cover between buildings and roads, enhancing the beauty of the street and buildings, and all spaces around the road.
P-3. Tuglak Road, Continuous and repetitive use of a single kind of Jamboa tree brought about cohesiveness and enhanced the entire landscape. Its plantation on road verge has separated vehicular and pedestrian passage.
P-4. Jan Path Road, Large structured Arjan trees with big branches, thick foliage have developed green walls, ceilings and outdoor rooms creating a spectacular effect.
P-5. Krishna Menon Marg, Ficus amplissima has created an attractive evergreen roof of big arching branches and beautiful foliage – enhancing the beauty of the street.
P-6. Motilal Nehru Marg, Jamboa tree is structurally big and evergreen. Its high trunk, well formed crowns provides complete cover with spreading and dropping branches and foliage –making the avenue functional and attractive. Plantation of Jamboa has been repeated on Tughlak road, Rajaji road as well as Tyagraj Marg.
P-7. Krishna Menon Marg, Jadi tree has developed evergreen cover on the entire wide space between concrete buildings and road. It creates a wonderful high roof of branches and providing a soothing visual effect.
P-8. Janpath, Arjan tree planted close to the verge has separated vehicular traffic and pedestrian movement and looks fantastic. Arjan has also been planted on Teen Murti and Mother Teresa Marg.
P-9. Akbar road, Imli tree decorates Akbar road with tall straight trunk, spreading crown, providing green cover on the entire road and pedestrian path separating vehicular and pedestrian traffic. Imli tree has also been planted on Tilak road, Pandit Pant Marg and a stretch of Mother Teresa Marg.
All images courtesy of Baljit Singh
> via Trees In Urban Habitat