First Book on Albanian Female Designers launched
On Thursday the 25th of May, in the presence of women designers, architects, planners, and engineers, the Minister of Urban Development of Albania, Ms. Eglantina Gjermeni, presented the publication Te Projektosh per te Jetuar - To design for Living, which encompasses the works of 122 Albanian female designers during the years 1945 -1990. This book is the first of its kind that acknowledges and celebrates female architects, construction engineers and urban planners and their work in Albania.
The publication - in the form of a catalog illustrating drawings of public works - was initiated and realized under the care of the Minister and lead in collaboration with the Central Technical Archive of Construction (AQTN), and the architect Vera Bushati.
For many centuries, similarly to other disciplines, construction was a male domain; more so than ever in the Albania of the communist regime. Albanian female designers were not only pressured due to gender inequalities, thus working twice as hard as their male counterparts, but they were also restricted to the norms and political ideations of the time.
Nevertheless, Albania is developed by the hotels, hospitals, schools, kindergartens, theatres, museums, apartments, institutes, factories, cemeteries, etc., authored and co-authored by evidently them - female designers. As stated by Minister Gjermeni, the catalog attempts to shed light to their works as it has been largely underrepresented and gone unnoticed in both architectural education and practice.
Many female architects shaped the capital city with these projects; Valentina Pistoli - National Martyrs Cemetery (1958), Suzana Topulli (co-author) - Misto Mame Plant (1985), Pranvera Hoxha (co-author) - Enver Hoxha Museum (Pyramid) (1985), Nina Shehu (co-author) - National Museum of History (1978), Mariuara Comora - Textile Plant "Stalin" (1980), Vitore Perolli - Artistic College (1960) and much more.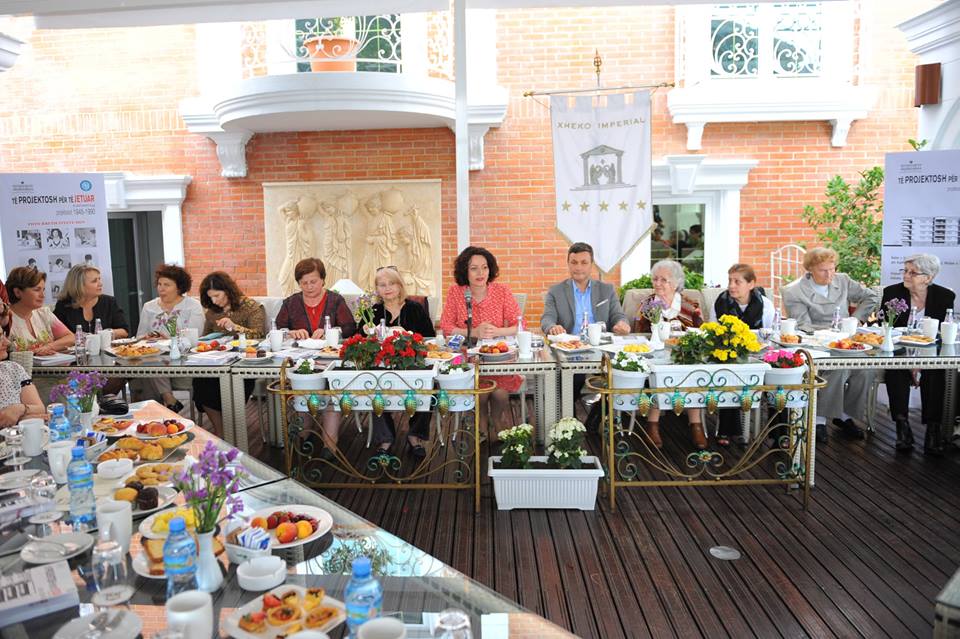 The catalog features the works of these 122 personalities:
Afërdita Gjini (Veleshnja); Afërdita Kuçani (Toska); Aferdita Polovina; Aida Daja; Aida Mima (Kodheli); Anila Hoxha; Antigoni Teta; Ariana Lula; Armela Xeka; Brikena Zoto; Athina Kavaja; Çelestina Dobro; Dhurata Struga; Diana Hoxha; Diana Lulo; Diana Mitrushi; Dodona Sinoimeri (Klosi); Doklea Berisha; Donika Pistoli (Tartale); Doris Saatçi (Andoni); Donika Buda; Edita Kolevica (Logoreci); Edlira Vogli; Efigjeni Gjoka; Eli Andoni; Eliana Pilika; Elida Bita; Elida Diamanti; Elisabeta Broka; Elisabeta Vjero; Engjellushe Demi (Hoxha); Elsa Juca; Eri Alimehmeti; Ermira Godo; Ermira Kroi; Ermira Qarri; Eva Gjika (Cangoni); Fatbardha Daja; Fatime Dedej (Çeli); Flora Çabej (Pogaçe); Gentiana Papa; Iliriana Çoçoli; Irini Gjikondi; Irini Leka: Johana Ruci; Juli Shllaku; Keti Qano; Keti Stasa; Kujtime Haxhihalili; Lejla Begeja; Lejla Pasko (Jegeni); Lejla Merko (Saraçi); Leonora Dashi; Leonora Zaloshnja; Lida Vila; Liliana Lako; Liliana Kadiu; Liri Peristeri (Shehu); Liri Alibali; Liri Deliu (Abazi); Liri Kruja; Luiza Frashëri; Luçiana Rubolino; Luiza Konomi; Luljeta Bocaj; Magdalena Furrxhi; Majlida Buzo; Marjeta Jorgji; Marjeta Stillo; Marita Tollkuçi (Zhamo); Mariura Çomora (Pollo); Mariza Rrenja (Naraçi); Marsela Dino; Matilda Manço (Bushaka); Mimoza Kroi; Mimoza Plaka (Dhamo); Mimoza Prodani (Kabili); Mira Lufi; Nadija Filipeu (Roshi); Nasibe Dervishe; Neli Gribizi; Nina Shehu (Mitrojorgji); Nina Theodosi; Norma Shuteriqi (Kushi); Olivera Plaku; Parashqevi Dhrami (Tashi); Pranvera Hoxha; Pranvera Seiti; Rita Shiroka; Rexhina Rudi; Rudina Treska; Sashenka Agoviku; Shefikat Beqiraj (Agarai); Shpresa Kotmilo; Shpresa Leka; Shpresa Plasari; Sllovena Safa; Shyrete Danalli; Silva Kosturi (Kico); Sofie Peçi; Suzana Burda; Suzana Cikuli; Suzana Fuga; Suzana Sinani; Suzana Topulli; Svetllana Jakupi; Tamara Gjoka (Eftimi); Tatiana Doçi; Tatiana Shuke; Teuta Mati; Vala Kamani; Valentina Pistoli; Vasilika Cicko (Çeli); Vera Kavaja (Koroshi); Veronika Myslymi; Veronika Hajdari; Violeta Islami (Bufi); Violeta Icka; Vitore Kotoni; Xhulieta Shkodrani; Xhilda Mosko; Yllka Zaloshnja; Zhani Dushku; Zana Bufi (Shehu).
All images courtesy of the Ministry of Urban Development