A giant glass spherical concert venue is set to add to London's skyline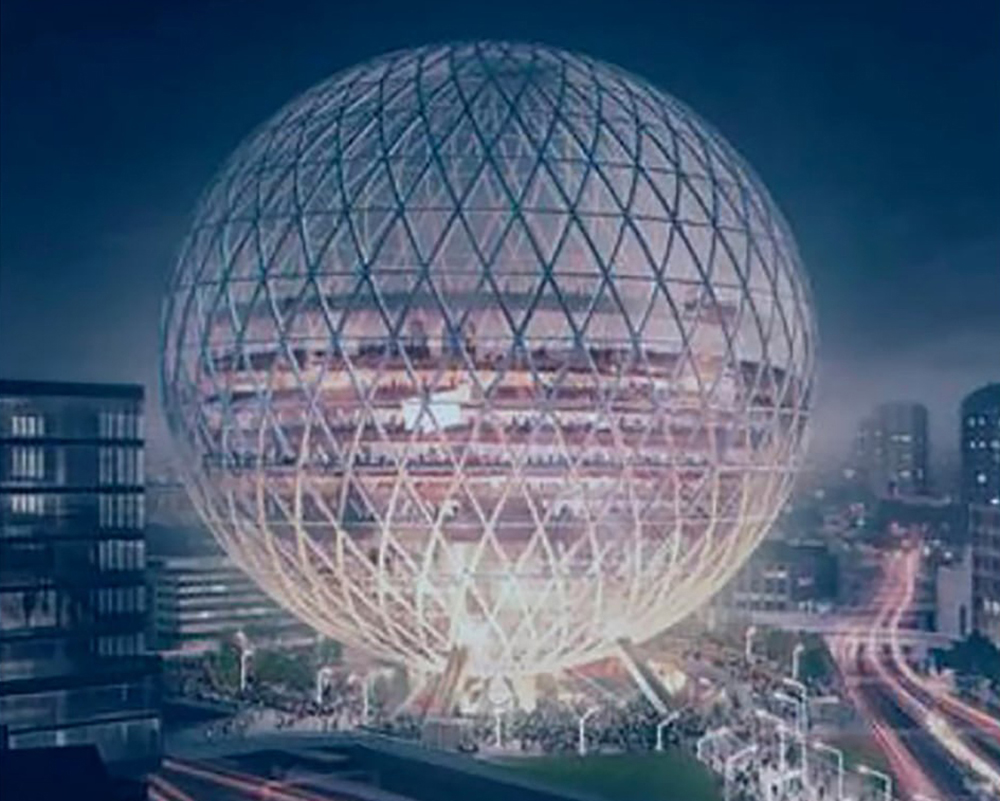 A giant glass spherical concert venue for London has anonymously been unveiled to the public, which is currently being planned near the Olympic park in Stratford, East London.
Reaching at 130-metre tall, compared to the height to the arch of Wembley stadium and 20-metre-tall St Paul's Cathedral, the planned concert hall's first visual has been seen by The Guardian newspaper.
The architect or the office behind the project has not yet been announced publicly but reportedly, the Madison Square Garden Company (MSG) commissioned London-based office Populous, who are best knows for their large-scale concert venue designs and stadiums.
Named The Golf Ball, the reports say that early design schemes of the project could accommodate up to 20,000 people. But this kind of a concert venue may compete London's O2 Arena, which is located in the former Millennium Dome in Greenwich, and operated by another US entertainment company, AEG.
Populous previously designed a new arena in Bristol, and is currently working on Tottenham Hotspur Football Club and a new stadium concept in San Diego, in addition, the office was commissioned to design a world-class 365-day venue that serves fans and the broader Phoenix community as a full-scale entertainment destination.
There is only one image released about the project so far, but the released image shows that the project will reach at 130-metre height, even will be 20m taller than St Paul's Cathedral. Reportedly, it will be characterised with its globe-shaped volume and fully transparent facade and lattice system, shining endlessly in the heart of the city. The structure is raised above from the ground with a tripod of pylons so that visitors can pass underneath the concert hall.
The proposed plans have not yet been submitted for consent to the London Legacy Development Corporation (LLDC), which is the planning authority for the Olympic park area. "But they appear to be in tune with the LLDC's policy that the carpark site should be used for "large-scale town centre use with supporting elements," according to The Guardian.
Reportedly, neither MSG nor Populous have approved yet whether they are involved in the project or not. A spokeswoman told The Guardian for MSG in New York: "We do not comment on rumour or speculation." A spokesman for Populous respectively said: "There's nothing for us to say."
A previously proposed plans to build a snow dome on the same site was backed by the former London mayor Boris Johnson, was scrapped in 2016.
The project, even if it is in the design stage, seems unclear and if it is built, The Golf Ball will be the first venue of MSG built outside the US.
Top image courtesy of The Guardian
> via The Guardian