Norman Foster presents Droneport Prototype at the Venice Biennale 2016
A full-scale prototype for a droneport designed by Foster+Partners built on site in the Arsenale in Venice, was unveiled at the 15th International Architecture Biennale on Thursday 26 May. The droneport prototype is the first project to be presented by The Norman Foster Foundation. The proposal is to create a network of droneports to deliver medical supplies and other necessities to areas of Africa that are difficult to access due to a lack of roads or other infrastructure and the ambition is that every small town in Africa and in other emerging economies will have its own droneport by 2030. The project was announced as a new 'infrastructural leap' last year to support cargo drone routes capable of delivering urgent and precious supplies to remote areas on a massive scale.

The pilot project will be launched this year and is based in Rwanda, a country whose physical and social geography poses multiple challenges. The initial plan for three buildings, to be completed by 2020, will enable the network to send supplies to 44 per cent of Rwanda. Subsequent phases of the project could see in excess of 40 droneports across Rwanda, and the country's central location could allow easier expansion to neighbouring countries such as Congo, saving many thousands more lives.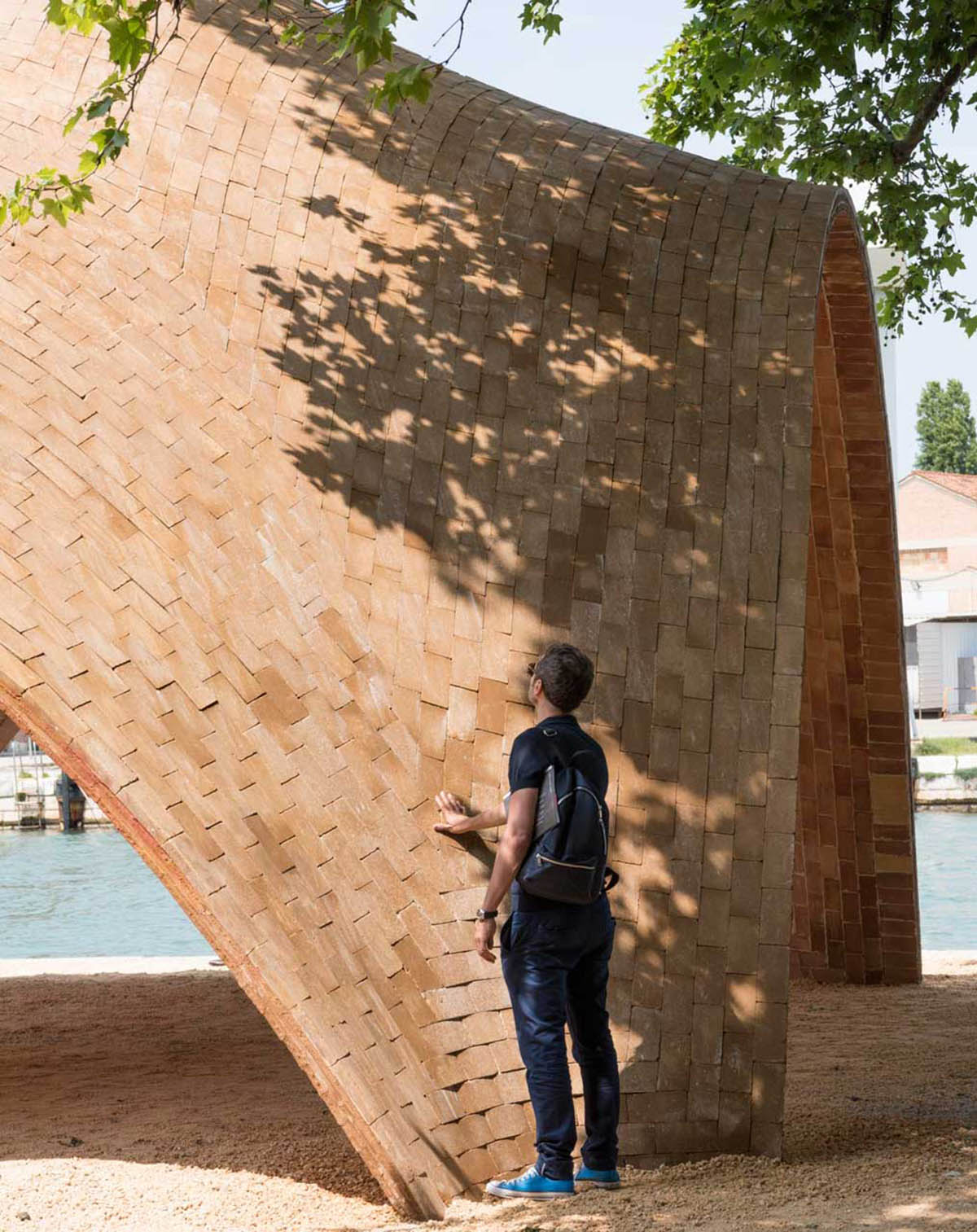 Jonathan Ledgard, Founder of the Pioneering Redline Cargo Drone Network, a concept he developed at the Swiss federal institute of technology in Lausanne (EPFL), approached Norman Foster with the concept because of his combination of airport design experience and knowledge of flight as a pilot of sailplanes, helicopters and aircraft. Foster then shared the challenge with his colleagues Narinder Sagoo and Roger Ridsdill Smith at Foster + Partners. Working with their teams, the basis of a modular vaulted system evolved. It has fallen to The Norman Foster Foundation to advance it beyond early feasibility stage and has led to the present team to design, engineer and implement the project through to a built reality.

''Africa is a continent where the gap between the population and infrastructural growth is increasing exponentially. The dearth of terrestrial infrastructure has a direct impact on the ability to deliver life-giving supplies, indeed where something as basic as blood is not always available for timely treatment. We require immediate bold, radical solutions to address this issue. The Droneport project is about doing 'more with less', capitalising on the recent advancements in drone technology – something that is usually associated with war and hostilities – to make an immediate life-saving impact in Africa. Rwanda's challenging geographical and social landscape makes it an ideal test-bed for the Droneport project. This project can have massive impact through the century and save lives immediately'' said Lord Foster, Chairman and Founder of Foster + Partners and Chairman, The Norman Foster Foundation.
The Droneport offers a new typology for a building, which it is hoped, will grow into a ubiquitous presence, much like petrol stations have become dispersed infrastructure for road traffic. The proposal will have a strong civic presence, based on sharing and multiple uses. It allows for safe landing of quiet drones in a densely packed area, and includes a health clinic, a digital fabrication shop, a post and courier room, and an e-commerce trading hub, allowing it to become part of local community life.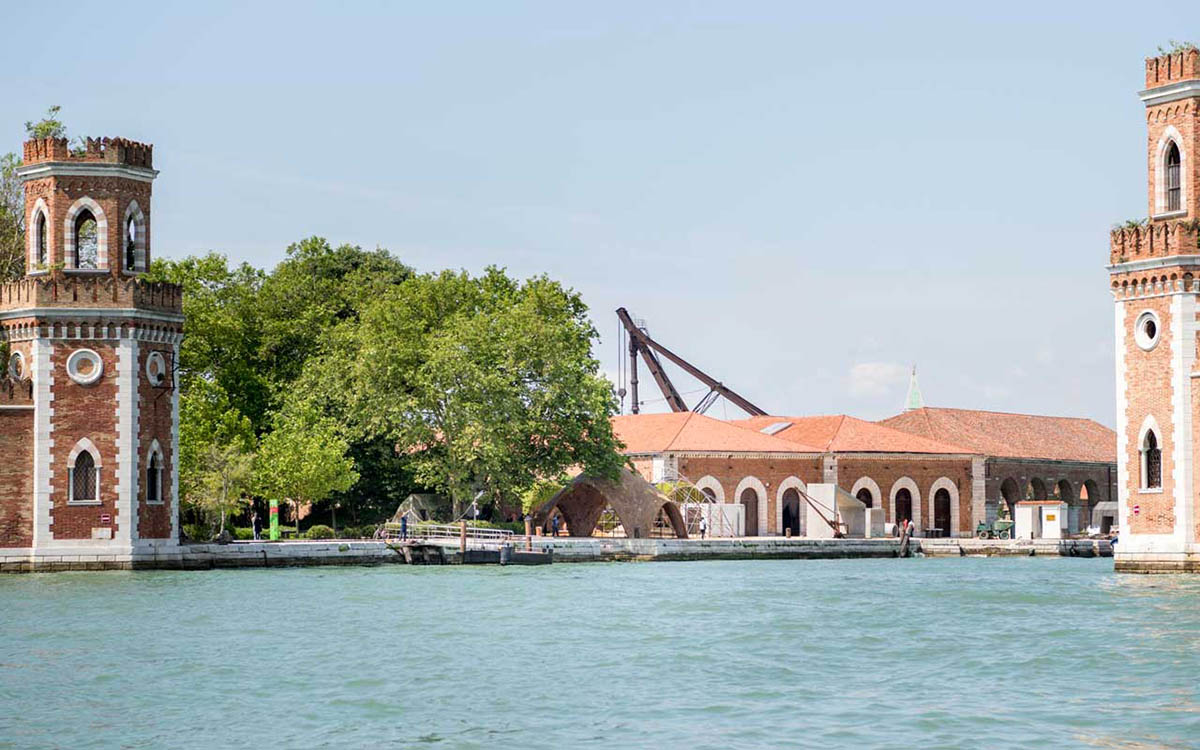 ''It is inevitable on a crowded planet, with limited resources, that we will make more intensive use of our sky using flying robots to move goods faster, cheaper, and more accurately than ever before. But it is not inevitable that these craft or their landing sites will be engineered to be tough and cheap enough to serve poorer communities who can make most use of them. Droneport is an attempt to make that happen, and to improve health and economic outcomes in Africa – and beyond. We are proud to have Norman Foster – an architect with extensive personal experience of flying – as the design lead on this project'' added Jonathan Ledgard, Founder, Redline.
The specialist drones can carry blood and life-saving supplies over 100 kilometres at minimal cost, providing an affordable alternative that can complement road-based deliveries. Two parallel networks would operate services, the Redline using smaller drones for medical and emergency supplies; and the commercial Blueline that would transport crucial larger payloads such as spare parts, electronics, and e-commerce, complementing and subsidising the Redline network.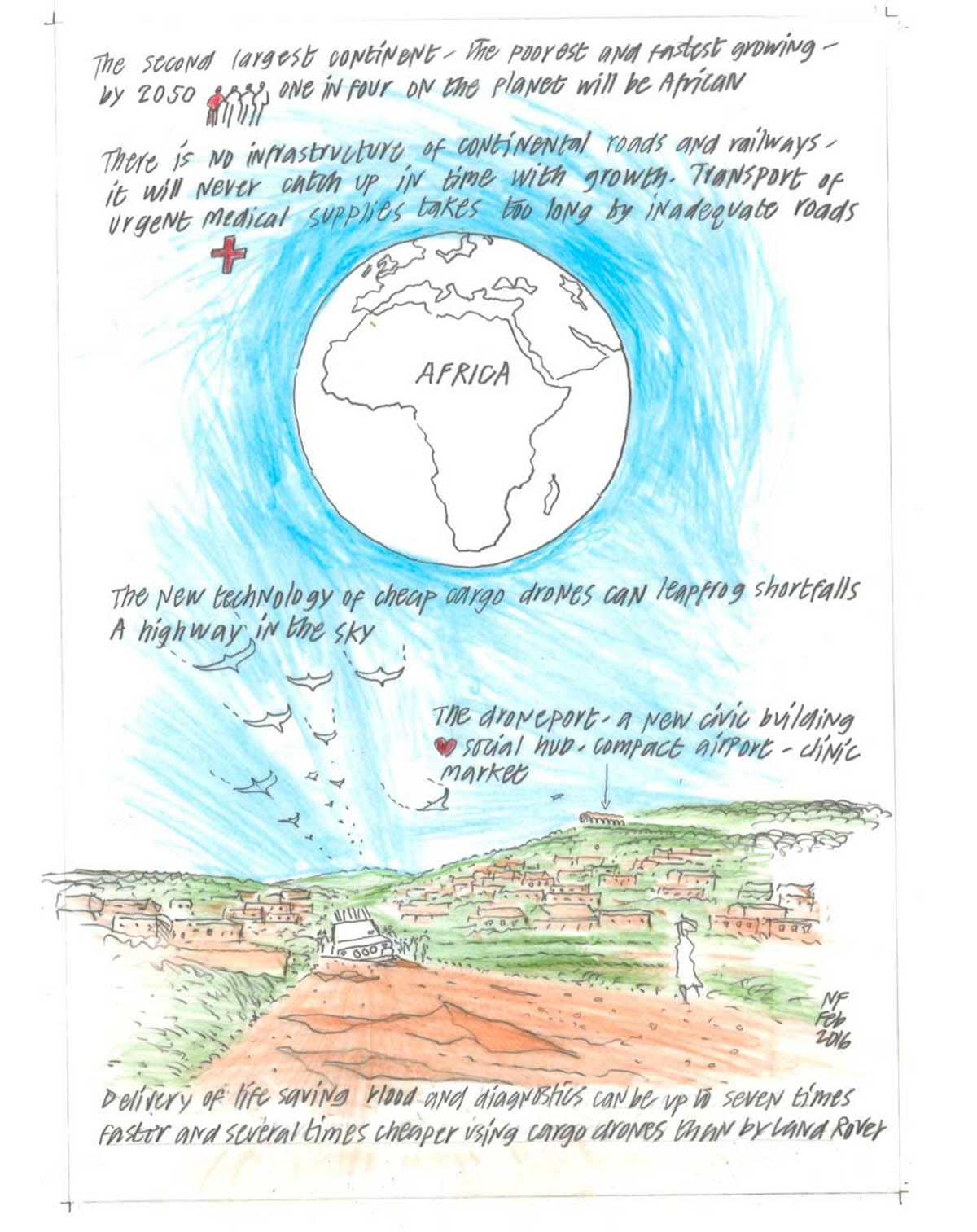 Sketch by Norman Foster
An interim feasibility study involved the construction of a half size vault at the Polytechnic University of Madrid headed out by Professor Santiago Huerta Fernández. This was realised by a Master Mason, Carlos Martín Jiménez, attached to the project with two students from MIT – Sixto Cordero and Luisel Zayas. The same team, expanded with Segundo Victor Simba and Luis Alfonso Tituania Male moved on to Venice to create the present pavilion.
The Madrid exercise enabled the combined resources of the LafargeHolcim Foundation for Sustainable Construction and their research laboratory in Lyon to develop a special earth-based product for the project. 18,000 customised elements have been produced for the pavilion. The challenge was to ensure a compressive strength of at least 10 MPa whilst minimising the weight and size of each brick.
Sketch by Norman Foster
The prototype vault comprises two outer layers of this custom product with an inner layer of traditional tiles. The special product is of stabilised earth – a reliable, affordable and environmentally friendly building material that does not require intensive use of fuel to achieve their performance. LafargeHolcim developed a naturally cured building block made of compressed earth and cement termed 'Durabric'. The mix design for the droneport was optimised in close cooperation with MecoConcept in Toulouse.

The Norman Foster Foundation has collaborated with the Studio Olafur Eliasson and Little Sun to explore the potential of a new building component called 'SolarBrick', which could be incorporated into the structure of the droneport vaults. The 'SolarBrick' will have solar cells on its outer surface, charging a long-life battery and then powering a LED lamp on the inner surface. The units, which could be 3D printed within the droneports themselves, could become common place in local buildings, providing light where electricity is scarce.
All images courtesy of Foster+Partners
> via Foster+Partners