Alejandro Aravena's housing designs are available as an open-source to the public for free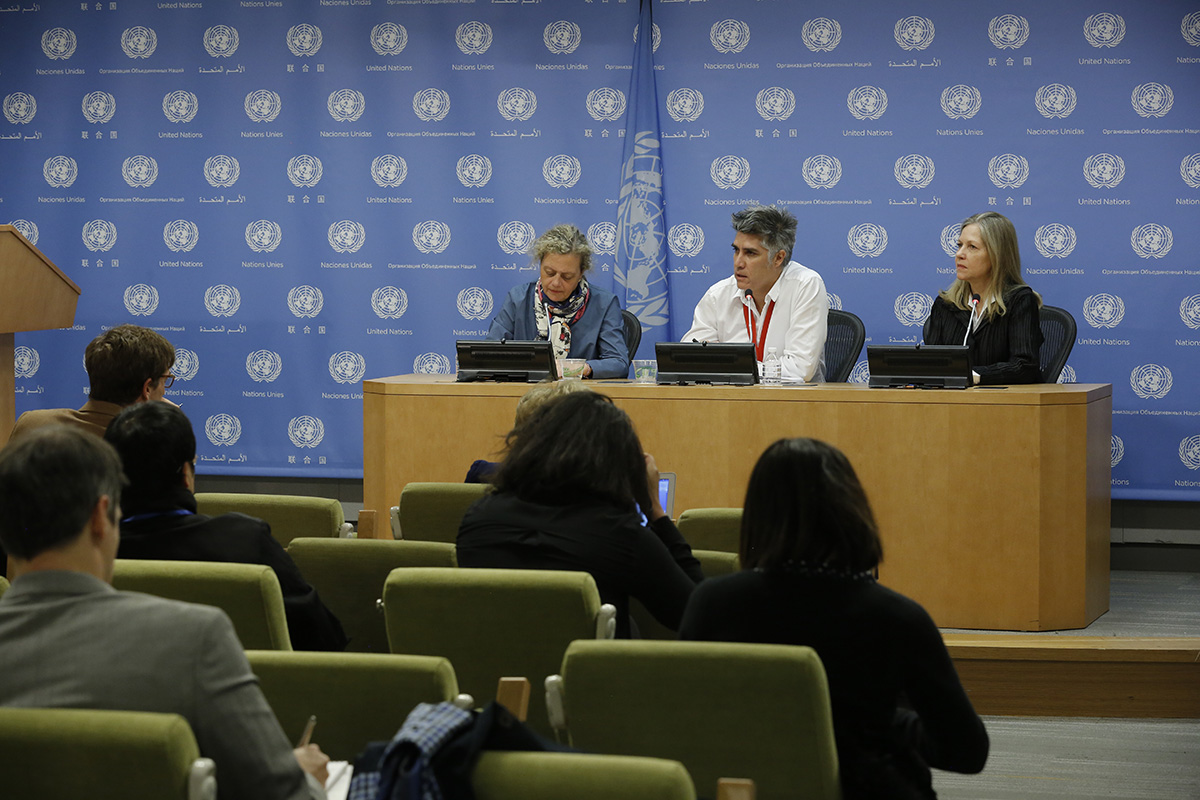 Alejandro Aravena (centre), Chilean architect and winner of the Pritzker Architecture Prize for 2016, briefs journalists on the link between architecture and sustainable development. He is flanked by Paloma Durán (left), Director of the Sustainable Development Goals Fund at the UN Development Programme (UNDP); and Martha Thorne, Executive Director of the Pritzker Architecture Prize. image © UN Photo/Evan Schneider.
Pritzker Prize winning architect Alejandro Aravena now makes his social housing design strategies available to the public for free.
Chilean-based architecture studio Elemental has revealed the design strategies of low-cost housing over four projects completed by Alejandro Aravena, which are
Monroy Housing, Monterrey Development, Villa Verde
and
Colonia Lo Barnechea
in Chile. Titled as
'ABC of Incremental Housing'
, the documents of four projects can be download free from Elemental's website.
''Given the magnitude of the housing shortage, we won't solve this problem unless we add people's own resources and building capacity to that of governments and market. That is why we thought of putting in place an 'open system' able to channel all the available forces at play. In that way people will be part of the solution and not part of the problem'' stated Elemental.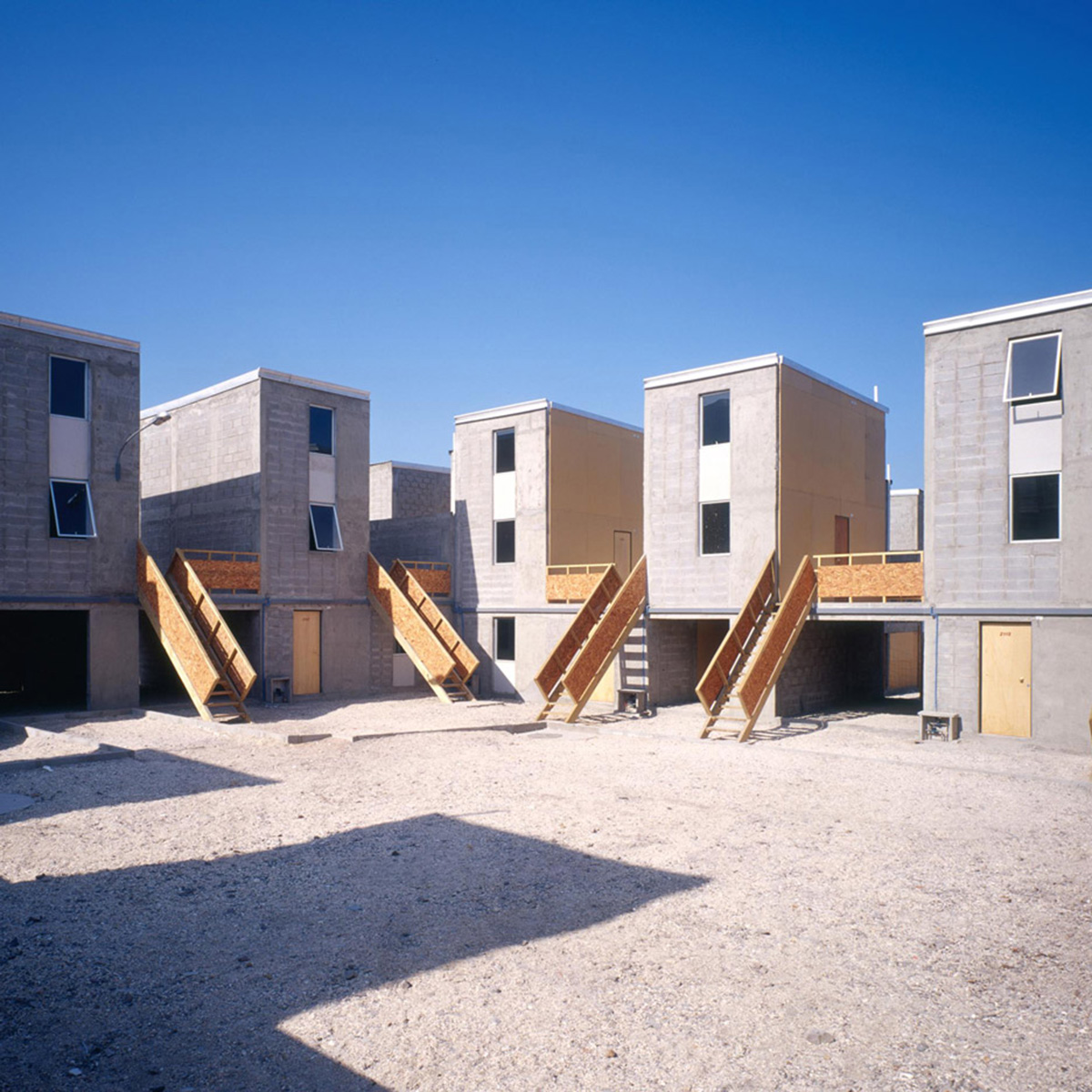 Quinta Monroy, Chile, 2004.
Alejandro Aravena has announced the
'open system'
on Tuesday, at the press conference of
United Nations Headquarters
in New York, and ''people-focused urban planning is key to sustainable future'' said Pritzker Prize winning architect at UN press conference.
Besides this,
Elemental
focuces on 3 major principles and 5 design conditions detailing 'incrementality' as a new sustainable design approach. ''It is a fact that available resources are not enough(1). To face such scarcity of means, the market tends to do two things: Reduce and Displace; reduce the size of the houses(2), threatening the quality of life of its inhabitants, and displace them to underserved peripheries where land costs nothing, segregating people from the opportunities that made them come to cities in the first place. In order to face scarcity we propose a principle of 'incrementality' added Eelemental.
Monterrey Development in Mexico. 2009
Five design conditions of Elemental are based on good location, harmonious growth in time, urban layout, provide structure for the final scenario of growth and middle-class DNA. ''In other words, make sure you balance: Low-rise high density, without overcrowding, with possibility of expansion (from social housing to middle class dwelling)'' added Elemetal.
Alejandro Aravena at the United Nations press conference.
"We are living in an urban age – which is in principle great news, because cities hold the prospect of greater opportunity, education and jobs – but the problem of the scale and speed with which the urbanization process is taking place, has no precedent in human history," Chilean architect Alejandro Aravena told reporters at a briefing co-organized by the
Sustainable Development Goals Fund
(SDGF) as part of a new partnership with the Pritzker Prize.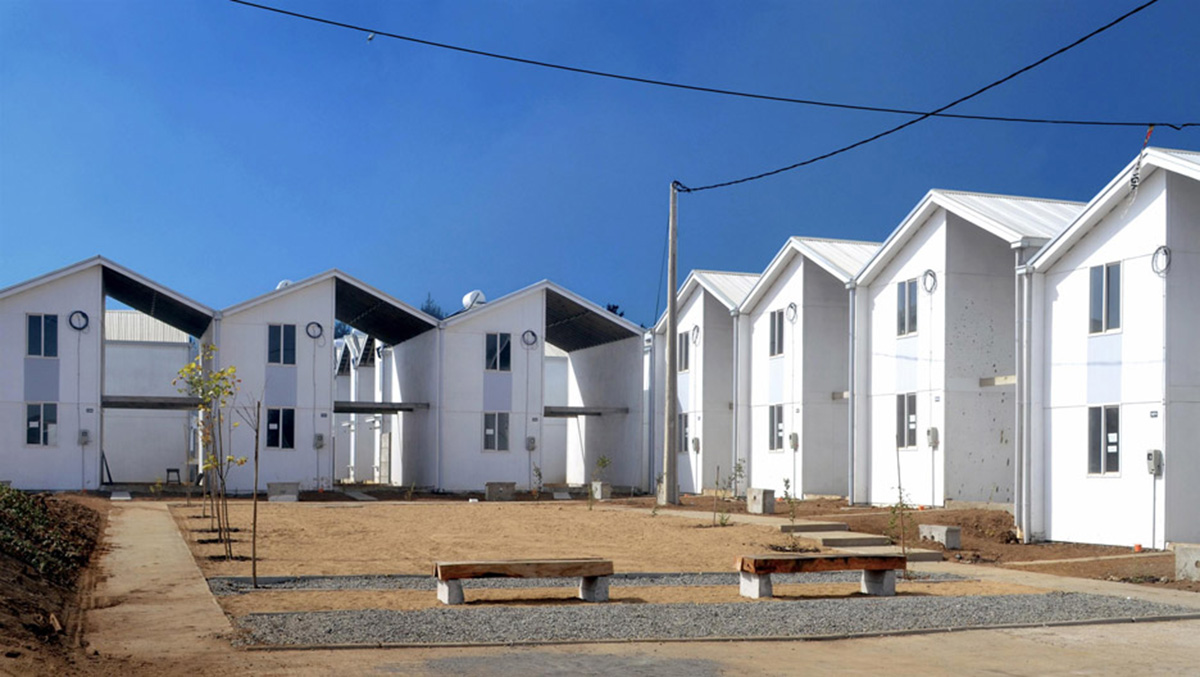 Villa Verde, Chile. 2013.
"To give you an idea, out of three billion people living in cities today, one billion are living under the poverty line. By 2030, we will have more than five billion people living in cities and two billion of them are going to be under the poverty line," he explained.
So how does the international community respond to such a phenomenon? Mr. Aravena offered a key clue; one that he has put to use in his work: "We [must] use peoples' own capacity, ideas and resources to provide a better environment. The scarcest resource in cities today is not money, but coordination. So we need to create open systems that can include people's own capacity to add value to their living conditions and opportunities."
Lo Barnechea, Chile. 2010.
Elemental, is a Do Tank founded in 2001, focusing on projects of public interest and social impact, including housing, public space, infrastructure and transportation. A hallmark of the firm is a participatory design process in which the architects work closely with the public and end users. Elemental has built work in Chile, The United States, Mexico, China and Switzerland. After the 2010 earthquake and tsunami that hit Chile, Elemental was called to work on the reconstruction of the city of Constitución, where we had to integrate all the previous experiences. The approach we developed proved to be useful for other cases where city design was used to solve social and political conflicts. At the moment, we keep on expanding into new fields of action.