Renzo Piano's first project in Türkiye, Istanbul Modern to open on May 4
Istanbul Modern, Türkiye's first museum of modern and contemporary art, is set to open to visitors on Thursday, May 4, 2023 in Istanbul, Türkiye.
The museum, designed by Renzo Piano's firm Renzo Piano Building Workshop, provides a purpose-built space, housing a dynamic range of temporary exhibitions, interdisciplinary educational programs, film screenings, and an extensive, publicly accessible art collection.
The landmark museum is situated at the museum's original location on the Karaköy waterfront, one of Istanbul's most historic districts where the Bosphorus and Golden Horn meet.
Encompassing a total of 10,500 square meters, the museum spans the period from 1945 to the present and the collection features works by international artists who reflect Türkiye's artistic creativity and have played an active role in the global transformation of art.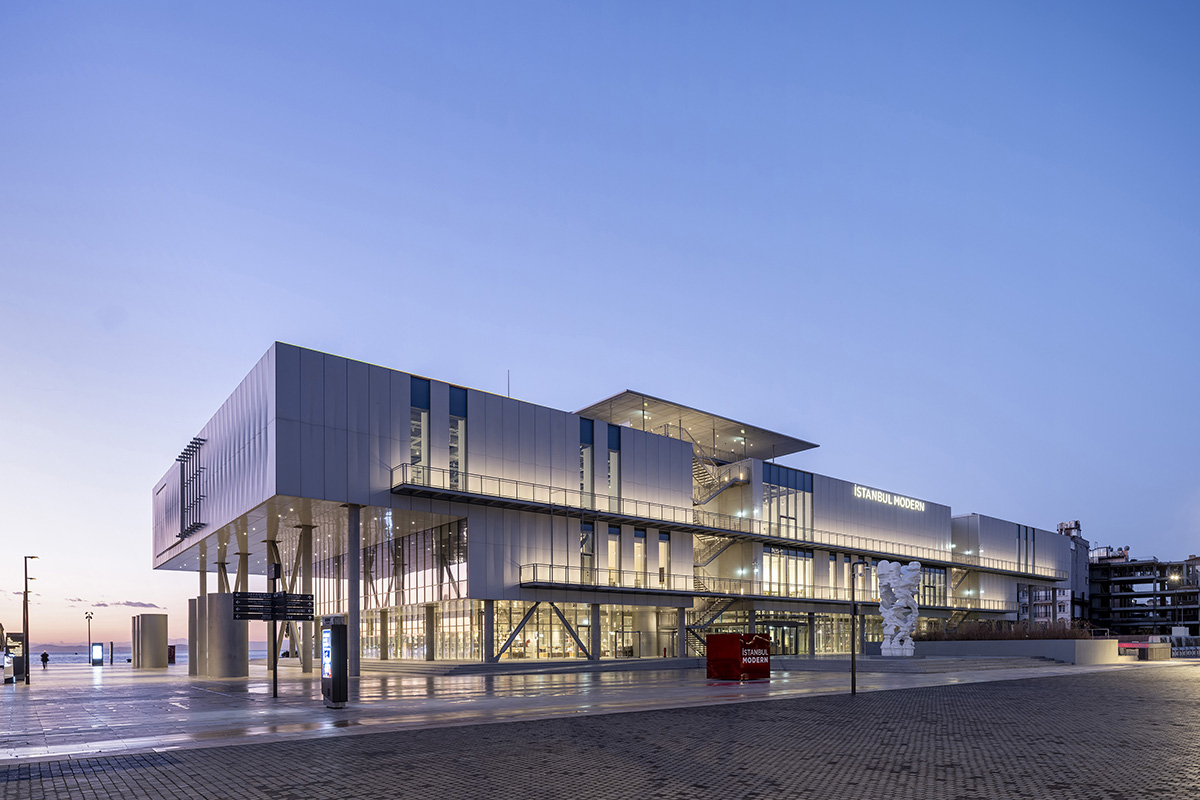 "The glittering waters and reflections of the Bosphorus"
The project, marking Renzo Piano's first project in Türkiye, was inspired by the glittering waters of the Bosphorus and its reflections of light.
The design of the museum takes references from the history of a site that has been used as a harbor for millennia. The outer skin of the building evokes ships of different sizes traveling back and forth between Europe and Asia as well as a creature of the sea that has leapt from the Bosphorus on the shore.
The façade is made by a sequence of 3-D-formed aluminum panels that play with the changing sunlight, creating a shimmering, iridescent envelope evocative of fish scales.
Upon arrival, visitors are encountered with a transparent ground floor that offers views to the waterfront promenade. The ground floor houses the museum library, education and event spaces, digital touchscreens, a café, and a museum shop featuring new collections of objects inspired by the museum's exhibitions.
Viewing terrace
One of the iconic permanent installations from the former building is Richard Wentworth's artwork, titled False Ceiling, in 2005, which welcomes back visitors.
While a wide central stairway connecting the public areas of the museum, the space features a three-part site-specific installation by Icelandic-Danish artist Olafur Eliasson. Eliasson was commissioned specifically for the new museum building by Istanbul Modern.
Eliasson's installation, titled Your unexpected journey, 2021, appears to hang in the air, playing with light and the visitors' sense of space.
Photography gallery, pop-up gallery, event spaces, education rooms, and staff offices are designed on the building's first floor.
Istanbul Modern's restaurant is also located on this floor and offers spectacular views of the Bosphorus and Historical Peninsula from an outdoor terrace.
The second floor houses the museum's permanent collection gallery, which provides an unparalleled panorama of modern and contemporary art from Türkiye and beyond, as well as the main temporary exhibition gallery.
Another feature of the museum also is a 156-seat auditorium to house the museum's celebrated film programs and interdisciplinary events.
View from exhibition, titled Floating Islands
A one-of-a-kind viewing terrace at the top of the building hovers above a shallow reflection pool covering the entire roof, providing a 360-degree view of the Bosphorus and the city.
"The new building's transparent and accessible design reflects the ethos of the museum: a multifaceted experience offering visitors audience-oriented exhibitions and programs inspired by the artistic diversity of the present day," said Istanbul Modern.
Istanbul Modern's new building was built with the joint support of the Eczacıbaşı Group, the Museum's Founding Sponsor, and Doğuş Group-Bilgili Holding, its Main Sponsor.
View from exhibition, titled Floating Islands
With its official opening on May 4, Istanbul Modern will present five new exhibitions, each accompanied by a publication and educational resources. The exhibitions include "Floating Islands", featuring Istanbul Modern's most comprehensive collection exhibition to date, showcasing more than 280 works by 110 artists and 2 artist duos.
A temporary exhibition gallery will bring together thematic narratives from Türkiye and abroad, including Fahrelnissa Zeid, Sarkis, Ayşe Erkmen, Gülsün Karamustafa, Nil Yalter, and İnci Eviner.
View from exhibition, titled Floating Islands. Photography © Meltem Sar
There will be a newly commissioned installation, titled Infinity Room: Bosphorus, designed by Refik Anadol. The installation is informed by real-time environmental data from the Bosphorus. Other exhibitions include "Always Here", "In Another Place", and "Constructing Architecture".
Istanbul Modern, founded in 2004 as Türkiye's first museum of modern and contemporary art, is committed to preserving and sharing Türkiye's artistic heritage on a global scale while also bringing to Istanbul important works of art from diverse geographies.
Renzo Piano Building Workshop converted the 1900s Moscow Power Station into an arts centre. The firm designed the Academy Museum Of Motion Pictures in Los Angeles.
Project facts
Project name: Istanbul Modern
Design: Renzo Piano Building Workshop, architects in collaboration with Arup (Istanbul)
Date: 2016 - 2023
Location: Istanbul, Türkiye
Client: Istanbul Museum of Modern Art
Design Team: E.Baglietto, F.Giacobello (partner and associate in charge), R.Dunphy with M.Cecchetto, E.Doyduk, M.Tokarnia, R.Wong and M.Yildirim; B.Pignatti, A.Pizzolato, C.Zaccaria (CGI); M.Abidos, F.Cappellini, D.Lange, F.Terranova (models)
Structure, MEP, lighting: Arup
Consulting interior architect: R.Uysalkan
Water feature: JML
Contractor: Yapı Merkezi
All images © Cemal Emden unless otherwise stated.
> via Istanbul Modern
cultural building museum Renzo Piano Renzo Piano Building Workshop