Neom presents designs behind The Line mega project at Venice Architecture Biennale
Neom is presenting projects behind its controversial mega project The Line at this year's Venice Architecture Biennale.
The exhibition, titled Zero Gravity Urbanism – Principles for a New Livability, marks Neom's first international exhibition in Venice, Italy.
The Line, developed as part of Neom in Saudi Arabia, is being planned as a 170-kilometre linear skyscraper that would function without cars and streets. The mega project is being planned to be built only around nature.
The exhibition, curated by Ramon Prat and produced Squint/Opera and We Exhibit, is on view from 20 May to 24 September 2023 at Abbazia di San Gregorio during the Venice Architecture Biennale.
Zero Gravity Urbanism – Principles for a New Livability exhibition consists of high-profiled international studios, including Adjaye Associates, Bjarke Ingels Group, Coop Himmelb(l)au, Delugan Meissl Associated Architects (DMAA), Fuksas, Laboratory for Visionary Architecture (LAVA), Luca Dini Design & Architecture, Morphosis, Oyler Wu Collaborative, Pei Cobb Freed & Partners, Peter Cook & CHAP (Cook Haffner Architecture Platform) and UNStudio.
At the opening, Peter Cook, Massimiliano Fuksas, Jean Nouvel and Ben van Berkel were among the world-renowned architects who joined CEO Nadhmi Al-Nasr and other representatives from Neom leadership on stage.
Their presence marked their collective contribution to the development of the principles of Zero Gravity Urbanism, and reflected the global significance of this moment.
Zero Gravity Urbanism exhibition represents one of the most significant proposals on how cities could be designed and built to have been put forward in generations.
Set in the historic Abbazia di San Gregorio, one of Venice's oldest buildings, the exhibition's focal point is a large-scale 9x13 meter relief plan of Neom set in in the central courtyard, reflecting The Line's minimal and harmonious interaction with its natural environment and its passage through coastal, mountain and desert landscapes.
Zero Gravity Urbanism is envisioned as a linear and three-dimensional concept that provides an innovative alternative to our current urban model.
Created to address key challenges, including a growing demand for urban land, rising social and economic inequalities, and climate change, it is a model for developing cities with a radical approach to nature conservation, livability and human progress.
Connecting pressing global challenges with viable urban solutions, the relief plan's surrounding cloisters and exhibition rooms present concepts, drawings and models created by the international architecture community in response to these global challenges.
The exhibition is also enhanced with a series of talks from leading architects, academics and urban thinkers on the sidelines of the exhibition.
"Brought to life in Venice through the design proposals and intellectual contribution of the world's leading architects and urban thinkers, Zero Gravity Urbanism represents a proposal of how humanity can better respond to the urban challenges we face globally," said Antoni Vives, Chief Urban Planning Officer of Neom.
"Tonight represented an important next step onto the global stage for Zero Gravity Urbanism, as the world's wider architecture community now has the opportunity to see the depth of thinking and work that has gone into this incredible project from so many prominent thinkers and architects," said Tarek Qaddumi, Executive Director of Urban Planning of Neom.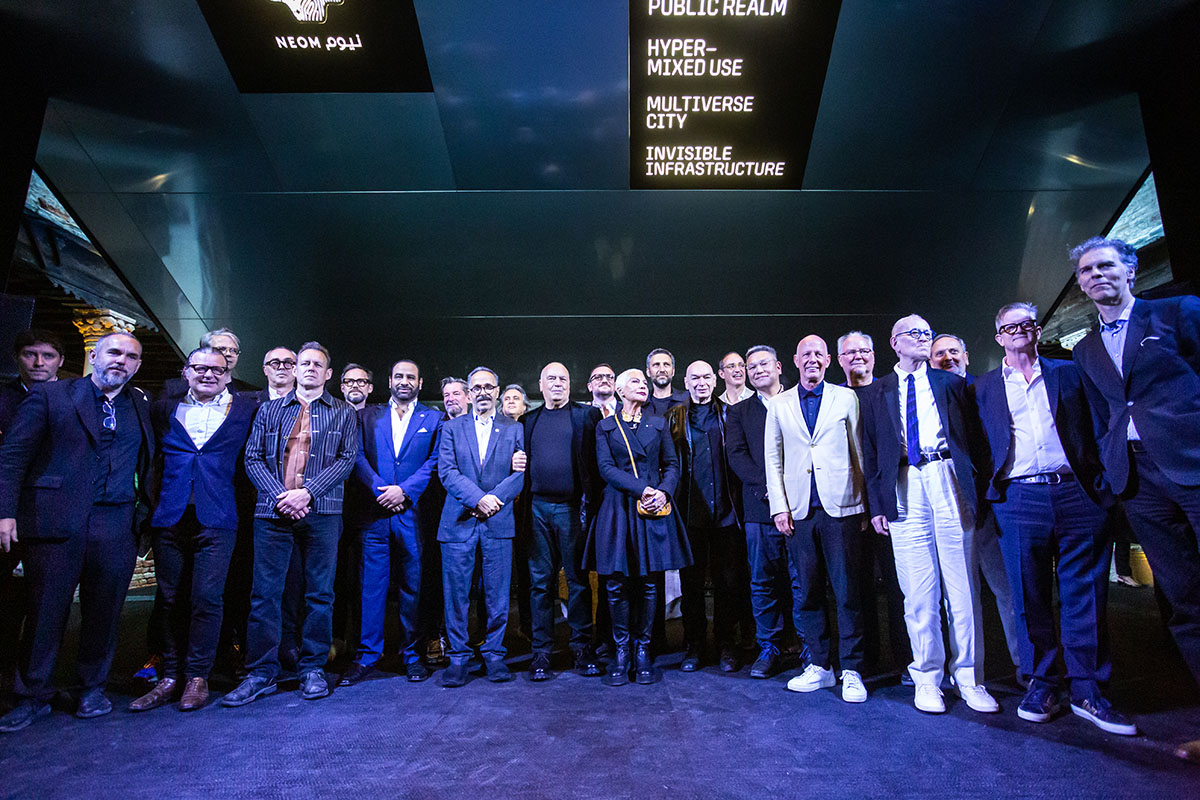 Pictured from left to right: Ramon Gras (Aretian – Urban Analytics and Design), Ignacio Gomez (Aedas), Ricardo E. Bofill (RBTA), Martin Josst (DMAA), Roman Delugan (DMAA), Dwayne Oyler (Oyler Wu), Tobias Wallisser (LAVA), Rayan Fayez (NEOM Deputy CEO), Alexander Rieck (LAVA), Nahdmi Al-Nasr (NEOM CEO), Willy Müller (IAAC), Massimiliano Fuksas (FUKSAS), Olivier Pron (First Idea), Doriana Fuksas (FUKSAS), Tarek Qaddumi (NEOM Executive Director of Urban Planning), Jean Nouvel (Ateliers Jean Nouvel), Antoni Vives (NEOM Chief Urban Planning Officer), Eui-Sung Yi (Morphosis), Ben Van Berkel (UNStudio), Kent Larson (L3cities), Sir Peter Cook (CHAP), Luca Dini (Luca Dini Design & Architecture), Alex McDowell (Experimental Design), Michael W. Bischoff (Pei Cobb Freed & Partners). Image © Neom
The $500 billion Neom mega project, The Line, is currently under construction in the Tabuk Province of northwestern Saudi Arabia. The project was highly criticised for the violation of human rights.
Last year, three men were sentenced to death in Saudi Arabia for resisting "displacements" in Neom project site by Saudi Arabia's Specialised Criminal Court (SCC). Described as "a revolution in urban living", The Line will incorporate smart technologies and is expected to provide home 9 million residents.
Besides The Line, Neom is developing other projects, including Oxagon, Trojena and Sindalaj.
All images © Iwan Baan unless otherwise stated.
> via Neom