Saudi Arabia reveals plans for 100-mile-long linear city named "The Line"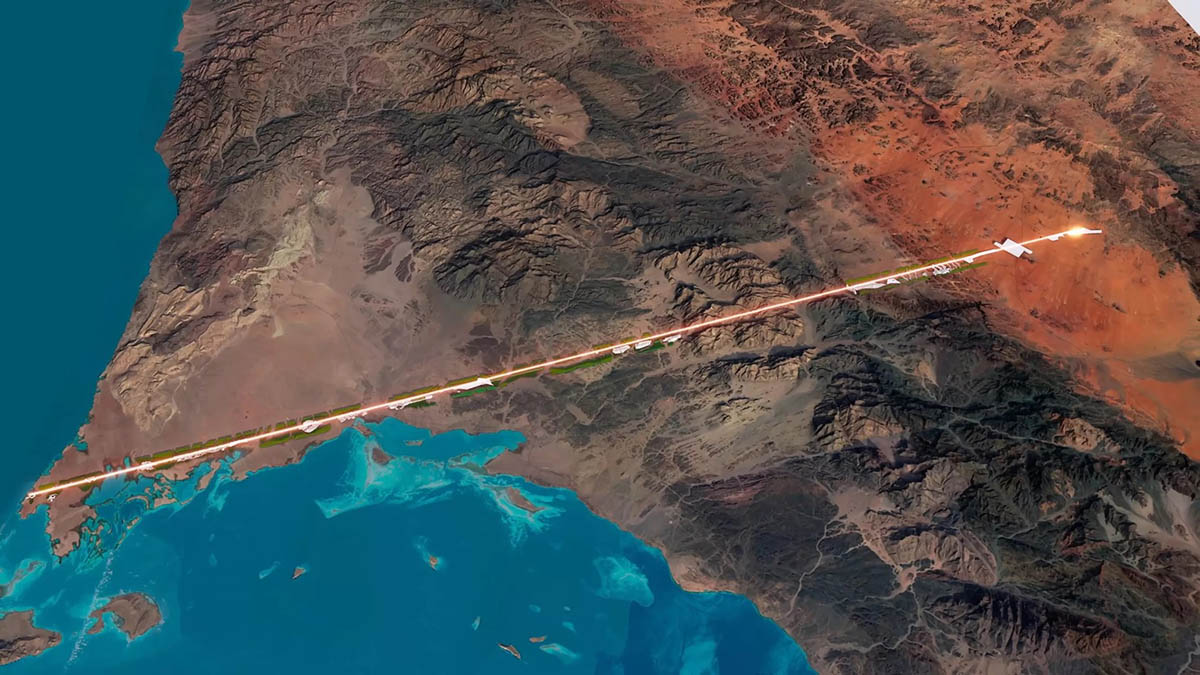 Mohammed bin Salman, Crown Prince and Chairman of the Neom Company Board of Directors, has announced plans to build a 100-mile-long (170 kilometres) linear city without cars and streets and built around nature.
The Line will be a revolution in urban living, which is developed as part of Neom, a planned $500 billion cross-border city in the Tabuk Province of northwestern Saudi Arabia which will incorporate smart technologies. The site, near the Red Sea, will have borders of Egypt, Israel, and Jordan.
The Line will be a home for more than 1 million people from all over the world and will connect four distinctive ecologies: Coastal, Coastal Desert, Mountain and Upper Valley. A press release stated that all energy in Neom "will be 100% renewable – from solar, wind and hydrogen-based power generation – ensuring clean and pollution-free urban environments."
The new project has been released in a video and Mohammed bin Salman said that The Line is the first time in 150 years that a major urban development will be designed around people, not roads.
Walkability will define The Line which will consists of all essential daily services, such as schools, medical clinics, leisure facilities, as well as green spaces, and all communities will be able to access them within a five-minute walk.
The Line will be comprised of a 170km belt of hyper-connected future communities, it will have no cars or streets and will preserve 95% of nature with its zero carbon emission.
"The Line a direct response to some of the most pressing challenges facing humanity today such as legacy infrastructure, pollution, traffic, and human congestion," said a statement.
"Throughout history, cities were built to protect their citizens. After the Industrial Revolution, cities prioritized machines, cars and factories over people. In cities that are viewed as the world's most advanced, people spend years of their lives commuting. By 2050, commute durations will double," said Mohammed bin Salman.
"By 2050, one billion people will have to relocate due to rising CO2 emissions and sea levels. 90% of people breathe polluted air. Why should we sacrifice nature for the sake of development? Why should seven million people die every year because of pollution?."
"Why should we lose one million people every year due to traffic accidents? And why should we accept wasting years of our lives commuting?," he added.
"Therefore, we need to transform the concept of a conventional city into that of a futuristic one," continued Bin Salman. "Today, as the Chairman of the Board of Directors of Neom, I present to you The Line."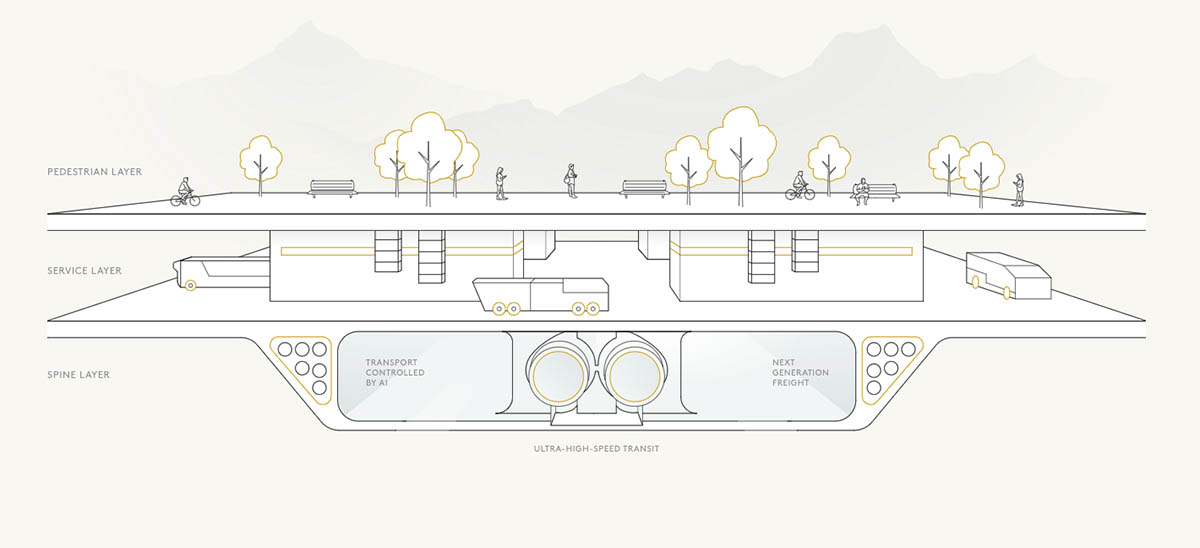 A section shows that The Line will be built in three levels.
The Line is divided into three levels: on the third level, called Spine Level, there will be ultra-high-speed transit and autonomous vehicles that will make travel easier and give residents the opportunity to reclaim time to spend on health and wellbeing.
It is expected no journey will be longer than 20 minutes. The second level, called Service Layer, will contain all daily service facilities such as schools, medical clinics, leisure facilities.
The top level, called Pedestrian Layer, will be dedicated to only pedestrians without cars and streets, with green spaces.
The spine will connect city modules at The Line.
The Line's infrastructure will be powered by Artificial Intelligence (AI), and the developers added that communities will "continuously learn predictive ways to make life easier, creating time for both residents and businesses."
"An estimated 90% of available data will be harnessed to enhance infrastructure capabilities far beyond the 1% typically utilized in existing smart cities," added a statement.
The Line will redefining sustainability and will comprise carbon-positive urban developments powered by 100% clean energy, providing pollution-free, healthier and more sustainable environments for residents.
As the statement highlights, mixed- use communities will be built around nature with city modules, instead of over it.
The Line will be comprised of city models without cars or streets.
Construction of The Line will start in the first quarter of 2021. According to the developers, The Line is one of the most complex and challenging infrastructure projects in the world and forms part of extensive development work already underway at Neom.
The Line is developed as a cornerstone of Saudi Vision 2030 and an economic engine for the Kingdom, a statement added that "it will drive diversification and aims to contribute 380,000 jobs of the future and SAR180 billion (USD48 bn) to domestic GDP by 2030."
Neom was announced in 2017 as part of Saudi Vision 2030 to develop public service sectors, diversity Saudi Arabia's economy and become less reliant for oil.
In 2018, British architect Norman Foster suspended his "advisory role" for Neom mega-city project, after the news arriving about the missing journalist Jamal Khashoggi.
All images courtesy of Neom.
> via Neom