Heatherwick Studio designs 21-metre-tall living sculpture for the Queen's Jubilee celebrations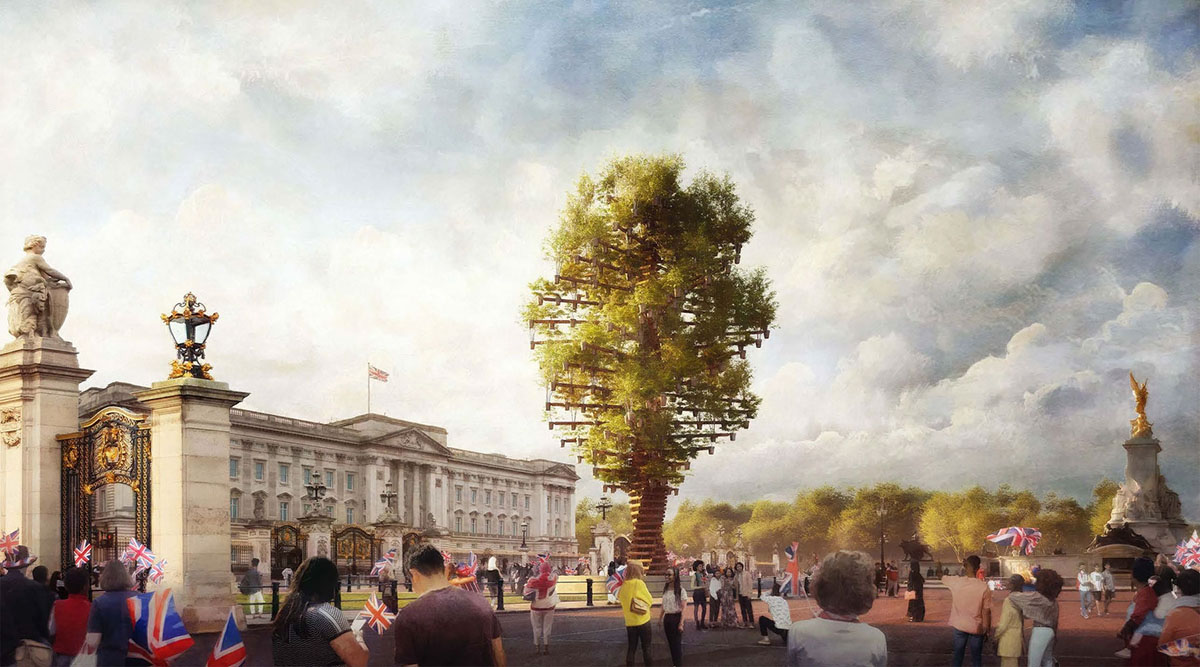 Heatherwick Studio has created a 21-metre-tall living sculpture that will be installed outside Buckingham Palace as part of the Queen's Platinum Jubilee weekend celebrations in June.
The studio has shared renderings on its Instagram and said "the sculpture seeks to put the importance of trees and nature at the heart of this historic event."
Called Tree of Trees, the tree-shaped sculpture will be wrapped by 350 British native trees.
The spiral-formed installation will be built from timber and new steel with materials and expertise sourced from local suppliers up and down the country, from Cleveland and Hull to Cambridgeshire and Hove.
The sculpture will be unveiled as part of the official celebration of the Queen's Platinum Jubilee from 2-5 June, 2022, celebrating the Queen's 70-year on her reign.
The sculpture's trunk, which continues in a spiraling form, extends with timber branches and the trees are planted in aluminum pots embossed with Her Majesty's cypher.
"It reflects the wave of tree planting inspired by The Queen's Green Canopy, which has seen over a million trees planted already," said Heatherwick Studio on its Instagram.
"As a studio, we hope this will be a fitting way to honour and celebrate Her Majesty. She has personally planted over 1,500 trees all over the world throughout the course of her 70-year reign," the office added.
"It's an honour for us to be making the Tree Of Trees," said Thomas Heatherwick.
"The structure, created from 350 British native trees and recycled steel, is coming together from workshops and nurseries across the country as one part of an incredible community campaign that's literally changing the landscape of our nation," Thomas Heatherwick added.
Heatherwick's installation is aimed to contribute to a unique tree planting initiative, called The Queen's Green Canopy (QGC), inviting people across the United Kingdom to "Plant a Tree for the Jubilee".
The initiative has seen over a million trees planted October 2021 to March 2022 and tree planting will begin again in October 2022, through to the end of the Jubilee year.
The Tree of Trees sculpture has been supported by Bloomberg Philanthropies.
"Bloomberg is glad to support this inspiring installation celebrating what's possible when communities come together to build a brighter future," said Michael R. Bloomberg, founder of Bloomberg L.P and Bloomberg Philanthropies.
"Trees bring so many immediate and long-term benefits, and our foundation has been helping communities around the world plant more of them, including London, our company's second home. We're looking forward to seeing this partnership with The Queen's Green Canopy and a brilliant designer, Thomas Heatherwick, come into bloom," Michael R. Bloomberg added.
Heatherwick Studio recently won a design competition for a new performing arts centre on the island province of Hainan. The firm is designing an undulating plant-shaped pier to revive Seoul's waterfront.
All images © Picture Plane for Heatherwick Studio.
> via Heatherwick Studio