Antti Lovag's 1970s iconic Bubble Palace in the South of France put up for sale on the market
Hungarian architect Antti Lovag's 1970s iconic Bubble Palace, also known Palais Bulles, in the South of France, near Cannes has been put up for sale on the market.
Originally designed by two important architects Antti Lovag and Pierre Bernard in 1970s, the organic Bubble Palace, comprised of a series of bubbled spaces, was bought by the late fashion designer Pierre Cardin in 1992.
The organic house has recently been listed by Christie's International Real Estate without mentioning the house's price for sale, the price of the house is sent to a potential customer upon request, as mentioned in the website.
The property was built between 1975 and 1989 for a French industrialist Pierre Bernard, the house was later bought by the fashion designer Pierre Cardin to be used as a holiday home.
Covering a total of 1,200-square-metre area, the Bubble Palace is one of the significant examples and one of the classics of modern architecture, with its unusual design sitting on the hilly terrain with extensive landscape.
Its unique appearance is derived from an ensemble of bubble clusters with terracotta-coloured domes, offering a panoramic lounge, a reception room and 10 suites decorated by contemporary artists.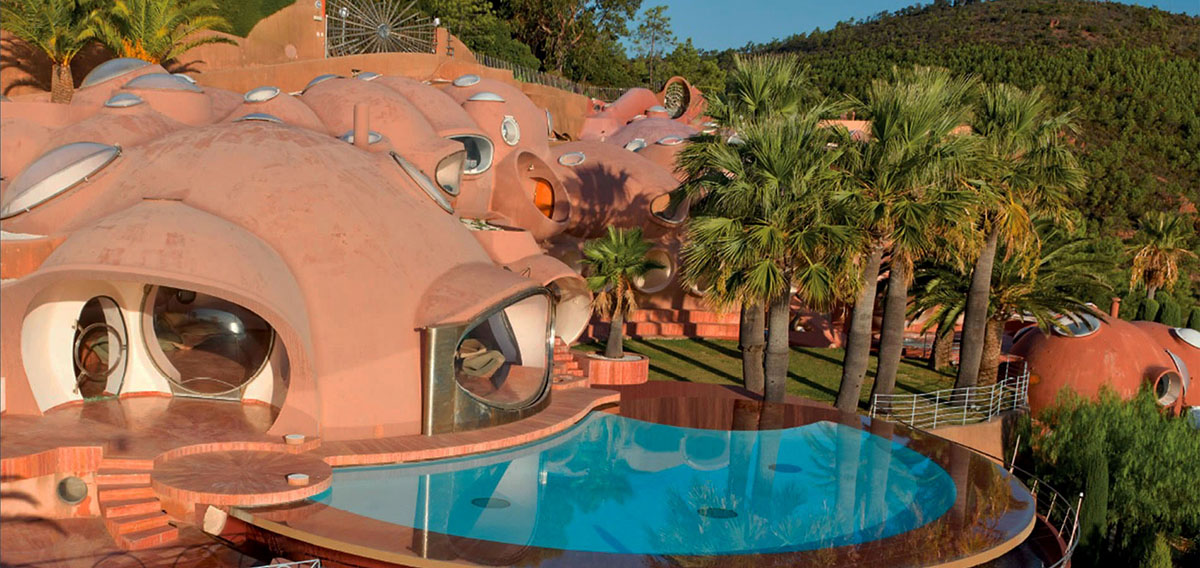 The house features a 500-seat outdoor auditorium overlooking the sea while facing the breathtaking bay of Cannes.
"The gardens, the water ponds and the swimming pool assemble into a precursor paradise stretching over more than 8,500 square meters ground," stated in Christie's International Real Estate website.
"Whether for economic reasons or lack of technical solutions, human beings have confined themselves to cubes full of dead ends and angles that impede our movement and break our harmony," had explained Lovag.
According to him, the straight lines are "an aggression against nature," human nature to be more specific.
The interiors of the Bubble Palace were decorated like an art work, such as murals by Patrice Breteau, Jérôme Tisserand, Daniel You, François Chauvin and Gérard Le Cloarec grace the labyrinthine hallways and bubble-shaped rooms.
The Bubble Palace previously has been a stage for fashion shows several times, respectively in 2008 and 2015. Pierre Cardin showcased one of his collections in 2008, while Paris-based fashion designer Dior presented its 2016 collection in this iconic house.
In 2015, France architect and academic Odile Decq completed a five-year renovation for the Bubble Palace. In 2017, the Bubble Palace was on the market for sale at €350m, which was one of the highest price for a European property.
All images © le Palais Bulles