Modern House Bureau releases Cyber House with fully-integrated protection system on a rocky slope
Saint-Petersburg-based architecture practice Modern House Bureau, led by chief architect Alex Wizhevsky, has released design for a private villa with fully-integrated protection system on a rocky slope.
Named CyberHouse LIFE, the project features various angular surfaces that offer its own unique panorama towards the landscape and the lake.
Described as "the architecture of the future", the house, covering 1,370-square-metre area, is located on a rocky slope on the coast of a mountain lake. Organically inscribed in the relief, the house, as it were, takes its form without disturbing the natural balance.
"And by tradition, Alex Wizhevsky plunges us into the history of its new project of a super-secure house of superior comfort in the Cyber House style with an integrated system of protection against coronaviruses," stated the office in its project description.
"While money, greed and a thirst for power rule the whole world, military conflicts, riots, revolutions take place around this. It looks like our planet is heading towards the apocalypse."
"After the outbreak of the zombie virus on Earth, dark times have come, the borders of countries have been erased, and states no longer exist. Chaos, devastation, agony are everywhere. Only those who were ready for such a turn of events survived and took care of a reliable shelter. An important role was played by private bunker houses. As one of the most reliable shelters, Cyber House has established itself."
"The survivors are trying to rethink their lives. Mutual assistance has grown significantly. People seek to help each other. New leaders are trying to unite the survivors," added the office.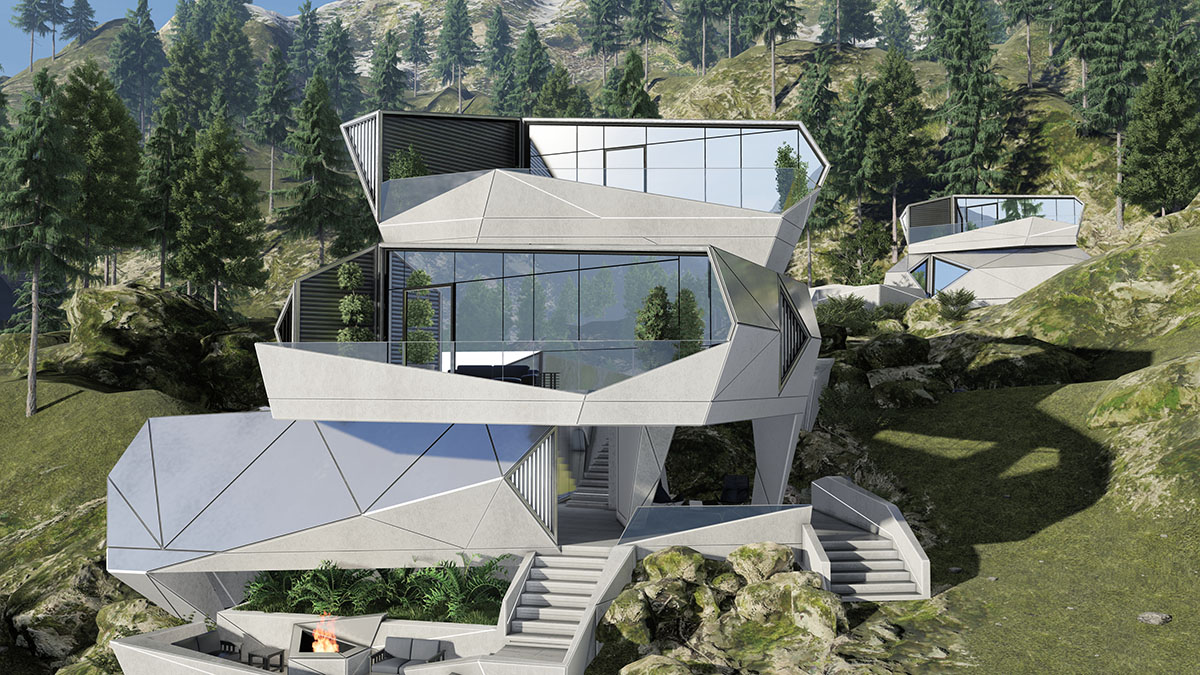 Somewhere in the ocean, a small group of islands, to which the best representatives of mankind from all countries were sent to save, created a new state. A state that preaches love and kindness, mutual assistance and openness. Such a policy has led to the fact that they have achieved tremendous success in relations and in a short time have formed into a highly developed civilization.
And of course, such a rapid development has greatly influenced architecture. It has become more comfortable and environmentally friendly, and the use of new materials and technologies has allowed us to take a different look at our usual living spaces, translating them into the highest possible level of comfort.
They understand that their new state is fragile enough, because the world around does not share their values. And they do not forget that it is necessary to preserve and secure these islands of an ideal world. Therefore, their housing is not only beautiful, but also as safe as possible. And it's ready to protect their residents from any cataclysm.
Due to the unique architectural techniques of space-planning decisions, from each level of the villa opens its own unique panorama of the landscape.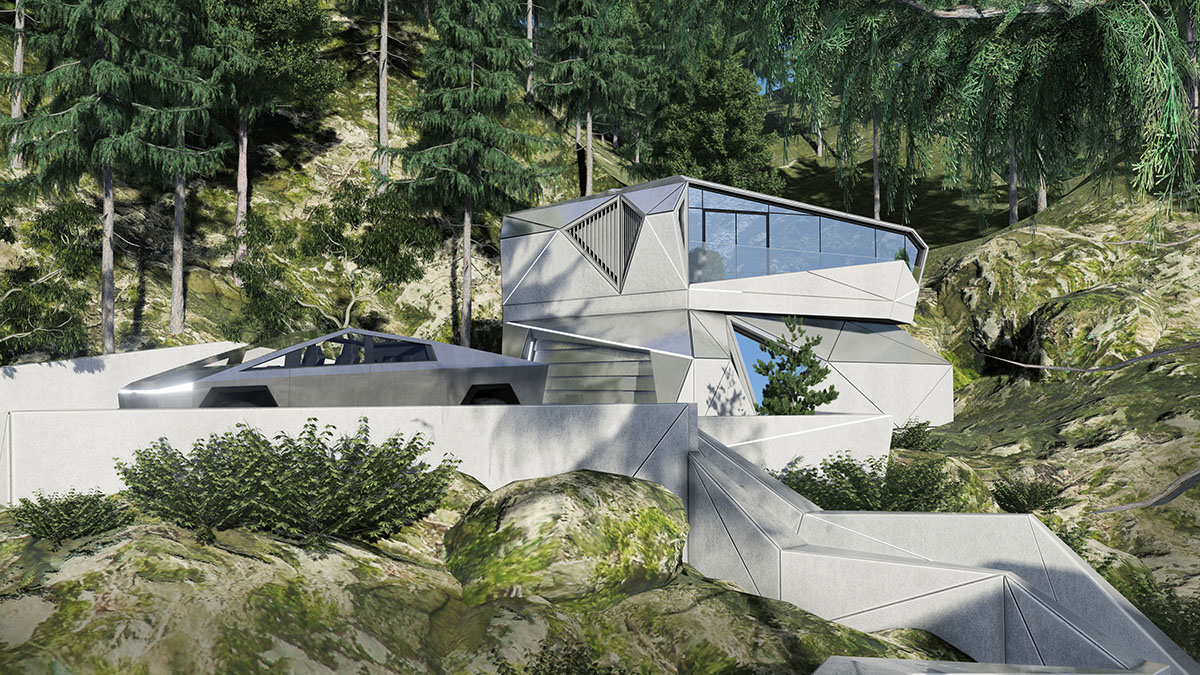 CyberHouse LIFE consists of two main buildings. The first building combines the functions of a garage, utility unit and guest part of the house. The second building consists of multi-level residential blocks oriented to the best viewpoints.
At different levels of the slope there are zones for meditation and outdoor recreation. On the lower terrace there is a zone with an open hearth, where even on a cool evening you can comfortably stay at an open fire. This architecture is easily adaptable to any climatic and natural features of the landscape.
The architecture uses the maximum panoramic glazing. Due to the structural features of the building's shell, it was possible to make the interior space as open as possible, which allows you to enjoy beautiful views of the surrounding nature from anywhere in the room.
Impressive design, sophisticated constructions, durable materials, green technology. Strong monolithic concrete, heavy-duty steel, bulletproof glass. Integrated radiation and c. You are still completely safe. CyberHouse LIFE. For those who love life.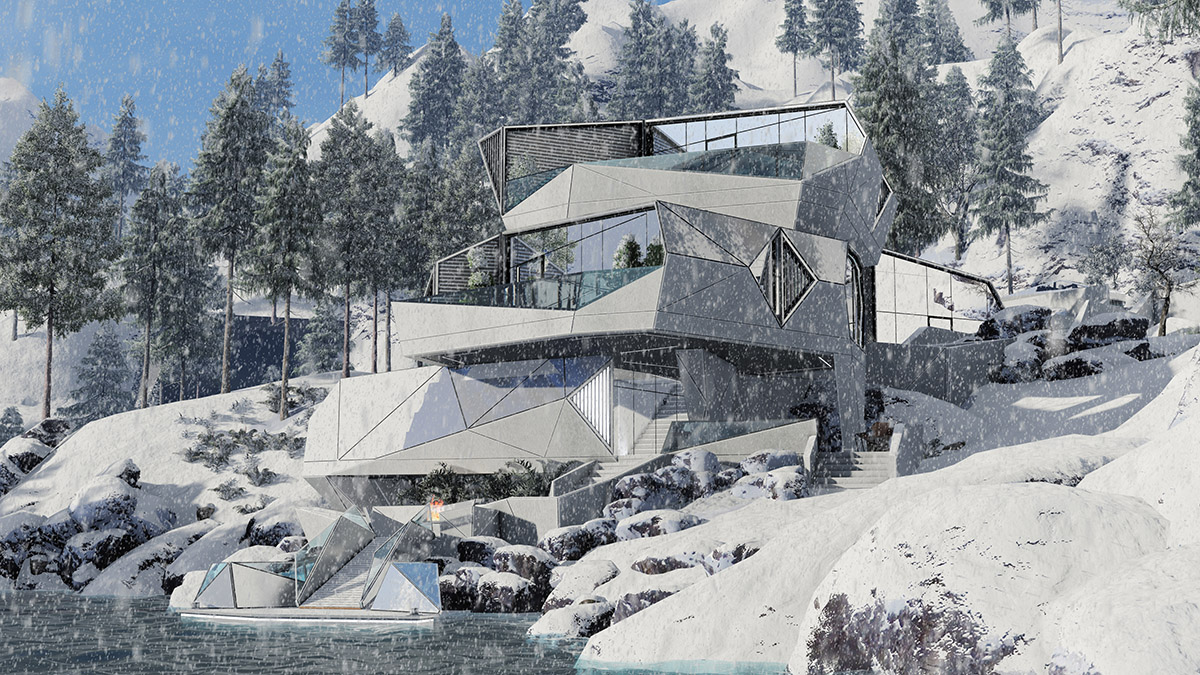 All images courtesy of Modern House Bureau
> via Modern House Bureau