Hannah built small 3D-printed cabin from "waste wood" in a forest of Ithaca, New York
New York-based experimental design and research studio Hannah has built this tiny cabin raised over prismatic concrete legs in a forest of Ithaca, New York.
The small cabin, named Ashen Cabin, was produced by implementing high precision 3D scanning and robotic based fabrication technology to use abundantly available, affordable, and sustainable building material.
Hannah, led by Leslie Lok & Sasa Zivkovic, aimed to facilitate new material methods, tectonic articulations and new construction techniques by using 3D-printing technology from the ground up over this small-scale project.
The cabin is clad by wavy wood panels that interlocked each other in distorted facade configuration. It is raised over triangular concrete legs to complete the structure irregularity. A higher concrete column also protrudes from the structure and functions as a chimney of the cabin.
The black-colored small windows are scatted in different facades of the cabin where they reveal themselves as a new textured element.
"In our projects, we aim to mine the tension between machine means and architectural ends," said Hannah.
"We reclaim authorship over processes of construction that influence the way we can build — or perhaps ought to build in the future."
Sasa Zivkovic added that "infested ash trees often either decompose or are burned for energy."
"Unfortunately, both scenarios release CO2 into the atmosphere, and so the advantage to using compromised ash for construction is that it both binds the carbon to the earth and offsets the harvesting of more commonly used wood species."
The cabin was assembled in two phases at site: the first phase included creating a base of the structure, with floor, chimney and interior components made of interlocking 3D-printed segments.
The second phase was made up of six-axis robot arm to saw wood for the facade. The robot sliced their logs and converted into pre-shaped flanks that fit each other and enclosed the cabin's pieces.
"We know that concrete is responsible for 8% of total CO2 emissions," said Leslie Lok.
"By using 3D printing, we eliminate the use of wasteful form work and can deposit concrete smartly and only where structurally necessary, reducing its use considerably while also maintaining a building's integrity," Lok added.
Ashen Cabin grays naturally after its first and long winter in Ithaca. The wooden SIP envelope, made from ash trees infested by the Emerald Ash Borer will continue to gray over the next years.
It will eventually match the color of the concrete when dry and will appear black when wet from the rain.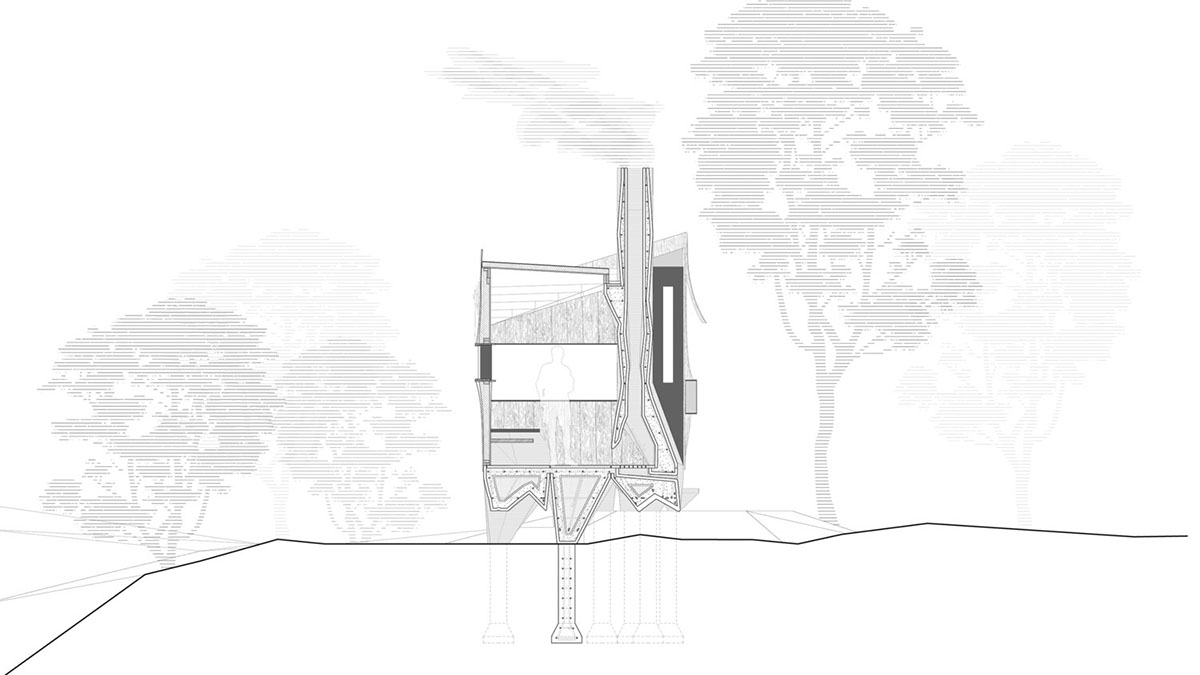 Leslie Lok is also an assistant professor and the B.Arch Coordinator at Cornell University College of Architecture, Art, and Planning. Lok's research and teaching explore the intersection of housing, urbanization, and mass-customized construction methods at multiple scales.
Zivkovic is also an assistant professor at Cornell University AAP where he directs the Robotic Construction Laboratory (RCL), an interdisciplinary research group that develops and implements novel robotic construction technology.
Project facts
Project team concrete: Christopher Battaglia, Jeremy Bilotti, Elie Boutros, Reuben Chen, Justin Hazelwood, Mitchie Qiao
Assembly and documentation team concrete: Alexandre Mecattaf, Ethan Davis, Russell Southard, Dax Simitch Warke, Ramses Gonzales, Wangda Zhu
Project team wood fabrication and design: Byungchan Ahn, Alexander Terry
Wood studies: Xiaoxue Ma, Alexandre Mecattaf
Assembly and documentation team wood: Freddo Daneshvaran, Ramses Gonzalez, Jiaying Wei, Jiayi Xing, Xiaohang Yan, Sarah Elizabeth Bujnowski, Eleanor Jane Krause, Todd Petrie, Isabel Lucia Branas Jarque, Xiaoxue Ma
Representation team: Byungchan Ahn, Kun Bi, Brian Havener, Lingzhe Lu
Cornell Arnot Teaching and Research Forest: Peter Smallidge
All images © Andy Chen
All drawings © Hannah
> via Hannah