Significance of Materiality in Architecture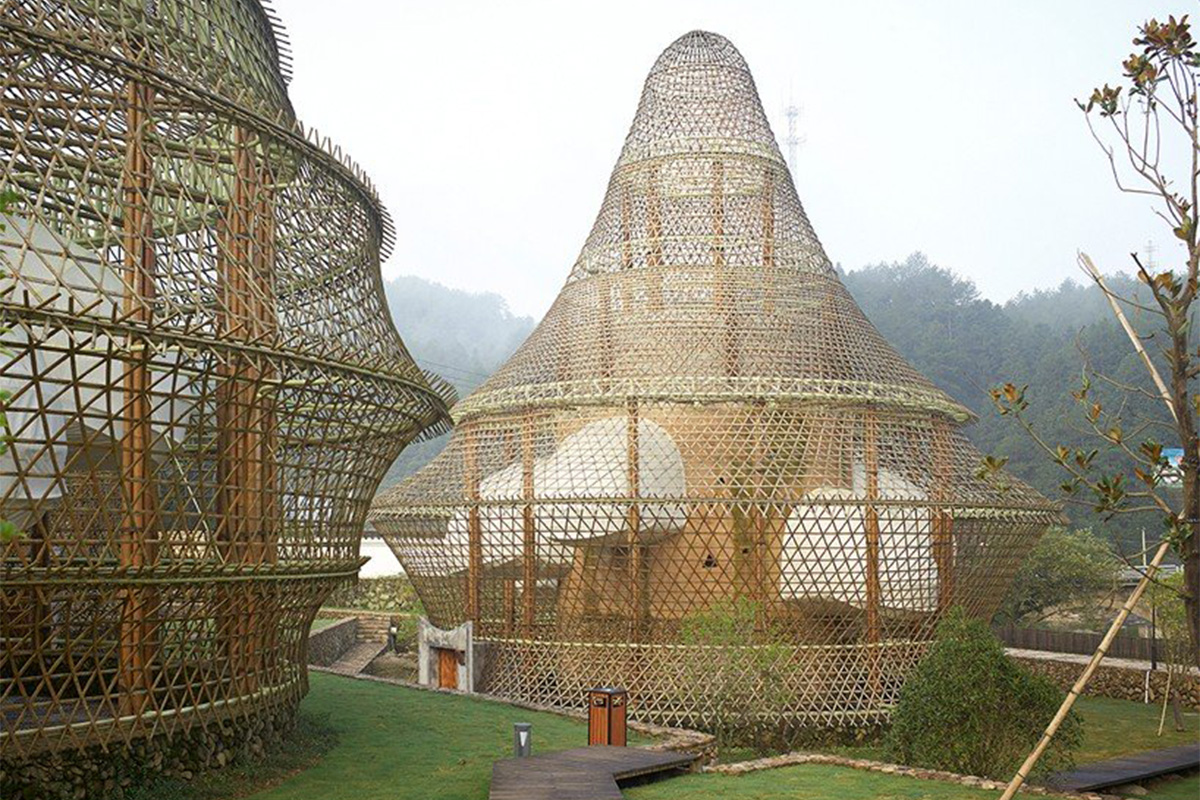 Architecture is a function between context, functionality and aesthetics. As architects around the world compete to bring to life remarkable ideas, for most buildings the key features defining their 'iconicity' can be arranged as – strong concept design, relevant historical context and present relevance of its design and need, implied architectural design, attention to and creating striking details, well-built and pioneering structural design, well execution of the project and between these heavy terminologies, one might chance upon thoughtful materiality. However, one of most influential aspect in all the above-mentioned ideas can be attributed to the value of material choices. From geographical to historical to cultural and political relevance, meticulously selecting material for a design can create and contribute towards a healthy and harmonious environment. Architecture outlives humanity as through surviving ancient civilisations' towns, robust edifices and the plethora of Heritage wealth.
Though materials play a significant role in imparting robustness and longevity in architecture, it is crucial to note their long-term impacts on not only the environment, but also on those who inhabit it. Some jarring studies over the years have reflected the following results:
According to the Global Status Report 2017, published by World Green Building Council, building and construction are responsible for 39% of all carbon emissions in the world
Building materials have also been listed as a critical source causing indoor air pollution, a continuous exposure to which can lead to respiratory ailments (source:United States Environmental Protection Agency). The 'sick building syndrome', as it is commonly referred as, affects the health conditions of the buildings' occupants, also resulting in low productivity levels.
The ill-effects inflicted by unsustainable procuring and production practices results in prolonged and irreversible damages (can be witnessed across the globe as climate change, pandemic outbreaks, displaced settlements etc.).
The list is never ending and baffling as one gets deeper to understand the dire consequences our ecosystem is subjected to if careful attention is not paid to design and material selection. As architects team up with engineers and researchers to understand the way ahead, we have prepared our list of eco-materials we feel are going to be on the watch-out for in the coming two years.
1. Hempcrete
A composition of Hemp mixed with sand and limestone, Hempcrete might be the next big breakthrough materials to emerge in the eco-construction sphere and get support from mainstream designers. With major countries such as California, Denmark, Austria, Germany, France and Japan, to name a few in the race to achieve a net-zero carbon goal, the material fits the bar aptly; hempcrete is a carbon negative material (more absorption of carbon as opposed to the amount released during its production). In addition to being temperature regulating and improving indoor air quality and comfort, it exhibits properties such as fire resistance and is lightweight.
Residence in Ein Hod artists' village in Haifa District, Israel by Tav Group (image © Yaeli Gabriel)
The Triangle in Swindon, England by Glenn Howells Architects (image courtesy of Glenn Howells Architects)
2. Cob
A natural building material, its composition is a mixture of subsoil, water, fibrous organic material (typically straw), and sometimes lime. The ease with which one is able to add, create cut-outs, and reshape even after the material is dry provides flexibility while ensuring minimised negative effect on the environment. Since the soil is mostly sourced from the site of construction itself (topsoil), it has added benefits such as curbing sourcing cost, being highly resistant to weathering, because of its porous nature; it can withstand long periods of rain without weakening (Keefe et al., 2001) etc.
Unique Cob Cottage in Mayne Island by Polish architect Bogdan Pekalski (image courtesy of Airbnb)
Banasura Hill Resort in Wayanad Kerala, India by Eugene Pandala (image courtesy of Eugene Pandala)
3. Green and living (breathing) facades
Using plants as elements to grow on a vertical surface, green walls or facades have been architect's world over, from medium sized edifices to high-rises. In addition to reducing carbon dioxide in the atmosphere and featuring as an aesthetically pleasing element to a building, they act as natural humidifiers, air purifiers, insulating surrounding noise, and trapping dust. Bringing nature in close proximity to individuals has shown to significantly improve mental wellness (reducing depression and anxiety), and instilling an overall positive environment in the space (Mayer, Frantz, Senecal; 2008).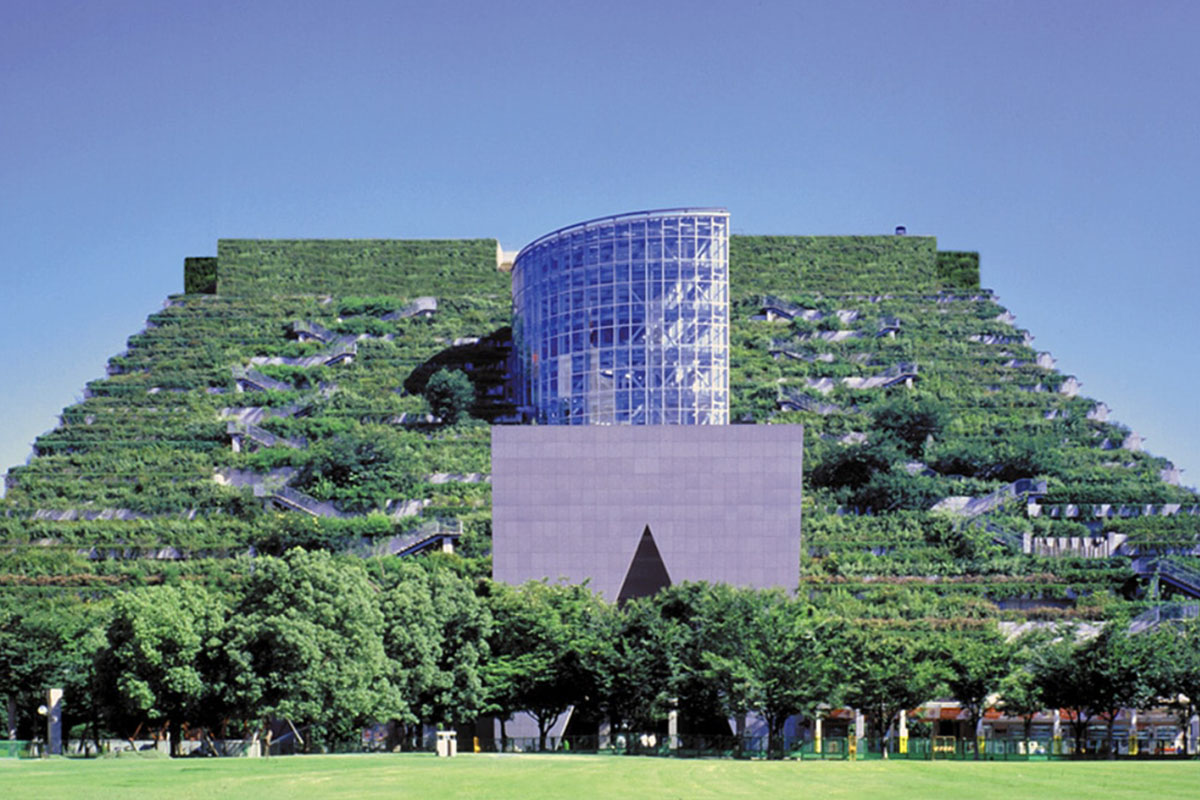 Prefectural International Hall in Fukuoka, Japan by Emilio Ambasz & Associates Inc. (image courtesy of Emilio Ambasz and Associates Inc.)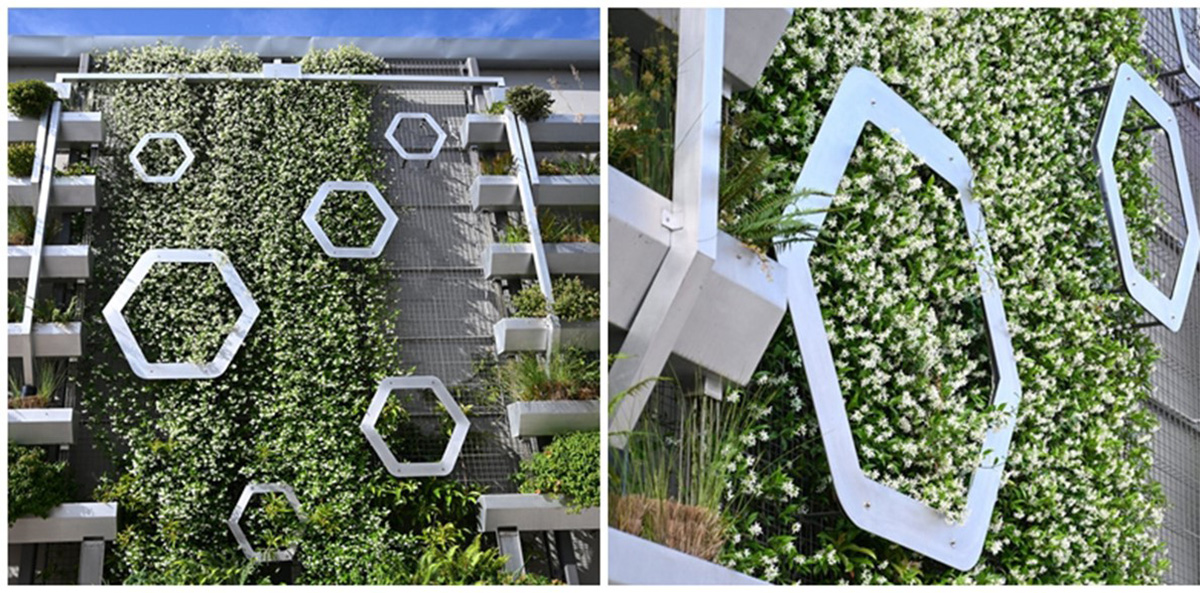 Portland Expo Center Stormwater Green Wall in United States of America by GreenWorks, PC (image courtesy of GreenWorks PC)
4. Corten Steel
Also known as weathered steel, it comprises of a group of steel alloys which is used in outdoor building works. Left untreated for a few months, the material has the unique property of using its acquired rust to act as an immunity hack against corrosion and subsequent damage of the material. Its robustness and ability to blend seamlessly into its surroundings makes its use as an outdoor landscape, façade element and even bridges etc. doable.
Matarazzo Park Tower in São Paulo, Brazil by Ateliers Jean Nouvel (image courtesy of Ateliers Jean Nouvel)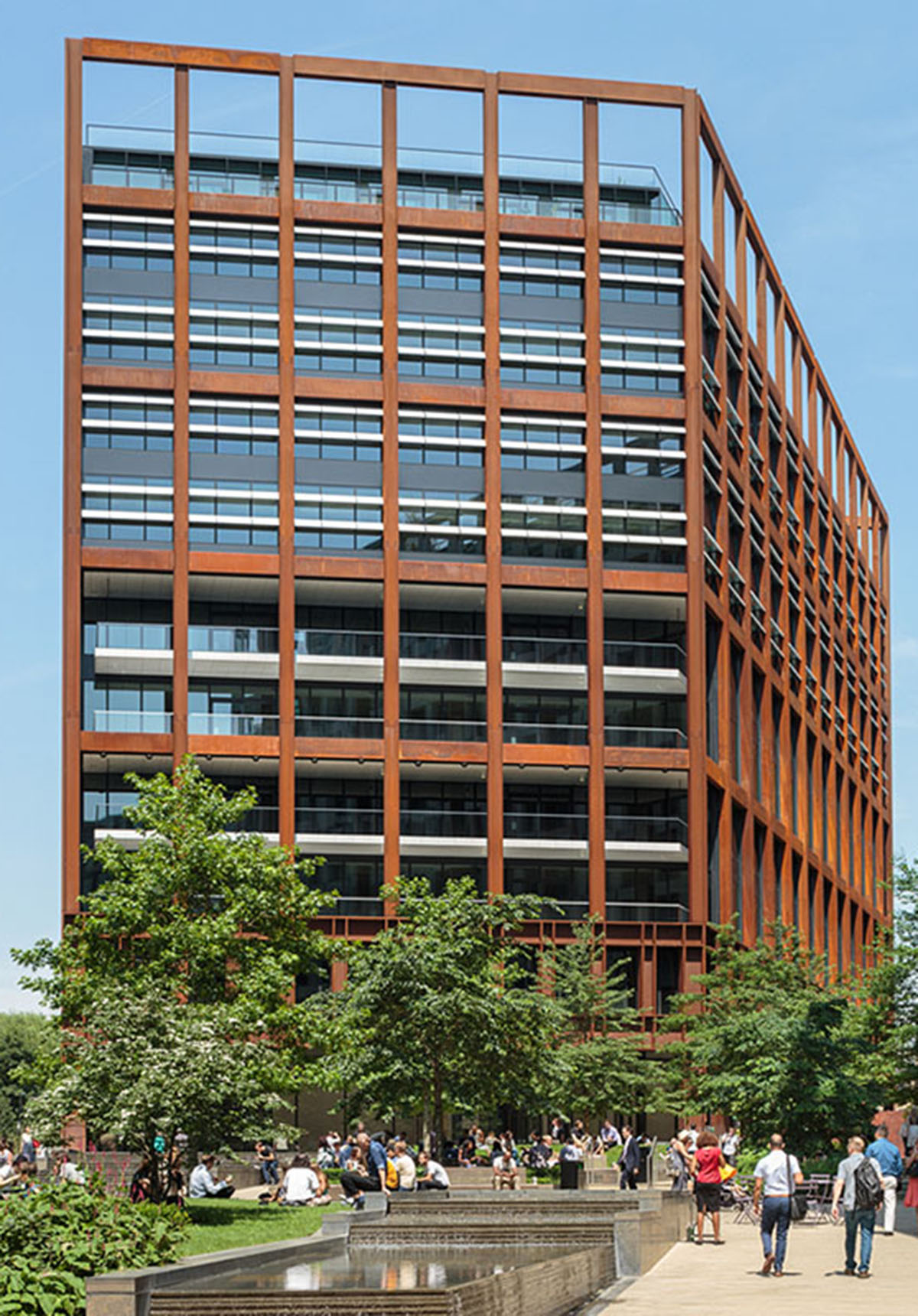 4 Pancras Square in King's Cross, London by Eric Parry Architects (image courtesy of Eric Parry Architects)
5. Bamboo
The use and prowess of the material in terms of incorporating it in various design concepts as well as its structural abilities have been upgraded by designers and engineers. It currently leads the pack of eco-materials with many benefits such as easy adaptation in different regions and climates, quick and viable means of production. It suits warm climates as much as adapting to humid temperatures. The examples used depict the versatility in terms of using it for buildings with different functions
Bamboo Sports Hall Panyaden International School in Chiang Mai in northern Thailand by Chiangmai Life Architects (image courtesy of Chiangmai Life Architects)
Three Hostels in Baoxi, China by Anna Heringer (image © Julien Lanoo)
In a world with endless possibilities to innovate and create, it rests as a huge responsibility for those associated working in architecture to take into consideration, not only the longevity of the designs in construction but its positive contribution our eco-system and for the generations of beings who would inhabit it as a crucial part of their lives.