Danish Architecture Center installs 40-meter-long slide designed by Carsten Höller
Danish Architecture Center has made its official reopening on Monday, June 8th more attractive by installing an artistic 40-meter-long slide designed by renowned German-Belgian artist Carsten Höller.
Called DAC Slide, described as a new attraction point, a 40-meter-long (about 130 feet) slide that spirals down all four stories of the iconic BLOX building designed by OMA in 2018.
Image © Jesper Værn Jensen
The brand-new 15-meter-high (around 50 feet) DAC Slide, which was realized with help of a donation from the New Carlsberg Foundation, is a permanent art installation. As the Danish Architecture Center highlights, the aim of this installation is to challenge guests' senses as they glide down the 40-meter-long slide.
The initiative is part of Danish Architecture Center's efforts to appeal to a broader spectrum of guests and reach out to those who do not necessarily know very much about architecture – but who are interested in Copenhagen'sdevelopment, Danish design and cultural experiences.
This art installation was designed specifically for the location by renowned German-Belgian artist Carsten Höller, who has created similar works in the form of slides in leading museums around the world, including the Tate Modern in London. Höller's impressive piece is the first of its kind in Scandinavia.
"It's an interactive art installation, an attraction, a piece of architecture and a 'work' that calls your attention to your own feelings and those of other people," said Höller.
Is it okay for art and architecture to be fun? If you ask Höller, the answer is yes. However, the piece is also an expression of something the artist has always wondered about: "Why don't we use slides in architecture as a supplement to stairs, elevators and escalators?".
Carsten Höller adds: "They are fast, safe and energy-savvy – and they produce a sensation in the user that has been de- scribed as "a kind of voluptuous panic upon an otherwise lucid mind, some- where between delight and madness."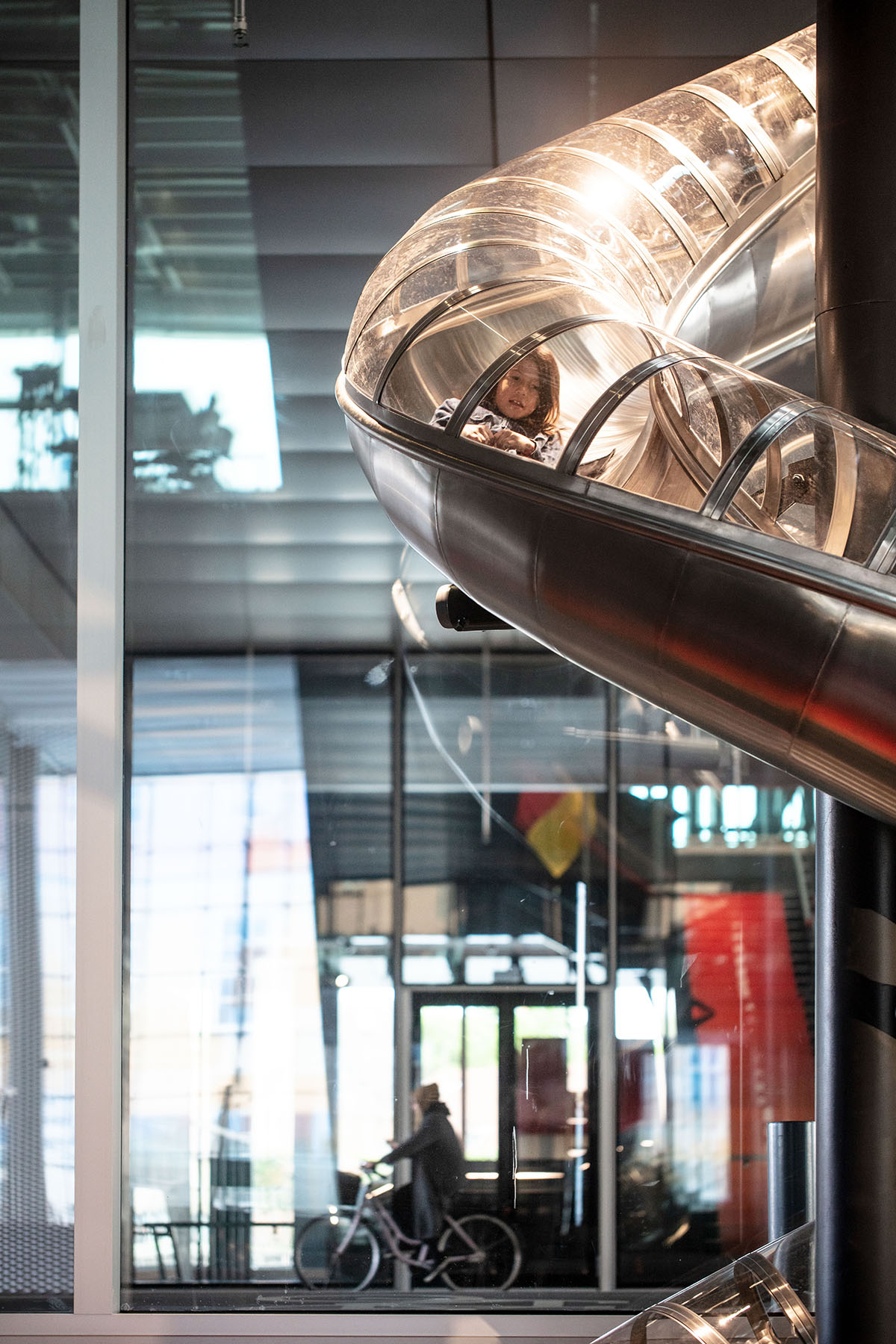 DAC Slide is sure to put a smile on most faces with its surprising, humorous and playful design.
The art installation's new home is BLOX, which is also home to Danish Architecture Center. The building's architecture, created by OMA, is known for its industrial look made up of quadratic "building blocks", primarily in glass and steel.
Höller's organic, spiral slide adds a new dimension to the architectural experience at BLOX. For adventurous speed-lovers, DAC Slide also offers a fun alternative means of descending.
Höller is known for creating experimental art on a grand scale. The spectacu- lar attraction that has now moved in is something of a colossus, weighing in at 4 tons. It took 21 days to install the giant piece, which is made up of 13 slide sections, 94 Plexiglas pieces and 159 screws.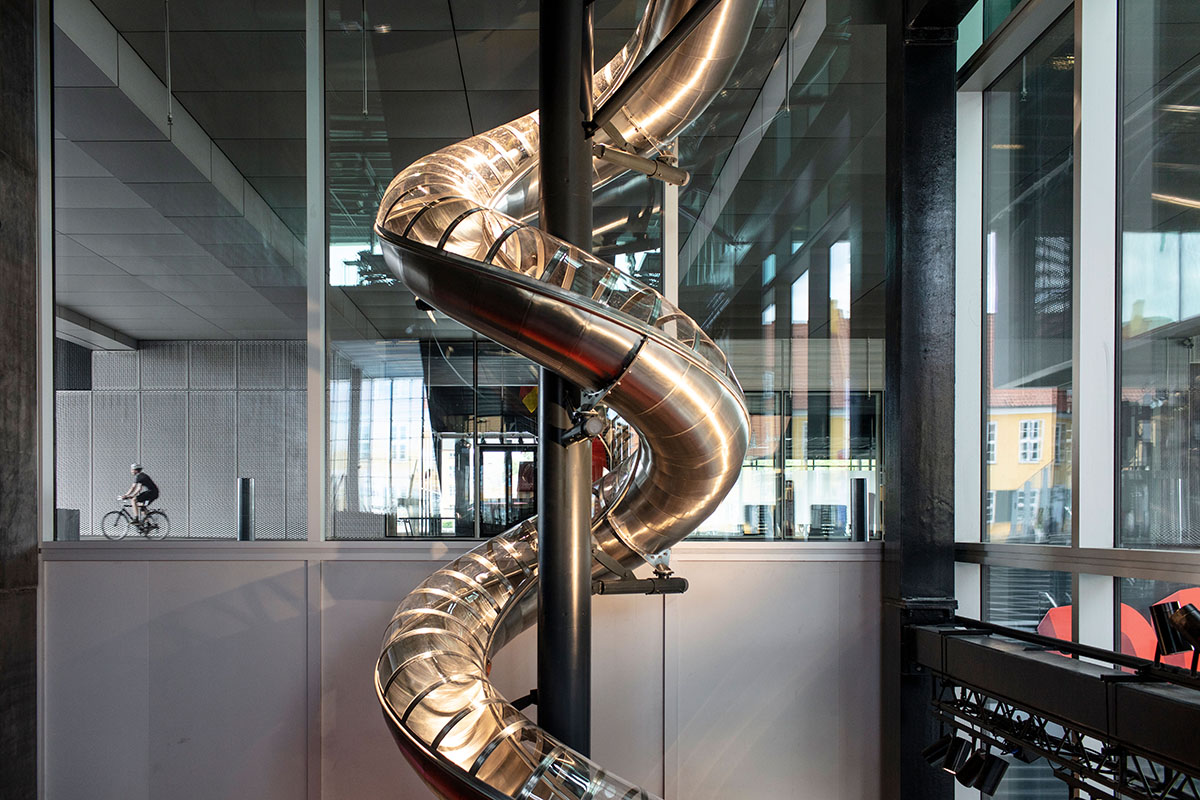 The art installation is placed in the Exhibition Forum – alongside the stairs, which, of course, can still be used if you don't feel up to taking the fast way down on DAC Slide.
The installation of the DAC Slide is supported by Realdania – a philanthropic association.
All images © Kontraframe unless otherwise stated.