NBBJ forms sustainable olympic sports center inspired by lotus flower in Hangzhou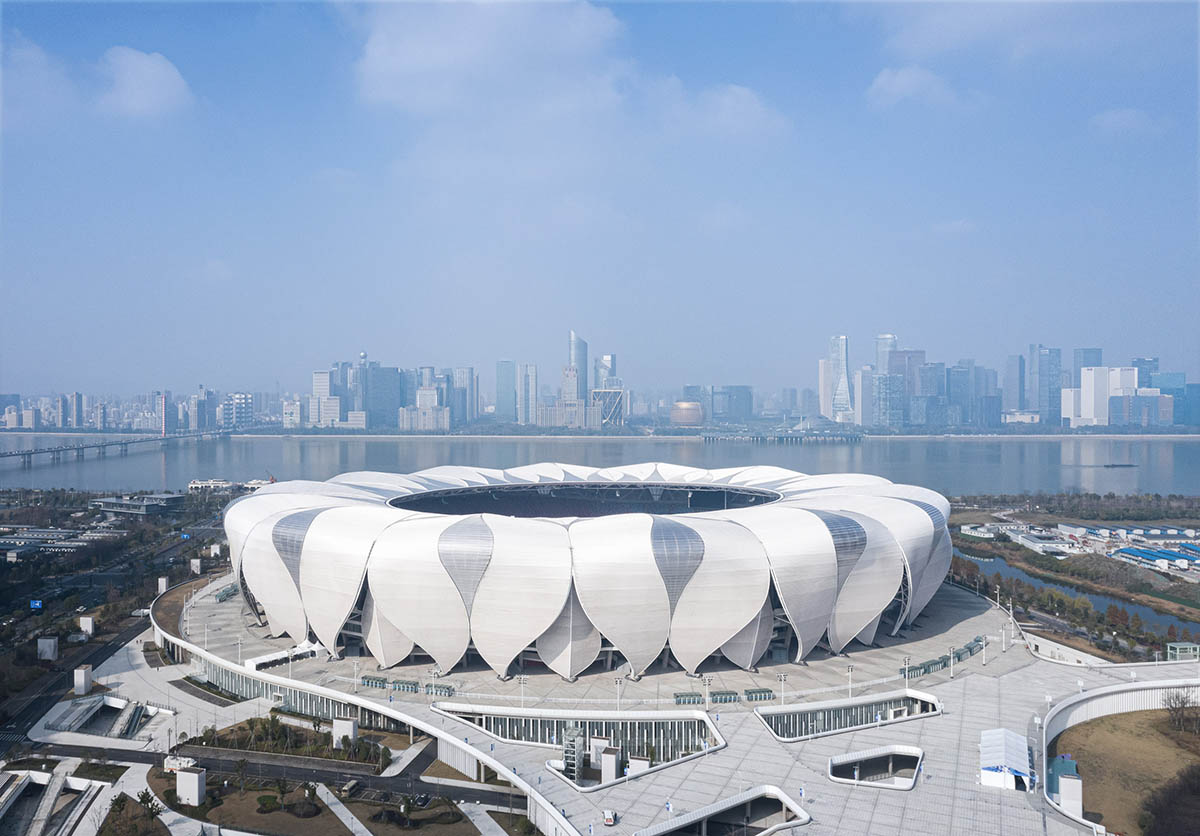 Global multidisciplinary firm NBBJ has completed a new olympic sports center with a smaller tennis stadium in the city of Hangzhou, China.
The new sports center, named Hangzhou Olympic Sports Center, covers a total of 40,000-square-metre and has the 80,000 seat capacity, with the 10,000-capacity tennis stadium.
Located around the West Lake area, which is an area exposed to an expansion and opportunities for industry towards the Qian Tang riverfront - opposite the city's new Central Business District, the two stadiums forms the centerpiece of the area as a new urban landmark.
Developed in partnership with CCDI, the design is inspired by iconic lotus flower found in the area, through its lotus-petal design, the Hangzhou Olympic Sports Center uses 67 percent less steel than Beijing's National Stadium (the Bird's Nest).
NBBJ's Hangzhou Olympic Sports Center prioritizes human experience and sustainability efforts to be able to use less steel in construction based on a model energy performance, and the stadium creates flexibility in which the design team employed computational scripts.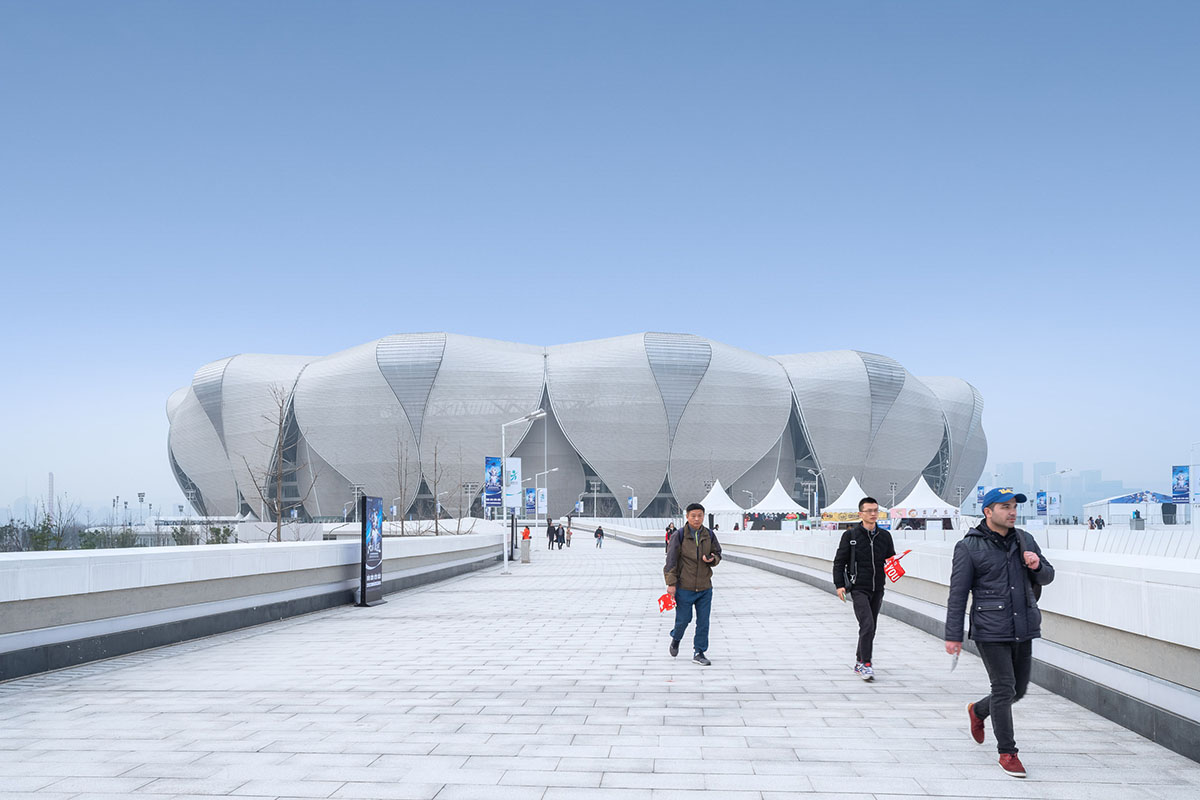 "In 2018, an average two tons of CO2 were emitted for every ton of steel produced," said NBBJ. "Featuring an iconic lotus-petal design, the Hangzhou Olympic Sports Center uses 67% less steel than Beijing's National Stadium."
The main stadium broke ground in 2011, and the entire complex is slated for completion in time for the 2022 Asian Games.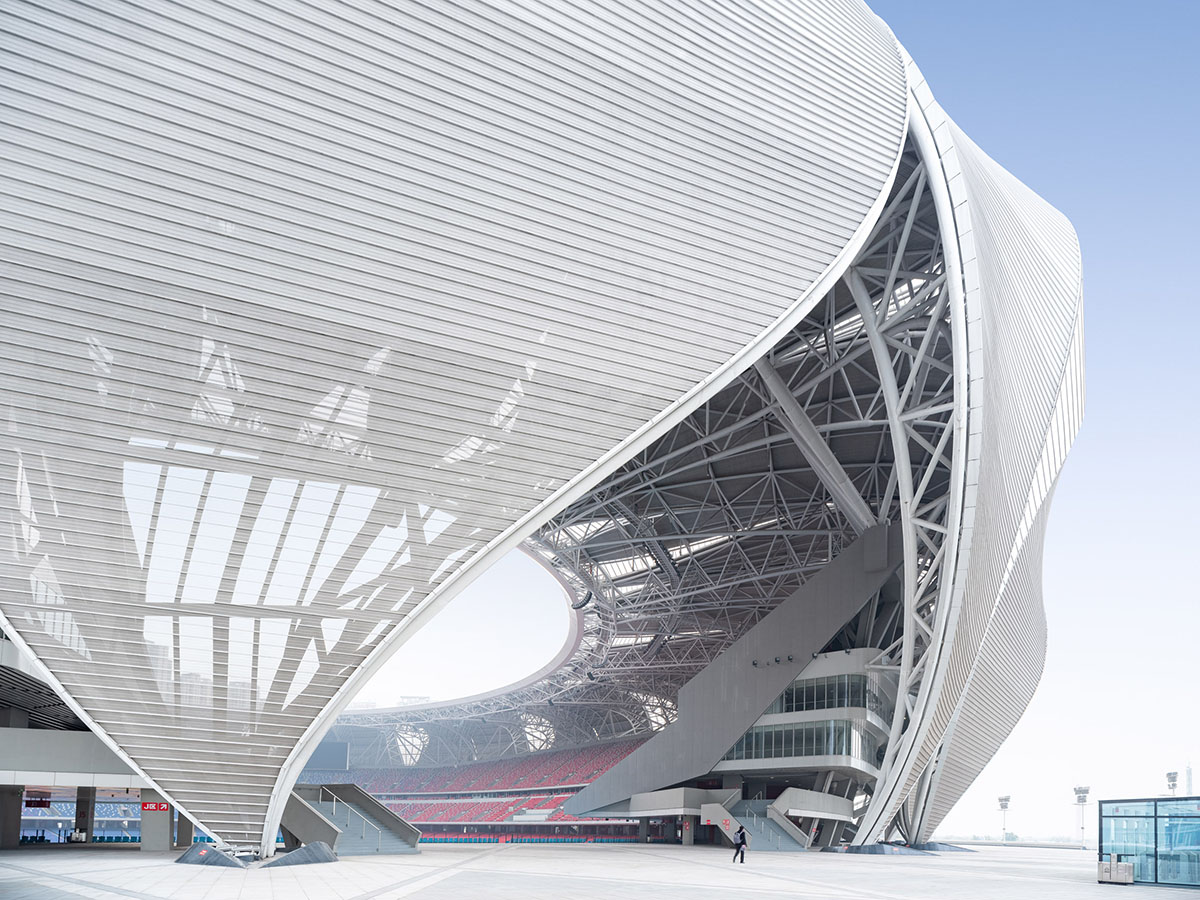 NBBJ used parametric modeling to reduce steel in two ways: firstly, by linking the steel shell and concrete bowl together at each level so the two systems work in unison; and secondly, by providing additional structure at the top of the bowl to reduce the roof cantilever.
"Because the model was parametric — computationally designed to respond to different inputs like the number of rows of seats, their distance from the field and sightline standards — design changes could be made with an extremely short turnaround, eliminating the "build-test-discard" method commonly deployed in traditional modeling," added the firm.
The new stadium provides an active destination for fans and the community before, during and after games.
The site's flowing circulation creates a seamless three-level pedestrian experience of above-grade platforms, ground-level garden pathways and sunken courtyards that unite the main stadium, tennis court and retail spaces into China's next-generation sports center.
NBBJ used 56 petals — 28 large and 28 small — entwine to create the steel framework. "The parametric model was used as the basis for cross-disciplinary collaboration with engineers and material consultants," added the firm.
"The engineers and consultants could use the design team's output directly for performing their specialized design and analysis operations. The close communication between disciplines enabled the design team to ensure quality control and also find opportunities for further optimization."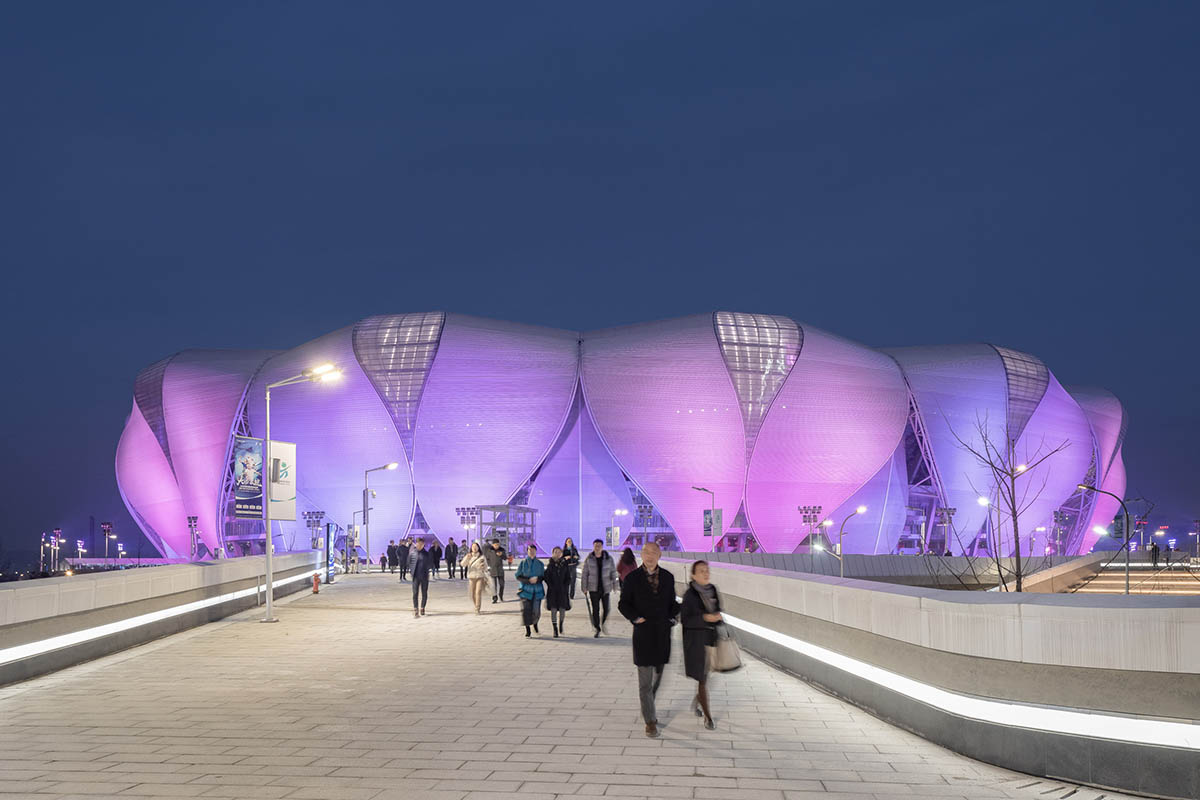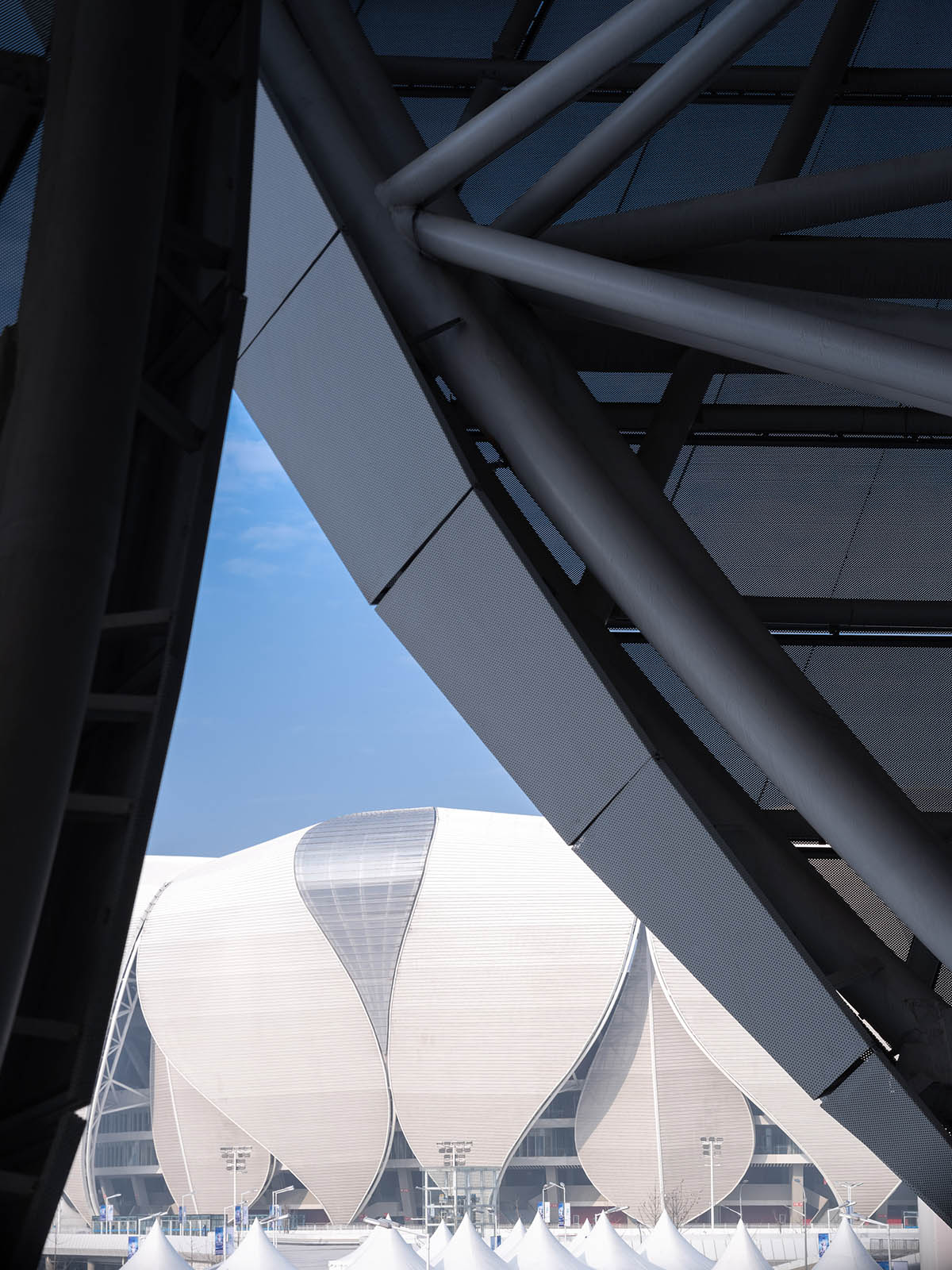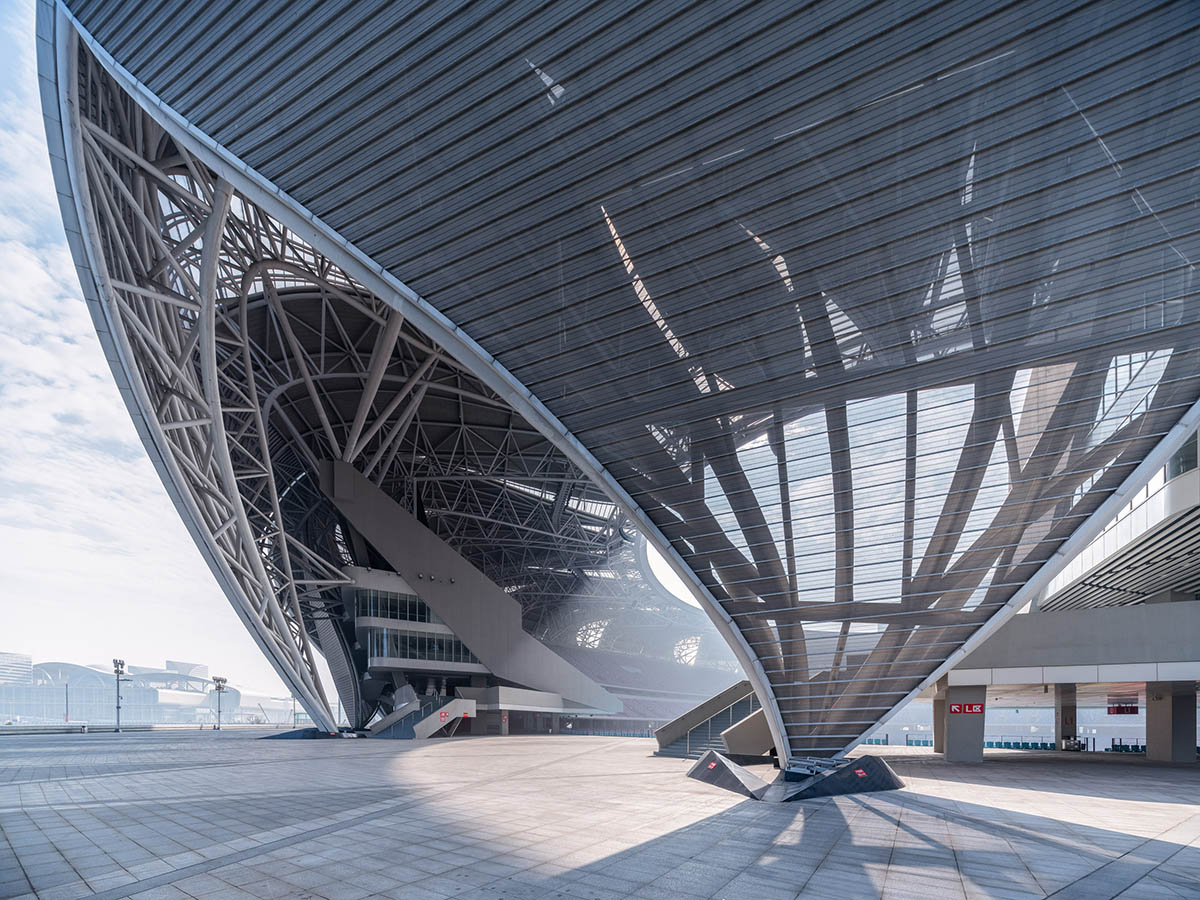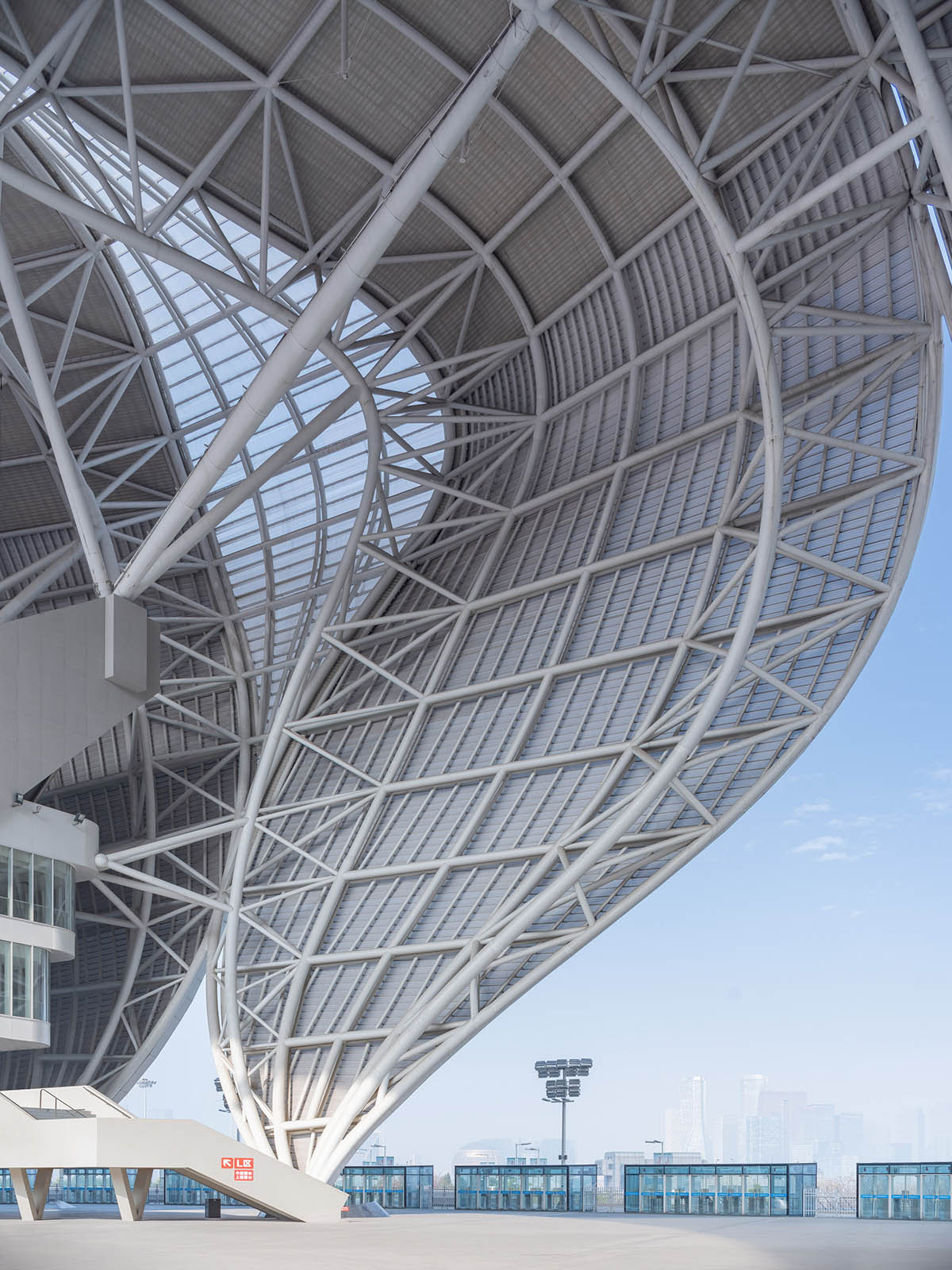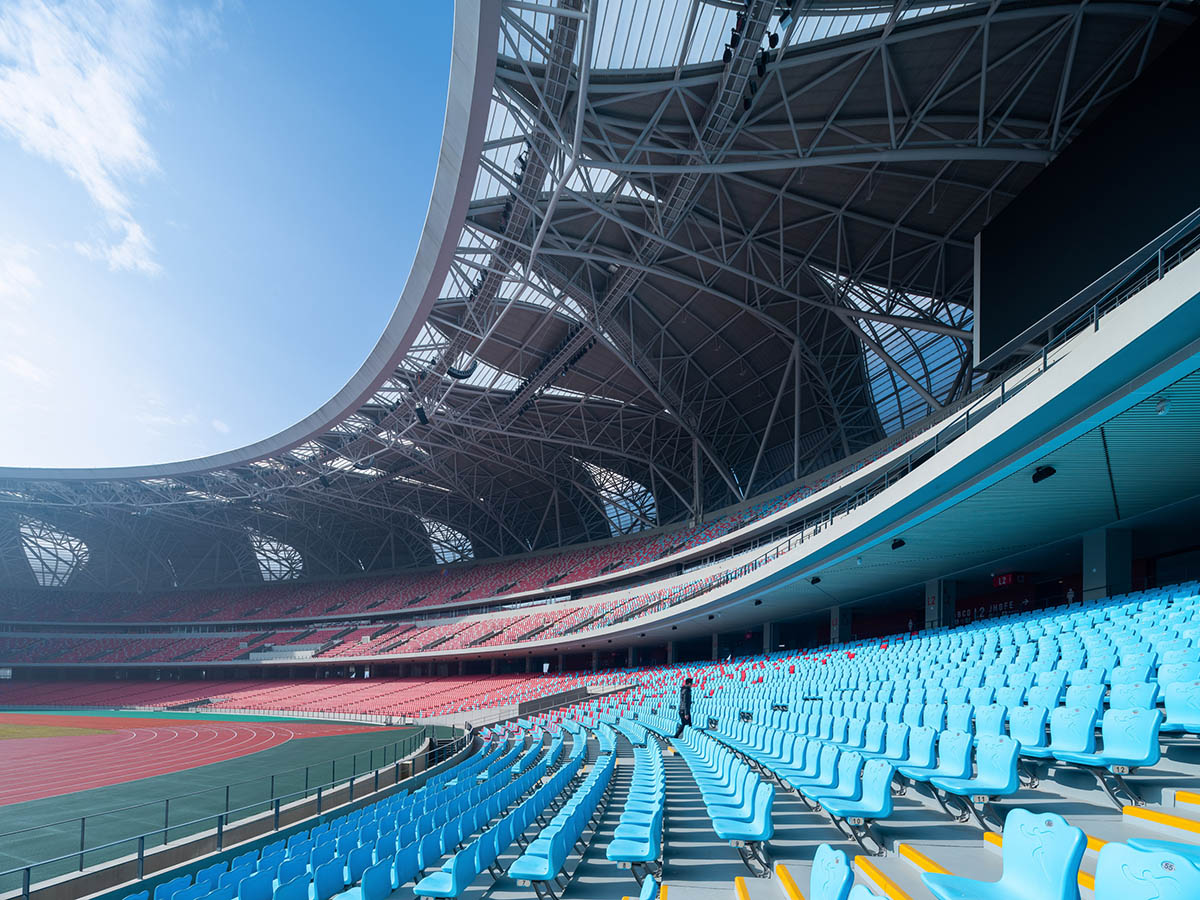 Site plan
Main stadium plan
Tennis stadium plan
Main stadium section
Tennis section
Project facts
Project name: Hangzhou Olympic Sports Center
Architects: NBBJ
Location: Hangzhou, China
Size: 400,000 SF
Components: 80,000-seat main stadium, 10,000-seat tennis center, aquatic center, convention center, athletic facilities, below-grade retail
Design Collaboration: CCDI
All images © Shao Feng
All drawings © NBBJ
> via NBBJ