Counterspace to design 2020 Serpentine Pavilion drawing attention to "recycle of materials"
Johannesburg-based architecture practice Counterspace, directed by the all-woman team of Sumayya Vally, Sarah de Villiersand Amina Kaskar, has been selected to design the 2020 Serpentine Pavilion.
By using cork and bricks gained from recycled construction waste, the studio will design this year's pavilion to draw attention to "recycle of materials and construction techniques", while the design refers to migrant and other peripheral communities of London.
Celebrating its 20th anniversary, the 2020 Serpentine Pavilion will be installed in Kensington Gardens, and will be extending a public programme across London between June 11 and October 11, 2020.
All three were born in 1990 and are the youngest ever architects to be commissioned for the Serpentine Pavilion so far. In design, the architects use both innovative and traditional building techniques.
Counterspace's design will be based on gathering spaces and community places around the city, folding London in to the Pavilion structure.
Amina Kaskar, Sumayya Vally and Sarah de Villiers of Counterspace. Photograph © Justice Mukheli in Johannesburg, 2020, © Counterspace
The 2020 Serpentine Pavilion is derived from a process of addition, superimposition, subtraction and splicing of architectural forms, directly transcribed from existing spaces with particular relevance to migrant and other peripheral communities in London.
The Pavilion will include moveable small parts that will be displaced to neighbourhoods across London. Following community events at these locations, the parts will be returned to the structure, completing it over the summer.
The studio will employ a mix of low-tech and high-tech approaches to sustainability, the Pavilion will be constructed from a variety of materials, including custom K-Briq-modules which will be produced by a low carbon brick developer Kenoteq. K-Brig is Kenoteq's first product for an unfired brick with 90% recycled content from demolition and construction waste.
The other material is cork which will be provided by Portuguese producer Amorim. Cork is described as one of nature's most amazing raw materials. 100% biodegradable, recyclable and renewable, cork is incredibly light, impermeable to liquids and gases, elastic, compressible and resilient. It provides excellent thermal and acoustic insulation, is a fire retardant, and highly abrasion-resistant, according to Amorim.
K-Briqs, made from 90% recycled construction and demolition waste, are manufactured without firing, with a 10th of the carbon emissions of normal bricks.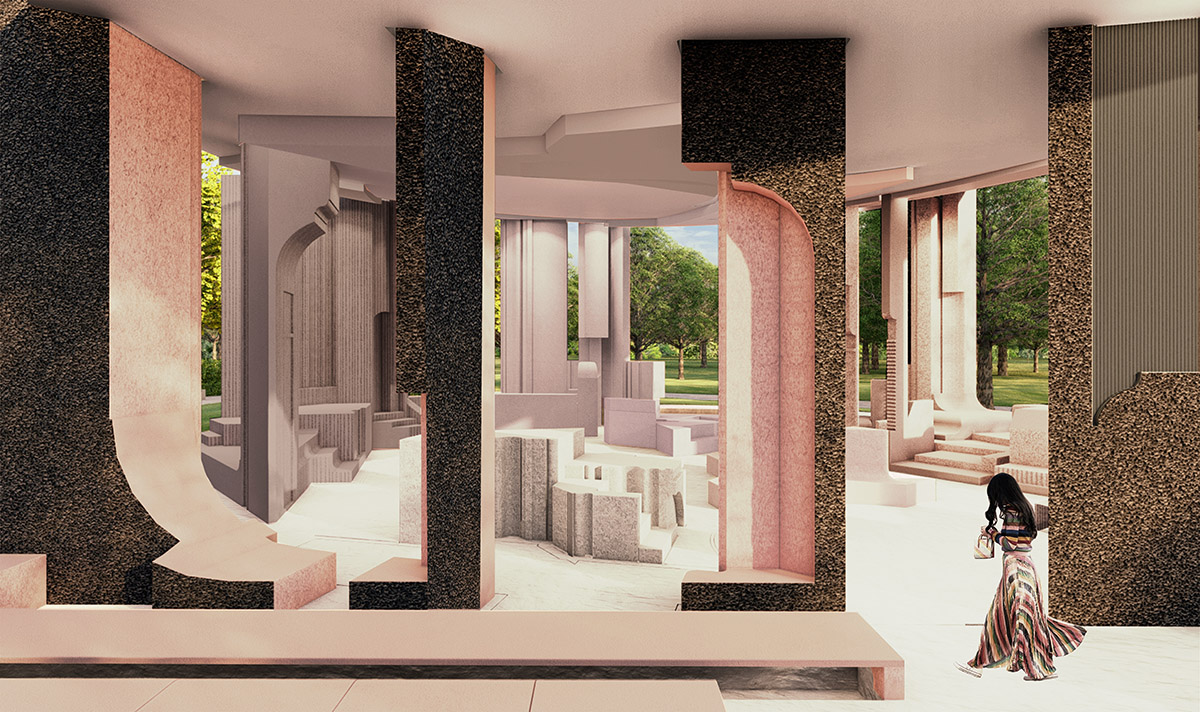 "The pavilion is itself conceived as an event — the coming together of a variety of forms from across London over the course of the Pavilion's sojourn. These forms are imprints of some of the places, spaces and artefacts which have made care and sustenance part of London's identity," said Sumayya Vally of Counterspace and lead architect on the project.
"The breaks, gradients and distinctions in colour and texture between different parts of the Pavilion make this reconstruction and piecing together legible at a glance. As an object, experienced through movement, it has continuity and consistency, but difference and variation are embedded into the essential gesture at every turn."
"Places of memory and care in Brixton, Hoxton, Hackney, Whitechapel, Edgware Road, Peckham, Ealing, North Kensington and beyond are transferred onto the Serpentine lawn. Where they intersect, they produce spaces to be together," added Vally.
Counterspace is a Johannesburg-based collaborative architectural studio, undertaking predominantly architectural projects, community engagement, exhibition and installation conceptualisation and urban research and design.
Counterspace is inspired by their location – Johannesburg – and aims to work with developing design expression particularly for Johannesburg and the continent – through urban research, publications, installations and architecture.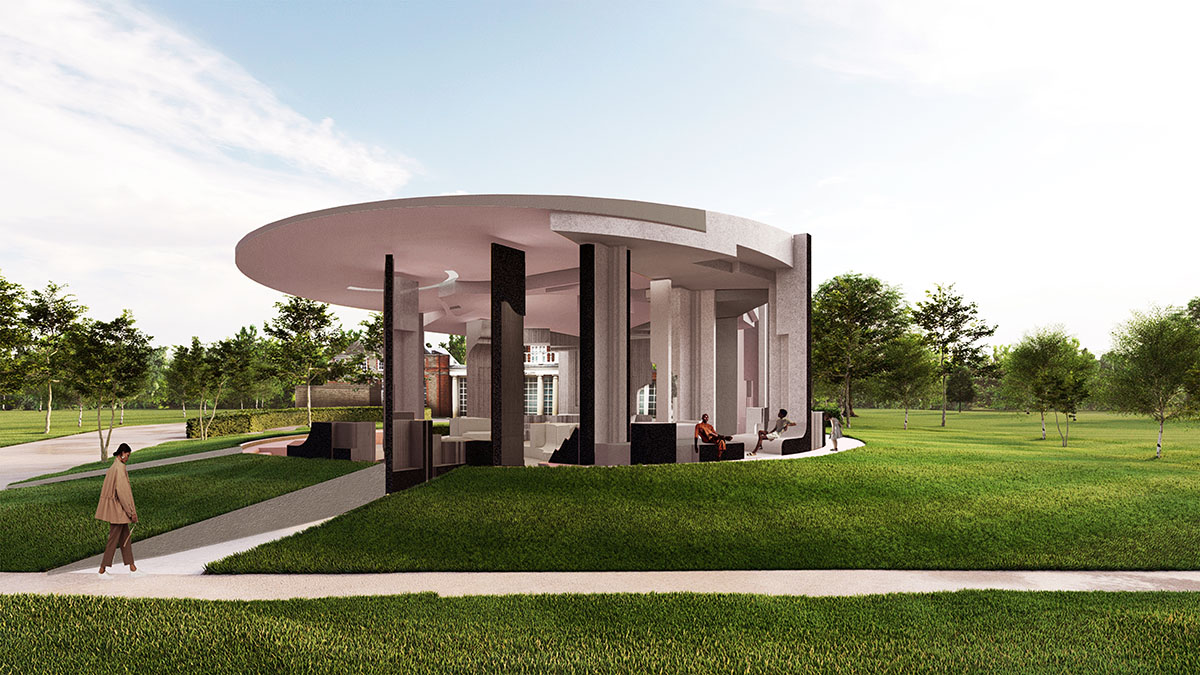 Counterspace was selected by the Serpentine's artistic director Hans Ulrich Obrist and CEO Bettina Korek, who was appointed in 2019 after Yana Peel. Yana Peel was resigned from the Serpentine Galleries in June 2019 after a "concerted lobbying campaign" against her husband's (Mark Peel) investments.
Advisors on the committee include prominent names: Sir David Adjaye, Lesley Lokko and David Glover, alongside the Serpentine's head of construction Julie Burnell and the project's curator Natalia Grabowska.
2019 Serpentine Pavilion was designed by Japanese architect Junya Ishigami with a cave-like structure.
All images © Counterspace unless otherwise stated.
> via Serpentine Galleries