Nudes releases design for cylindrical forest school in Pune, India
Mumbai-based architecture studio Nudes has released its winning competition entry to design a school in Pune, India. Called The Forest, the project won the competition in an invited competition.
Nudes' design explores the relation between nature and pedagogy in dense urban settlements built on the foundations of "Grow", "Learn", "Reuse", "Plant" and "Play".
The project is situated in Pune approximately 3 hours by road from Mumbai, the city has witnessed dramatic urban growth in the last decade. The project is comprised of a pair of "green" cylindrical volumes stitched by a rooftop "infinity" loop track.
Each cylindrical volume represents the stage of phased construction with planned programmatic activities. The project explores the dynamics and logistics of a vibrant space for student centric interaction and learning. The "Green" skin can be serviced and maintained by a peripheral service track that is accessible from both landing and mid-landing levels on every floor by horticulturists.
Sited on a plot area of approx. 2.5 acres the school building occupies the front end of the rectangular linear plot to create open space for play and sport towards the rear.
The space occupied by the footprint on the ground has been compensated by the "8" loop on the rooftop. The "loop" has been designed as a bi-cycle track for a city starved for pedestrian walkways and cycling tracks. In addition, the "loop" can also be used for non-programmatic activities, workshops, student exhibitions, student led markets and recreation.
In addition, the project also features hands-on learning, green learning opportunities, networked communities, experimental learning, improvement in air quality and student health, passive cooling, sensitivity towards climate change and global warming, social responsibility.
The entire built-up construction of the school is approximately 125,000 square foot (11,612 square meters) and houses learning environments from early childhood education to Grade XII.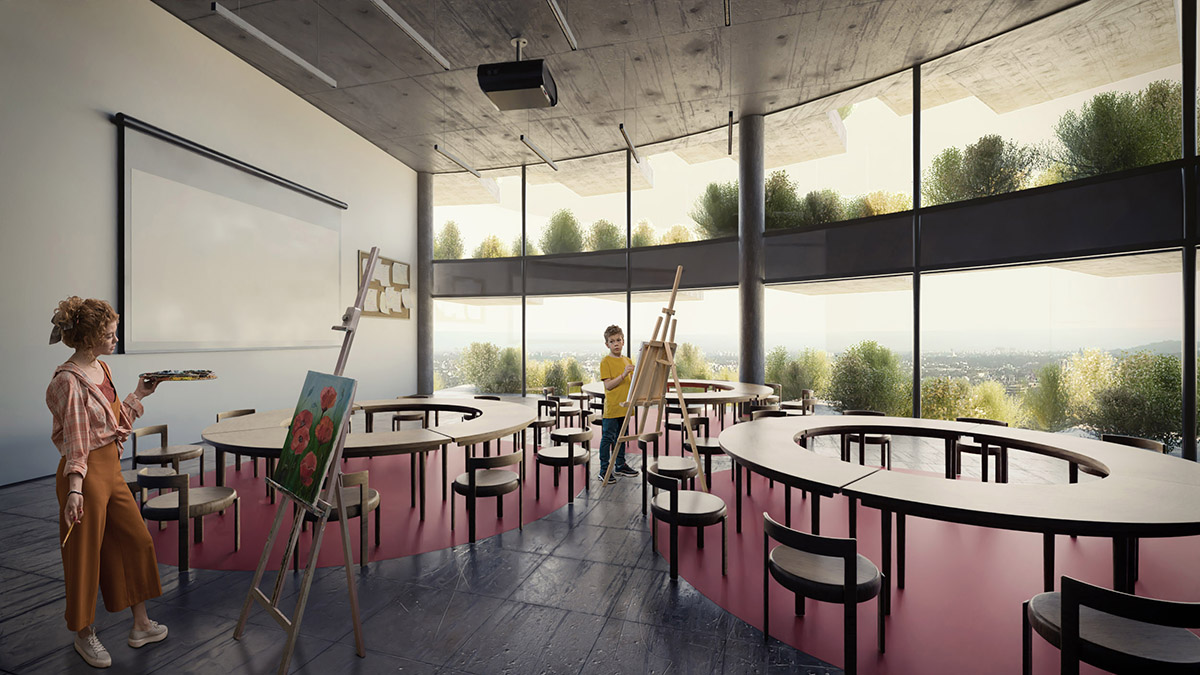 Nudes, founded by Nuru Karim, operates within the realm of cross-disciplinary cultures of public-art, architecture-urbanism and design optimization, powered by digital "making" tools addressing larger networks of social, cultural and environmental.
Nudes won the WA Award in the 32nd Cycle with Nest Flamingo Observatory from India. Nuru Karim is Professional Member of World Architecture Community.
Project facts
Typology: School
Status: Invited competition Wining Entry
Location: Pune, Maharashtra, India
Architects: Nudes
Project Team: Nuru Karim (Founder & Design Principal Nudes), Aditya Jain, Salai VV, Jenish Merchant, Supriya Dubey, Gaurav Dhore, A Aravind
All images courtesy of Nudes
> via Nudes