Call for proposals to "Reimagining Brooklyn Bridge" competition until April 19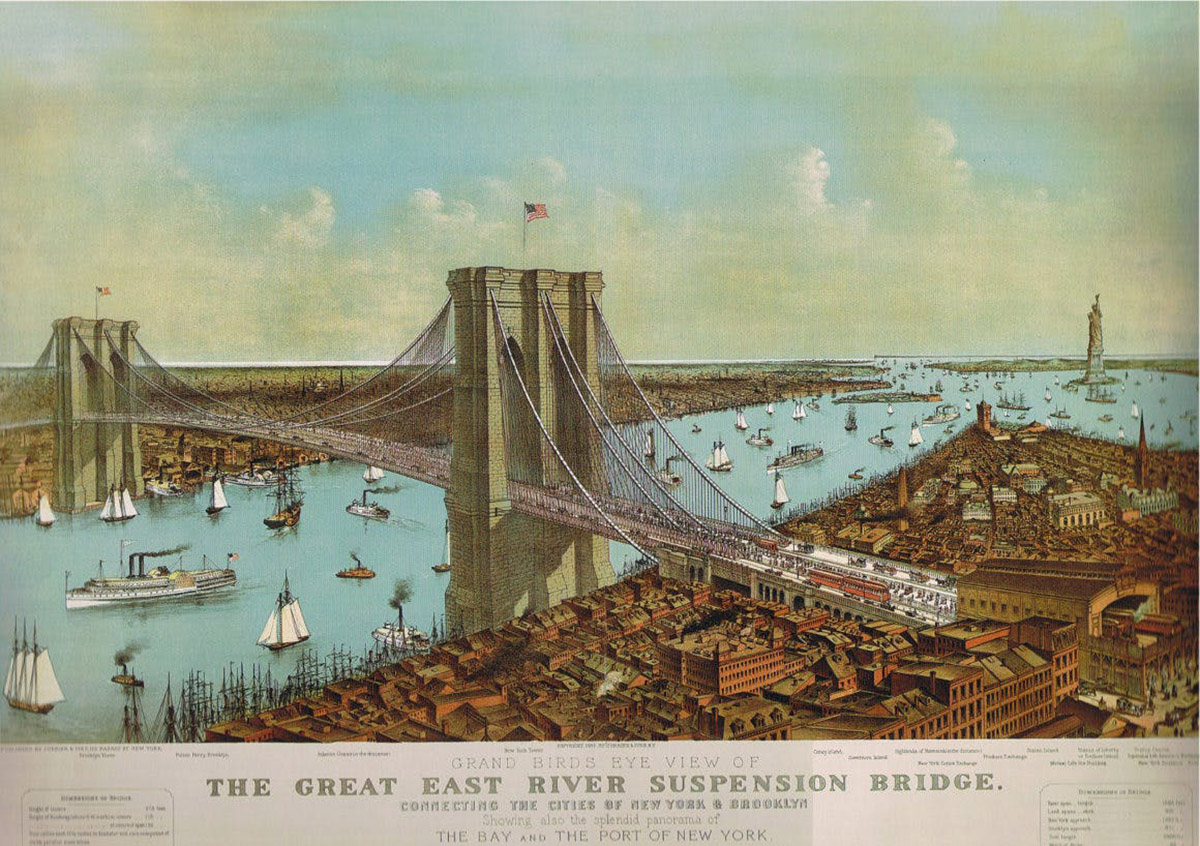 The New York City Council and Van Alen Institute have launched an international competition titled "Reimagining Brooklyn Bridge", a competition aims to spark a new public conversation about New York City's infrastructure.
UPDATE: In light of the widespread disruption caused by the COVID-19 crisis, we have extended the submission deadline for Reimagining Brooklyn Bridge by two weeks. The new deadline is Sunday, April 19 by 11:59 pm ET.
The Van Alen Institute stated that "There is no requirement to work together in person at this stage, and we strongly encourage participating teams to collaborate digitally and follow social distancing guidelines. We understand your workflows have been disrupted, so if you need guidance on how to proceed, contact us at [email protected]."
The Brooklyn Bridge is one of New York's most recognizable landmarks, and holds a special place in our collective imagination.
Since opening on May 24, 1883, the bridge has taken on near-mythic significance in New York City. Its striking form has captured the imagination of some of the nation's most prominent artists. Its enduring iconographic power makes it one of the most photographed locations in New York. In popular culture, the bridge is a symbol for the city itself, used in countless establishing shots in films and television.
But that iconic status comes at a cost. At peak hours, the promenade is crammed, uncomfortable, and sometimes unsafe. Thousands of pedestrians and cyclists cross the bridge every day. In response to these conditions, the New York City Council and Van Alen Institute have launched Reimagining Brooklyn Bridge, an international design competition that aims to spark a new public conversation about New York City's infrastructure.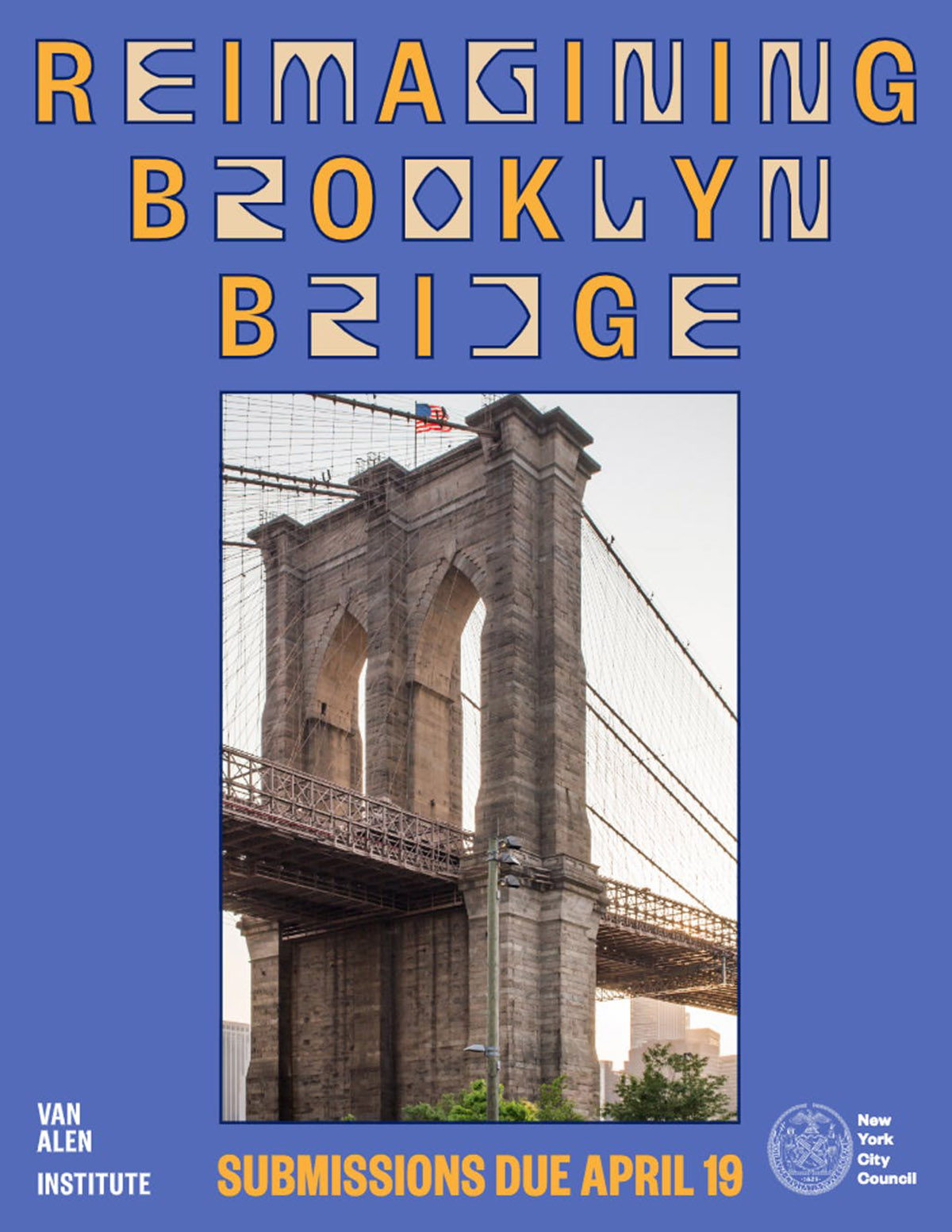 Submissions now open! Proposals due by April 19, 2020.
Dates
April 19, 2020: Proposals due by 11:59 pm ET
Early May 2020: Finalists announced
Mid-May 2020: Finalists kick-off event
May–July 2020: Proposal development
Mid-July 2020: Public jury session
Late July 2020: Winners announced
Overview
Reimagining Brooklyn Bridge challenges participants to rethink the iconic Brooklyn Bridge walkway. We will select six finalist teams who create unconventional designs that respect and enhance the bridge's landmark status, think inclusively about mobility and access, and accommodate commuters, visitors, and vendors.
The competition has two finalist categories:
Professionals: Three finalists will be 22 years of age and older. Each finalist will receive $13,000. Ultimately, one winner will be selected.
Young Adults: Three finalists will be 21 years of age or under. Each finalist will receive $3,000. Ultimately, one winner will be selected.
Three finalists from each category will be selected by an interdisciplinary jury representing a wide-ranging set of perspectives on the Brooklyn Bridge. The jury will consider the following factors: team composition; accessibility and safety; environmental benefit and security; respect for the bridge's landmark status; feasibility; and "magic"—i.e. new ideas that surprise, delight, and fascinate.
The competition is open to all. The general public, students, and international competitors are welcome, and interdisciplinary teams are encouraged to enter. The proposed designs should focus on the bridge's walkway, but can include recommendations for the bridge's roadway and nearby public spaces.
Finalists will work with Van Alen and City Council to further develop their ideas for two months. To select the winning designs, all six finalist proposals will be presented in a public event in mid-July and online. Members of the public will help choose a winner in each category through an online vote.
For complete submission guidelines, see the Design Brief.
Jury
Peg Breen; President, New York Landmarks Conservancy
Andrew Brown; Associate Director of Research, Van Alen Institute (non-voting)
Marla Gayle; Managing Director, SOM
Hon. Jonathan Gardenhire; Artist & District Leader, NYS Assembly District 65, Part B
Danny Harris; Executive Director, Transportation Alternatives
Helen Ho; Principal, Karp Strategies
Isabella Joseph; Student, Bernard and Anne Spitzer School of Architecture, City College of New York
Regina Myer; President, Downtown Brooklyn Partnership
Amy Plitt; Editor, Curbed NY
Download Design Brief.
Answers to frequently asked questions can be found here.
If you have a question that is not answered on that page, please submit them to [email protected].
Read more about the competition on the website.
Top image: Bird's eye illustration of the bridge, 1892. (Courtesy: The Historical Atlas of New York City: A Visual Celebration of Nearly 400 Years of New York City's History). Courtesy of Van Alen Institute.
All images courtesy of Van Alen Institute
> via Van Alen Institute