Jean Nouvel to design a luxury resort in Sharaan Nature Reserve of Saudi Arabia
Pritzker Prize-winning architect Jean Nouvel will design a new luxury resort at a proposed site of Sharaan Nature Reserve in the middle of a valley in Al-Ula, the north-western Saudi city.
Earlier this year, Saudi Arabia explained its plans to create a major cultural destination in Al-Ula region, and Saudi Crown Prince Mohammed Bin Salman was in conversation with the US' largest auction house Sotheby's on this effort.
According to a recent press release of Royal Commission For Alula (RCU), the AlUla has announced its partnership with prestigious luxury hotel & resort brand Aman, the plans envision to build three Aman resorts to be built at AlUla in North-West, Saudi Arabia, following the planned Jean Nouvel-designed new luxury resort within the Sharaan Nature Reserve - showcasing architecture hosted by nature.
This will be the first Aman resort to be developed in Saudi Arabia and the Middle East. The plans aim to develop luxury visitor experiences in the region, while creating new jobs in the hospitality sector for the local community.
The partnership agreement was signed by Saudi Arabia's Minister of Culture, the Governor of the Royal Commission for AlUla His Highness Prince Badr bin Abdullah bin Mohammad bin Farhan Al Saud and Chairman and Aman CEO Mr. Vladislav Doronin marking the brand's first entry to Saudi Arabia and the region.
Under the terms of a Technical Services Agreement, Aman will develop three distinct luxury resorts of architectural excellence including a tented camp, a resort near AlUla's spectacular heritage areas and a third development as a desert ranch-style resort.
Detailed design work on all three properties is scheduled to commence in the coming months with a development timeline that will welcome the first guests in 2023.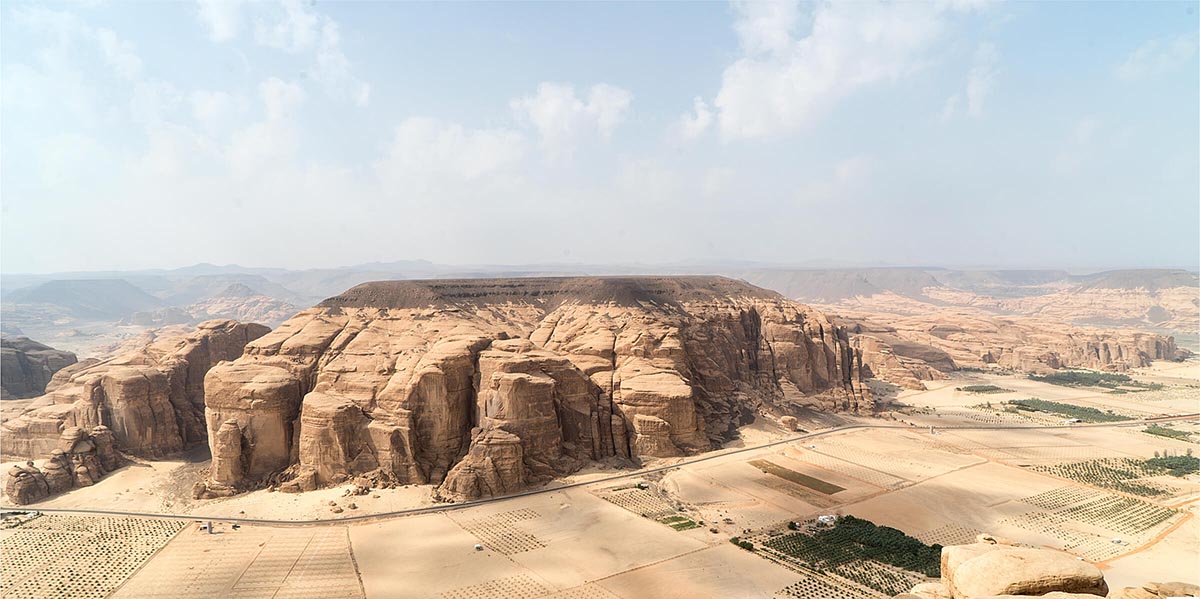 Commenting on the agreement, His Highness Prince Badr said: "We are proud to be signing this agreement with a luxury operator who shares our vision of sensitive development that both works with and incorporates the local landscape and culture in a highly sympathetic manner, while demonstrating our commitment to delivering an extraordinary visitor experience in AlUla."
"The decision by Aman to open its first resorts in the Middle East in AlUla shows the promise and progress of the vision for AlUla to become a worldwide destination for those seeking unique experiences. I believe this partnership will be the next step in the development of the yet to be discovered masterpiece that is AlUla," he added.
RCU and Aman have also signed a partnership to design, manage and brand the destinations as Aman, offering the refined Aman guest experience that goes beyond any expectation.
Jean Nouvel. Image courtesy of Le Monde
The overall program of the masterplan will consist of 25 suites, 10 pavilions and five resort-style residential estates, which are planned to complete in 2023.
Although designs of the masterplan have not yet been revealed, the project is expected to focus on the natural integrity of Al-Ula and aim to re-establish the rich diversity of plant life and wildlife that once flourished here, reports The National.
Nouvel, who is behind the National Museum Of Qatar and the Louvre Abu Dhabi Museum on Saadiyat Island in Abu Dhabi, will create a new nexus combining super luxury experience in the deserted nature. According to The National, Nouvel's new luxury resort is inspired by amazing deserted landscape of Al-Ula and irregularities of nature and geography.
"The location is rooted in history, it is rooted in the history of the land, the history of the Nabateans," Nouvel said.
"To be able to frame the Sharaan landscape at different heights is amazing, discovering the distant horizons, discovering the different qualities of light."
"It will also mean inventing, based on the irregularities of nature and geography. Architecture helps in this. Art helps. We should see what is built here as art."
RCU also plans to hold a series of workshops and seminars aimed at providing information and training to help local people in AlUla to benefit from these new exciting career opportunities that are being offered by the hotel sector.
The first of the Aman developments will be a spa concept resort featuring 30 luxury tents. This is being developed within a secluded and tranquil mountain valley that is close to many of Al-Ula's main cultural and heritage areas.
The second resort will be constructed in an area of outstanding natural beauty within Al-Ula and reinforce Aman's global commitment to delivering transformative experiences in awe-inspiring locations.
A third resort will encompass a desert ranch style with panoramic views of the splendid natural beauty of Al-Ula. The anticipated resorts will be part of Al-Ula's commitment to delivering excellence in hospitality infrastructure for guests to enjoy its year-long tourism seasons; including the spectacular Winter at Tantora culture and arts season, that was launched in 2018.
"All three projects will embrace eco-tourism standards in line with RCU's commitment to responsible development as outlined in its charter, and Aman's aim to ensure its destinations are pervaded by a tranquil simplicity offering unmatched opportunities for exploration and discovery," stated the RCU.
About Al-Ula
Located 1,100 km from Riyadh, in North-West Saudi Arabia, AlUla is a place of extraordinary natural and human heritage. The vast area, covering 22,561km², includes a lush oasis valley, towering sandstone mountains and ancient cultural heritage sites dating back thousands of years to when the Lihyan and Nabataean kingdoms reigned.
The most well-known and recognised site in Al-Ula is Hegra, Saudi Arabia's first UNESCO World Heritage Site. A 52-hectare ancient city, Hegra was the principal southern city of the Nabataean Kingdom and is comprised of more than 100 well preserved tombs with elaborate facades cut out of the sandstone outcrops surrounding the walled urban settlement.
Current research suggests Hegra was the most southern outpost of the Roman Empire after conquering the Nabataeans in 106 CE.
In addition to Hegra, AlUla is home to a series of fascinating historical and archaeological sites such as: Ancient Dadan, the capital of the Dadan and Lihyan Kingdoms, which is considered one of the most developed 1st-millennium BCE cities of the Arabian Peninsula; thousands of ancient rock art sites and inscriptions; and Hijaz Railway stations.
See Aman's another luxury resort and spa perfectly blended in majestic cliffs and rock formations in Southern Utah.
All images © Royal Commission For Al-Ula unless otherwise stated.