Lemay and Morelli designed 250 biogas-capturing wells for urban rehabilitation in Montreal
Montréal-based architecture firms Lemay and Morelli have scattered 250 biogas-capturing wells on a 192-hectare site to capture the gases emitted by the former landfill. The spherical pods are accessible while allowing access to visitors at the site.
Named Parc Frédéric-Back, the award-winning project (in 2018 - Grands Prix du Design) brings magic and discovery to a massive former brownfield in the multi-ethnic neighbourhood of Saint-Michel in Montréal.
The transformative project was realized as an integral to the progressive environmental rehabilitation of a 192-hectare site. Originally a vast tract of agricultural land, this area in Montreal's Saint-Michel neighbourhood was used as a calcium quarry and a landfill for decades; some 40 tonnes of the latter are now camouflaged but still generate ground instability and fumes.
The site's environmental makeover began in the mid-1990s, and recently culminated in a safe and fun solution to the site's significant environmental challenges, according to the architects.
And while marrying public space and 40 million tonnes of garbage may seem counter-intuitive, this pioneering project is aimed to inspire others with its vision, ingenuity and overall impact.
Described as "one of the most ambitious such urban projects in North America", the project's most unusual challenge was how to safely integrate the site's 250 biogas-capturing wells, needed to manage the fumes still emanating from the grassed-covered landfill.
"Understandably, any solution needed to operate without sparks; to offer ample ventilation; to be easily monitored by workers daily; to adjust to the shifting terrain underneath; to resist tampering; and, perhaps the most challenging criterion of all, to be unique in the world," said the Lemay in its project description.
Lemay and Morelli conceived the design of the spherical casings that now compose the park's signature. Made of phosphorescent fiberglass, they absorb sunlight during the day, and glow softly after dusk. They invite physical interaction by retaining patterns drawn on them using light sources.
The surreal orbs seem at home at the heart of a vast landscape, nestled among tall, windswept grasses and other indigenous plants that make up the intentionally sustainable and biodiverse ecosystem.
A range of giant outdoor furniture (a six-person chaise longue!) emphasizes the sheer size of the site, while a hilltop offers a peerless panorama of the park, Montreal and its north shore.
Image © Lemay
Lemay is responsible for the landscape architecture as well as a new brand image which, in a wink at the park's past, is grounded in the principles of re-use and recycling.
Image © Ville de Montréal
These themes, in turn, informed Lemay's wayfinding, signage and lighting strategies for the site, as well as its interpretive program. "The result is an evolving and whimsical spin on one of North America's most ambitious urban rehabilitation projects," added the architects.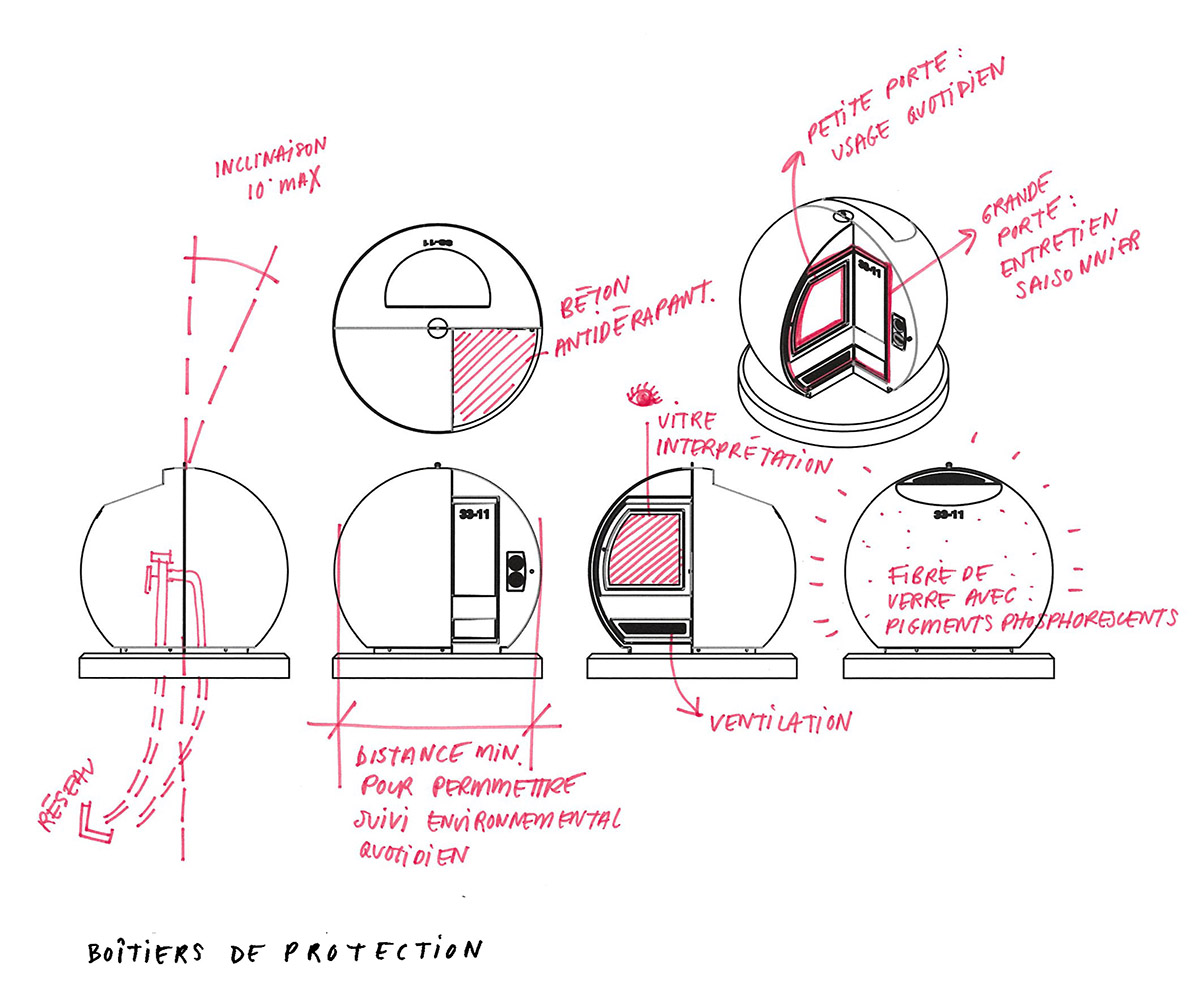 Image © Lemay
Site plan. Image © Lemay
Project facts
Status: Built
Location: Montreal, QC, CA
Firm Role: Landscape Architecture
Additional Credits: Morelli Designer - Urban Furniture | Design of biogas-capturing wells
All images © Adrien Williams unless otherwise stated
> via Lemay