PAU selected to design "greener" air traffic control towers of US capturing IM Pei's legacy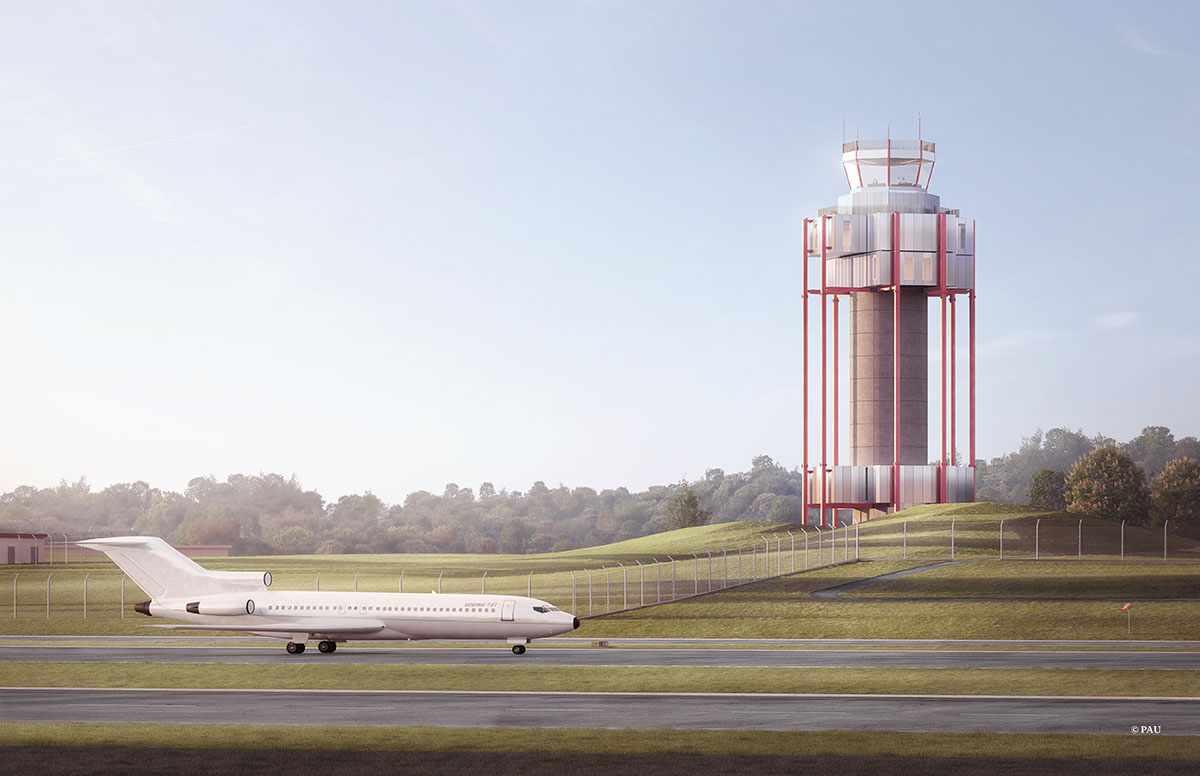 New York-based architecture firm Practice for Architecture and Urbanism (PAU) has been announced as the winning studio in an international competition to design air traffic control towers at airports across the United States.
Named F4 Tower, PAU's project was selected as a result of an international competition organized by the Federal Aviation Administration (FAA) to design "new, modular, energy-efficient air traffic control towers" for US airports.
The commission has emerged from the idea of an FAA-sponsored competition efforts, which were initiated in 1960s, which resulted in Chinese-American architect IM Pei's winning award. IM Pei built a slender tower that has a distinguished flared top.
Although more than 70 towers were originally intended, 16 of Pei-designed towers, including at Chicago O'Hare, Sacramento, Madison, and Jacksonville international airports, are still in use today.
Proposed ATCT. Image courtesy of PAU
Being the largest commission to date since IM Pei-designed towers, PAU's designs are planned to be built at 31 regional airports "where the existing towers are "functioning beyond their intended design life," as the FAA said.
Capturing IM Pei's spirit, PAU envisions the towers by incorporating several environmental-friendly features such as all-electric systems, recycled steel and metal components, and, where available and possible, geothermal heating and cooling.
Set to be built as "more sustainable and greener" air traffic control towers, the heights of the towers will be ranging from 60 to 119 feet (18 to 36 meters) adapted to site-specific needs.
Image courtesy of PAU
The new towers are planned at regional airports, including Key West, Philadelphia, Detroit, El Monte, Athens, Hartford, Greenville and elsewhere, which can be seen on this document, with the first groundbreaking is potentially planned next year.
"That was challenging from both a technical and aesthetic perspective," said PAU founder and creative director Vishaan Chakrabarti, "because you need something where the proportions work equally well for a 60-foot tower and 119-foot tower."
"In some of the communities we're talking about, this tower will be the tallest thing in the community," he added. "So it's a beacon, it's a marker, and so making the aesthetics work for both [heights] was really important."
"The interior spaces prioritize the health and wellness of air traffic controllers, providing integrated daylighting and comfort systems and fresh air ventilation," stated in PAU's release.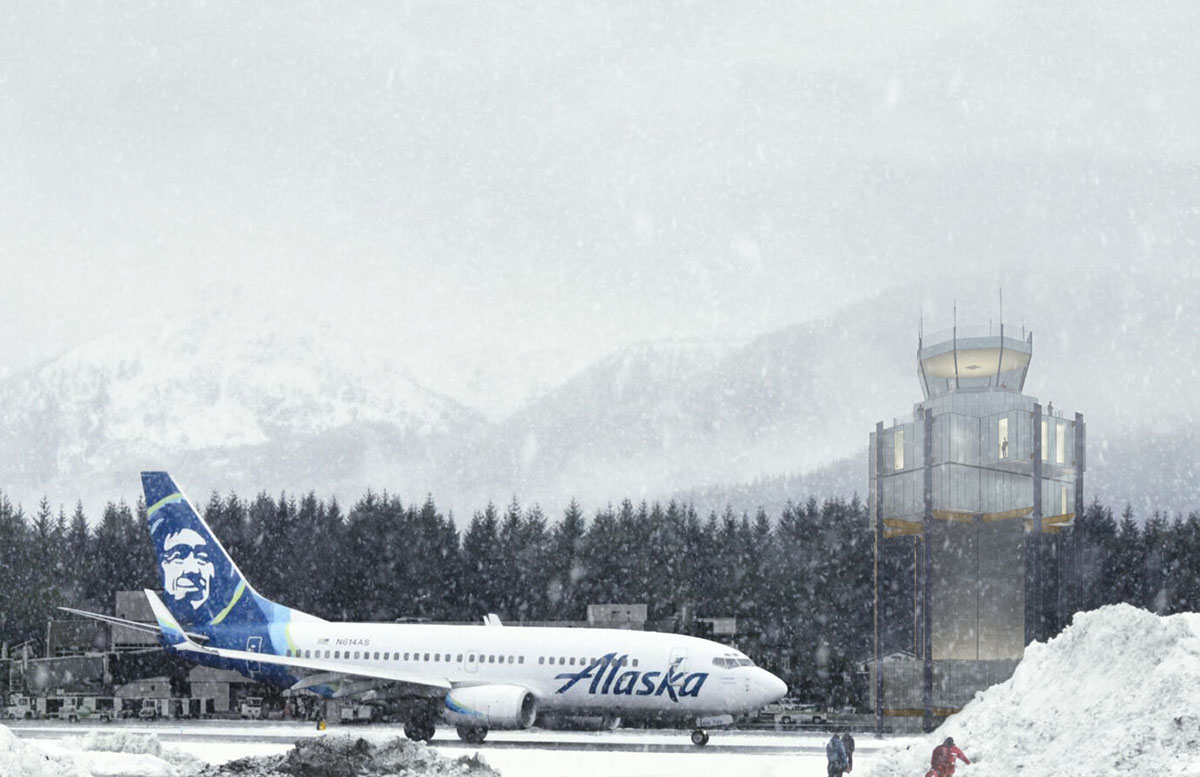 Image courtesy of PAU
PAU's towers are envisioned with a sleek, minimal and explicit exoskeleton that has a plenty of sustainable tool kits wrap the structure.
The towers, with a cylindrical central core, expand and are supported by slender cylindrical metal elements, with boxy volumes attached around the towers.
While boxy elements are mounted on the lower and upper parts of the towers, ventilation systems and thermal bridge elements for high performance façade are gathered on the upper part of the towers.
The FAA said that "components of the new towers can be manufactured offsite and shipped to airports for final construction to save time and money."
"The F4 Tower's design emerges from the same principles of functionality, efficiency, and redundancy that drive the form of lighthouses, grain elevators, and water towers that dot the horizon of the American landscape," said PAU in a statement in its website.
"Yet intertwined with this hardnosed pragmatism is an inseparable insistence on beauty; a clear, bold aesthetic sensibility that celebrates its function and efficiencies to derive a distinctly American form of iconicity," the firm added.
Image courtesy of PAU
PAU describes the project as "a finely-tuned machine for air traffic control", which delivers an intertwined relationship between architecture and the beauty of engineering in terms of material, construction, sustainability and energy efficiency.
According to the studio, "one that is as much defined by supporting the specialized mechanical equipment it houses as the operators themselves, providing an environment with optimal conditions for both the systems and the humans that run them."
"Sustainable and resilient design elements are woven throughout the design, realizing a seamless integration that addresses the concerns of today, embraces the needs of tomorrow, and ensures ongoing performance, function, and operation," PAU explained.
Image courtesy of PAU
One of highlights of the project is to propose "materials, systems, and components that are chosen according to their performance as well as their ability to contribute to cost and schedule control by being available and accessible to the widest range of contractors and geographies".
Those factors don't interfere in the life-cycle performance of the towers, as the studio emphasized.
Towers at Variable Heights. Image courtesy of PAU
As PAU stated, "F4 has emerged from needs and constraints, yet it is the elegance with which it exceeds, embraces, and elevates these demands that provides the tower its flair; the same spirit of an "elegant engineering of the everyday" that made its agrarian and maritime precedents much-beloved landmarks throughout America."
Image courtesy of PAU
The FAA is preparing to spend more than $500 million to just site evaluation, preparations and early stage construction works from from the Bipartisan Infrastructure Law.
The FAA expects grounbreakings for the projects in 2024.
Top image: Proposed ATCT, courtesy of PAU.
> via PAU