Morphosis completes Vialia Vigo Intermodal Station, a mixed-use transit complex in Vigo
Pritzker Prize-winning architect Thom Mayne's firm Morphosis has completed the Vialia Vigo Intermodal Station in the seaside city of Vigo on the western coast of Spain.
Morphosis' new complex fosters geographical and social connections with high-speed rail, a retail mall, and the city's largest public plaza.
The Los Angeles-based global architecture and planning firm led the design transformation of the city's local rail station into an energetic cosmopolitan center and multi-modal transportation hub.
Supporting a range of mobility options, the station complex houses a new high-speed railway connecting Vigo to Madrid and the broader region, links to the adjacent bus station, 1,549-space car park, cycling lanes, and pedestrian connections.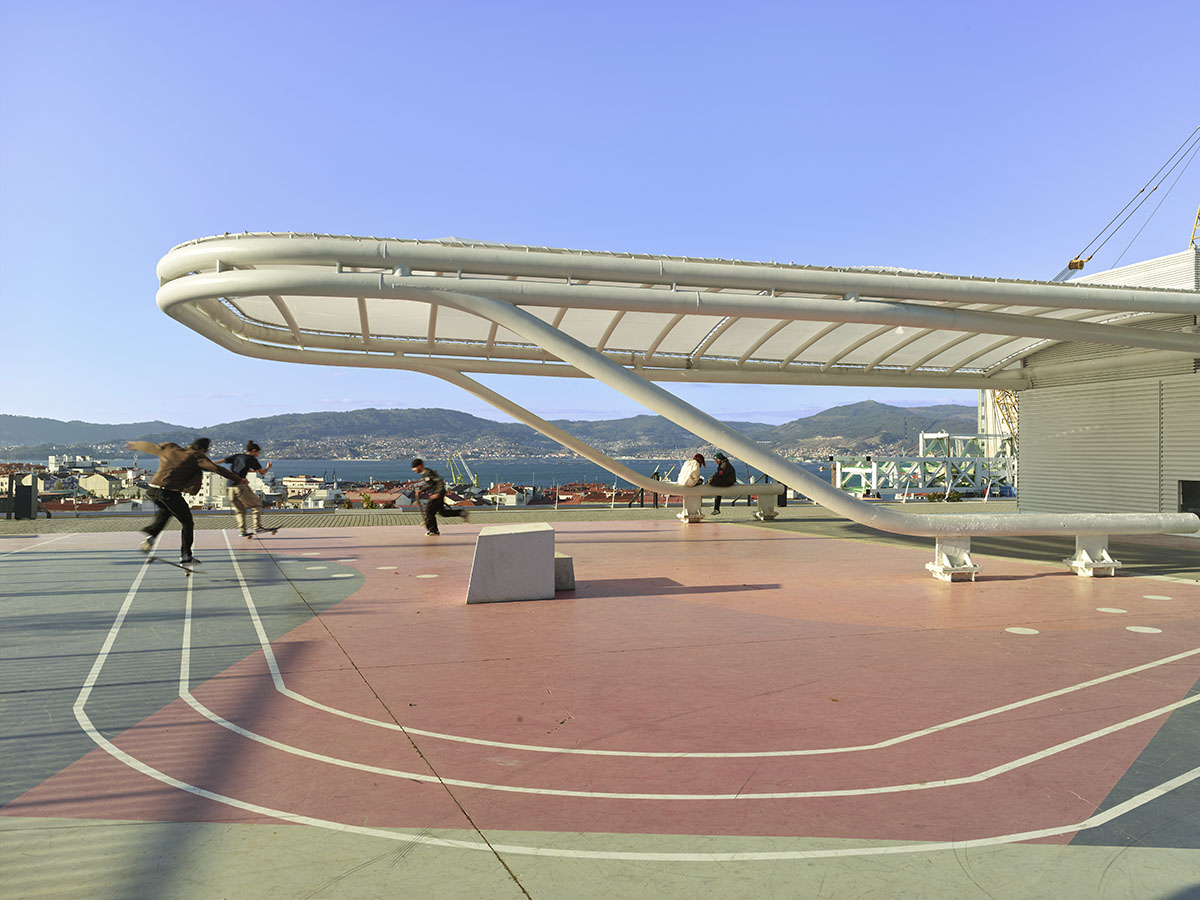 Vialia Vigo also supports the social and economic growth of the city with a variety of new public, retail, and commercial spaces—including a new 30,000-square-metre public plaza complete with skate parks and sports courts, and a bustling retail mall with over 125 shops and restaurants, cinemas, and grocery stores.
Morphosis worked in partnership with BDU Arquitectura and L35 as well as their clients, retail operator NHood, and railway infrastructure manager ADIF in the creation of the project.
"The development positions Vialia Vigo as the new metropolitan center of the city and links it to the broader region," said Morphosis Founder and Project Design Director Thom Mayne.
"As a primary destination point, the project expands the opportunities of the site's cliff condition by building a connection between the bay and existing town; for example, the roof deck acts as an elevated piazza, providing views outward and space for commercial activity."
"The station redesigns the city by broadening the implications of architecture as urban connective tissue," Mayne added.
Nestled into the mountainous coastal terrain, the station negotiates a 17-meter drop in elevation between a hillside neighborhood and Vigo's city center.
The complex features an expansive roof-scape of the six-story station and shopping center and creates a public plaza overlooking the sea, patterned with native plants, activity areas, and pavilions providing entrance to the lower levels.
Below the plaza, the shopping center is organized around a large atrium space illuminated by skylights and a multi-story window framing the port.
The main entry and drop off point for the train station, bus station, and shopping center occurs on the lower level, under an urban-scaled marquee featuring the station's name. The façade of the original station has been preserved, relocated alongside the new entrance to become a point of historical interest welcoming visitors to Vigo.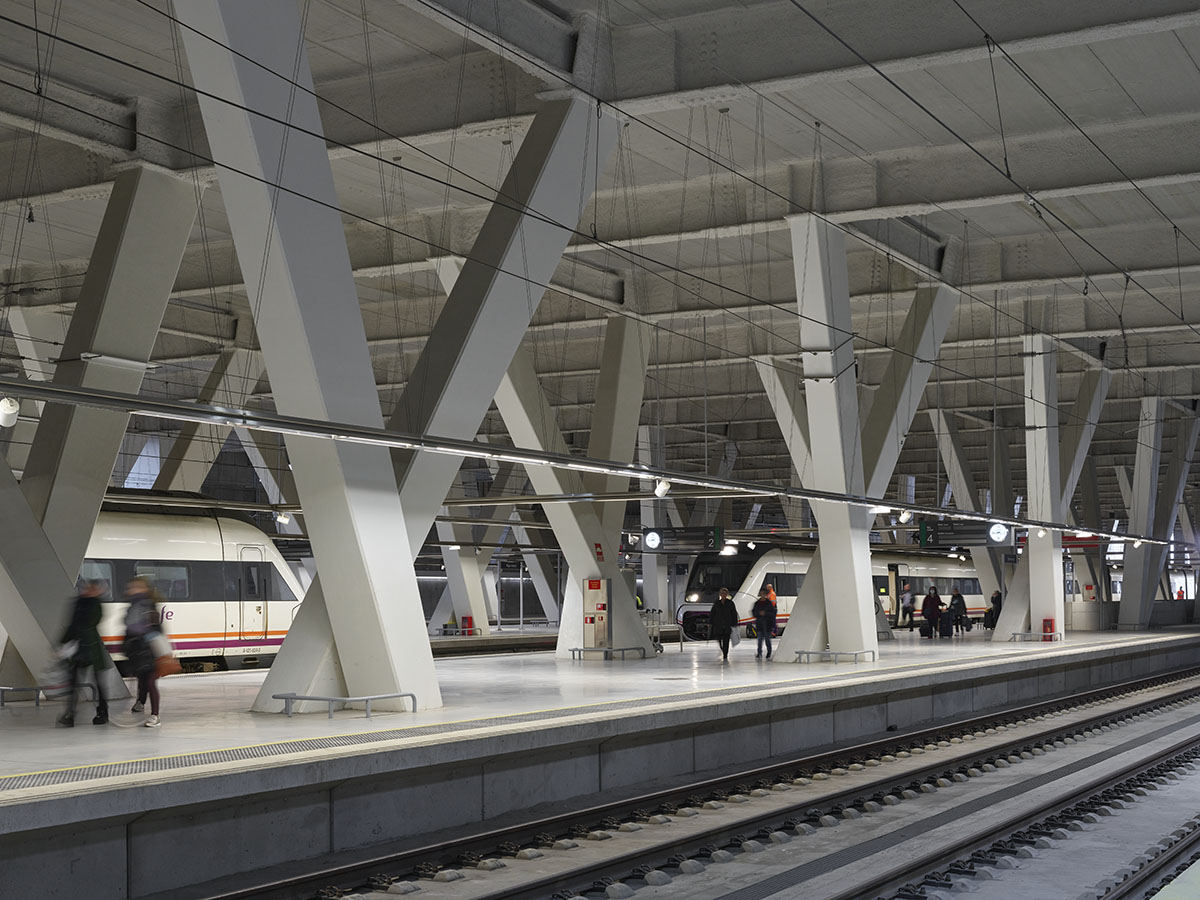 Embedded into the fabric of the city on three sides, the station's full form is revealed on its north elevation, where the sweeping plane of perforated steel paneling creates a grand gesture along the main highway leading into Vigo.
"Vialia Vigo TGV Station demonstrates the firm's continued interest in collaborating with cities to create projects and interventions that enhance urban connectivity while engaging with the day-to-day experience of its users," said Brandon Welling, Morphosis Partner and Project Partner-in-Charge.
"Not only does Vialia Vigo provide critical infrastructure to the region, but it creates a new gateway to the city that will catalyze social and commercial growth," Welling added.
Morphosis' work plays into the larger renewal of the station and its other public spaces, with future urban developments to follow.
The project anticipates public connections at the plaza's eastern edge and a pedestrian bridge now under construction connecting the lower areas of the city with the station.
The reinvigorating of the Vialia Vigo station creates a new gateway for the emerging city, catalyzing growth and vibrancy to lead Vigo and the surrounding region into the future.
Site plan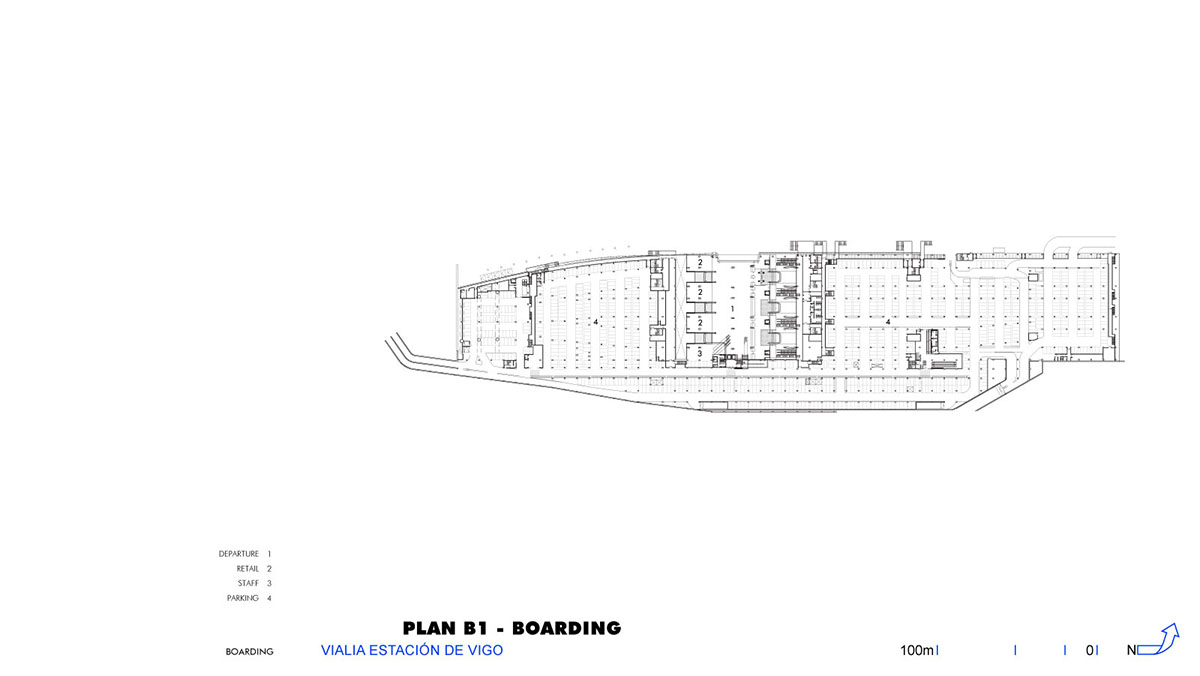 Section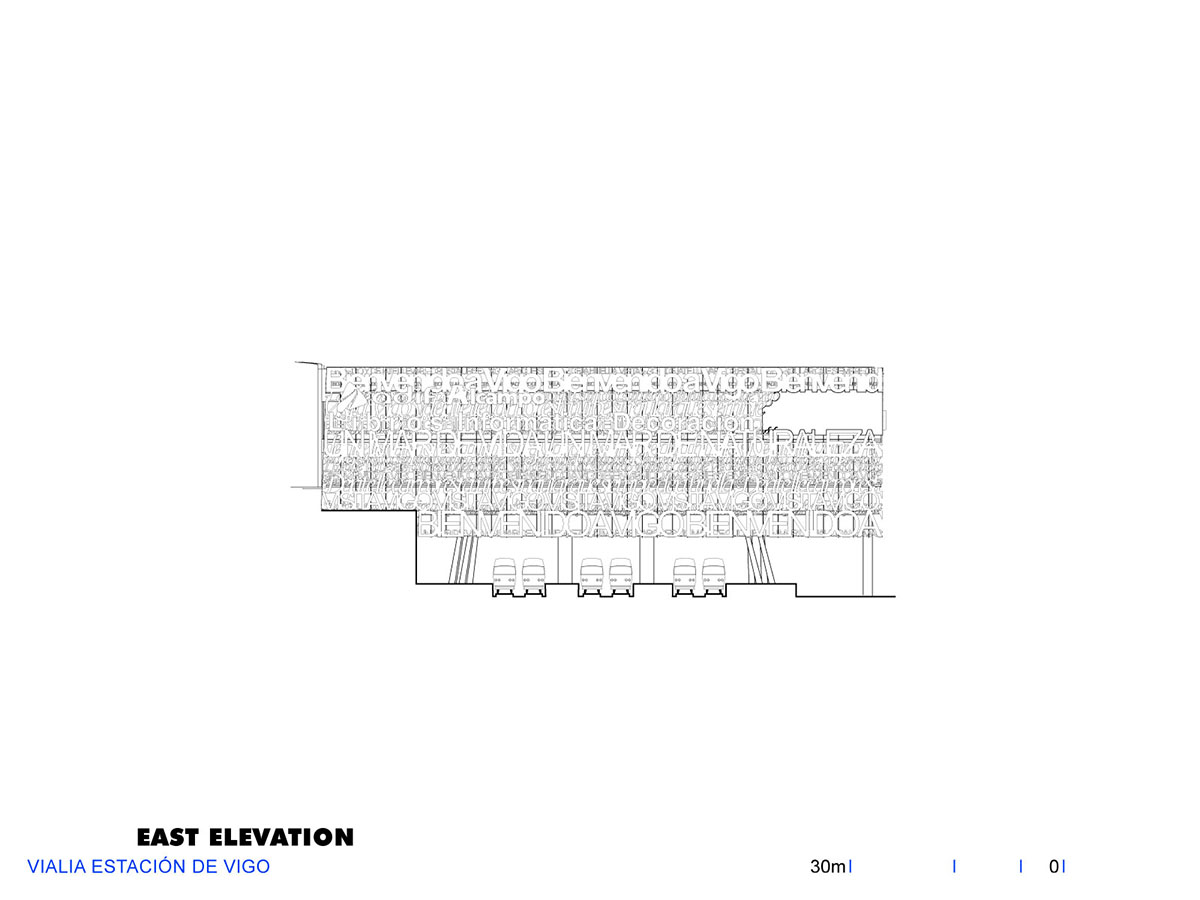 East Elevation
North Elevation
The first phase of the high-speed rail station was completed last year. Morphosis recently completed Casablanca Finance City Tower (CFC) in Casablanca, Morocco. The firm is also designing Lululemon's Headquarters with "high performance skin" in Vancouver.
Morphosis was founded by Thom Mayne in 1972 in Los Angeles and New York City as an interdisciplinary practice involved in rigorous design and research that yields innovative, iconic buildings and urban environments.
Project facts
Project name: Vialia Vigo Intermodal Station
Location: Vigo, Spain
Design Director: Thom Mayne
Partner-In-Charge: Brandon Welling
Project Managers: Charles Lamy (Phase 1), Crystal Wang (Phase 2)
Project Designers: Hunter Knight, Daniel Pruske, Ben Toam
Project team: Jessica Chang, Debbie Chen, Katherine Corsico, Kabalan Fares, Stuart Franks, Janice Kim, Jennie Matusova, Stephanie Rigolot, Go-Woon Seo, Satoru Sugihara, Aleksander Tamm-Seitz, Natalia Traverso Caruana.
Advanced Technology: Cory Brugger, Kerenza Harris, Stan Su, Atsushi Sugiuchi
Project Assistants: Fredy Gomez, Ibrahim Ibrahim, Darlene Ifeorah, Ilko Iliev, Matt Lake, Eric Lawler, Owen Merrick, Eric Meyer, Jean Oei, Danny Ortega, Yugin Sim, Alan Tai.
Visualization: Jasmine Park, Josh Sprinkling
Consultants
Partner Architect: B+DU Estudio de Arquitectura
Partner Principal-In-Charge: Begoña Diaz-Urgorri and Leon Benacerraf
Partner Project Architect: Alicia Berenguer
Partner Project Team: Alicia Bautista, Manuel Cifuentes, Elisabeth González, Martín González-Garcés Mediero, Teresa Goyarrola, Borja Herrero, Eider Holgado, Agustín Sánchez and Esther Vidal.
Associate Architect: Coot Federico Sotomayor (Phase 1), L 35 (Phase 2)
Project Management: Riofisa Sau
Structural Engineer: Fhecor, Luis Casas
MEP Engineer: Inypsa Sa
All images © Roland Halbe.
All drawings © Morphosis.
> via Morphosis