Tadao Ando unveils design for MPavilion 2023 creating "a sense of eternity"
Pritzker Prize-winning architect Tadao Ando has unveiled design for the 10th MPavilion, set to be installed in Melbourne's Queen Victoria Gardens, Australia.
Emerging as a compilation of striking geometric volumes, the design of the 2023 MPavilion aims to create "a sense of eternity" within Melbourne's garden oasis.
When the installation is complete, the 2023 MPavilion will be the architect's first project in Australia. The Naomi Milgrom Foundation commissioned Japan's influential architect Tadao Ando to design the 10th MPavilion in March.
MPavilion 10, set to be opened this summer, will kick off the annual five-month design festival with free public programming in Queen Victoria Gardens, located in the centre of Melbourne.
"This will be the tenth MPavilion festival, which has grown to become one of Australia's most visited and impactful festivals, attracting more than 350,000 people this past year," said the Naomi Milgrom Foundation.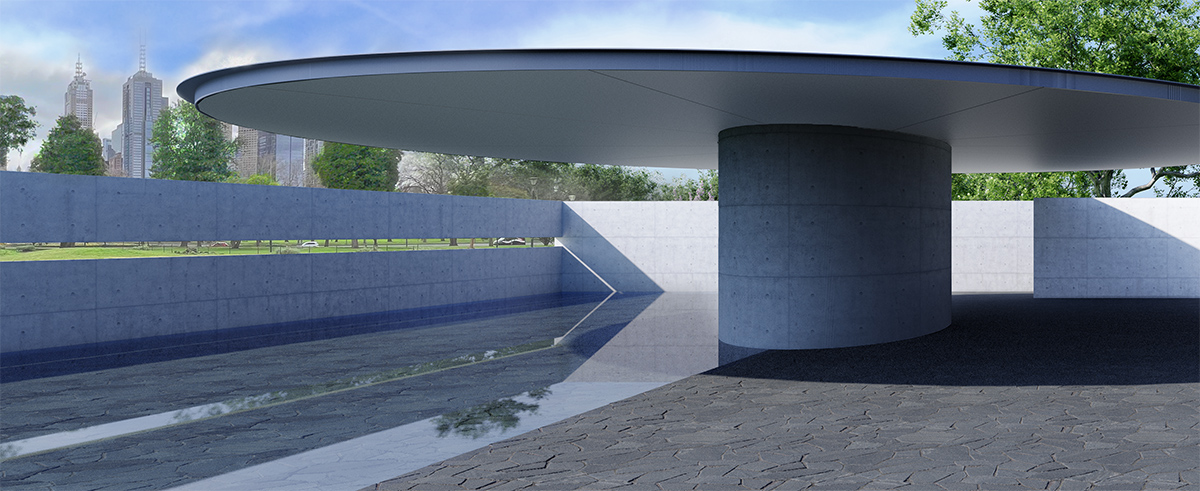 Interior view from MPavilion 10 by Tadao Ando
"A sense of eternity within Melbourne's garden oasis"
"The design began with a desire to create a sense of eternity within Melbourne's garden oasis. I wanted to create an experience that will last forever in the hearts of all who visit," said Tadao Ando.
"I imagine an architecture of emptiness, that lets light and breeze enter and breathe life into it."
"A place that resonates with the environment, becomes one with the garden, and blossoms with infinite creativity. MPavilion 10 is designed to encourage encounters between people, the natural world, and endless dialogue," Ando added.
Ando conceived the pavilion as a new meeting place within Melbourne's cultural and botanic garden precinct. The design encapsulates his desire to create a memorable structure that responds directly to the park setting.
Striving for spatial purity, it employs the geometry of circles and squares to create a space in harmony with nature. The tenth MPavilion features a large canopy, raised by a 14.4-metre aluminium-clad disc resting on a central concrete column.
The architect creates two offset squares that provide two entrances leading to the centre of the pavilion. Concrete walls of varying lengths partially enclose the space to create a tranquil sanctuary reminiscent of a traditional Japanese walled garden.
A long - measuring 19,400mm x 225mm - horizontal opening, running both the length of the north and south walls, frames views of downtown Melbourne and the parklands, connecting the city and lush greenery of Queen Victoria Gardens to MPavilion's interior.
Exterior view from MPavilion 10 by Tadao Ando
"Incredibly special meeting place for conversation, the exchange of ideas, and contemplation"
Internal arrangement informs the geometric forms and symmetry, in where it is half paved, and half reflecting pool. The reflecting pool also mirrors the pavilion canopy, sky, city, and surrounding nature.
"Tadao Ando's architecture is remarkable because it radically affects the way we perceive the world around us. Like Tadao Ando, I am passionate about architecture that promotes public life and encourages social interaction, and thrilled that Australians will be able to experience directly his genius through this incredibly special meeting place for conversation, the exchange of ideas, and contemplation," said Naomi Milgrom, commissioner of MPavilion.
"We look forward to seeing how visitors, designers, artists, and others will respond to this dramatic and serene space, as well as the creativity it will generate," Milgrom added.
Ando is collaborating with eminent Australian architect Sean Godsell, principal of Sean Godsell Architects, on the tenth MPavilion. Sean Godsell will serve as executive architect on the project. Godsell designed the inaugural MPavilion in 2014.
"Led by Tadao Ando, the construction of MPavilion 10 is a significant global collaboration between Japanese and Australian architects, engineers, and builders," according to the Naomi Milgrom Foundation. Osaka, where Tadao Ando's office is located, is the sister city of Melbourne, home of MPavilion.
MPavilion serves as a cultural laboratory where the community can come together to experience, engage, and share. In 2023, the annual five-month festival of free public programs will continue with talks and lectures, music, dance, performance, and kid-friendly workshops, among many other design-focused events.
The MPavilion 10 will announce themes shortly, in which all themes will be informed by the concerns of Tadao Ando's practice and current global design debate.
At the end of each MPavilion season, the Naomi Milgrom Foundation will gift the pavilion to the people of Victoria and relocate it to a new, permanent, public home in the community.
All images courtesy of Tadao Ando Architect & Associates.
> via MPavilion