Black-clad house by Mork-Ulnes Architects serves as a container for art and experimentation in US
San Francisco-based architecture studio Mork-Ulnes Architects has designed a new house in collaboration with local interior design practice Alison Damonte who designed interiors of the house.
Named Silver Lining House, the 152-square-metre house is located in Bernal Heights, a residential neighborhood in San Francisco, at the southern edge of the Missionvalley.
According to the architects, this district survived the 1906 earthquake and fire that destroyed much of San Francisco, thanks to the hill's bedrock foundation. And in fact it bloomed after the disaster, as there was plentiful land to build houses for those displaced by the fires that ravaged the city.
Mork-Ulnes Architects conceptualized the house as a container to serve for the couple's art and furniture collection, and a laboratory for their work.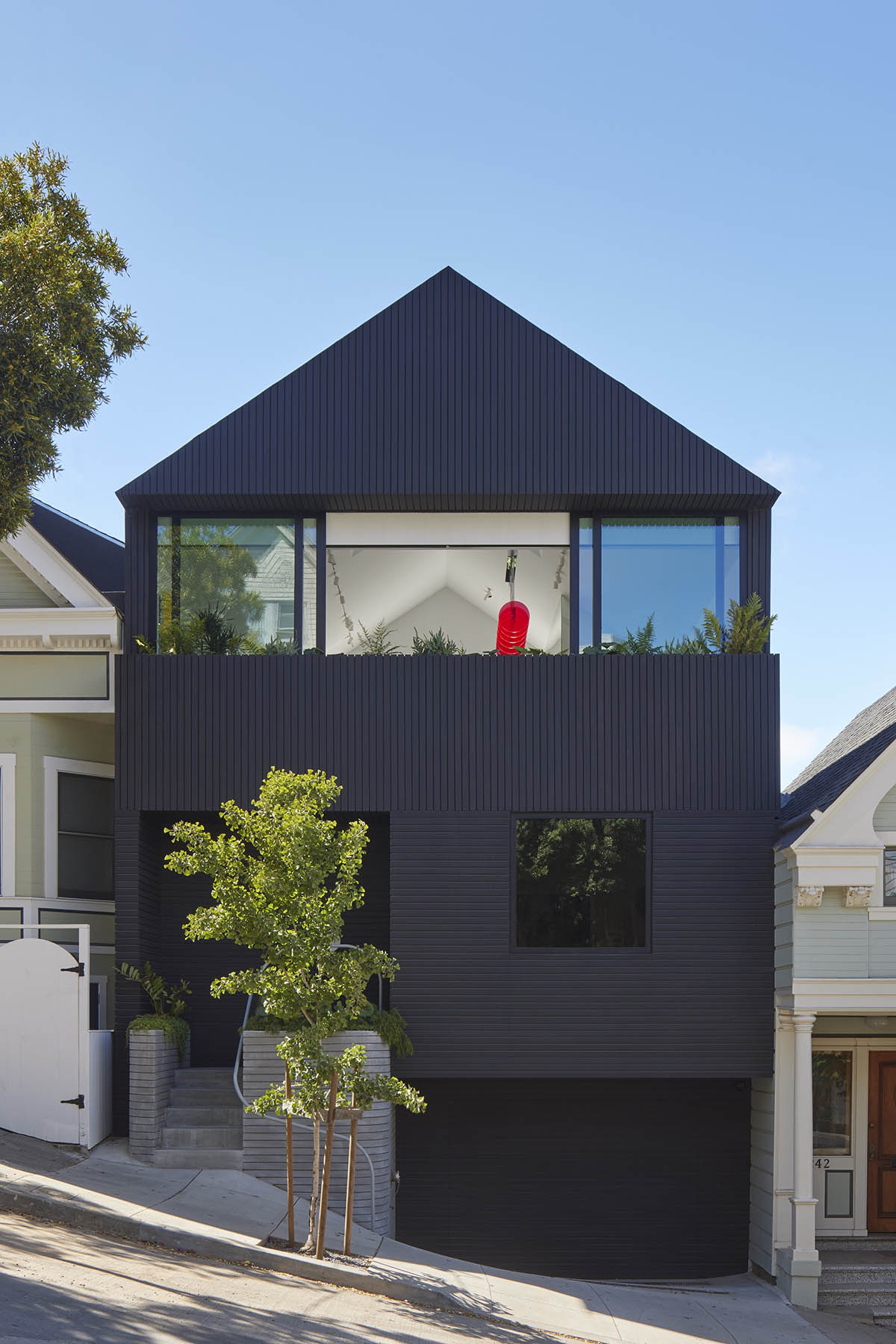 The project's brief was a 3 bedroom 3.5 bath home that showcases scenic views of San Francisco's twin peaks and westerly sky, the intimate view of Bernal Heights neighborhood, and highlights the couple's impressive art and furniture collection.
The house acts like a black-clad sculptural element that gives references to the couple's art and furniture collection. The house, which contrasts with the existing urban fabric, makes its functions in it more mysterious.
In 2010, interior designer Alison Damonte and architectural photographer Bruce Damonte purchased a modest wood residence more than a century old in San Francisco's Bernal Heights neighborhood. As the years passed, the couple slowly began the extensive process of renovation. A friend and early champion of Bruce's photography career, architect Casper Mork-Ulnes, founder of San Francisco and Oslo-based Mork-Ulnes Architects, was a natural choice to lead the redesign.
"We had been visually collaborating with our friend, architectural photographer Bruce Damonte, for over 15 years when he approached us with his wife (and also friend) Alison Damonte, interior designer, to renovate their house in San Francisco," said Casper Mork-Ulnes.
"We knew from the outset that this project would be an interesting collaboration, balancing our reductive tendencies with the more exuberant and maximalist impulses of our client/friends - whose style we had always admired and wanted to celebrate," Mork-Ulnes added.
While the project was deep in the stages of redesign, a fire ravaged the home on Christmas Eve 2017. While the incident forced a reevaluation of scope and scale of the redesign, the couple's goal remained the same— to create a home that acted as a capsule of art and inspiration.
The original 1908 wood house, built for a roofer and his family of five, had a single-story with a low-pitched roof, and stood out among more traditional two-story gabled rooflines flanking the steep San Francisco street. The fire forced a critical rethinking of the design goals.
Mork-Ulnes proposed a new structure with the proportions, scale, and exterior massing that took cues from the gabled Edwardian neighbors. The exterior cedar cladding echoes the local vernacular, in particular the horizontally paneled siding of the neighboring homes.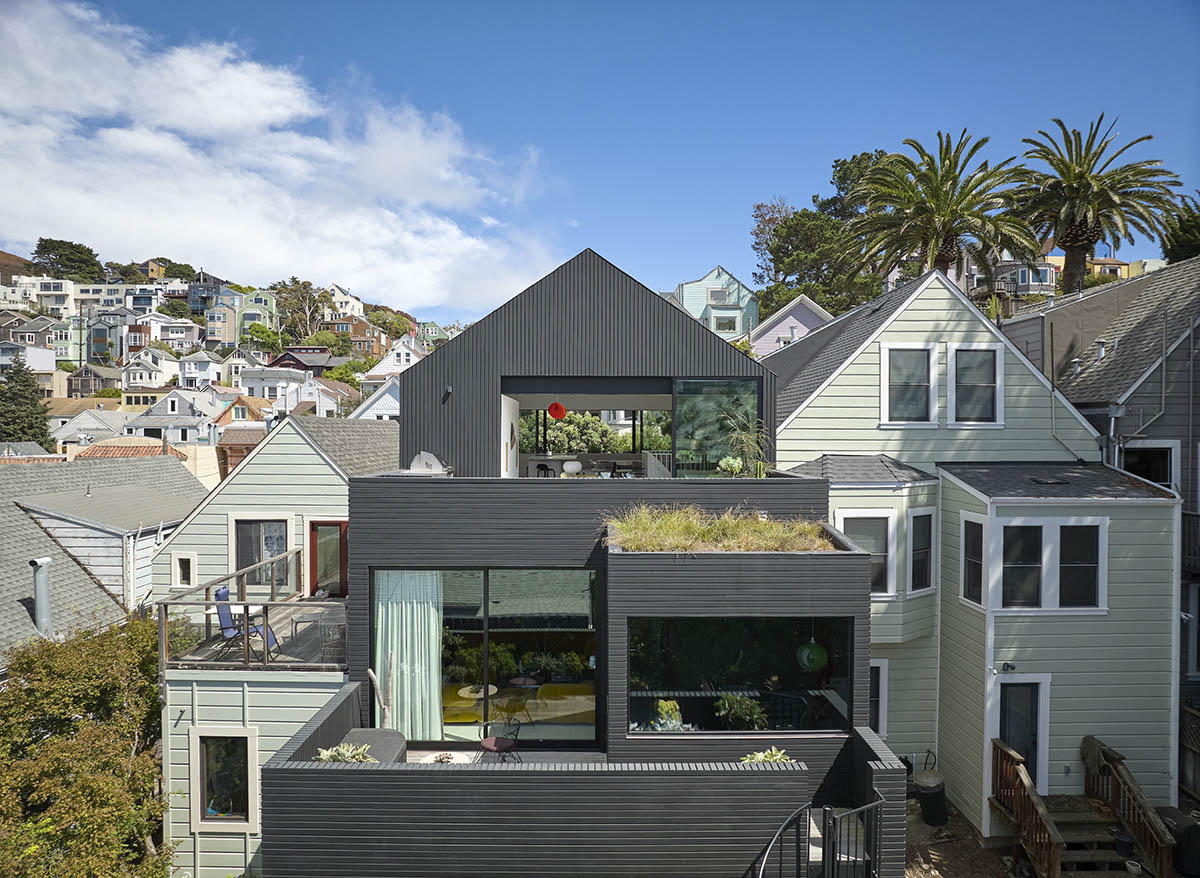 The previous small and purple Victorian house was replaced with a modern house that harmoniously blends with its San Francisco streetscape.
"We are grateful to have escaped the fire and to have found a phoenix in the ashes of our home," said the home owners, Bruce and Alison Damonte. "The house became seen as a vessel for our collection of material ideas and furniture and art collected together over the years."
"For the exterior, the charred- black painted silhouette of this Bernal Heights home was intended to take cues from its quintessential San Francisco neighbors," said Casper Mork-Ulnes.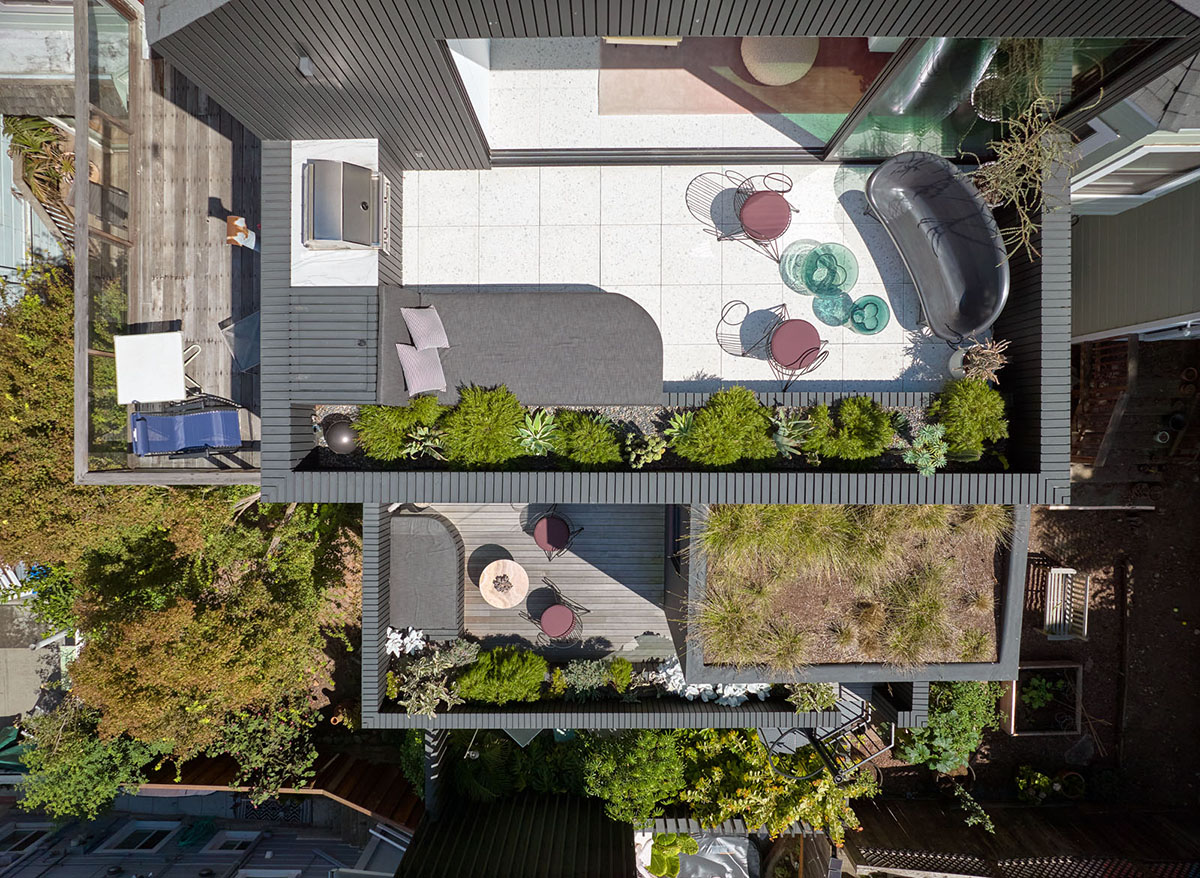 "The proportions, scale, and massing is derived from its gabled neighbors that step up the steep typical San Francisco streetscape, but reinterpret Edwardian design cues into more abstract decorative elements like siding patterns and solid-void composition."
"The intention being that the house would slip into the void that was created when the fire destroyed the former Edwardian home," Mork-Ulnes added.
The new house shares a similar silhouette with its gabled neighbors that line the steep streets and reinterprets Victorian design elements into modern features such as siding patterns and graphical fenestration.
While replicating the roof forms, entry portal/ stoop, and massing of the Victorian homes, the new house also breaks from tradition with a black-painted facade and ribbon windows that visually connect the interior of the house to the neighborhood.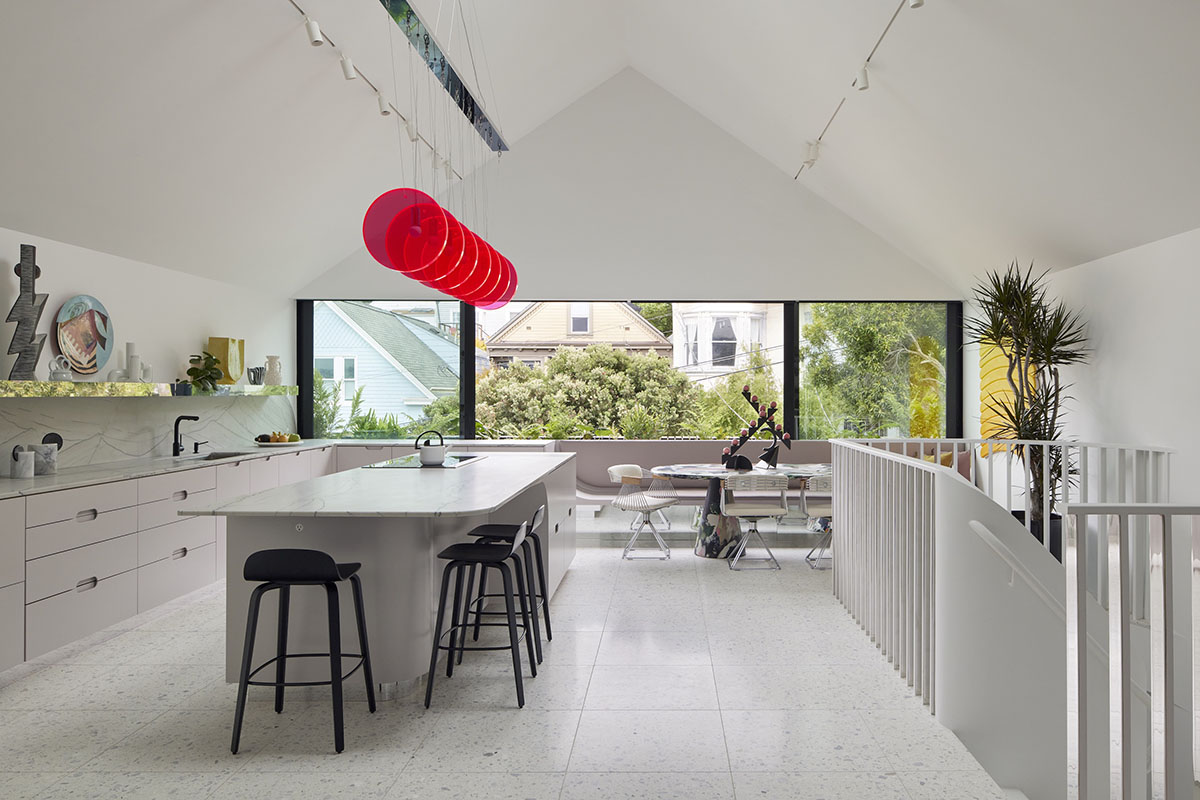 As demonstrated in numerous projects by Mork-Ulnes Architects, tradition is reinterpreted here with a decidedly contemporary perspective, where formal research and construction techniques are integral to creating an original and innovative outcome that engages its surroundings while also prompting further inquiry.
The volume of the home is thoroughly modern; abstracted and simplified, it is a large geometric object giving a hint to the architectural language and collection of objects inside.
The interiors of the house were designed to create a vitrine for the couple's art and furniture collection, and a space to showcase their interest in materials and textures.
The house's central curved and sculpted staircase allows light from the third-floor skylight to funnel and refract down to the ground floor, creating an ambiance that reflects the couple's creative spirit.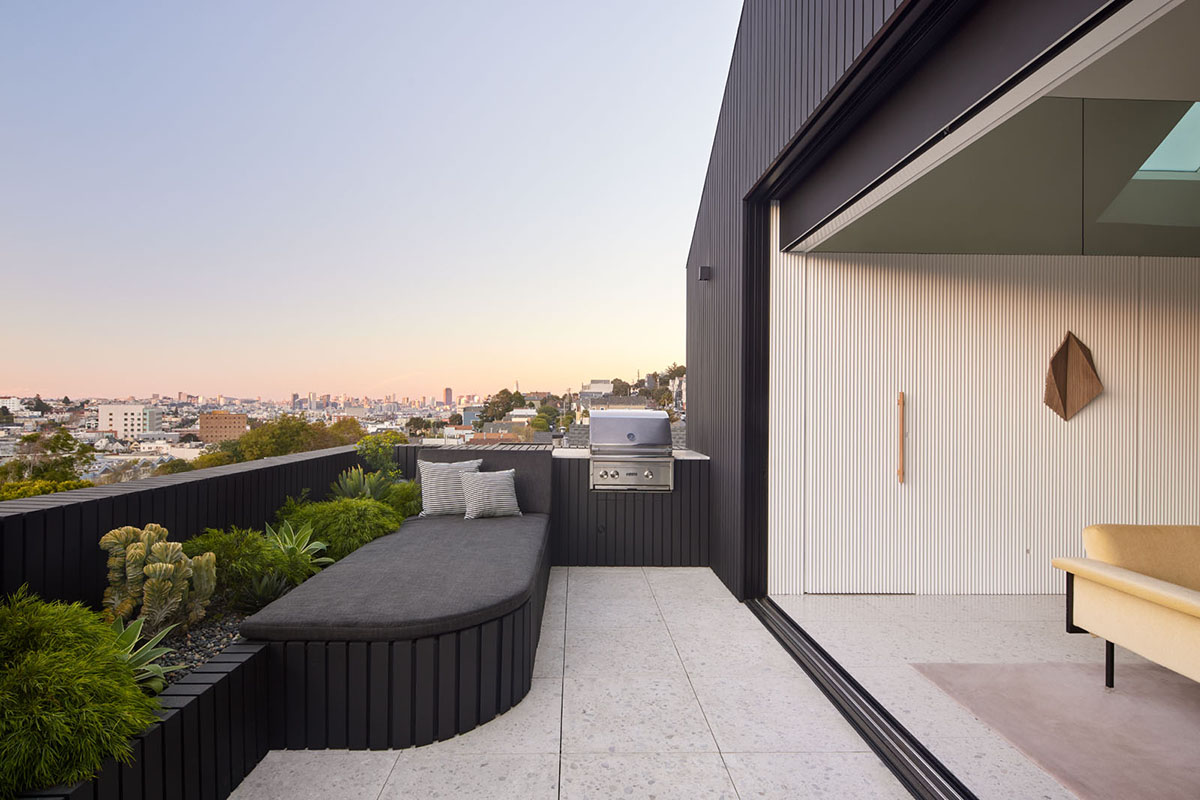 Initially conceived as a gallery for art and furniture and a laboratory for decorative experiments for two design enthusiasts, this 3 bedroom 3.5 bath home also includes a disco-inspired music parlor, a photography studio, and a penthouse great room which opens to views of both a San Francisco panorama and its Victorian neighborhood.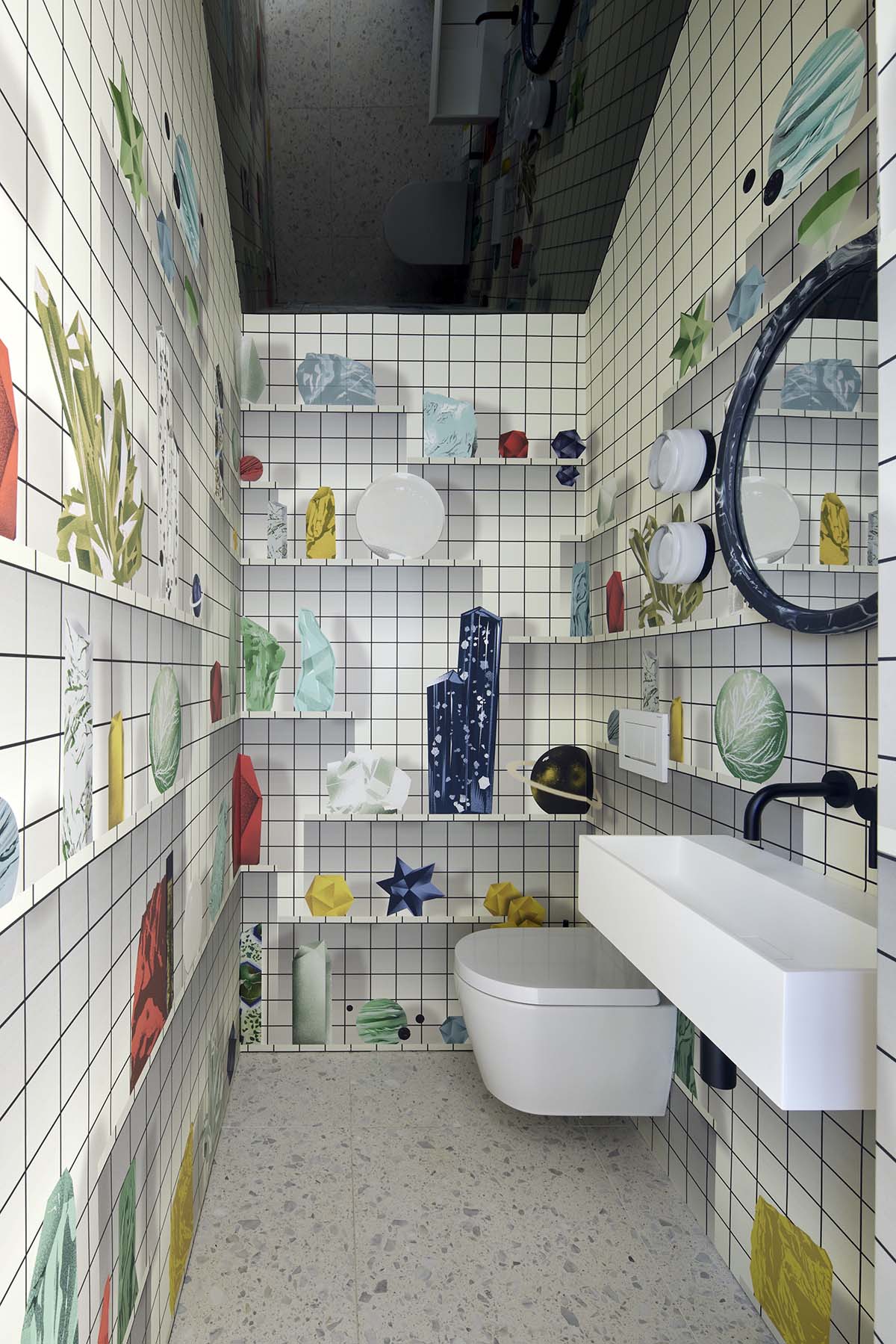 A central curved and sculpted staircase allows light from the third floor skylight to funnel and refract down to the ground floor with half-polished chrome slats bouncing mirrored reflectionsaround the stairwell — a request of Alison, to mimic the experience of walking through a disco ball.
Ribbed textures are repeated throughout the project in tambour clad pods, mirror slats, and custom resin tiles. Mirror is used in playful elements like a black disco ball, but also for spatial and light-generating effects with the stair slatting, underneath kitchen cabinets which appear to float, on a ceiling in a powder room, and over a tambour clad pod in the great room.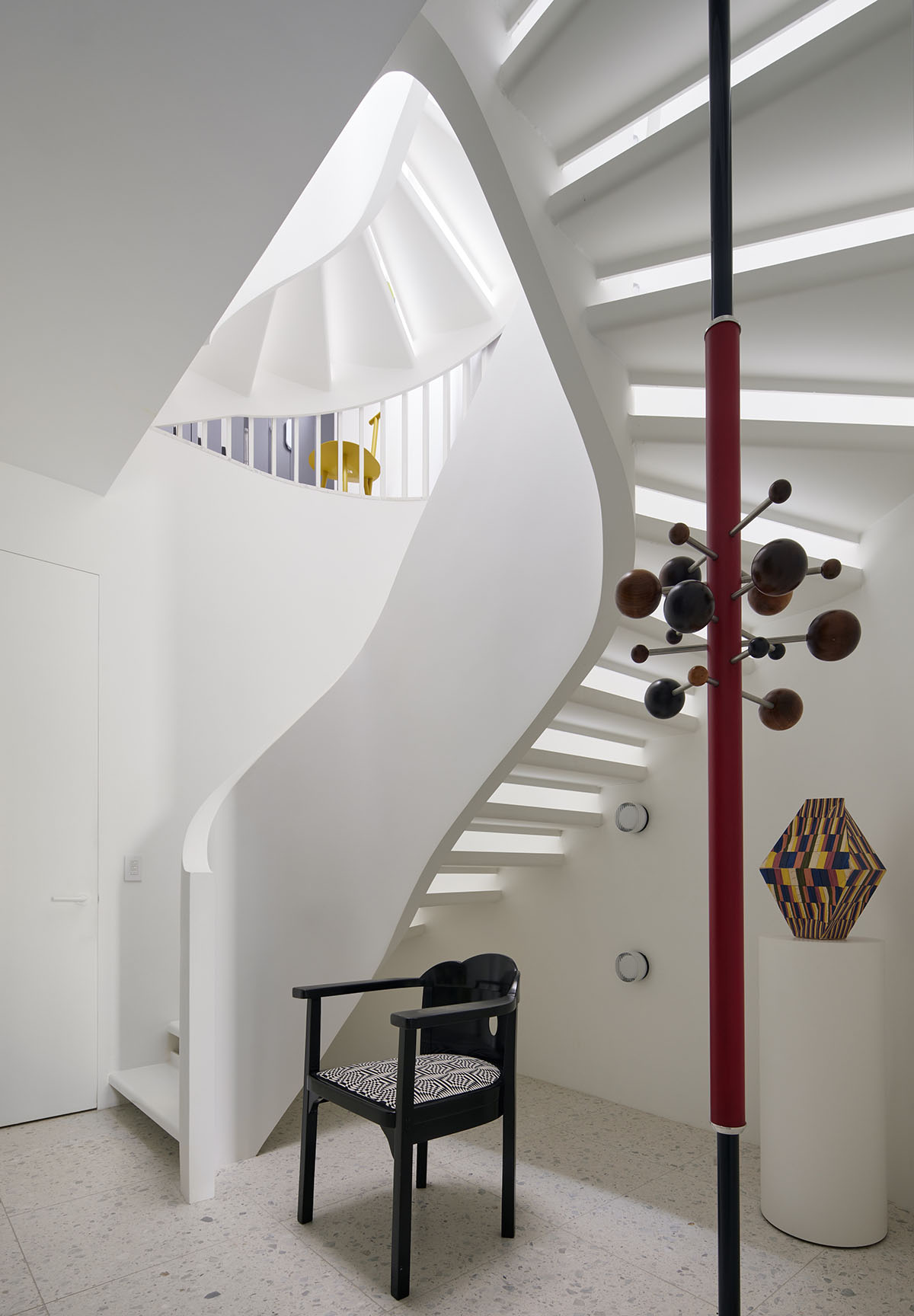 Already with fantastic city views from the original home's second level, the owners wanted to capitalize on the even better views from the new third level and celebrate the vast views west of San Francisco's Mission and Twin Peaks, and east towards the more intimate view of Bernal Heights.
First level plan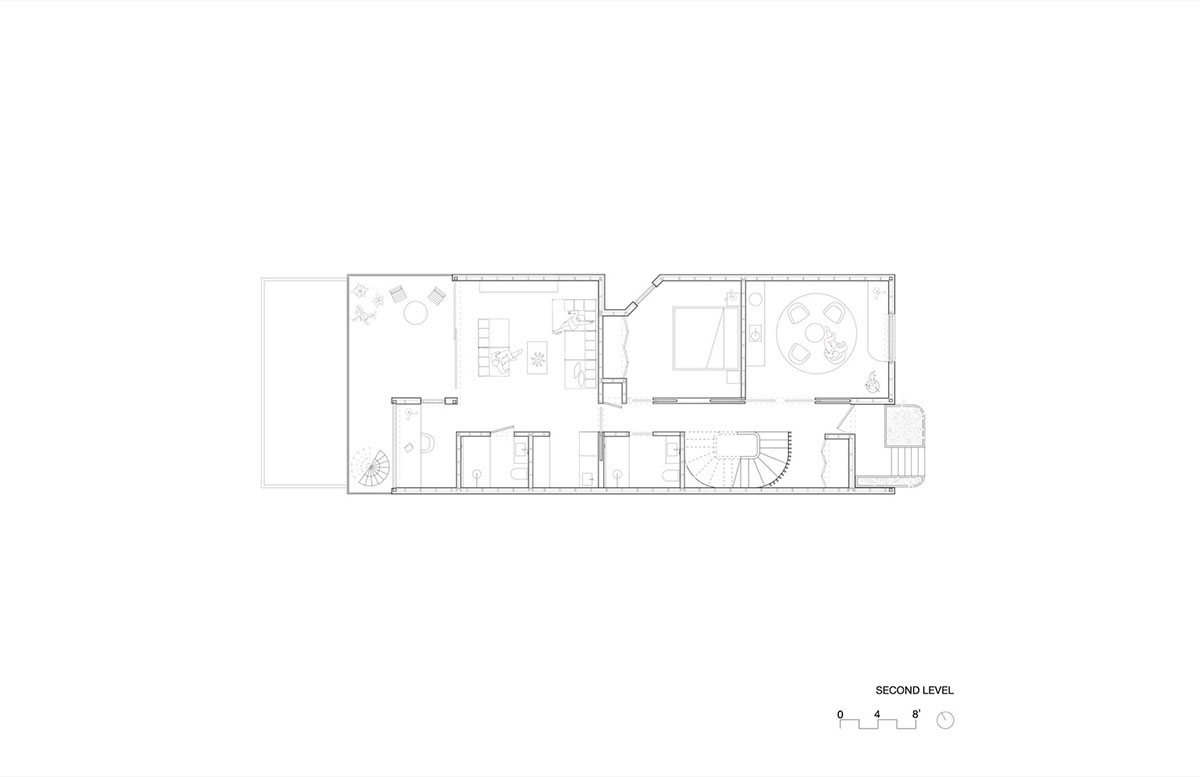 Second level plan
Third level plan
Short section
Front elevation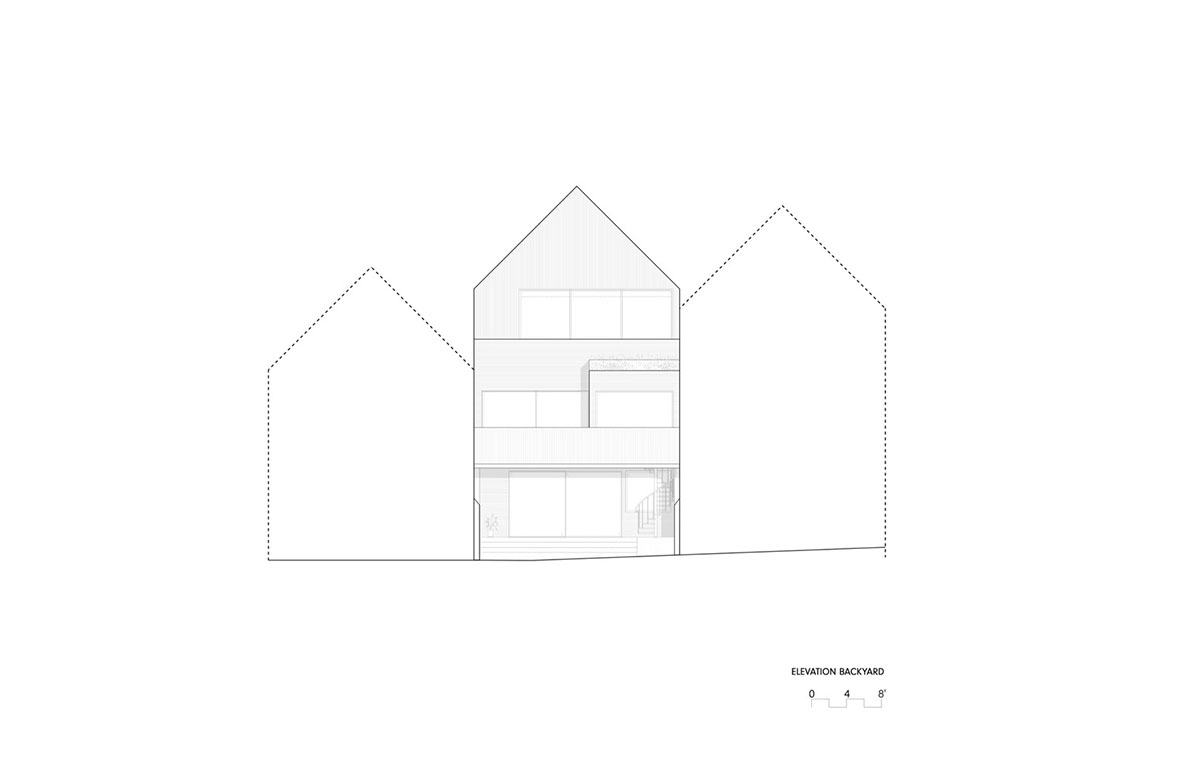 Elevation backyard
Project facts
Project name: The Silver Lining House
Architects: Mork-Ulnes Architects
Project design team: Casper Mork-Ulnes, Lex- ie Mork-Ulnes, Phi Van Phan, Gregoriy Ladigin
Interior design: Alison Damonte
Location: Bernal Heights, San Francisco, California, USA
Area: 152m2
Construction Manager: Raffi Nazarian
Landscape Architect: Terremoto
Structural Engineer: Santos & Urritia
Lighting Design: PritchardPeck
General contractor: Rico's General Construction, Inc.
Completion date: December 2022
All images © Bruce Damonte.
All drawings © Mork-Ulnes Architects.
> via Mork-Ulnes Architects
Alison Damonte home house Mork-Ulnes Architects residence residential