Arquiteturas Film Festival is back for its 8th edition from June 1st-June 6th, 2021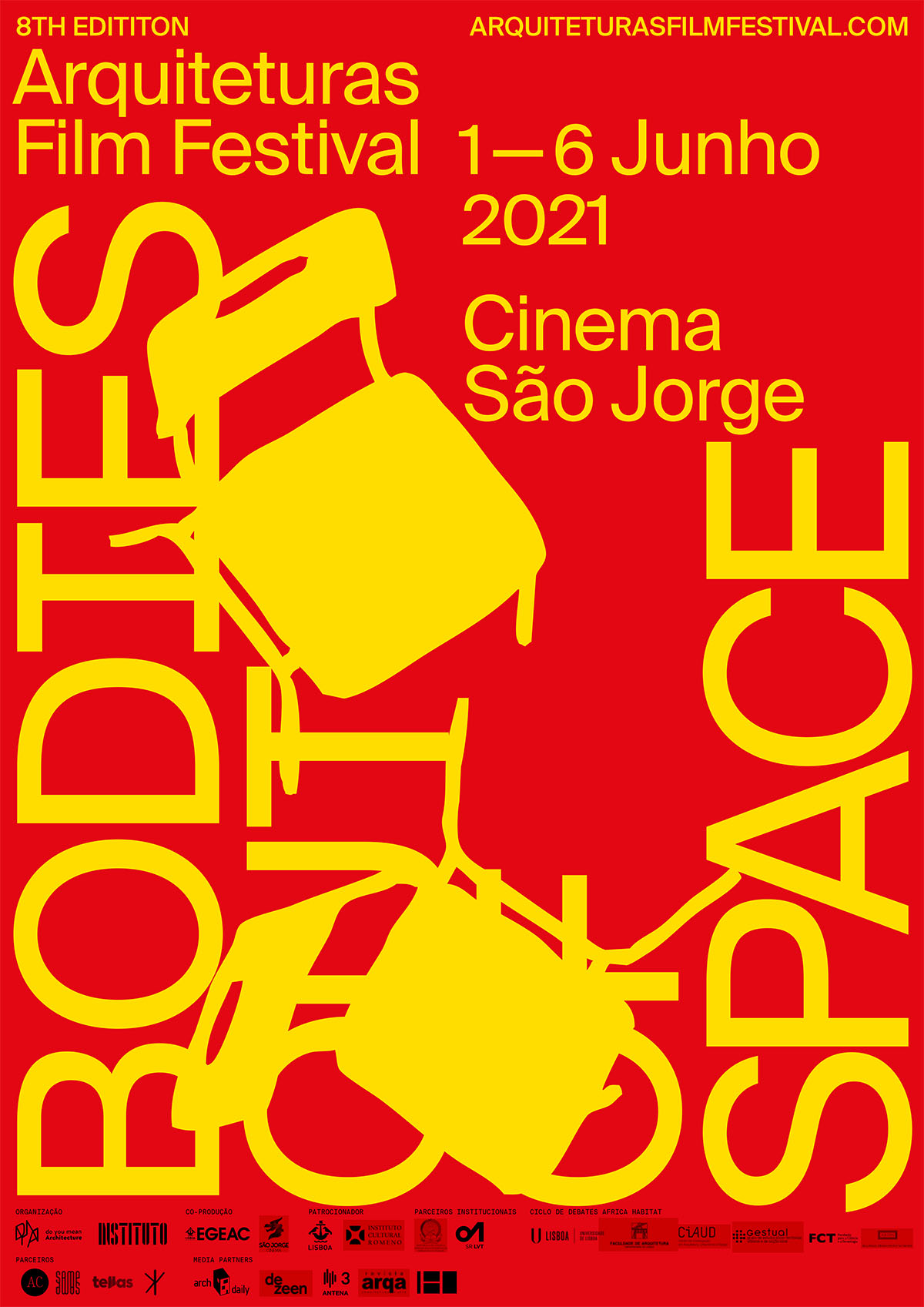 Arquiteturas Film Festival is back on June 1st to June 6th to Cinema São Jorge, in Lisbon.
The 8th edition of Arquiteturas aims to reflect on the social construction of space connected with a thread that circulates within its own narratives of domination. Narratives also of identity that is often stolen or forced into bodies. Against some current assumptions, we see this perceptual paradigm – an epitome of the vision of our times – as fundamentally social, spatial and corporeal. Architecture works along with administrative, economic, political and structural powers that control, segregate and colonize, actively mapping the spatial territories inhabited by our bodies. Now, to be fair, this isn't only a grim interpretation of the field, it is a call for actively thinking about our own spectator responsibility as we move through this maze of inequality as direct descendants of exploration of space and bodies.
Every year, Arquiteturas Film Festival aims to represent films, documentaries, animations and experimental movies that celebrate and bring awareness into Portuguese architecture, on a national and international level. 2021's edition is no different, having been designed with three distinct pillars in mind: the official selection; the competition programme and the invited country programme.
As usual, every year Arquiteturas looks for a focus point with which to explore its programme. In 2021, we're looking into the exciting cinematographic production coming out of Angola, where the convergence of time and regimes is very noticeable in its architecture and in its collective memory. The voices of Angolan cinema are becoming louder and deserve a seat at the table. The curatorship of this programme was made by journalist and producer Marta Lança (BUALA).
On June 1st, the festival premieres* with the film "Beyond My Steps", from co-directors Kamy Lara and Paula Agostinho. In this narrative, five dancers from different Angolan regions explore concepts of tradition, culture, memory and identity, reflecting upon the role of these pillars on their image and their own lives. Also premiering at the festival is the Portuguese film "Body-buildings", directed by Henrique Pina. In this story, dance, architecture and cinema meet, showing six choreographed portraits in distinct Portugueses spots, in a fusion of concepts and different identities. The choreography was orchestrated by Tânia Carvalho, Vera Mantero, Victor Hugo Pontes, Jonas&Lander, Olga Roriz and Paulo Ribeiro, while the backgrounds were chosen by Eduardo Souto Moura, Aires & Mateus, Álvaro Siza, João Luís Carrilho da Graça, João Mendes Ribeiro, Menos é Mais Arquitectos and Paulo David. In 2021, this feature film won the Oustanding Achievement award in the Dance Camera West festival.
Overall, Arquiteturas Film Festival is presenting 36 films divided into 22 sessions, from countries such as Portugal, Italy, Israel, Germany, France, Belgium, the Netherlands, Poland, Ukraine and Canada. The full schedule will be revealed soon.
When it comes to its competition programme, the jury has also been selected. In the categories of New Talent Prize, Best Documentary Film, Best Experimental Film and Best Fiction Film, the judges are Inês Ponte (visual anthropologist), Fernanda Fragateiro (visual artist), Fernanda Polacow (director), Richard John Seymour (director) and Pedro Campos Costa (architect and founder of Antecâmara Gallery).
Besides cinema, this year's edition also presents a debate cycle in Cinema São Jorge's café, organized by Africa Habitat, a project by Faculty of Architecture from University of Lisbon. There will also be two installations by Angolan artists Lino Damião and Nelo Teixeira. Throughout the festival there will also be an exhibition about Angolan cine-theaters that explores the iconic Cine-Estúdio of Namibe (1973-1974), organized by the architect Afonso Quintã.
Arquiteturas Film Festival is conceived by Do You Mean Architecture and Porto's own INSTITUTO, in a co-production celebrated with EGEAC and Cinema São Jorge. The organization has partnerships established with Ordem dos Arquitetos de Lisboa e Vale do Tejo, the project África Habitat from Faculty of Architecture of University of Lisbon and Instituto Cultural Romano. It's also supported by the Embassy of Angola.
Top image courtesy of Arquiteturas Film Festival