Epistle and Design Stri launch #31Days31Voices, a month-long social media campaign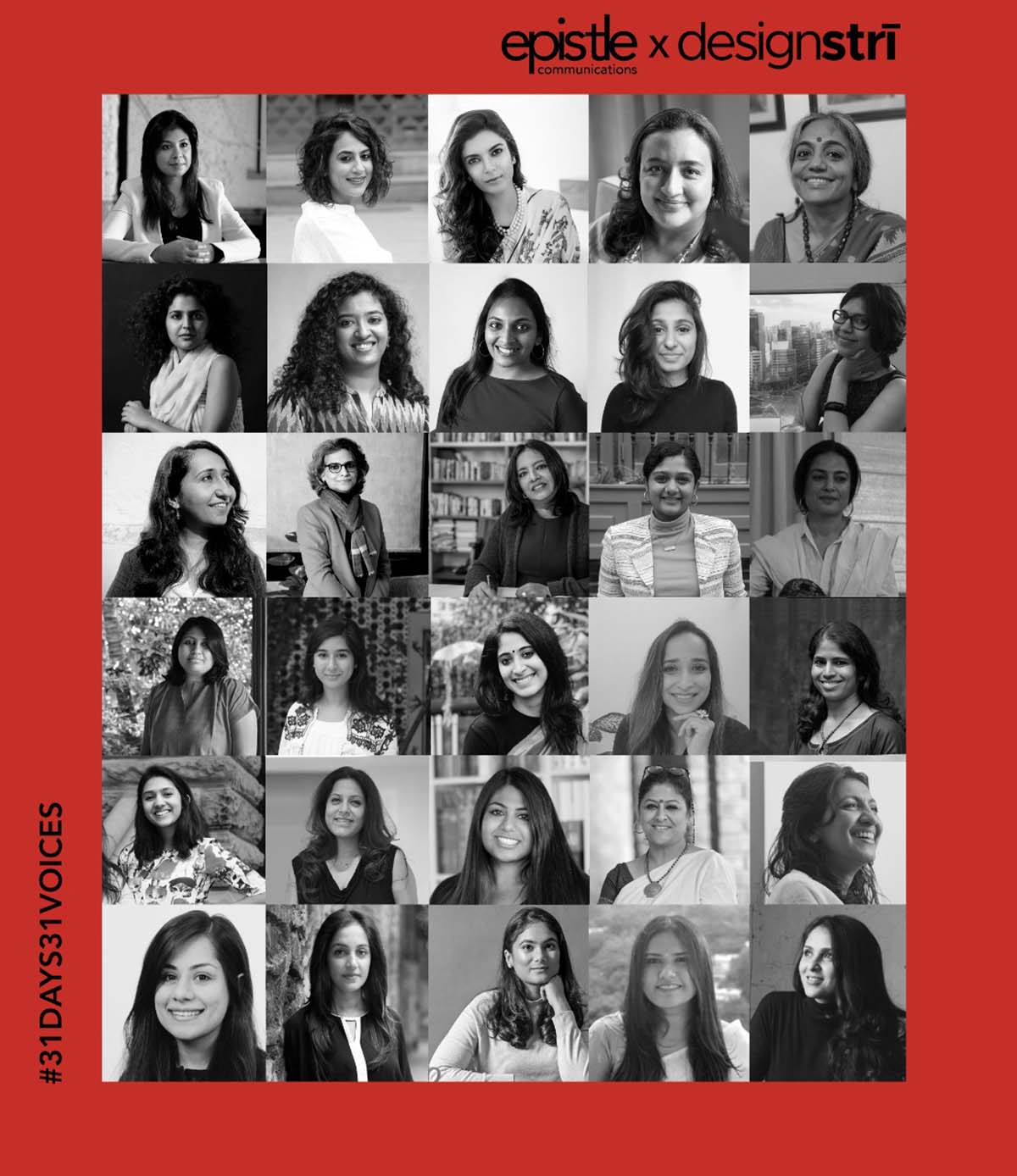 Epistle and Design Stri have launched #31Days31Voices, a month-long social media campaign around International Women's Day (March 8).
The campaign, which is set to run from March 1-31, aims to bring a diversity of perspectives from women in the AEC (architecture, engineering, and construction) industry, which often go missing, into global dialogue.
The campaign is co-curated by Epistle, India's first and largest communications consultancy for architects, and Design Stri, an online journal dedicated to documenting South Asian women's contributions in the fields of architecture, planning, and design. Featuring industry stalwarts such as Sonali Rastogi, Gurmeet Rai, Nisha Mathew Ghosh, Nandini Somaya Sampat, Asha Sairam, Shhilpi Sinha, and Mrinalini Ghadiok, as well as students and emerging professionals, #31Days31Voices will offer professional advice, discuss culture and representation of women in the industry, and address key challenges such as gender bias in the workplace.
"From the outside in, architecture seems to be a male-dominated industry, which couldn't be farther from the truth. Women are everywhere — studying and teaching in colleges, working in offices and on construction sites, and leading firms and studios. The problem is that for decades, stories of women have slipped through the cracks. They've been invisibilised by systemic biases, which are often a reflection of our culture of patriarchy and misogyny," said Suneet Langar, Director, Epistle.
"There is a glass ceiling still. While you have equality of opportunity at the first level i.e. education, a lot of work is needed on the subsequent levels to ensure equality of outcome at every stage. There are issues of career progression vs. familial responsibility, which is why we see more men than women in leadership positions. The skewed balance in the media, where you don't find many women architects on magazine covers, on panel discussions, and on award juries, is a result of those inequalities. And with this campaign, we're just taking one small step towards addressing that."
Anya Singh, Founder, Design Stri, said: "A woman plays many roles apart from being a professional. We seek to nurture and recognize the contributions of 'the multitasker', transitioning between and excelling in many realms of life. By naming our community Design Stri we pay homage to both our feminist and cultural roots; the idea is to continuously share stories from women in varied career levels who we can research, cite, work with, and be inspired by."
You can visit the campaign on the social media pages below:
https://www.instagram.com/design.stri/
https://www.instagram.com/epistle_communications/
Top image courtesy of Epistle and Design Stri.
> via Epistle & Design Stri