BIG designs loop-shaped skyscraper for OPPO's R&D Headquarters in Hangzhou
Bjarke Ingels Group has revealed design for a loop-shaped skyscraper for OPPO, China's largest smartphone manufacturer.
Designed for the company's new research and development headquarters, the project, set to be built in Hangzhou's Future Sci-Tech City - a technology and innovation district - addresses to the aims and mission of OPPO.
Named O-Tower, it creates a giant, continuous loop that "connects ground to sky in a continuous loop of collaboration", as the project is described as "infinity loop" proposing on the sky.
BIG's new project "exemplifies the OPPO design philosophy of pursuing the perfect balance between refined aesthetics and innovative technology, in a building that will be environmentally, economically, and socially sustainable – a responsible citizen and iconic gateway to Hangzhou's Future Sci-Tech City," according to Camilla Borggaard, Head of Communications of BIG-Bjarke Ingels Group.
"Technology at its best should be a seamless extension of life. The new OPPO R&D Headquarters embodies this notion, sitting with ease in the scenic wetlands of Hangzhou, while negotiating between the dense urban fabric on one side and the natural landscape on the other," said Brian Yang, Partner, BIG – Bjarke Ingels Group.
"It will be an architectural manifestation of an OPPO product: effortlessly elegant, while elevating the quality of human life in the city," Yang added.
Set to be built in the heart of Yuhang District, O-Tower is situated between a natural lake, an urban center, and a 10,000 square-meter park, which serves as an anchor point along a major access road stretching east to west from Hangzhou.
BIG's new project is aimed to be "an iconic landmark and gateway" to the Future Sci-Tech City and Hangzhou itself.
Covering a total 161,330-square-metre area, the tower has flexible floor plates to be able to support creative and dynamic workspaces, and thanks to its shallow floor plates, employees will have optimal work environments to be able to access to daylight and views, providing comfort, well-being and productivity within the workspace.
The design of O-Tower reimagines traditional office slabs by giving them a perfect depth for access to daylight overlooking a cylindrical open courtyard that is surrounded by building.
The team pushed down the southern edge of the building to the ground to minimize the external surface area to gain more solar exposure and maximize views out from the inward façade.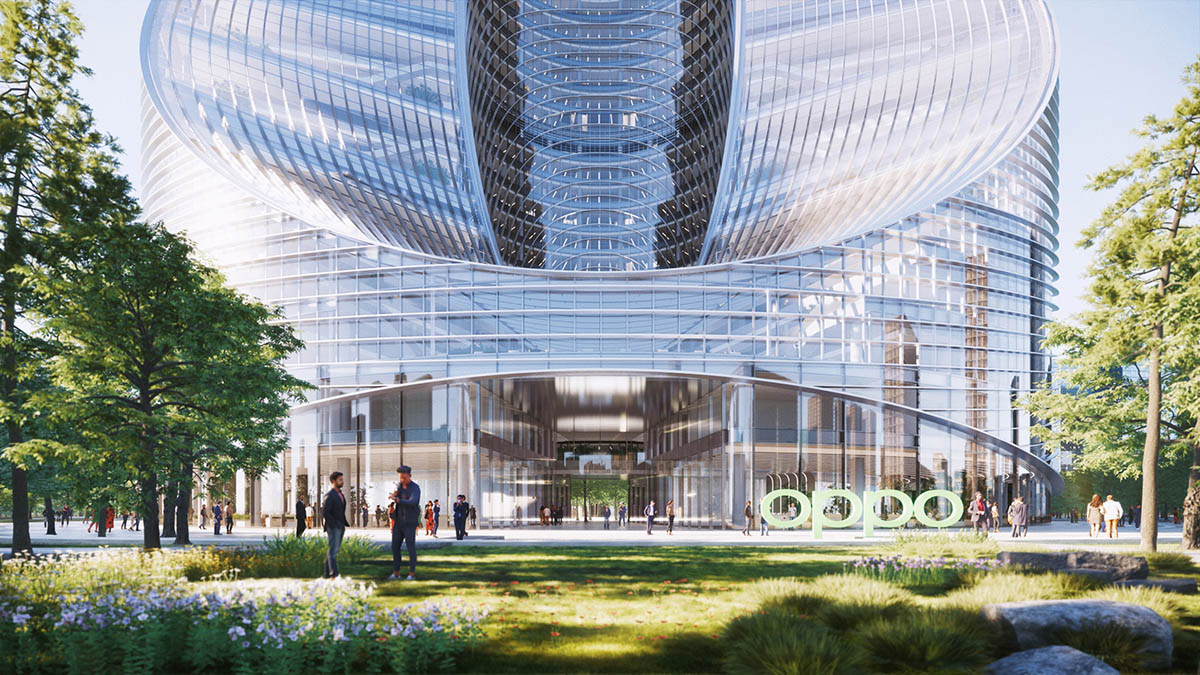 Through its unique geometry, this makes the tower to become self-shaded from solar gain, which helps to optimize to reduce energy use and maximizes access to natural light.
"We have attempted to imagine the future work environment of OPPO to be sustainable on a triple bottom line: economically, ecologically and socially. The compact form folding in on itself provides large flexible floorplates with the daylight access and fresh air of a slender tower," said Bjarke Ingels, Founder and Creative Director, BIG – Bjarke Ingels Group.
"The adaptive louvered façade omits incoming solar glare and thermal heat gain, enhancing the passive performance of the building. The tilted loop of the warped roof creates a social shortcut for the OPPO employees and their collaborators connecting the ground to the summit. And the central oasis and the surrounding wetland park expands the public realm into the heart of the complex."
"Each element is intrinsically intertwined forming the melted loop that is perceivable at all scales – from the urban landmark to the human experience—becoming a manifestation of the design simplicity that is an intrinsic part of OPPO's brand," Ingels added.
The tower will have a series of triple-height void spaces and interconnected terraces beneath the sloping roof surface. Thanks to these surfaces, the tower will offer more visual and physical connectivity between floors. These terraces will also introduce biophilic social spaces and shortcuts for all OPPO employees.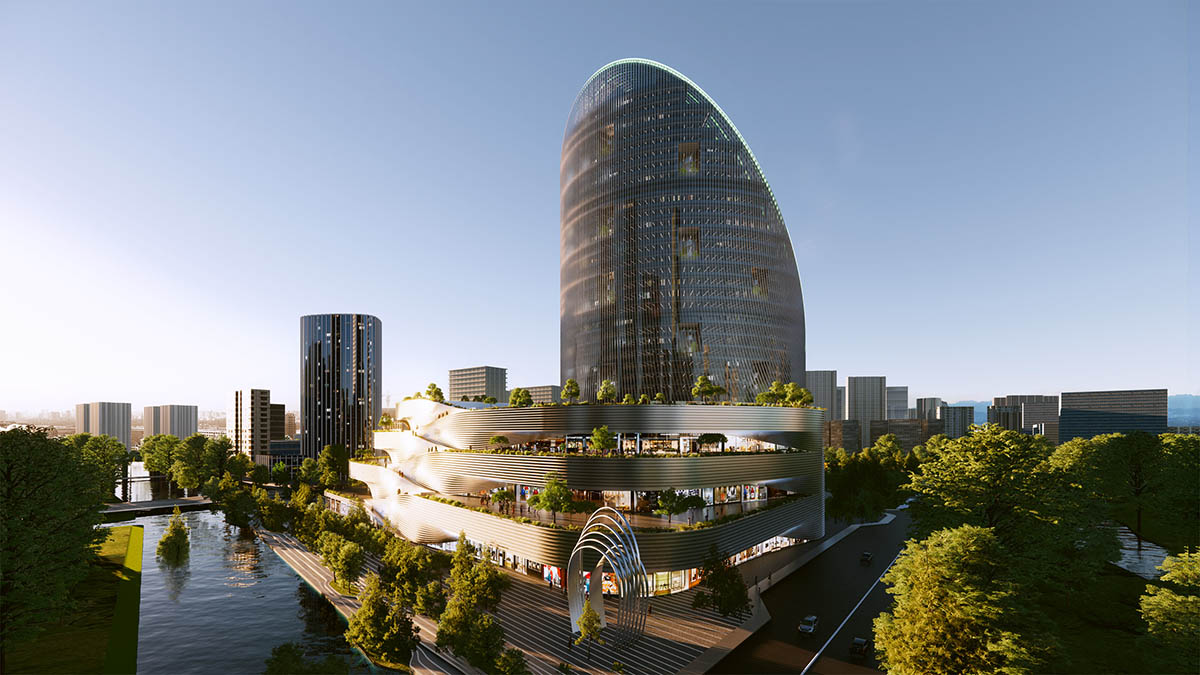 The façades of the tower are wrapped with adaptive façade louvers that are oriented according to the direction of sun and geometry of the building to minimize solar gain. "The façade will become a fingerprint for the building, with a specific imprint that exists only for the O-Tower, and only in Hangzhou," said BIG.
"The fingerprint façade will reduce solar gain by up to 52%, providing significant savings for cooling loads and better thermal comfort for OPPO staff, while at the same time reducing glare, reflectivity and light pollution," BIG added in its project description.
At the core of the O-Tower, there will be a publicly accessible courtyard which will become an urban living room for the city.
Offering a mineral hardscape at its center, the ground floor transforms into a green and lush landscape at the periphery as it extends out to the waterfront.
While the ground floor of the O-Tower will be open with an interconnected public space, this public space will seamlessly lead visitors and staff through lobbies, exhibition spaces, or out to the park.
The first three floors will serve for public programming including exhibition space, conference centers, a canteen, and an incubator for external workshops.
Within the skyscraper there will be a variety of flexible floor plates from spacious and large floors which will be suitable for R&D departments and special projects, as BIG explained, "the floors will start from smaller more traditional floors for administrative and executive functions."
On the upper floors, there will be an OPPO canteen as well as executive and VIP lounges which will overlook Hangzhou's wetlands alongside the triple-height interconnected atria under the O-ring facade. All all OPPO staff will benefit from the same view.
BIG designs all floors of the building with workspaces by integrating biophilia and social spaces.
Project facts
Client: OPPO Global Mobile Terminal R&D Headquarters
Type: Office, Retail, and Masterplan
Size: Office 161,330m2, Retail 68,000 m2,
Site area: 48,900 m2
Location: Hangzhou, China
Architect: Bjark Ingels Group
Project Leader: Hung Kai Liao
Project Architect: Kekoa Charlot
Design Lead: Ewa Bryzek
Facades Lead: Aimee Louise Desert
Team: Adam Busko, Agnieszka Magdalena Trzcińska, Alessandro Zanini, Alda Sol Hauksdóttir, Andra Beler, Buster Christensen, Cristina Giménez, Seongil Choo, Camille Breuil, Carlos Ramos Tendrio, Cris Liu, Daniel Ferrara Bilesky, Eddie Can, Eric Li, Filip Fot, Geetika Bhutani, Gül Ertekin, Jens Majdal Kaarsholm, Julia Gotovski, Karim Muallem, Liang Zhang, Laura Kovacevic, Malka Logo, Maria Capuozzo, Martyna Sylwia Kramarz, Mats Kolmas, Max Alexander Bonecker, Mengyuan Li, Mads Primdahl Rokkjær, Naphit Puangchan , Ombretta Colangelo, Rasam Aminzadeh, Roberto Fabbri, Stefan Plugaru, Steen Kortbæk Svendsen, Su Myat Nge Nge, Shuting Zhang, Weronika Siwak, Xiaochang Qiu, Xavier Thanki, Yusheng Huang, Zhonghan Huang
Local Design Institute: ZIAD
Client Project Managers: Co-Create Golden Technique Project Management
Structural Engineers: RBS
Façade Consultants: RFR
Traffic, MEP, VT Consultant: WSP
Lighting Designer: BPI
Programming Consultant: Savills
Foodservice planner: TFP
Traffic Evaluation Agency: UAD
All images courtesy of BIG.
> via BIG