Bangkok Design Week will be held between May 8 – July 31, 2021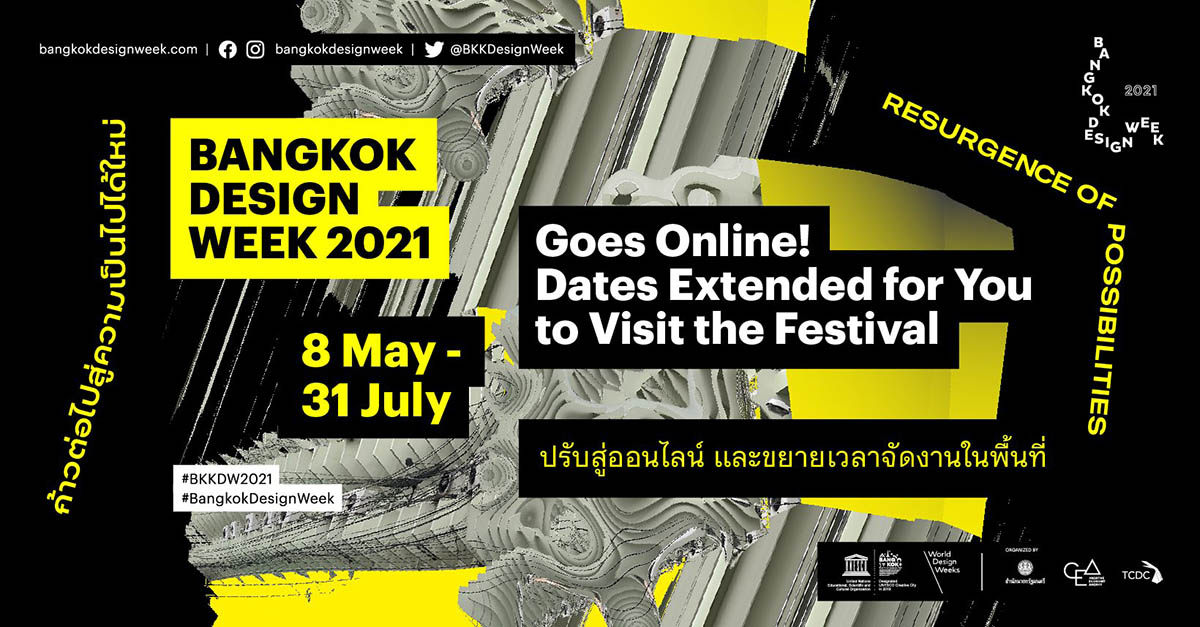 Bangkok Design Week (BKKDW) has always been marked on the Bangkok event calendar. The event is organized by Creative Economy Agency (Public Organization) or CEA, in partnership with over 60 state agencies, public organizations, academia and international institutions, as well as 2,000 designers and creative businesses. In each year, BKKDW draws an estimated number of 400,000 visitors at home and abroad.
Bangkok Design Week's 2021 theme is "Resurgence of Possibilities" which will be held between May 8th – July 31st, 2021.
BKKDW is a growth engine for Thailand's creative industries in many ways, by showcasing creative business and designs, stimulating competitiveness, providing a local and foreign business networking opportunity, generating an economic momentum to downstream businesses, such as marketing, printing, online media, galleries, cafes, restaurants, gifts & souvenirs, travel, hotels and public transport services.
The situation the world is facing at this time prompts us to seek solutions and coping methods through the creation of robust inter-city networks to overcome all challenges and create new opportunities. In a McKinsey report, it was said that last year Asia played an important role as a global urban hub where cities developed rapidly in terms of city expansion, economic growth, and interconnected infrastructure to facilitate all changes.
After a year of great challenges, it is now a new starting point for Bangkok to review, relearn, and acknowledge the potential of being a megacity. This means an abundance of economic opportunities and advantages to catalyse innovation. It is also steeped in diversity which are paramount to the development of adaptability that makes the city flexible enough to coexist with limitations and deal with challenges.
With its ability to turn what it has into thought assets, the capital city is therefore a place embracing opportunities and endless possibilities.
The theme explores new opportunities and possibilities emerging from urban revival amid crises and challenges the world is currently facing to overcome and grow through in the future.
Organized in creative districts throughout Bangkok such as Charoenkrung-Song Wat, Samyan, Ari-Pradipat, and Thonglor-Ekkamai, BKKDW2021 will present the excitement of creativity through five main activities, namely:
Showcase & Exhibition
Showcases and exhibitions by creators and entrepreneurs introducing ideas that incorporate design thinking process, creativity, and technology to develop human asset, communities, businesses, cities, and quality of life in many aspects;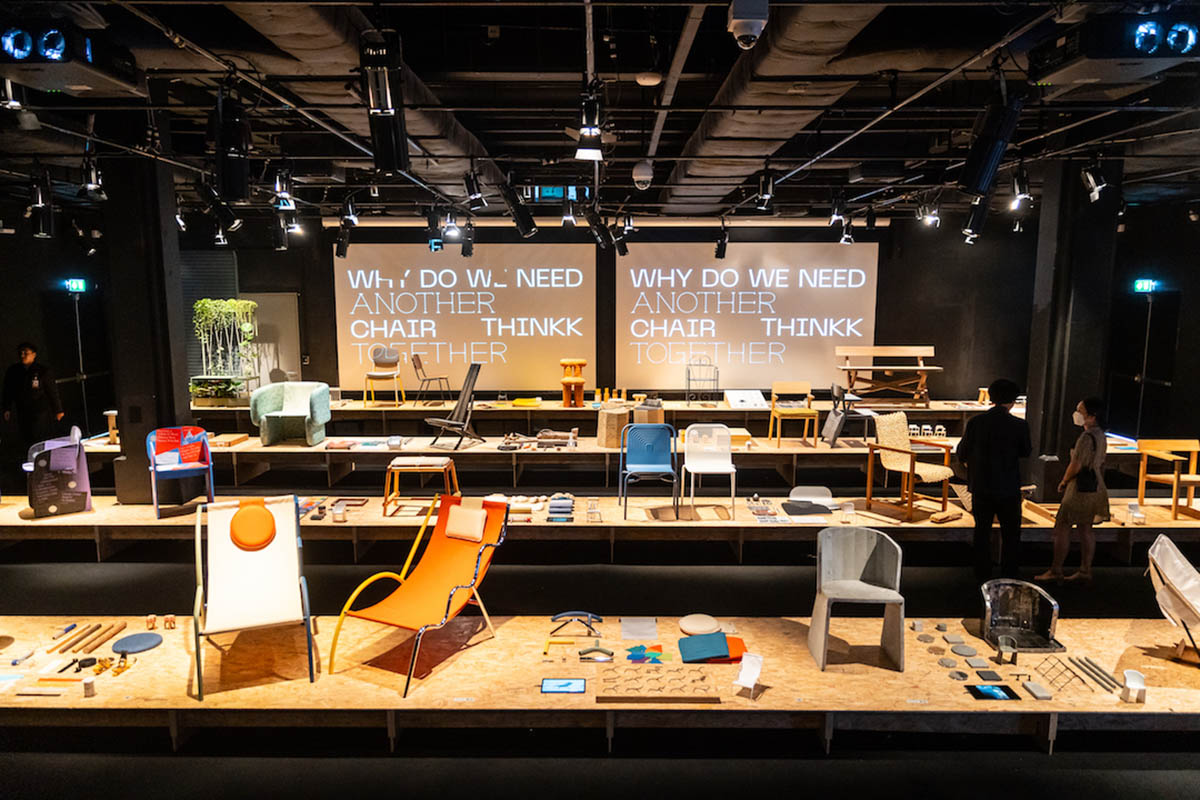 Talk & Workshop
Lectures and workshops by Thai and international creative thinkers who share experiences that will create positive impact on the economy and society;
Creative District Project
Activities aiming to develop creative districts through full scale prototype testing, developing, and implementation which will promote better quality of life and drive the metropolitan's creative economy. Participatory mechanism will be the key for local people and creators to work together which eventually leads to new investments;
Event & Program
Activities in celebration of creativity ranging from musical performances, movie screenings, and performing art, to parties and open houses that will vibe up the city;
Creative Market
Flea market filled with creative products promoting sales opportunities, market trials and business network expansion. This platform will encourage new creative entrepreneurs to develop their business towards success.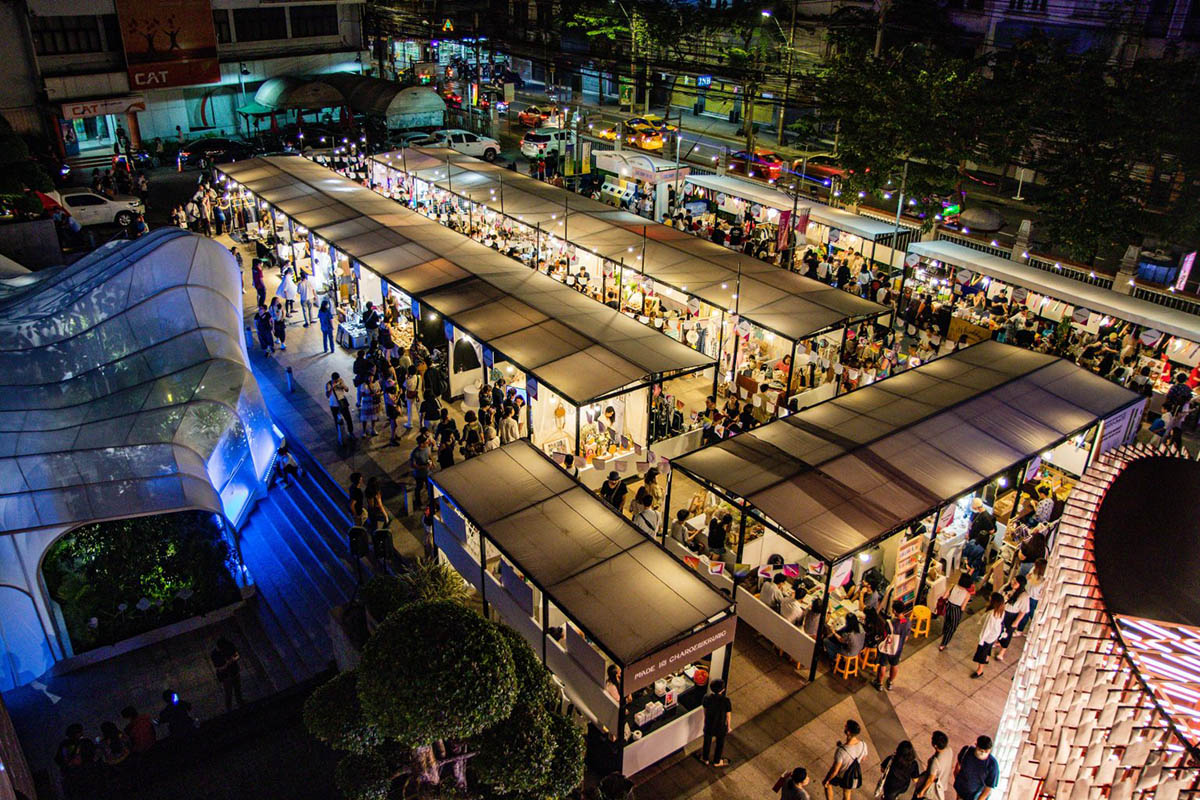 Regarding the coronavirus pandemic situation around the world, Bangkok Design Week 2021 stated that the organizers will continue to arrange the festival primarily on online channels to prevent the risk of the spread of disease, and extend the duration for Bangkok Design Week 2021 to 8 May - 31 July 2021.
The event stated that visitors can participate the various activities in the festival via online channels, such as live streaming talks, music and performing arts, online workshops, online market, exhibitions and showcases in virtual tours.
"Some exhibition venues can be physically visited, in which there will be strict adherence to the prevention measures prescribed by the Ministry of Public Health," said Bangkok Design Week.
Please follow the event information on the Facebook page of Bangkok Design Week, which will be further announced.
All images courtesy of Bangkok Design Week.
> via Bangkok Design Week