AIM Architecture redesigns shopping mall's atrium with suspended plants and wooden elements in China
AIM Architecture has redesigned the central atrium of a shopping mall with suspended lush plants and wooden elements in Shanghai, China.
Named Xintiandi Atrium Renovation, the 800-square-metre area is the interior of the atrium of the Xintiandi mall, the renewed space brings warmness, intimacy and greenery inside for its visitors.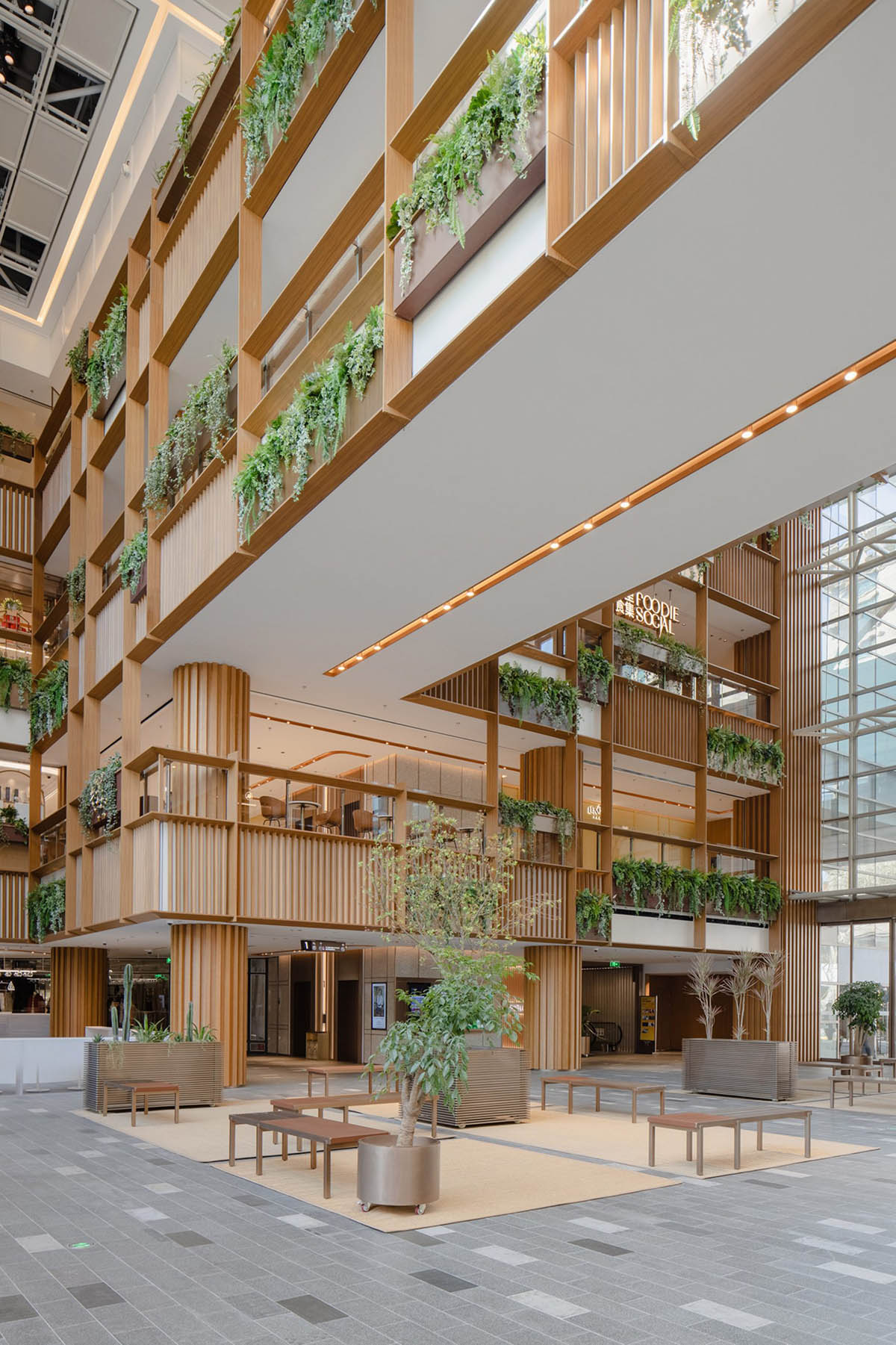 Presented in a gridded façade through its verticality, the interior is marked with a structure of trellis on the upper floors and public walkways pointed out with lush plants that surround the atrium and focalize the building.
"With a rich history of Shikumens, elaborate gardens, and vibrant street life behind the glamour, no place captures Shanghai's dual essence better than Xintiandi," said AIM Architecture.
"It challenges the cookie-cutter mold by reimagining the romance of street life with a modern city context."
"But even upscale landmarks need updating, so when client Shui On decided to renovate the whole mall, we took the opportunity to have a space intervention."
In the project brief, the architects' aim was to create a lively indoor plaza able to interact with people and to design a 'place' which can be more than just a shopping atrium.
"Riffing from Xintiandi's inherent hybrid design, we decided to bring the outdoors in. The first floor draws the outside with its outdoor paving and green seating islands," said the studio.
"This flow strengthens the atrium and creates a more defined vertical space."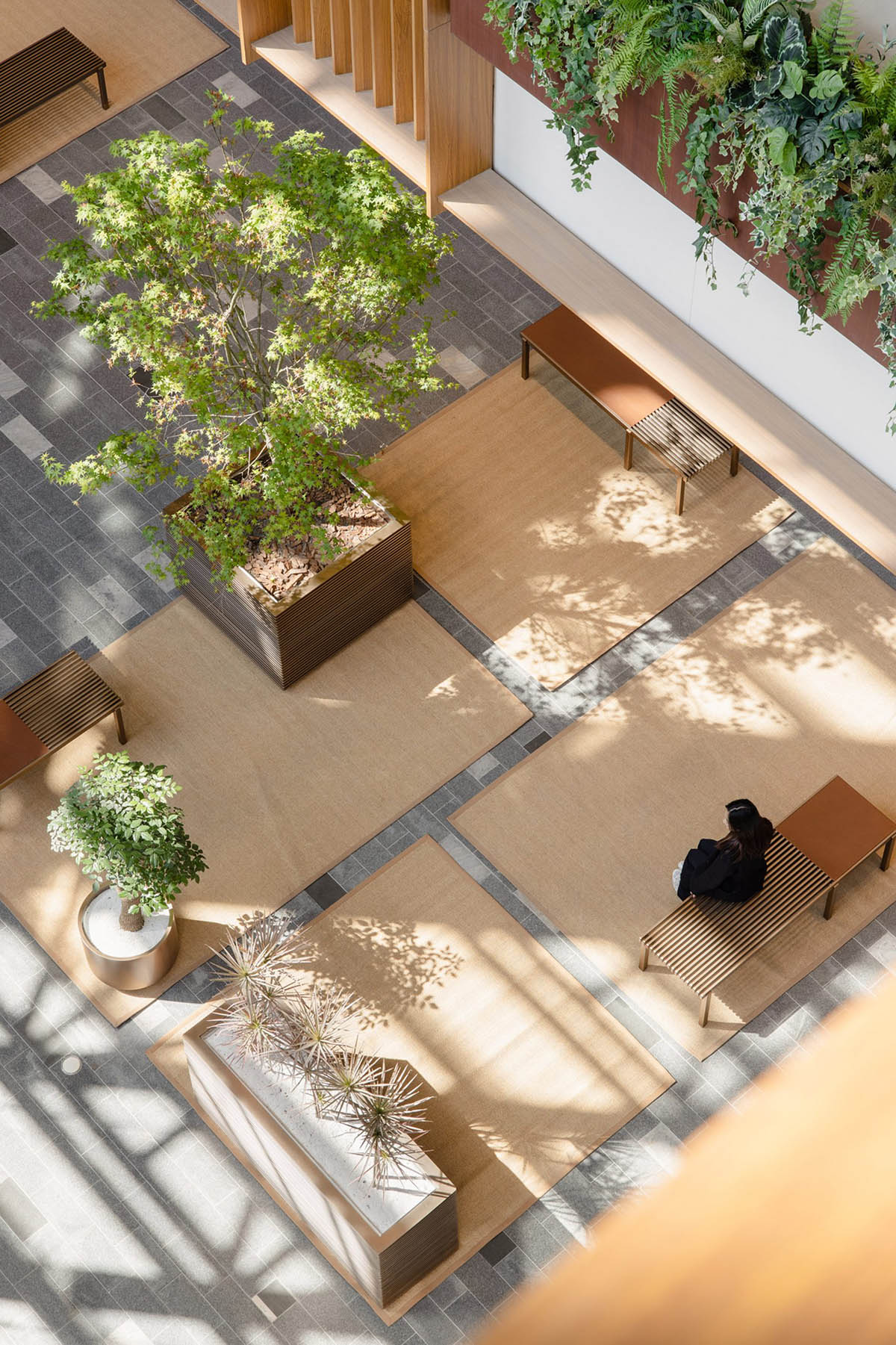 The architects applied a giant 'trellis' structure on the higher floors and public walkways. By designing the vertical mullions, they create a rhythm and add another layer to the building's skin, while they provide more depth of views.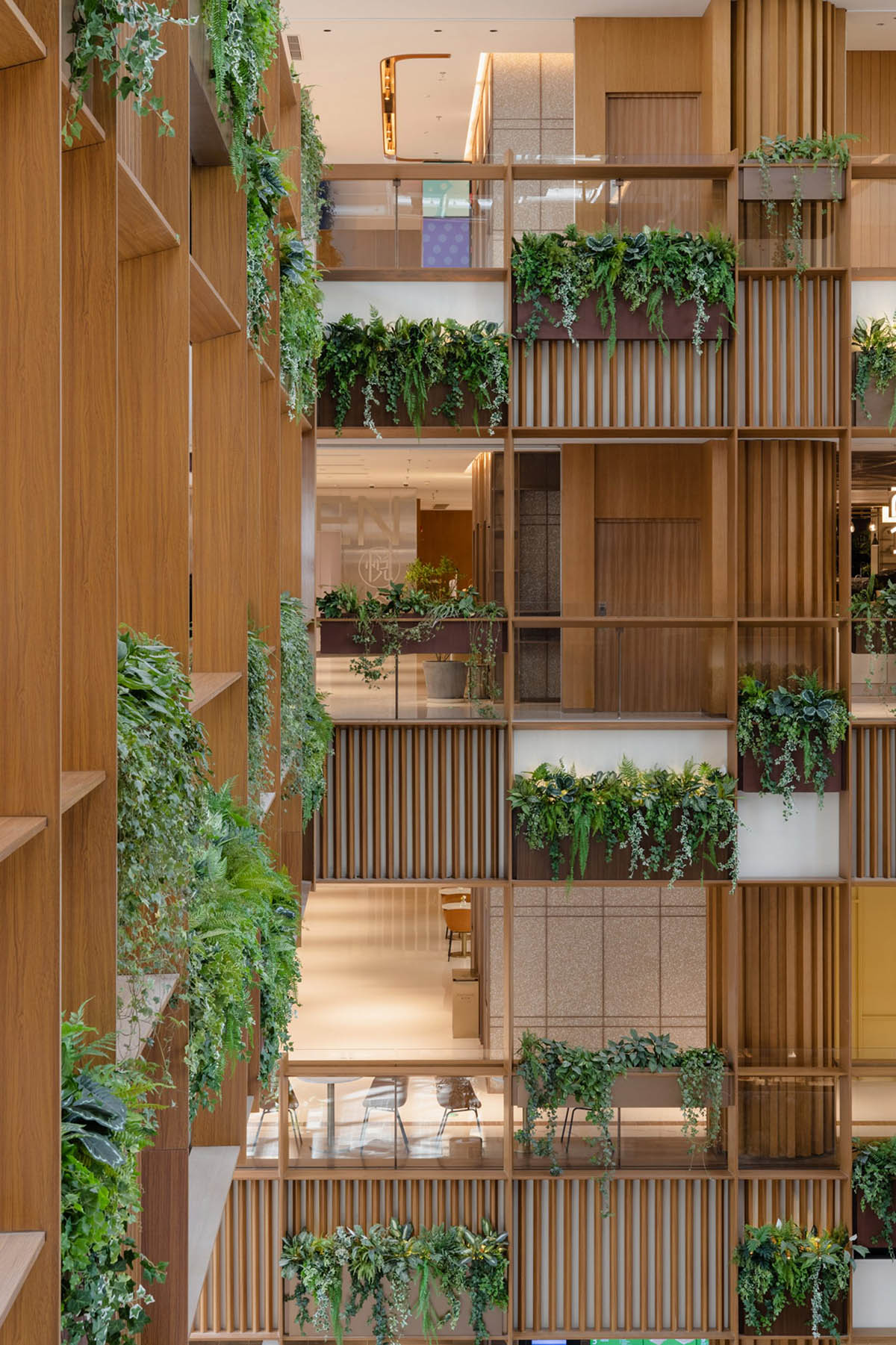 The outdoor space, flowing through the building, shows itself as a new character with light, plants and trees. "Seating islands offer the possibility to linger and enjoy the welcoming, hybrid space," the studio emphasized.
"Sixteen carefully arranged carpets help cultivate a cozy garden vibe."
According to the studio, the atrium is described as a passage but it becomes a place, truly a 'plaza,' an immersive garden that blurs the line between indoor and outdoor; a beautiful, unexpected sanctuary at the heart of Xintiandi's buzz.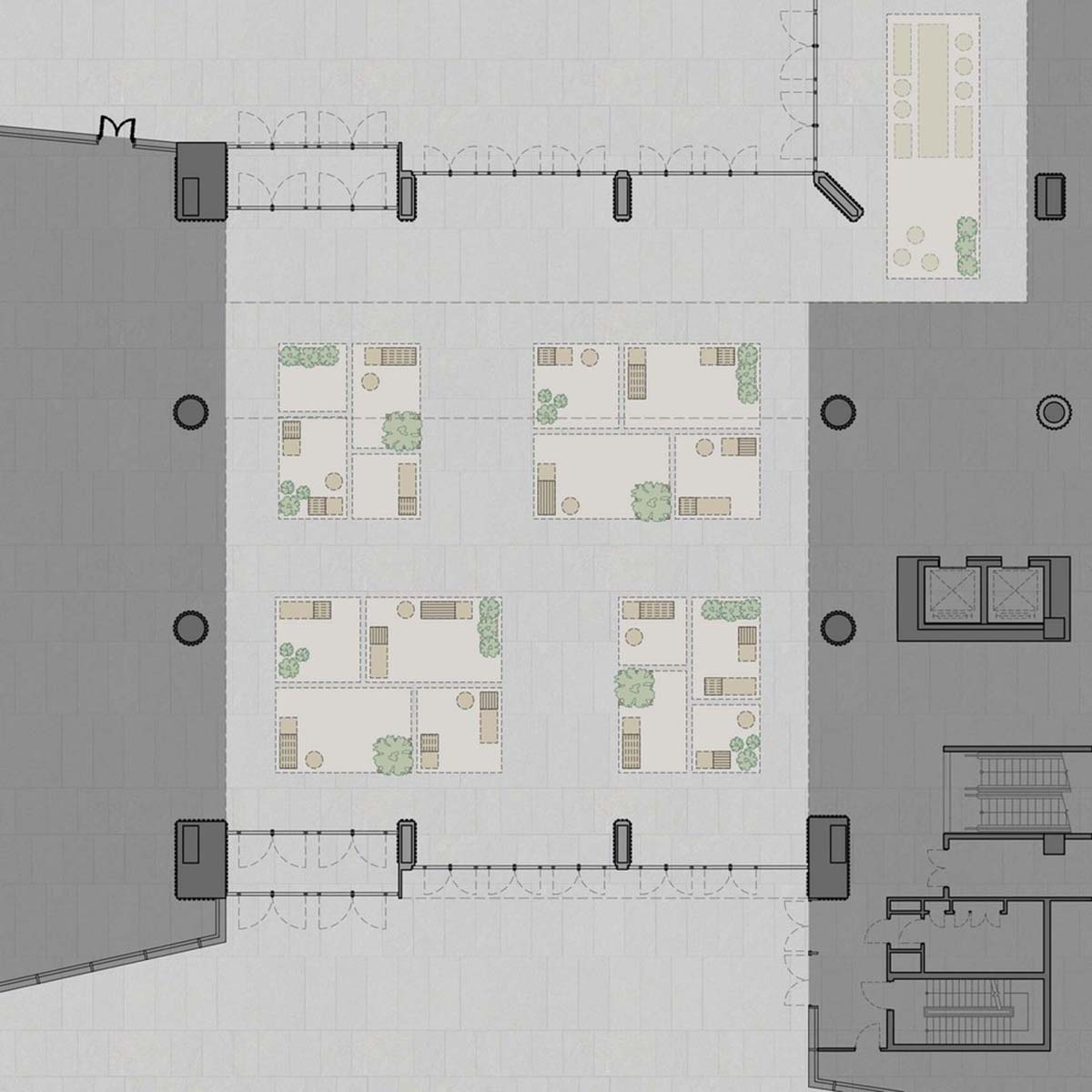 Floor plan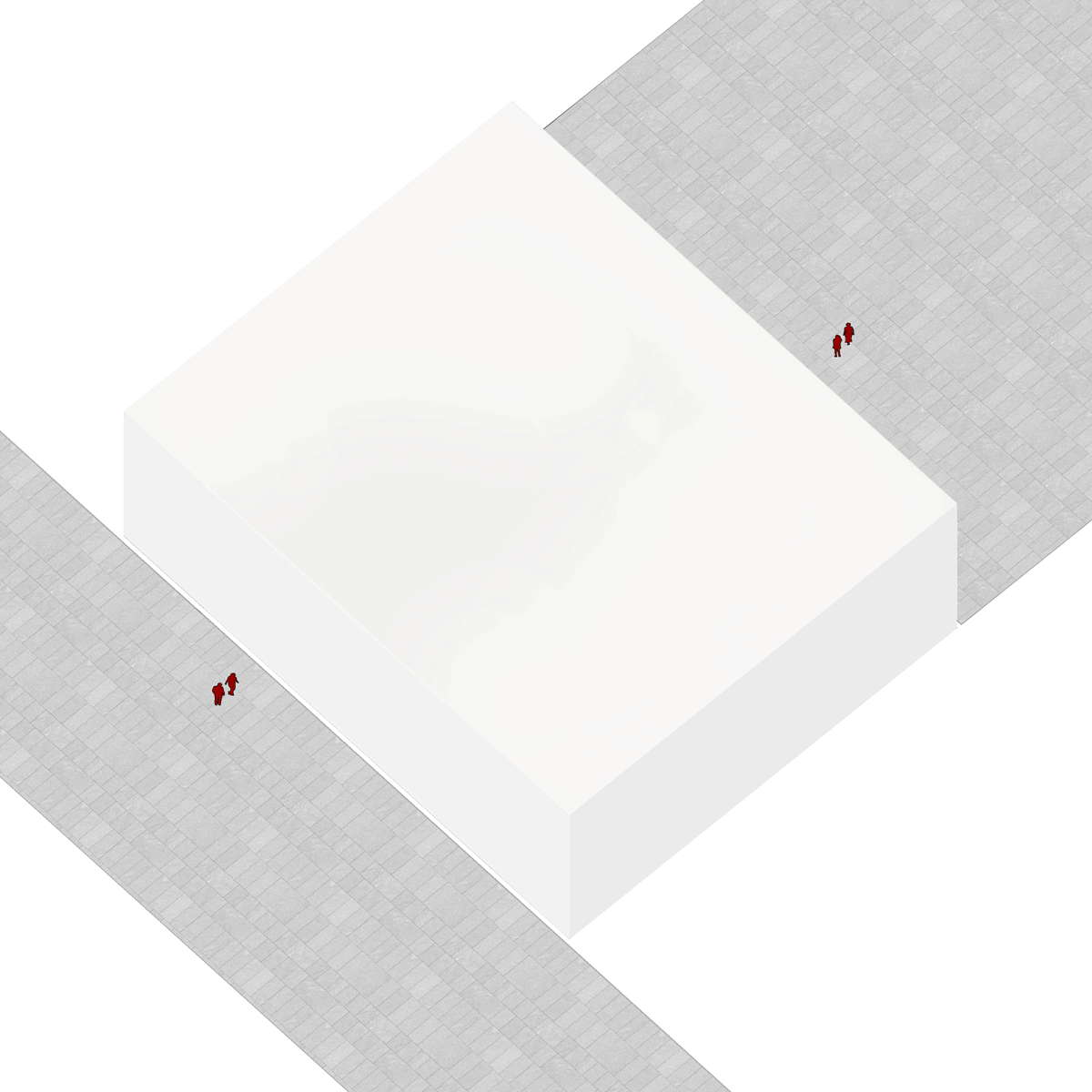 Axonometric drawing
Project facts
Project name: Xintiandi Atrium Renovation
Architects: AIM Architecture
Location: Shanghai, China.
Size: 800m2
Date: 2021
All images © Wen Studio
All drawings © AIM Architecture
> via AIM Architecture