Raulino Silva's Unusual and Versatile Cat and Dog Hotel It's a Delight
Those of us that have pets know they are not only our companions but a source of unconditional love and loyalty. So it's no wonder that when our professional or leisure lives takes us away we want to provide for them and have them properly looked after. This recently open Dogs and Cats Hotel brighten up one's day.
Located in Parada, Vila do Conde, this very handsome Canine & Feline Hotel designed by Raulino Silva Arquitecto provides temporary accommodations for dogs and cats; a hotel where pets may stay for a few days, while their owners go away on business or holidays.
The hotel complex is formed by three buildings connected by external corridors, in this fashion the architect was able to define three different areas and to separate the "cat zone" from the "dog zone" in two of the buildings, avoiding the meeting - and potential conflict between them - and to reduce noise. The third building houses customer services areas, from the reception and service desks to a small shop and storage room, restrooms, main office, and support areas. Along with these, a veterinarian office is nested alongside the grooming rooms and a swimming pool for the pets.
The three building volumes were designed to reduce the impact of the construction area in order to improve its integration into the existing landscape.
The dog accommodation building facing their training grounds is the largest and has two floors; the upper floor on the highest part of the terrain and in the lower floor part access to the animals playground. The upstairs area contains forty-one individual dog "rooms" separated by a central corridor that has a small linear garden to minimise animal visual contact while separating both sides.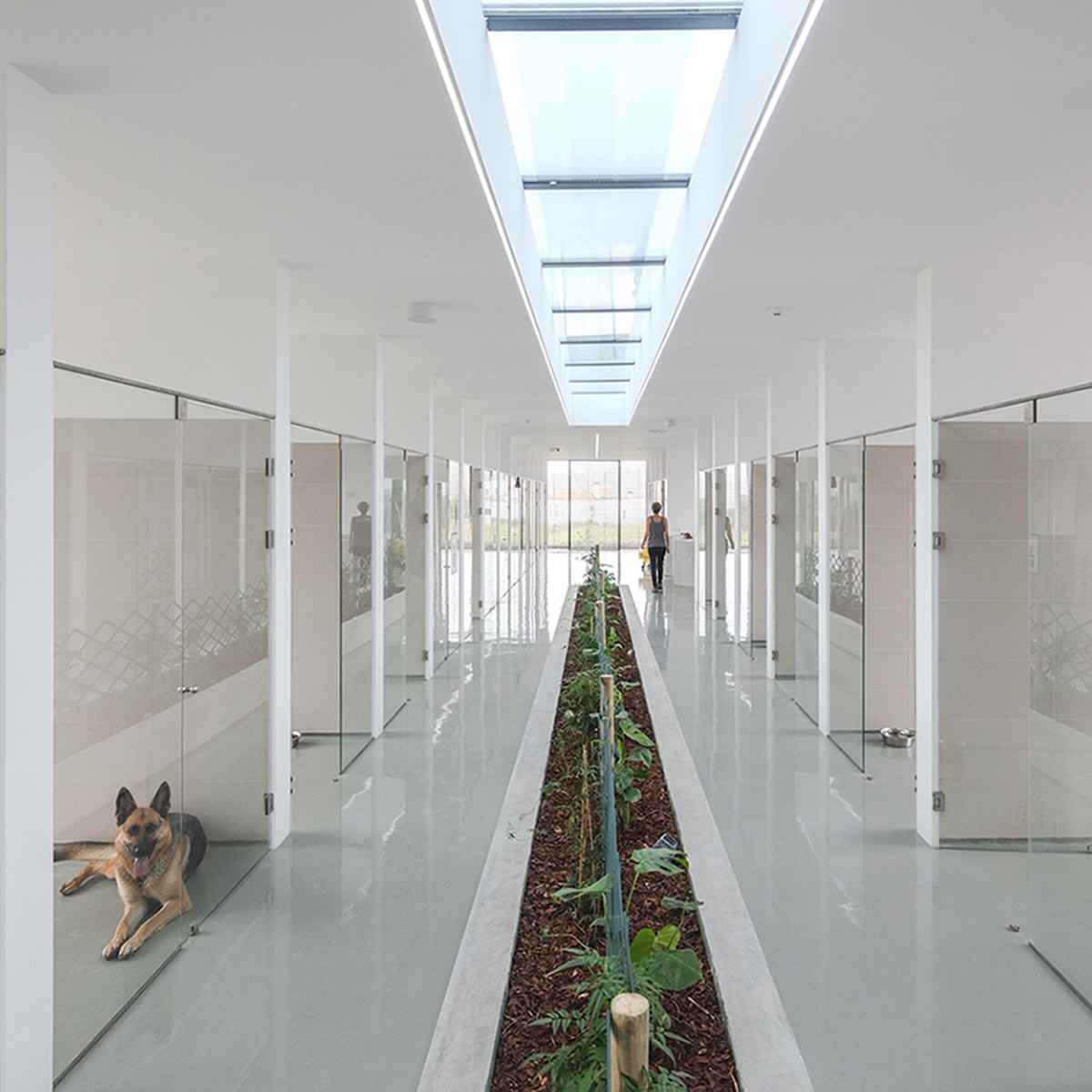 The cats building is the smallest one, in one floor and has twelve independent accommodation spaces, with a central circulation space around an interior garden which serves as the cats playground area and is lit by a large skylight.
In the lower floor a spiral staircase provides access to a multipurpose space, a technical room, laundry room and employee's lockers and bathroom facilities.
Given the - somehow messy - nature of these facilities, finishings were thoroughly considered; the outside walls and ceilings are clad in external insulation composite systems (ETICS) in a light white-grey colour with thermal insulation on all surfaces. The roof is furnished with bitumen sheet membranes covered by layers of thermal insulation and protected with natural pebbles from the region.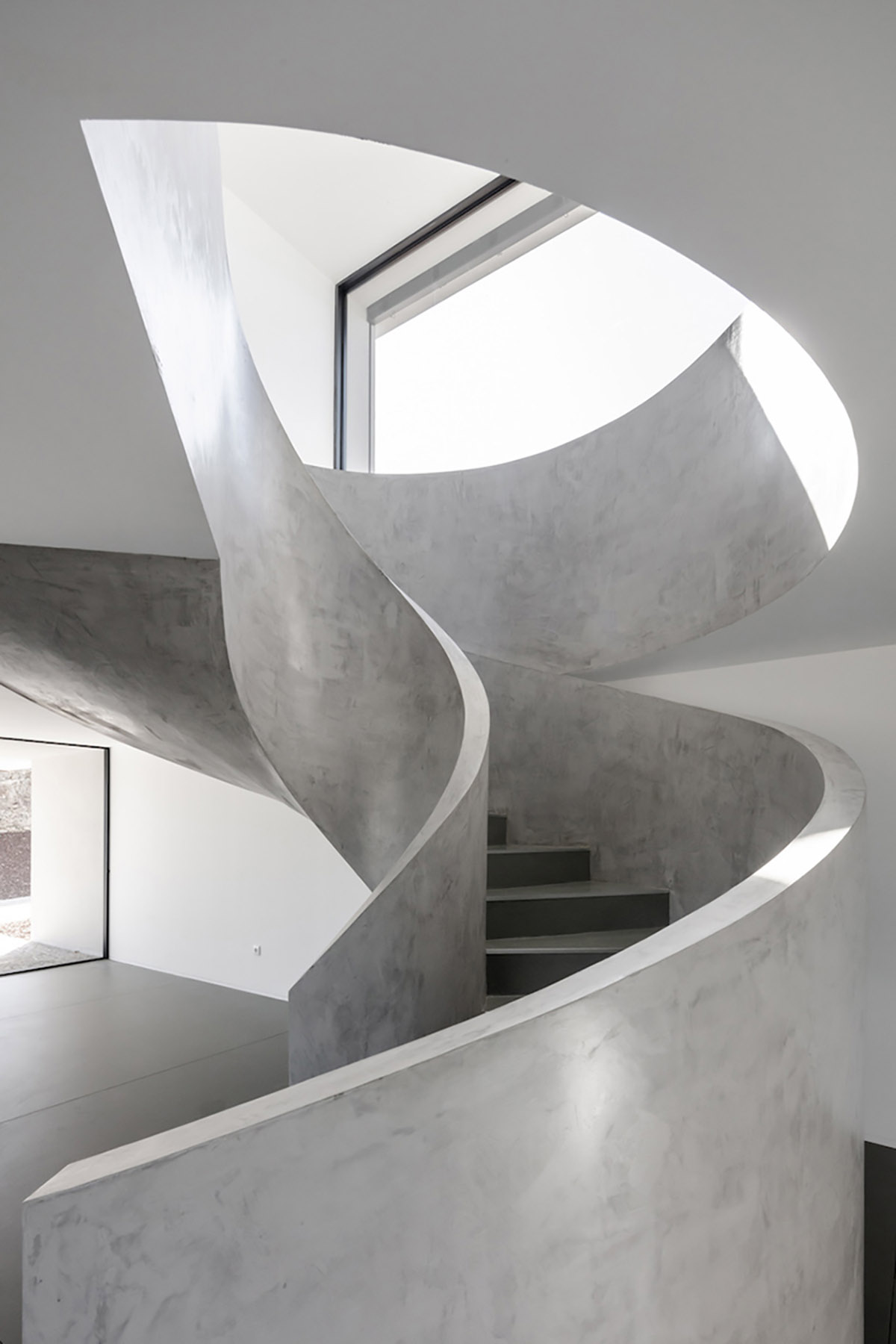 Inside the facilities all floor spaces are waterproof with a self-levelling epoxy floor which is easy to clean and provide a seamless finish.
On the changing rooms, stairs and in the interior garden of the dog building as well as on bathroom walls, a single light grey micro cement coating was applied; a non-slip yet washable surface. White lacquered MDF was used in all doors and cabinetry.
Outside, the original granite stone walls surrounding the site were cleaned and restored, keeping the same traditional construction methods used in the area.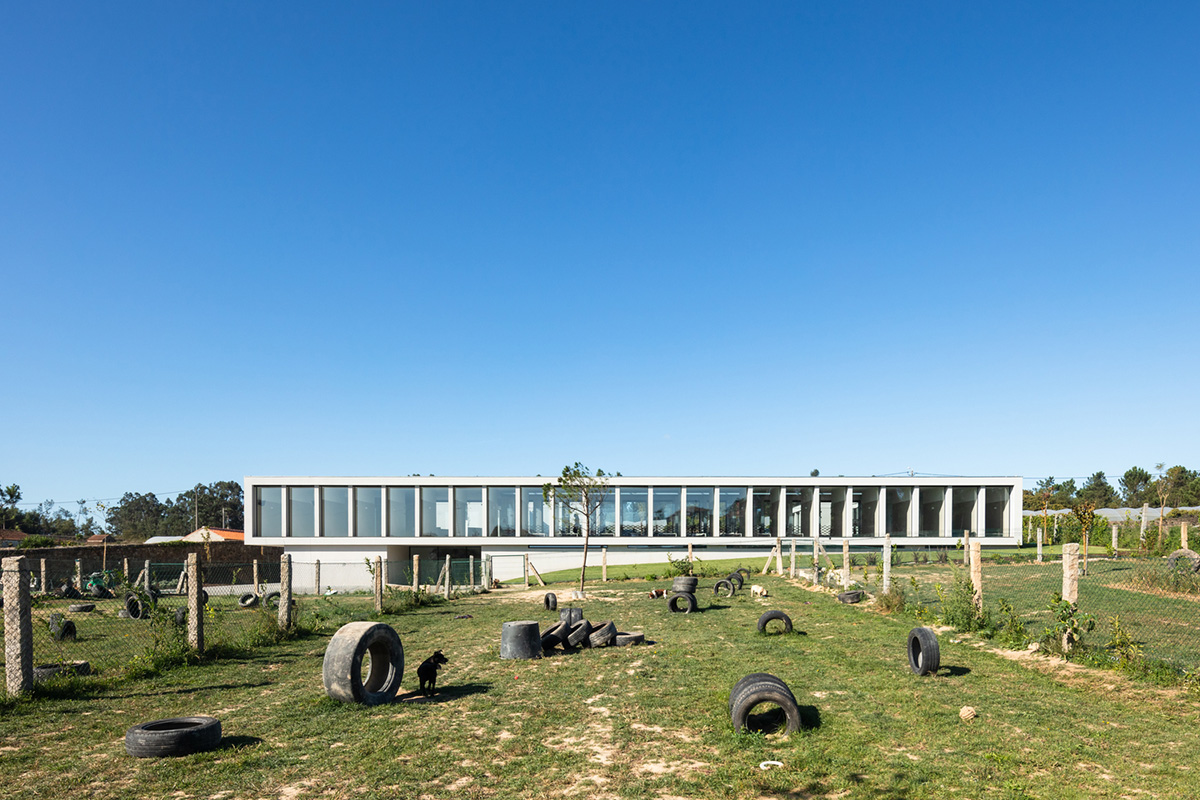 Dogs are allowed outside to play and for training activities, an area secured by a fence strung on granite posts, these already existed on the grounds and were used in the vineyard near the walls of the adjacent farming fields. Local granite was used to pave the access path to the loading and unloading basement areas.
This pet hotel with its unusual and versatile sensibility it's a delightful place to leave our four-footed companions for a bit of pampering when we have to leave them behind, feeling warm and fuzzy.
Project facts
Architecture: Raulino Silva Arquitecto
Location: Vila do Conde, Portugal
Area: 797,00 sqm

Project Construction Final: 2019
All images © João Morgado via Raulino Silva Arquitecto.
> via Raulino Silva Arquitecto