BIG designs art-filled urban fashion village on the slopes of Leça River in Porto, Portugal
Bjarke Ingels Group (BIG) has designed an art-filled urban fashion village for Portuguese real estate developer, Castro Group on the slopes of Leça River in Porto, Portugal.
The 178,000-square-metre village, named Fuse Valley, is designed as the company's new HQ which will include 12 interconnected buildings with green roofs and each buildings will represent the various elements of the company's organization, with the design of each space tailored accordingly.
BIG has collaborated with Farfetch, a leading global technology platform for luxury fashion, and Castro Group to connect creators, curators, and consumers in a purpose-built urban fashion village.
The project is scheduled to break ground by early 2023, and will open its doors in 2025.
The new HQ is situated within the larger Fuse Valley site, which is also designed by BIG, the site of 24 buildings will be home to various tech companies, startups and services.
BIG's design seeks to amplify the exchange of ideas between the different aspects of the organization and create new opportunities for the circa 3,000 Farfetch employees based in Portugal, visitors, and locals.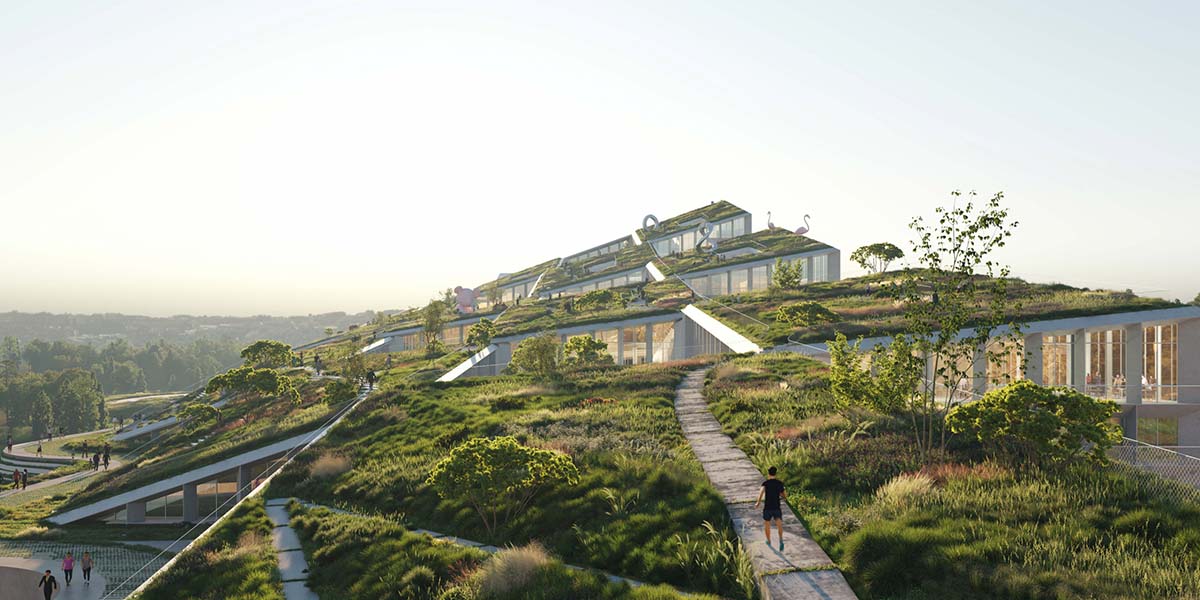 "We are very excited about this project and the vision that Bjarke Ingels has presented to us, not only because of what it will mean as a milestone for the company, for our people, but also for the community," said José Neves, founder, CEO and Chairman of Farfetch.
"This project will be a revolution on the current concepts of workspaces, marked by its futuristic nature, by the orientation towards sustainability and well-being. It will be a space not only for Farfetch, but for the entire community."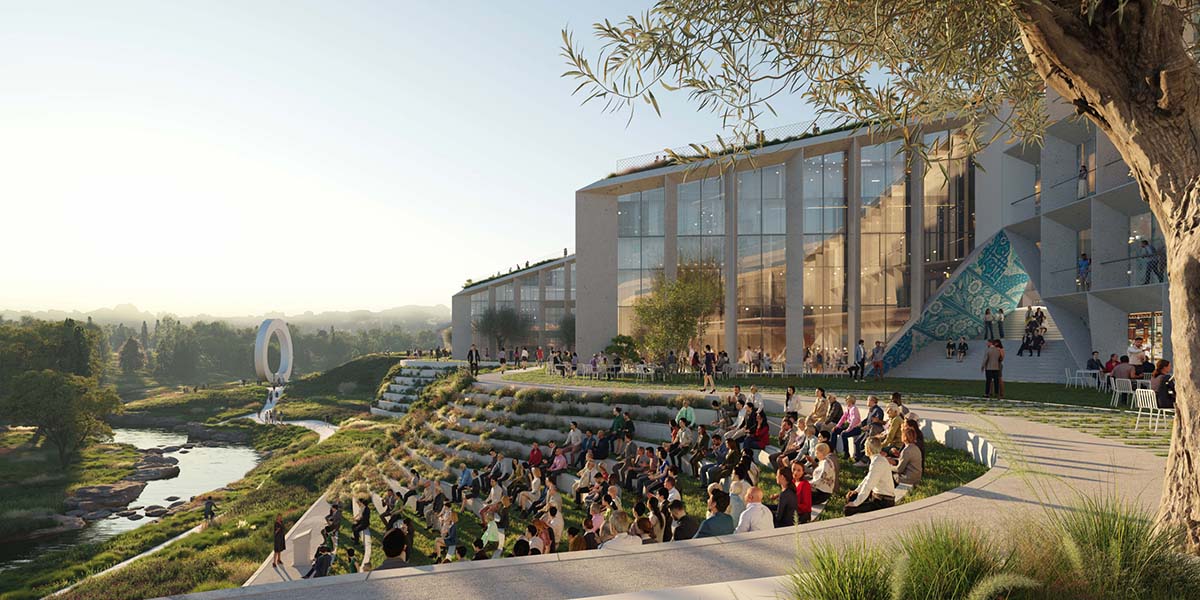 "Rather than a corporate office complex, Farfetch's future home in Fuse Valley will be a lively urban ensemble bringing every curator, creator, customer and collaborator together in the most innovative new neighborhood of the city," said Bjarke Ingels, Founder & Creative Director, BIG.
"The urban fabric will allow Fuse Valley to grow and expand organically, like a natural village," Ingels added.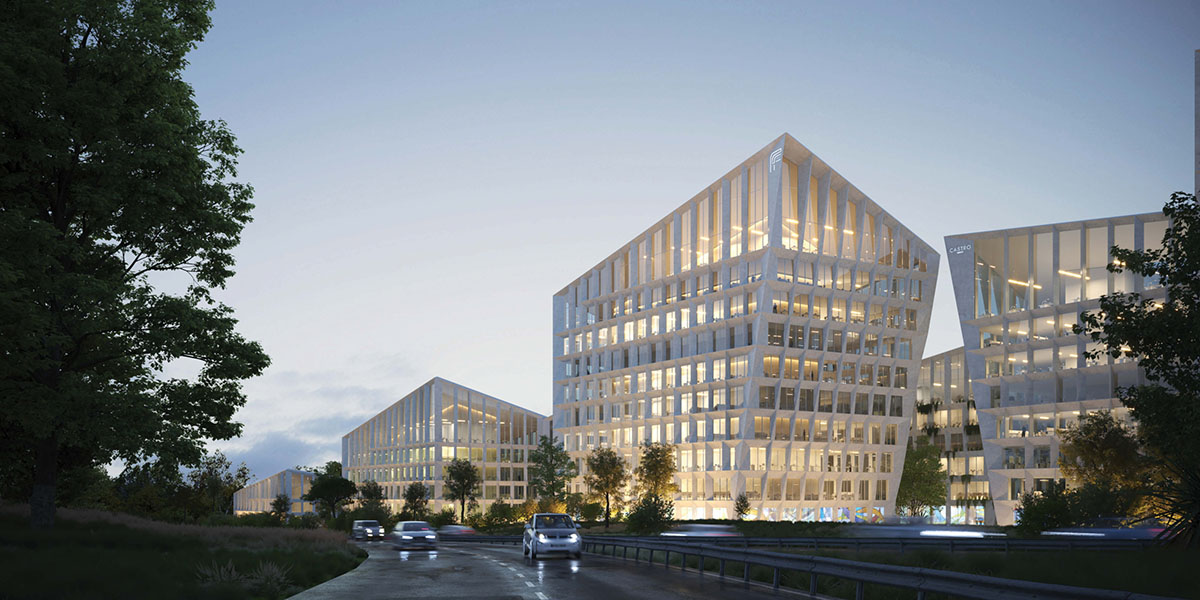 BIG conceived the project as a community village, the project is organized around plazas, parks, and courtyards which are landscaped and programmed to extend the life inside the buildings to the outside.
Acting like an urban fabric, the individual buildings rest on a series of urban terraces connecting the main road to the east, with the Leça River to the west.
Along the central arrival axis, an urban alley opens all the way from the street to the river, featuring all the major public programs and amenities along the riverfront of Farfetch: lobbies, an academy, an auditorium, canteen, and wellness facilities.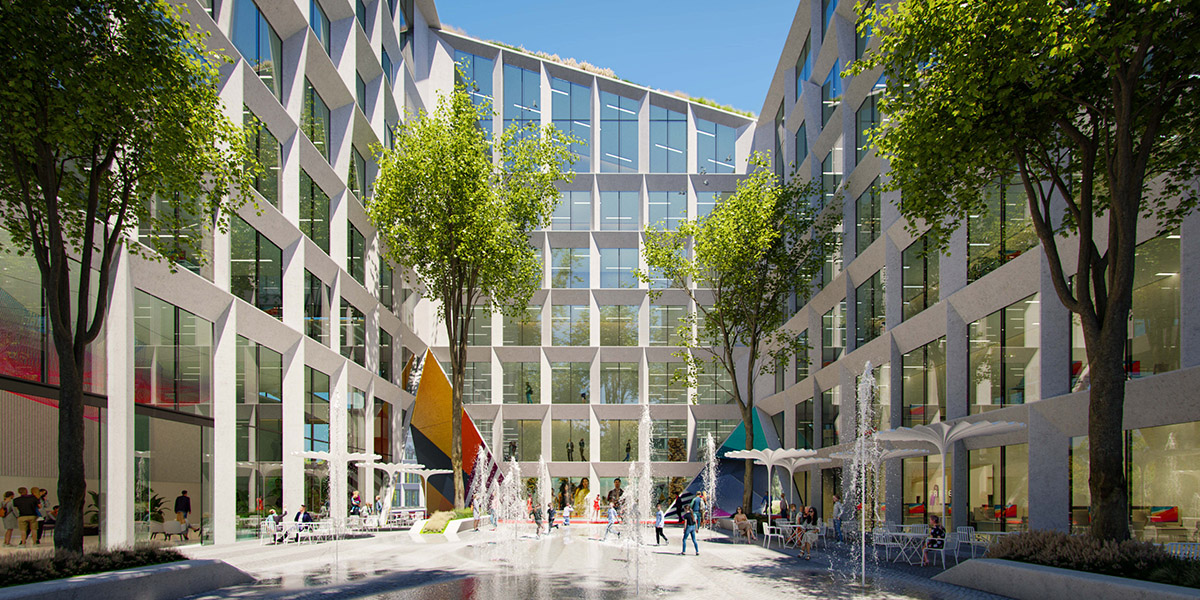 To create peaks and valleys, BIG designs a manmade extension of the hillside, so the roofs of the new buildings rise and fall to form these peaks and valleys. The buildings feature slopes and terraces providing employees with generous spaces to enjoy breaks and host gatherings – surrounded by views of the river.
Thanks to the project's natural rise and fall, natural paths are extended from the landscape to the roofscape, creating flexible wayfinding for people to move around the complex – both inside and out, and above, below, and within the building.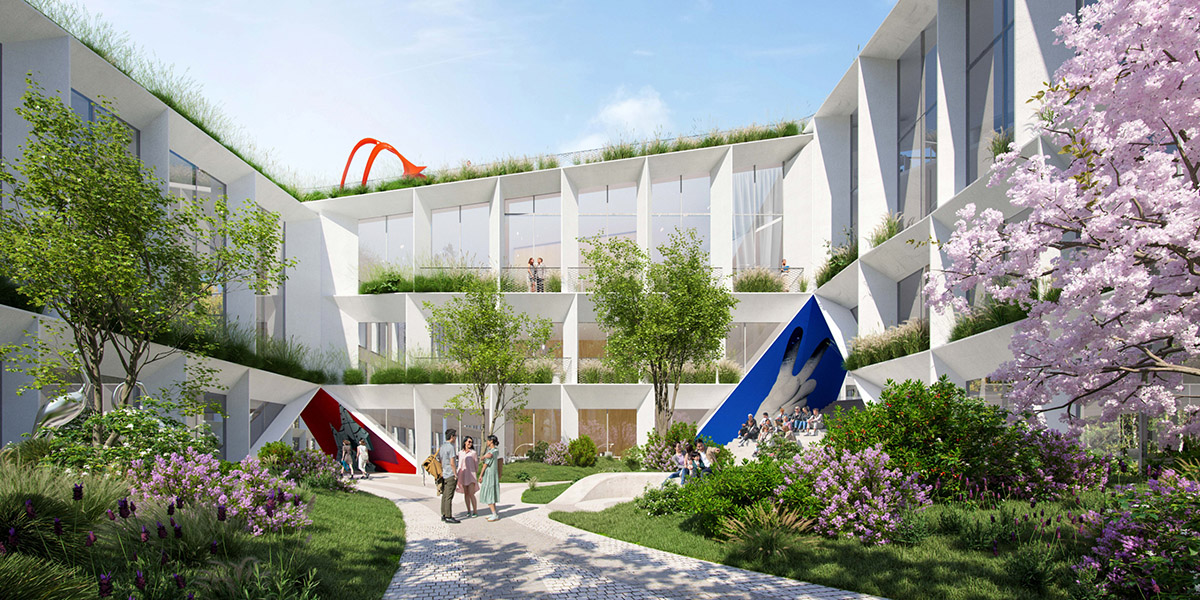 On the ground floor, the facades are set back to expand the public realm, creating natural canopies to welcome visitors, collaborators, and customers.
The building have chamfered corners to create archways and openings between the courtyards that act like canvases for different artistic expressions, bringing color and texture to the streetscape.
As BIG explains, each building will be tailored to its specific program, with gently-altered floorplans creating an equally lively and varied interior architectural experience: "The individual buildings that constitute the various elements of the organization are connected to form large contiguous work environments – physically consolidated, but spatially varied to create a human-scale experience," said João Albuquerque, Partner in Charge, BIG.
BIG will create atelier-like attics with additional ceiling heights and open mezzanines by using the sloping roofs of the buildings. Open connections are extended from the attic mezzanines all the way to the ground, creating visual and physical connectivity across all floors.
The interior experience prioritizes an immersion in nature, providing a biophilic environment that aims to increase productivity and wellbeing. Similarly, the dense urban fabric and ample vegetation provides a naturally shaded, cooled environment.
The new Fuse Valley combines maximum connectivity with a varied visual and physical experience, stimulating human exchange and innovation.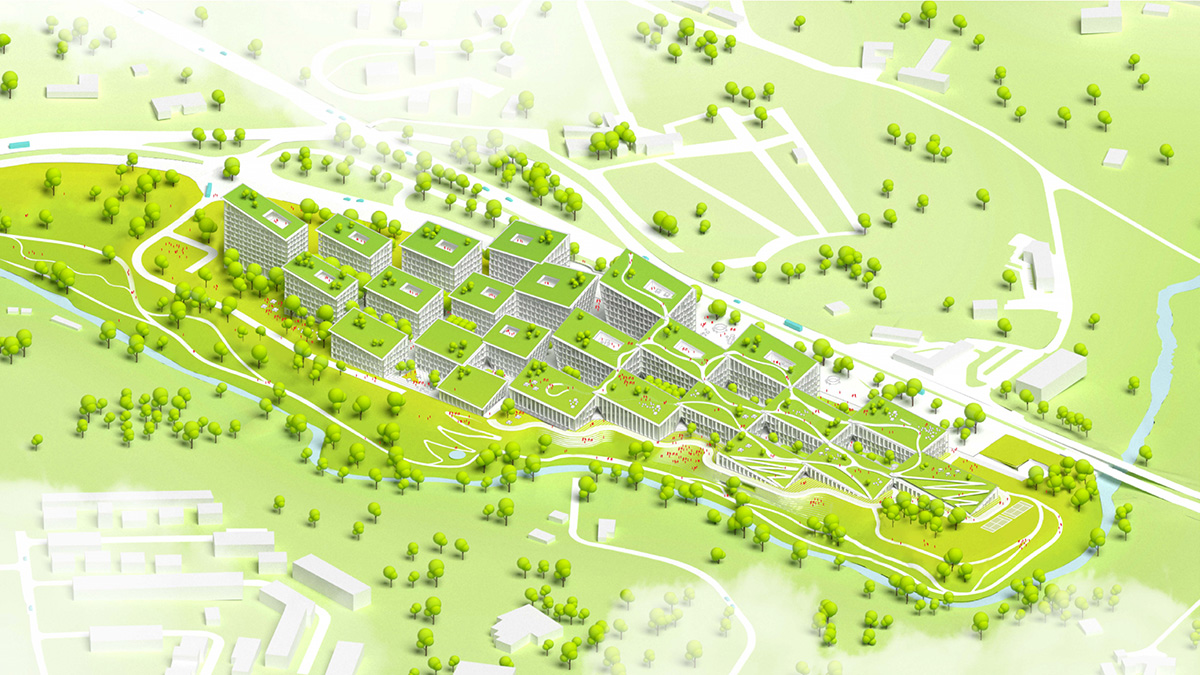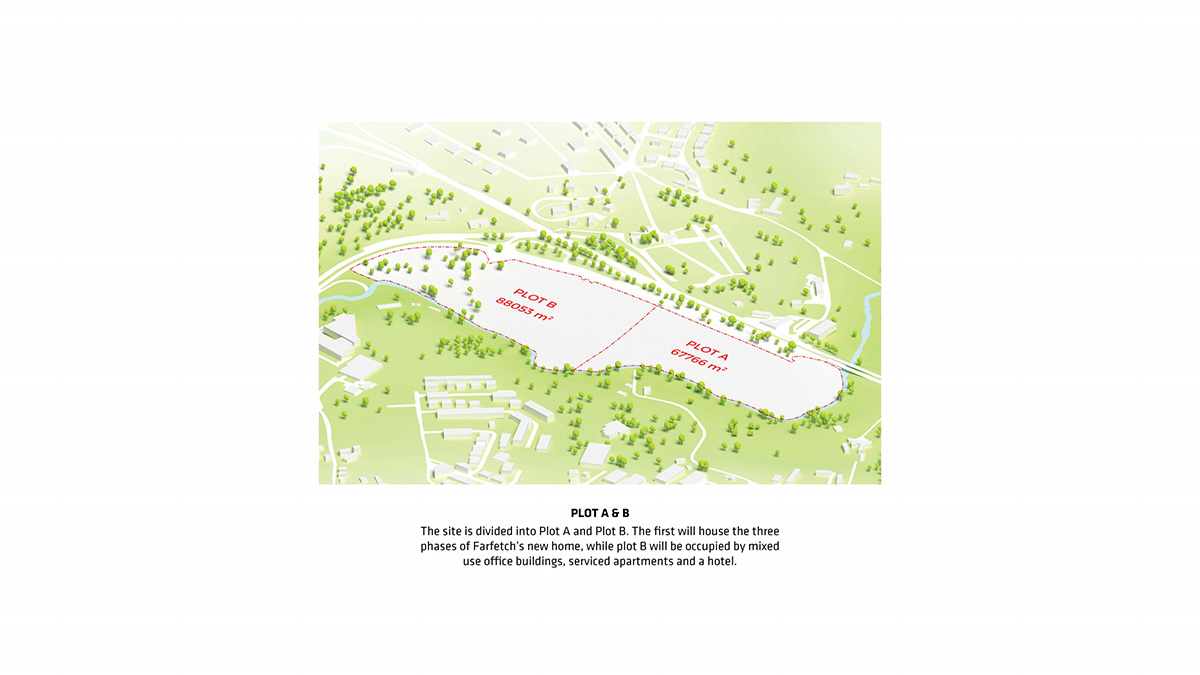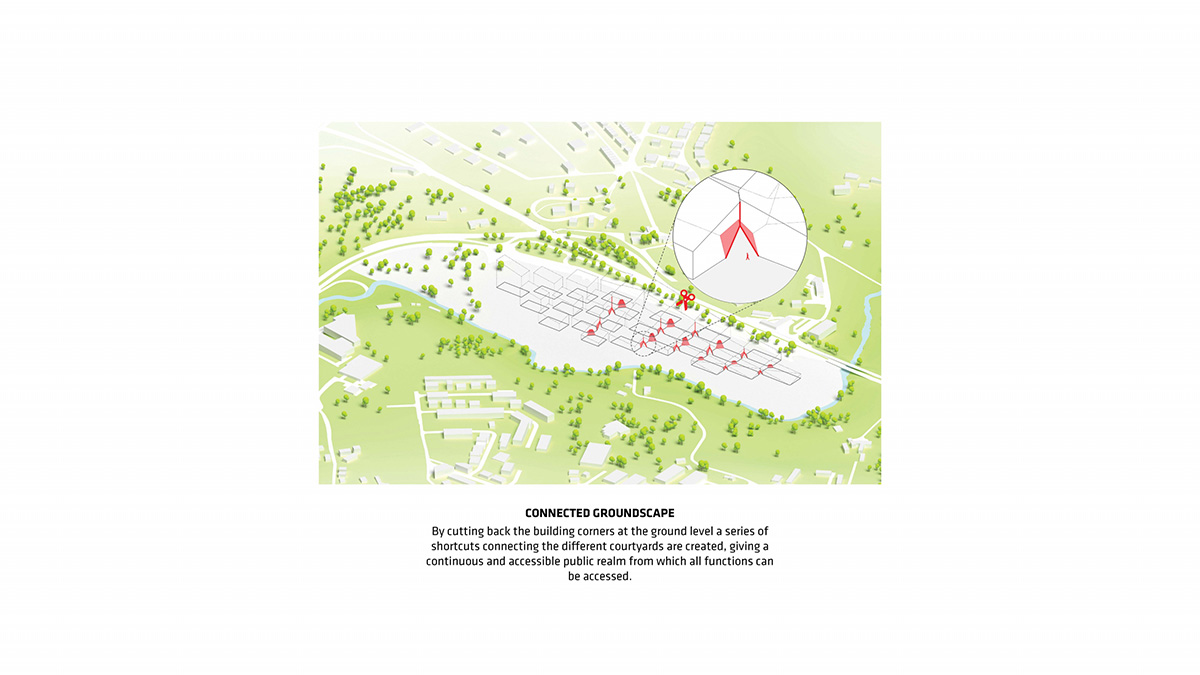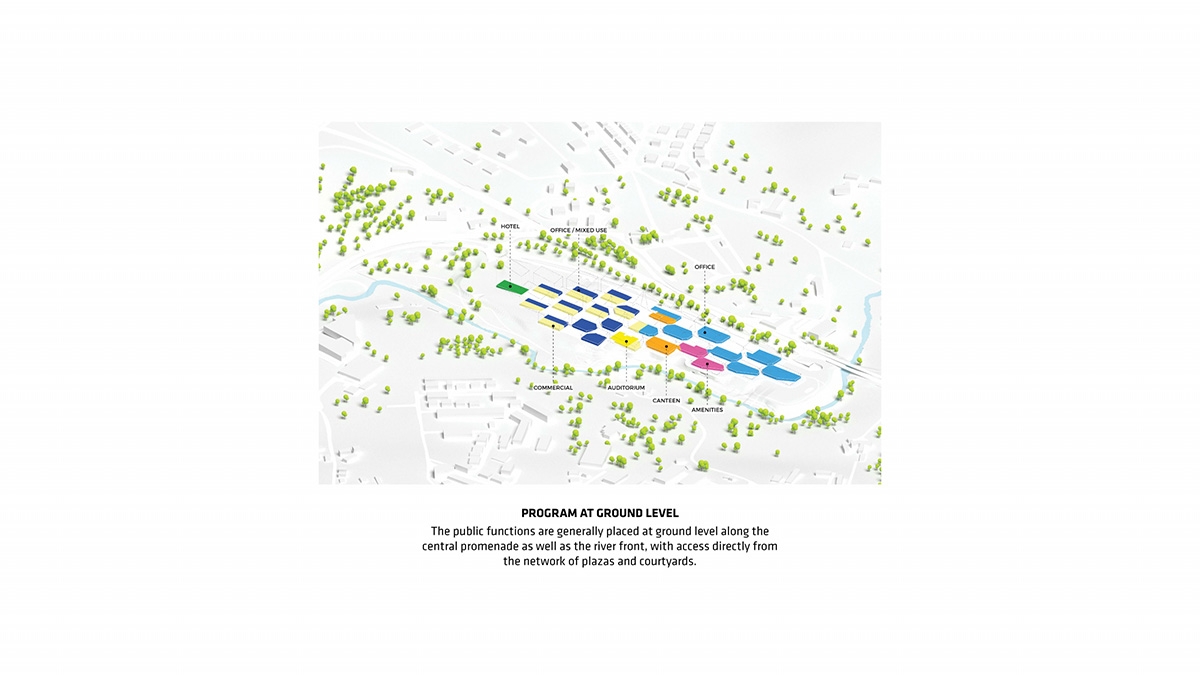 Project facts
Name: Fuse Valley
Size: 178.000 m2
Location: Porto, Portugal
Client: Farfetch and Castro Group
Project type: Design Development
Partner-in-Charge: Bjarke Ingels, João Albuquerque
Project Leader: Hanna Johansson
Project Manager: Natacha Fernandes Da Ponte Viveiros
Project Architect: Mireia Sala Font
Team: Angel Barreno, Alberto Gonzalez-Garces, Geoffrey Eberly, Gonzalo Castro, Gonzalo Coronado, Jakub Fratczak, Javier Mora, Mathieu Michel, Matthew Reger,  Paula Madrid, Stefani Fachini,Tristany Serra, Wei Lesley, Alvaro Villanueva, Ariadna Mejias, Elena Ceribelli, Gabriella Luppi, Gabriela Dal Seco, Giulia Orlando, Lena Mariella von Buren, Miquel Benedito, Raphaël Logan
Collaborators: OODA (Executive Architect - Competition), Ventura & Partners Arquitectos (Executive Architect), Dimscale (Cost Management), Quadrante (Engineering and Sustainability Design), PROAP Arquitectura Paisagista (Landscape Design), FILAMENTO (Lighting Design), PACIFICA (Signage & Wayfinding Design), LIMSEN (BIM Manager), FEUP/IC (BIM Manager), VHM (Allotment architect), AMBISITUS (Environmental study), ENGIMIND (Traffic consultant), CORE (Project Management), CASTRO RED (Project Management), AFA (Engineering Plot B), NdBIM (Bim Manager Plot B).
All images © Lucian R, courtesy of BIG – Bjarke Ingels Group
All drawings © BIG
Video by BUCHAREST.STUDIO.
> via BIG