Villa Icaria House features bridge-like volumes focusing on permeability on a hilly terrain of Spain
A rural house, named Villa Icaria House, composed of bridge-like volumes is nestled on a hilly terrain in Sacedón, Spain.
Designed by Spanish architecture studio Arquitectura al descubierto, the 450-square-metre house is comprised of six volumes that are connected with pathways and two internal courtyards.
The villa, made of earth-toned materials such as local stone and smooth concrete finish, recalls the utopian proposal of Étienne Cabet and seeks to establish a new relationship between country and city.
It is aimed to create a meeting place, an opportunity to once again fill the rural environment with contemporary urban activities.
The studio wanted to intertwine the volumes with nature on the banks of the Tagus. Referencing to rural architecture at site, the villa's solids and cavities are merged in this double quality.
The architects used "the stone material, the rural organicism and the shadow, give way to the glass, the light and the synchronic space."
"The floor of the building unfolds two hugs, who comes and who lives, creating a small town articulated around two courtyards-squares," said Arquitectura al descubierto.
These volumes create alternate interior spaces of two types: those that are crossed by the landscape and those that are sheltered inside the stone volumes, capturing visual fragments.
The firm implemented local construction techniques for the entire construction by using local materials since the firm found it an essential factor.
The team preferred raw finishes on the exterior such as the exposed concrete vaults, the rustic plastering of the interior walls and the polished concrete floors connecting with the logic of the rural.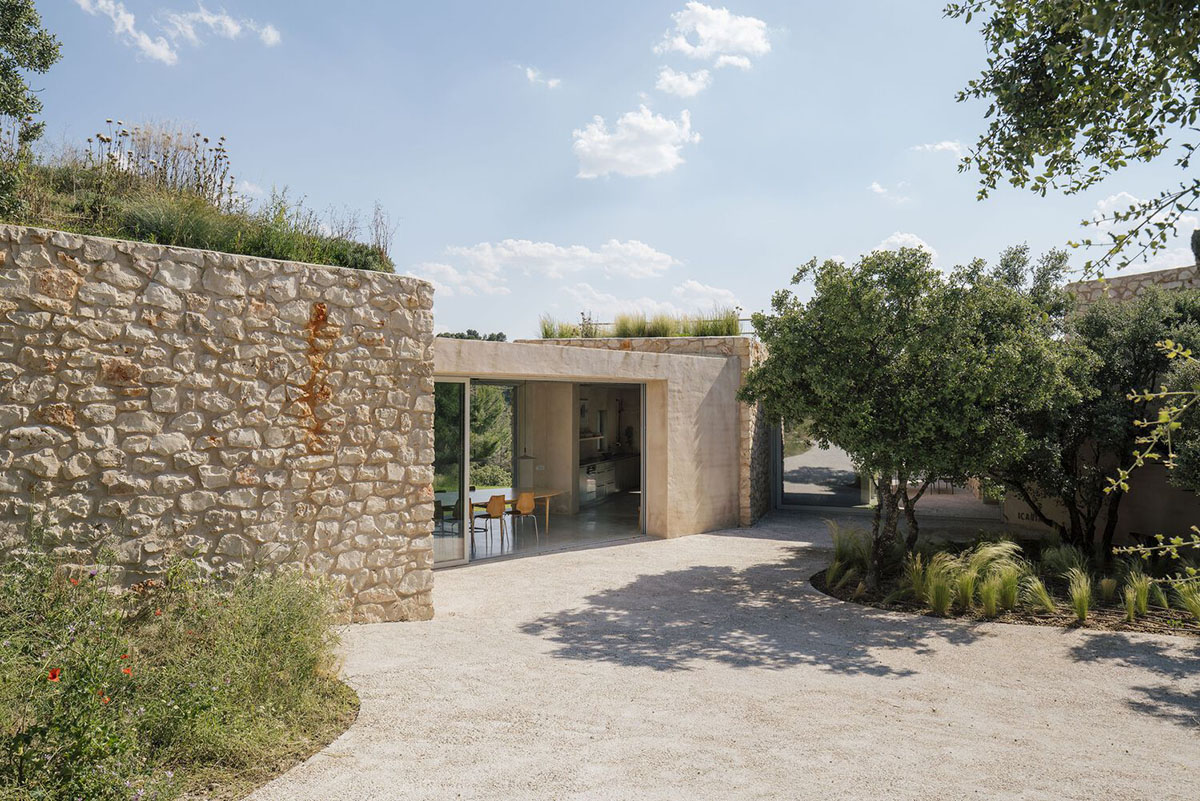 While connecting volumes with bridge-like structures, "permeability" was the key design component, for this reason, spatial continuity and intimacy follow one another.
"The house aims, in short, to offer an alternative to the city, but linked to it; a place of return to the origins, creating a refuge where to develop the hyper-connected technological activity of the 21st century," the studio added.
"The project includes different intentions -search for the best views of the river, conservation of existing trees, sustainability, self-sufficiency- to configure a whole with meaning."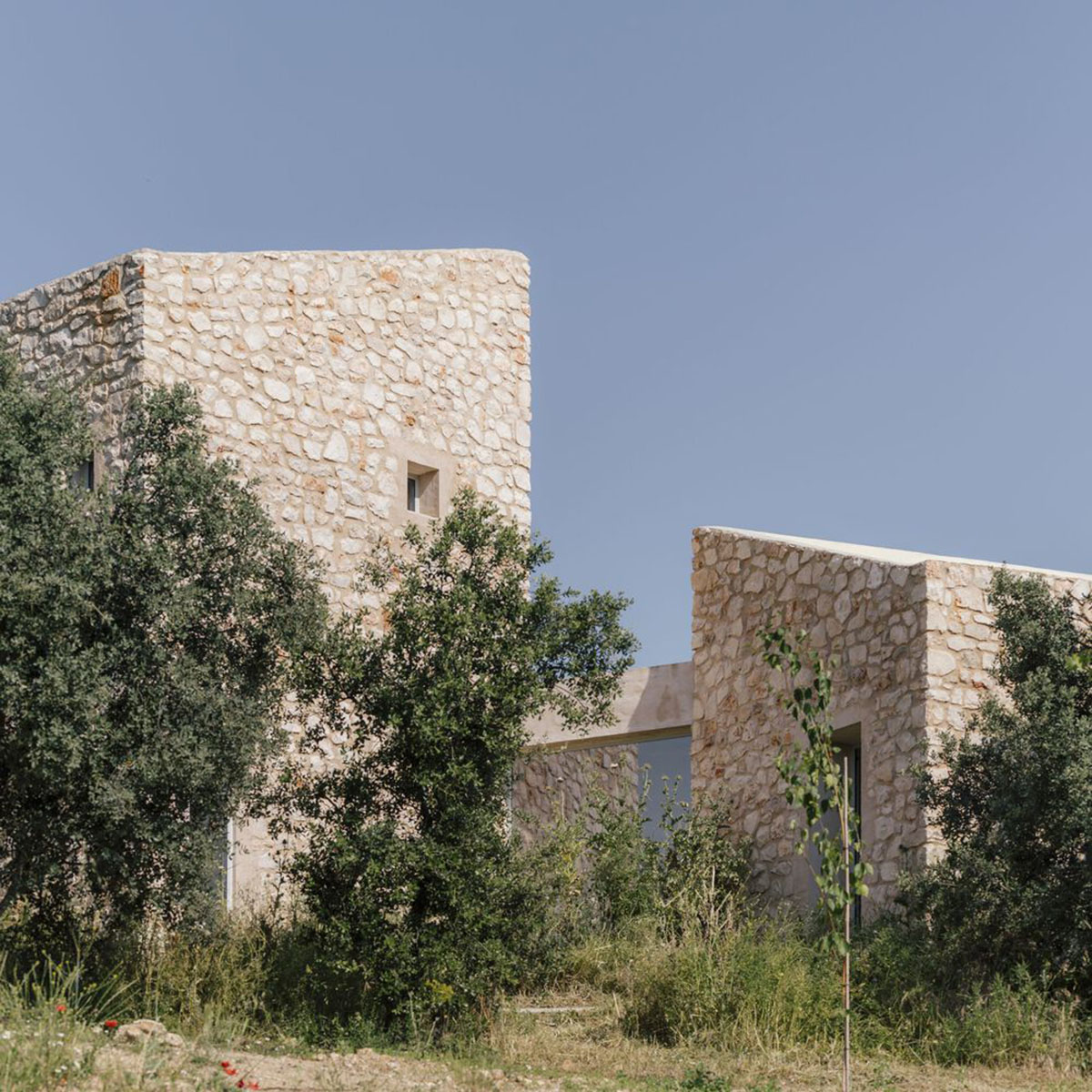 Interiors are opened up towards nature and the façades of the volumes are placed to catch the mesmerizing views to the nature. The furnishing in the interiors is kept as simple as possible.
Sketch
Site plan
Plan - semi basement
Plan - ground floor
Plan - upper floor
Section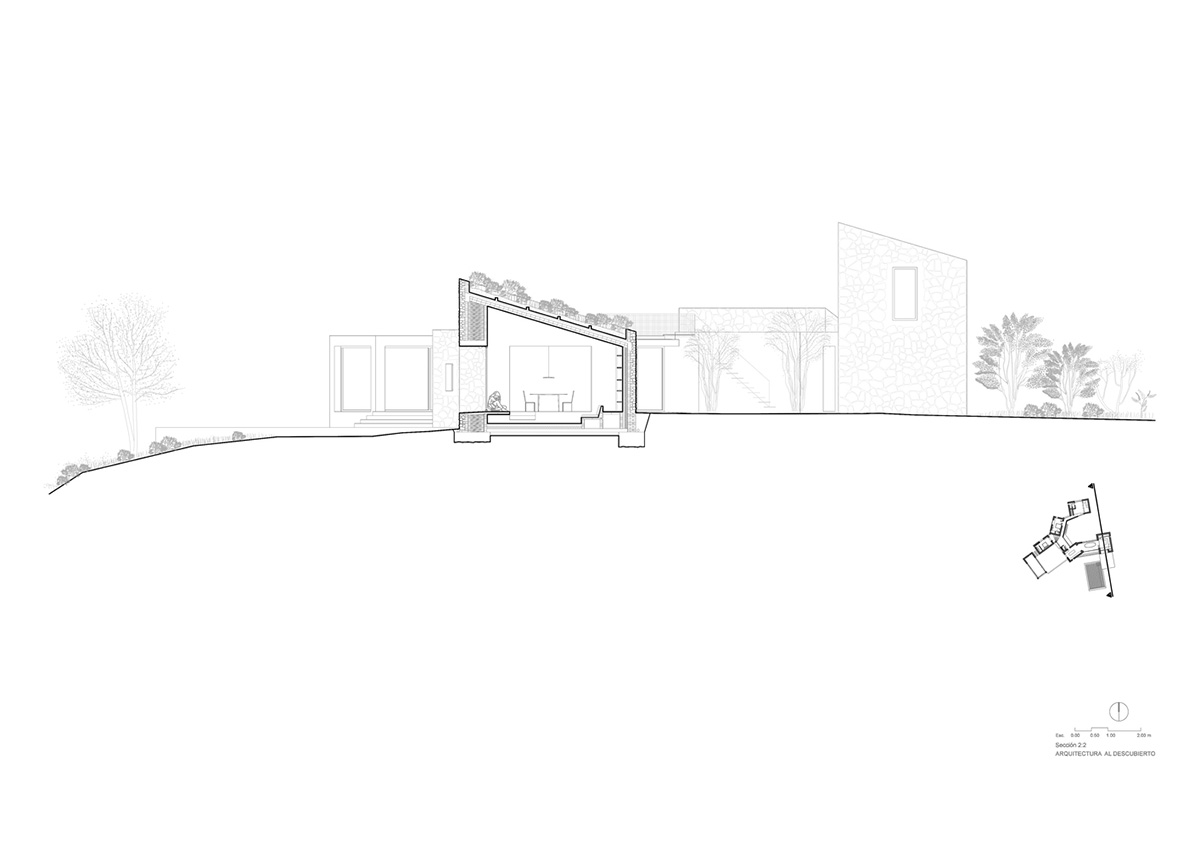 Section
Section
Project facts
Project name: Villa Icaria House
Architects: Arquitectura al descubierto
Location: Sacedón, Spain.
Size: 450m2
Date: 2020
All images © Imagen Subliminal
All drawings © Arquitectura al descubierto