International Conference On Blurred Boundaries: In Search Of An Identity between September 24-26
The Satish Misal Educational Foundation's Brick School of Architecture in Pune will hold an international conference, titled International Conference On Blurred Boundaries: In Search Of An Identity, between September 24-26, 2021.
Identity is often perceived as an intangible set of associations wrapped around the historical memory of the built environment. However, with the transformative nature of any place, do notions of Identity metamorphose with time? Or, are they constant with renewed meanings and perceptions in the evolving context?
The amalgamation of historically diverse cultures and regions in the present globalised world has resulted in the cross-cultural synthesis of identities to produce asynchronous and interdependent global consciousness. Although boundaries have blurred, environmental psychologists argue that, now, more than ever, people crave a sense of belonging stemming from cultural identity. An Identity that promotes the feeling of ownership which translates into individual and collective responsibility. Identity, therefore, is one of the essential goals for a sustainable and resilient future of cities.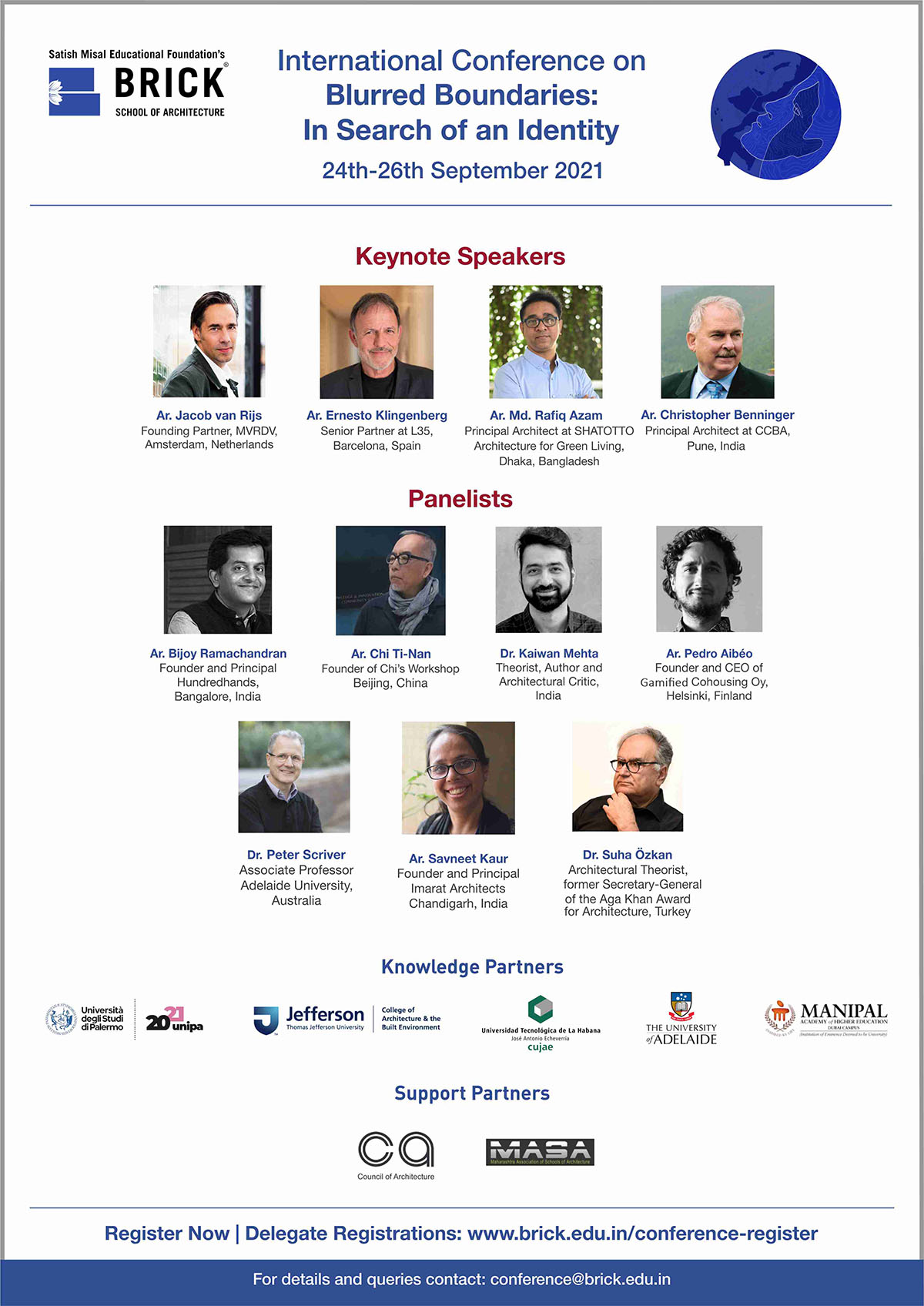 With capital-driven development, we see an impatient production of space that negates the holistic processes of space conception. The resultant is, an increasing conflict between man and nature; struggles around economic divide and social exclusion of the marginalized; negligence of historical narratives and a consequent altering of perceptions around cultural identity.
The notion of identity has become ambiguous, more fragile and on the verge of complete omission. There is therefore an urgent need for recalibrating existing design processes to evolve more resilient solutions that value and include evolving identities.
This conference would be an opportunity to trigger a discourse and provide a platform for the investigation of robust processes of exploration 'in search of an identity' in the urban and architectural realm within a global consciousness.
Keynote speakers include Jacob van Rijs, Founding Partner, MVRDV, Amsterdam, Netherlands, Ar.Ernesto Klingenberg, Senior Partner at L35, Barcelona, Spain, Ar. Md.Rafiq Azam, Principal Architect at SHATOTTO architecture for green living, Dhaka, Bangladesh, Ar. Christopher Benninger, Principal Architect at CCBA, Pune, India.
Panelists include Prof. Suha Ozkan, Founder and President of WAC, Ar. Savneet Kaur, Ar. Bijoy Ramachandran, Ar. Peter Scriver, Ar. Chi Ti-Nan, Ar. Pedro Aibeo.
All images courtesy of SMEF's Brick School of Architecture, Pune.