We Co-Design partaking in the revamp of the public spaces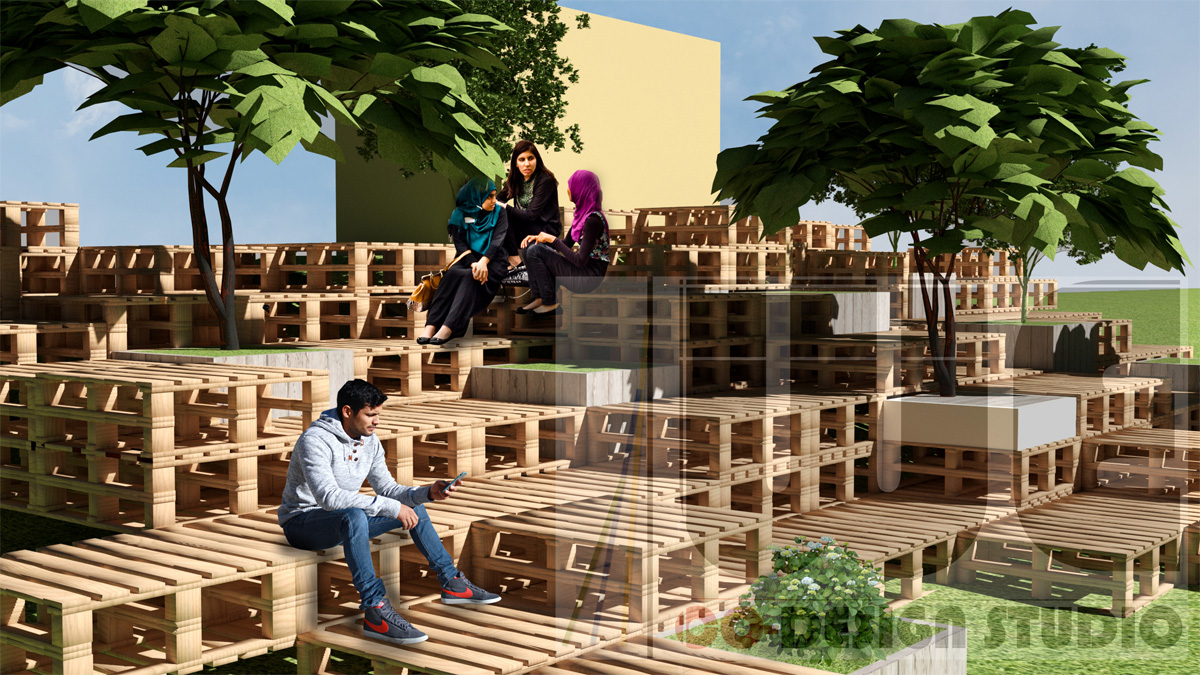 From Egypt, callings for bread, liberty and social justice have echoes worldwide in the 2011 revolution emerging within other revolutions in the Arab World under the so-called Arab Spring. A public revolution has taken place in one of the central public spaces in Cairo, the Tahrir Square or the emancipation square.
The debate about the public sphere has been oriented by Habermas (1997:105): "By 'public sphere' we mean first of all a realm of our social life in which such a thing as public opinion can be formed. However, speaking of sustainable development, the development of the public spaces is key to the refurbishment of the city for the public spaces are the ones with open access to all citizens. Architectural and urban design studios like Gehl are human-centered taking into account the social dimension when designing public spaces as an essential intrinsic component to quality of life in cities and overall well being.
According to the World Bank, many cities around the world are missing out on significant development opportunities by ignoring, under-leveraging, or mismanaging public spaces. There have been contestations around the appropriate and acceptable acts and activities that can take place in the public sphere particularly in developing countries, hence, the public are the politics.
Unfortunately, in most cases, the provision of public space in these cities is always neglected or poorly integrated in planning legislations. Thus, in many cases community people make their own ways of social interaction that gives public space a new definition (Aktar, 2017).
On the other side, a privatization wave has pervaded to fulfill the gap in the public services provision including well-designed spaces and provide a better quality of life for certain social strata. Gated communities and edge cities are new forms of space production and consumption that promote changes in the character of public space and citizens' participation in public life (Irazabal, 2006).
WE, Co-Design, an urban design studio has been founded to tackle the development in public spaces issues and reintroduce novel activities including the current circumstances of the Covid outbreak through the participatory planning approach.
Below, you can read the full transcript of the interview with Tayseer Khairy, founder and project director of WE Co-design studio.
---
Asmaa Kamaly: Could you an overview of WE Co-design studio, and what is trying to envision through its activities?
Tayseer Khairy: WE Co-Design Studio (A Startup since 2016 that was initiated to address the participatory planning and design approach in development). In the studio, we are committed to a vision pertinent to human and habitat development through a participatory planning approach as a means for bringing up compromised community-oriented resolutions. We are working towards creating a community with a sense of purpose where everyone has a role to contribute. The studio aims to create adaptive ways for contributing to certain issues through the harnessing of cooperative design. "WE" stands for the agglomerative social force of action where there is no top-down hierarchical structure instead "we" is for togetherness and acquaintanceship. Since knowledge is never enough for one person, we rely heavily on cooperative knowledge in carrying out all of our work. We are working by the belief of the vital need towards cooperation and creation of a platform between the academia and the practice throughout training and building capacities programs to tackle real projects to widen the scope of design studios to enhance our built environment in real.
Asmaa Kamaly: Could you give us a brief on your founding team members and their background?
Tayseer Khairy: Our team is mainly formed based upon the project scope. Usually, it's a multidisciplinary team, and the core team is as follows; myself, Tayseer Khairy (founder& project director) with experience in urban research, education, and training –currently a Ph.D. researcher in the Urban Design and regional planning department, Ain-Shams University since 2019 and IUSD master graduate from Stuttgart University, Heba Elbatreek- a lawyer by profession but has a wide range of experience with the non-profit project, outreach advisor, Dr.Eman Shenouda - our community sociology consultant, Arch. Marham Keleg - the Workshop Facilitator, in addition to pursuing her Ph.D. on green spaces and sustainable cities, Eng Ahmed Elnefiely as - executive advisor, Eng. Mostafa Mohamdy- woodwork advisor, also there are Project Associates including Nada Samir, Mennatallah Hamdy, Fatema Alzahraa, & Shaza Tawakol.
In the designed projects, we had contributions and support from various stakeholders who are interested in our projects including the community of Sakan Misr residents and children in addition to the local authority under the leadership of Eng. Salwa Baioumy, head of the third settlement, in New Cairo. and the community development sector such as the Project Mentors, Ms.Fatma Younis, and Ms. Dalia Sherif from "surpass for training and development". Not to mention the invaluable support coming from many friends who got attached to the project idea and profoundly contributed to the project by either their time or advice.
Asmaa Kamaly: What is the preliminary concentration in your projects and what derived you to work in this domain?
Tayseer Khairy: Effective participation is our utmost goal in all our projects and is my passion on a personal level. I believe sustainable development can't be maintained if there is someone left behind and therefore it is crucial to underline the role of education and public awareness in the sustainable development processes for social inclusion. The current theme we are working on is "towards vibrant places". By places, we mean redundant and neglected public spaces. Public urban spaces are the sphere where social patterns take place. Social behavior patterns for the users are the key focus when designing public spaces. Given the current circumstances for the Covid outbreak, a lot has been reflected on the urban spaces' interactions. New and novel urban uses and activities for the urban spaces have emerged. This has been a result of the lock down and movement restrictions perceived in precautionary measures that promote physical distancing. In Egypt, people started more to congregate in the leftover urban pockets during curfew hours. In other cases, people relied on nearby places to meet up offering new uses and social interactions' activities in socially unfamiliar urban and architectural spaces such as rooftops in residential buildings.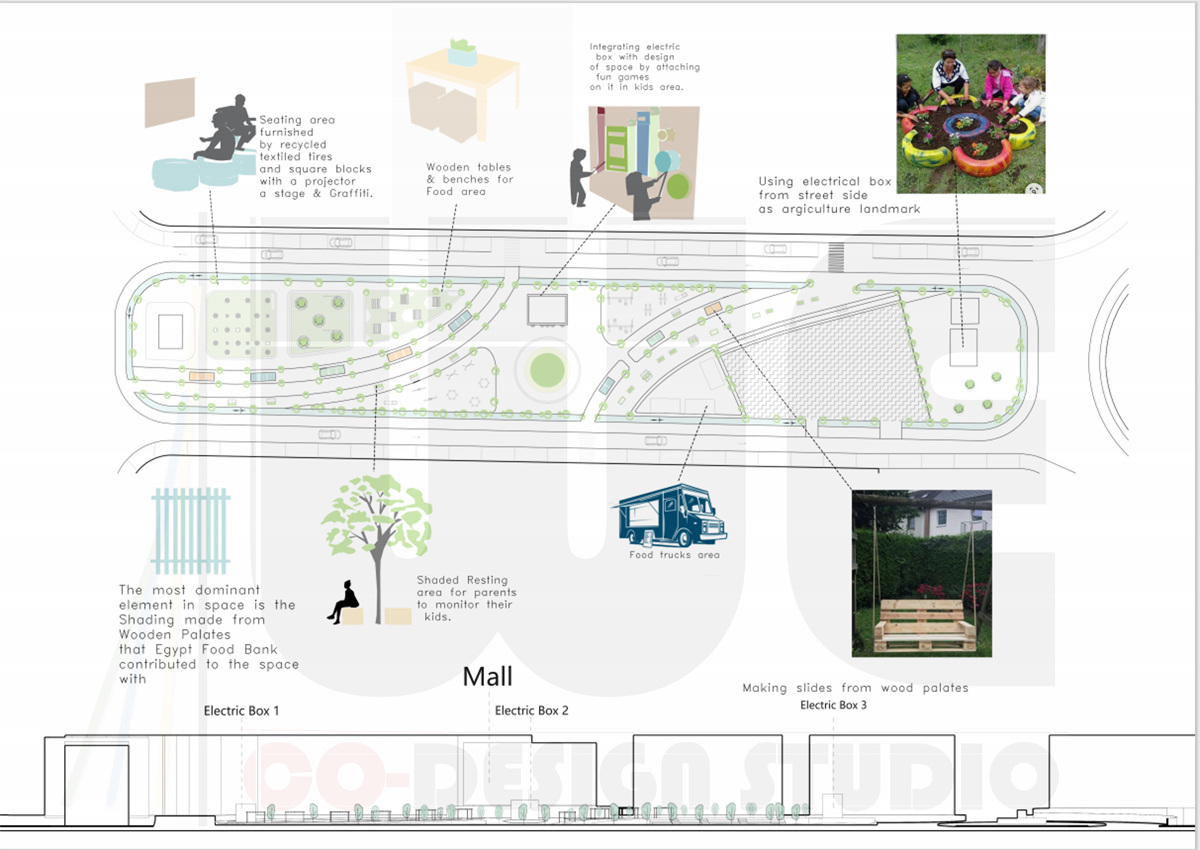 Asmaa Kamaly: Why is it crucial to have well-designed public spaces?
Tayseer Khairy: The emergence of well-designed public spaces in the city is integral in the people's right to the city. Well-designed public spaces are considered to be a catalyst for urban and social development. The quality of public spaces echoes the quality of life in the city for the public spaces provide prospects to cultivate social relations and lessen probable social conflicts. Social conflicts usually take place where there are no social interactions between the social groups or familiarization with the others, that's when hostility takes in. In rural areas, people are likely to congregate and gather which helps in fostering a sense of community, belonging, and ownership there. After the 2011 revolution, some cultural and artistic events have taken place in public urban squares like El-Fan Midan.
Asmaa Kamaly: Could you elaborate more on the projects you work on to revitalize public spaces in Egypt?
Tayseer Khairy: We have projects related to invigorating the leftover public spaces through urban and architectural designs. The project, we are currently working on, is mainly focusing on activating and upgrading one of the leftover spaces by designing innovative architectural street furniture from recycling materials that happen to be in the public space. The project aims to raise awareness towards saving resources and redesigning the public spaces for the people's needs where social activities can take place. Also, there is a social infrastructure project within the placemaking project where participatory plans are being carried out.
Asmaa Kamaly: You have mentioned that the aim to rejuvenate public spaces is to foster social interactions. Could you indicate what kind of social activities you aspired to have in your project?
Tayseer Khairy: When planning projects for "Towards Vibrant Public Spaces", we conducted a mapping for community beneficiaries including existing NGOs and local initiatives in the area. One of the purposes of the project is to design a meeting space for all where residents representing various social groups can interact, by providing a space for togetherness and belonging. These spaces can be for families to enjoy green areas and children to play. Also, there could be activities for NGOs, NPOs, and initiatives to better enhance capacity-building activities with society. One of those social development organizations is the bank El Team or the Egyptian Food Bank. The designed space is central in the area which happens to be on a crossroad for different social groups from residents or even newcomers heading to the area for either Egyptian Food Bank or a commercial center there called the Mega Mall. Our urban interventions will involve planting trees to cascade shades in a hot summer and street furniture like seats and pergolas for people to sit and rest in the space. We believe that "Towards vibrant places" is an ongoing process of development of the space that would continue to evolve and develop by the users and the community members themselves and it wouldn't stop by phasing out. As such, the residents are expected to contribute to the process by taking care of the irrigation of the trees, in addition, to keep the space clean while using it so that the space will gradually turn into a vibrant space for all.
Asmaa Kamaly: From your point of view, how could the participatory planning approach be efficiently steered?
Tayseer Khairy: The key to the participatory planning approach, as agreed upon, is including all the stakeholders and beneficiaries to guarantee the sustainability of a project. This entails the participation of governmental authorities, academia, practitioners, civil society organizations, international organizations, inhabitants, or future consumers, in addition to the possible inclusion of others as determined by the project studies. Our planning and initiation for this project were based on the idea of linking academia to the on-ground urban context. This link was made possible through the design studio of architecture and urban design department at the German university in Cairo which approved to investigate the on-ground urban case study. This has impacted the project fruitfully in terms of building student's experiences and skills when planning and designing urban projects responding to real urban issues. The project was considered to be an opportunity for more cooperation to take place between the local authority and educational institutes towards supporting research projects to be further examined and implemented.
Asmaa Kamaly: What are the challenges you had to face implementing your projects?
Tayseer Khairy: The main issue related to the participatory planning approach is the amount of coordination in the whole process needed when having multiple stakeholders involved in a project. Additionally, there is the issue of centralization of various entities that in many cases a delay in making decisions or conflict with each other. Additionally, there is a lack of Transparency from national plans that would, in many cases, stop further progressive efforts towards real development.
Asmaa Kamaly: What are your prospects for the studio?
Tayseer Khairy: In short, we are continuing under the same theme "Towards Vibrant places" to look into other urban phenomena in our cities. "Markets as places" is the second phase of a research project. Following the same approach to open design studio at university to host a summer school where students from different architecture, urban design, and urban planning departments would be able to work together for two weeks to get to know and investigate the informal markets in Egyptian cities and look into opportunities and challenges of making those markets vibrant places. This project is also adopting a case study approach in which students will deal with a real area where the government is trying to formalize an informal market. Luckily we have cooperated with the smart future city lab at Ain Shams University and will be hosted at the engineering university, architecture department. We are working towards stretching our scope to reach out to further projects.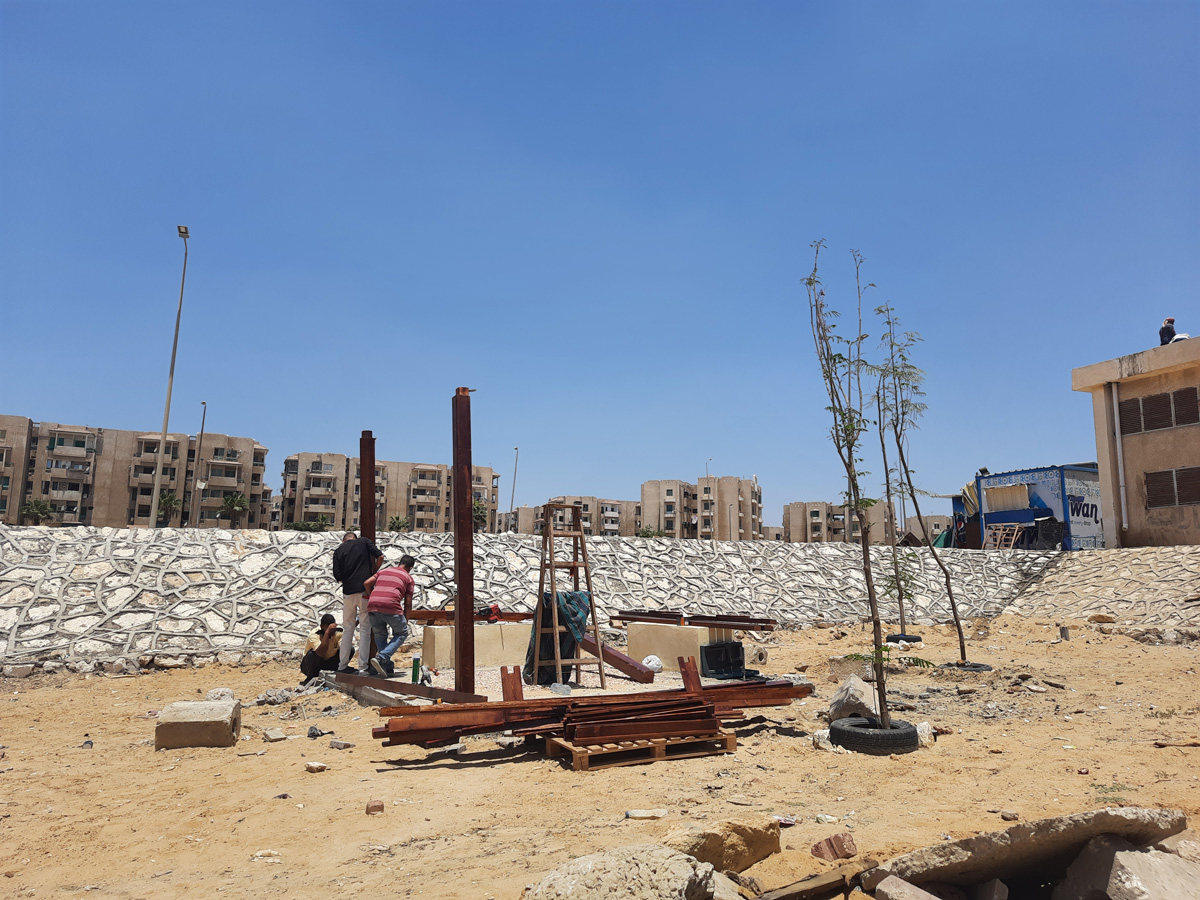 Asmaa Kamaly: How could social enterprises be empowered from your point of view?
Tayseer Khairy: Social enterprises in architecture and urbanism have had extensive and valuable on-ground experience in conducting participatory planning projects and social change in Egypt. Authorities including governmental entities could integrate these experiences and knowledge in planning and implementing other projects by facilitating legalities, supporting funding opportunities, and limiting bureaucracy.
Input via We, Co-Design Studio.
Images courtesy We, Co-Design Studio.