KCAP releases revised plans of Sewoon Grounds project in Seoul, South Korea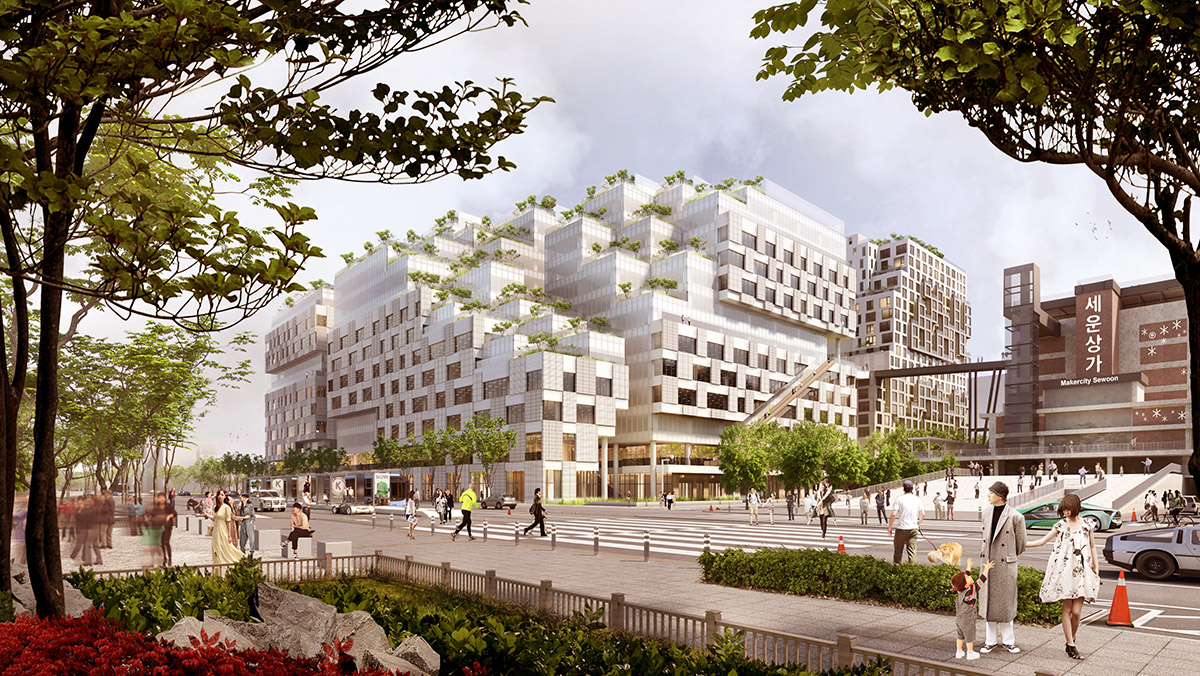 Rotterdam, Zurich and Shanghai-based firm KCAP Architects&Planners has released revised plans for the Sewoon Grounds project in Seoul, South Korea.
Called Sewoon Grounds, the 312,500-square-metre building comprises the mixed-use program, including office, studio apartments, retail, parking, cultural preservation exhibition, and urban industry.
The redevelopment plans aim to transform Sewoon District #4 into a sustainable mixed-use area including offices, retail, and urban industry.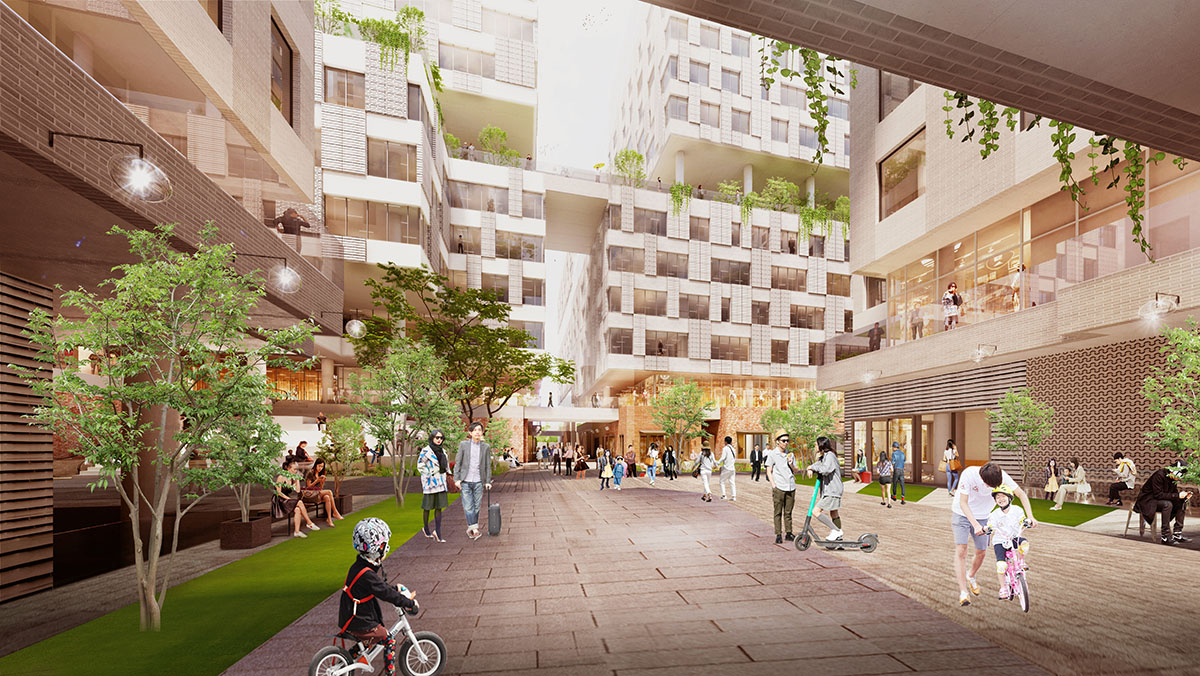 Central square
KCAP's design scheme proposes a dynamic multi-dimensional district that enhances the urban quality and provides harmonic integration with the unique historical context.
KCAP won the international design competition in 2017 to transform Seoul's 'Sewoon District #4', an area characterised by its cultural heritage, urban industry and the existing historical structures.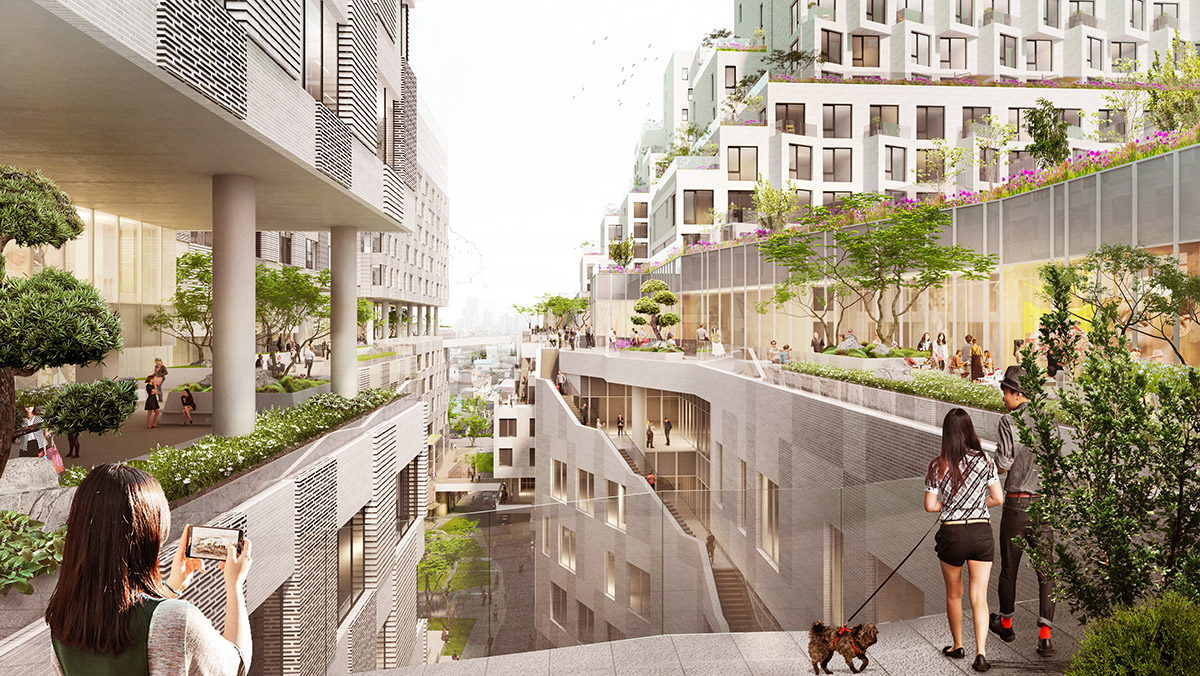 Flying ground
The design proposal focusses on a subtle integration of the building mass in the surrounding context, good modulation, and accessibility to create flexible combinations of units. It fosters an active connection to the preexistence.
So it responds to future demands and generates lasting place-making by preserving historic traces and buildings, like the neighbouring mixed-use complex 'Sewoon Sangga (Arcade)', a testimonial of modern Korean architecture by prominent architect Kim Swoo-geun, built between 1967-1972.
Jongmyo
For the project, KCAP implemented design strategies by re-creating the 'Seoul grid' deriving from the existing street network as a unique urban development method. The exhibition of the archaeological relics on the basement level, a 'Memory Ground', promotes the harmonious coexistence of the past and present.
To encourage a sustainable development of the urban industrial eco-system, supporting anchor activities are located throughout the building. The 'Breeding Ground' acts as a platform for urban industry and is connected to the Sewoon Arcade. The 'Flying Ground' at the top adds new program and will be related to the Sewoon Roof.
The 'Sky Ground' is added by the design update to secure the public view towards Jongmyo UNESCO heritage.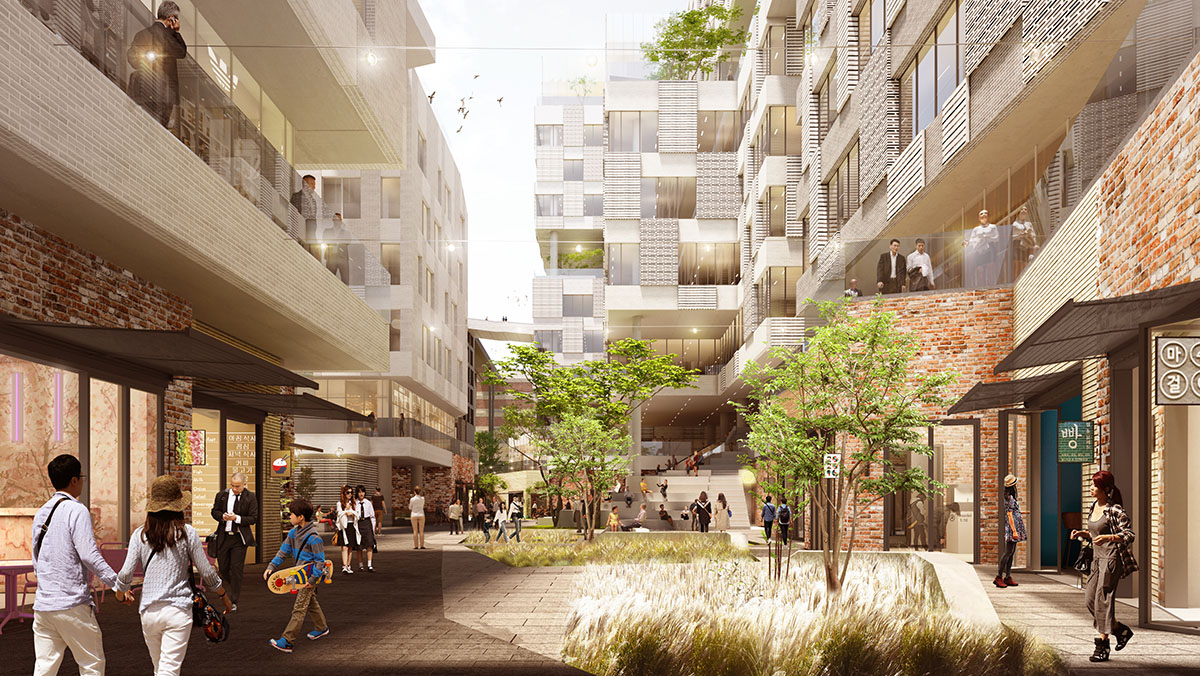 Old alley
"With Sewoon Grounds, we want to balance between history and future, urban industry and urban creative lives, massing and open spaces," said Hyeri Park, associate partner at KCAP.
"Our design update could evolve a demolition-based redevelopment into regeneration and urban transformation with the least social risk at the same time to make a maximum public benefit."
"This porous publicly stacked urban agglomeration, which we call 'Sewoon Grounds' will create new urban quality based on the old and existing values. We designed an urban grounds, not just a building," Park added.
Top view
Referencing to the connection of the multi-layered urban context in a three-dimensional way, the proposal offers a dynamic multi-dimensional city vertically accumulated in space and time.
As the architects explain, Sewoon Grounds project respects the cultural heritage while developing a people-oriented urban design that stimulates urban craftsmanship in Seoul.
View south facade to face Cheonggye River and Namsan Mountain.
Site picture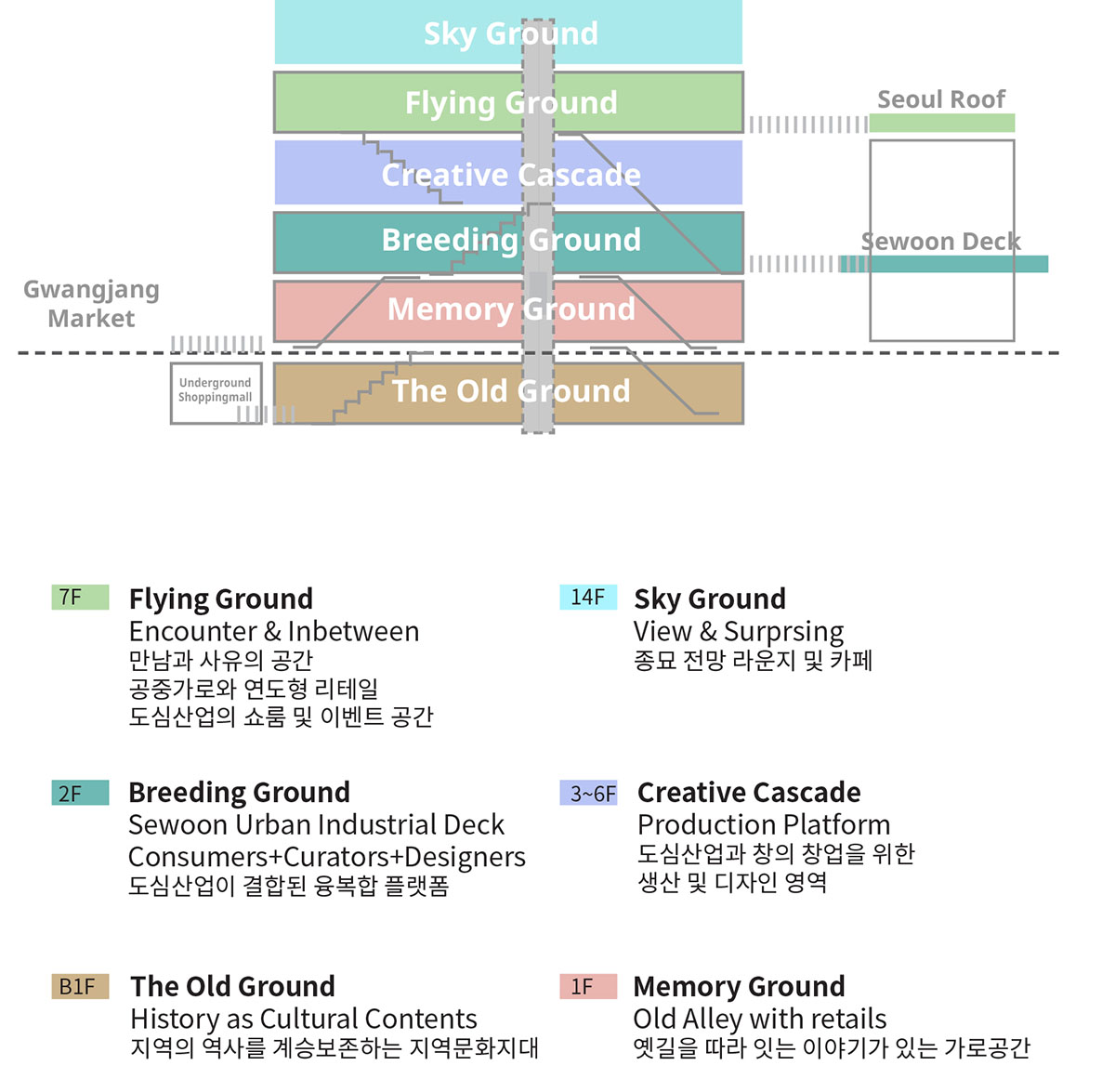 4D city
Design process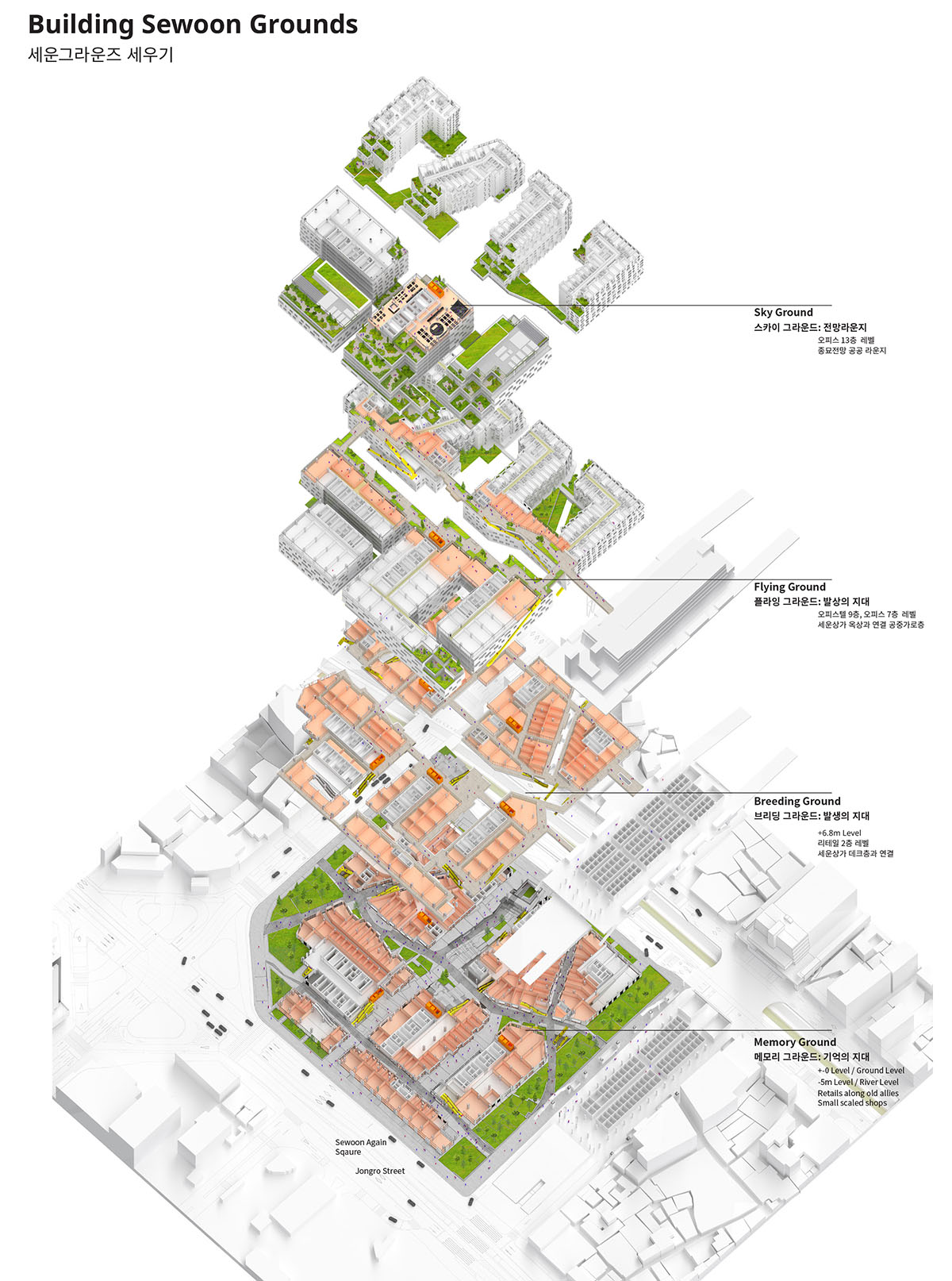 Exploding diagrams
Facades&Materials-North
Facades&Materials-South
KCAP is also designing OKU House in fashion district Amsterdam-West, the Netherlands.
KCAP Architects&Planners is a leading international design firm specialised in architecture, urbanism and landscape design. The firm was founded in 1989 by Kees Christiaanse and is led today by eight partners: Xavier Blaringhem, Kees Christiaanse, Jeroen Dirckx, Ruurd Gietema, Anouk Kuitenbrouwer, Irma van Oort, Ute Schneider and Edward Schuurmans.
Project facts
Client: Seoul Housing & Communities corporation
Architect: KCAP
Program: 312.500 m2 mixed program including office, studio apartments, retail, parking, cultural preservation exhibition, and urban industry
Local Partner Architects: Architects Office S.A.A.I. (Competition phase 2017); Junglim Architecture, Architects Office S.A.A.I. (1st phase schematic design 2018), Heerim Architects & Planners, SPACE Group (2nd phase schematic design 2021)
All renderings © KCAP
> via KCAP