Studio Zhu-Pei creates organic landscape beneath the roof of this performing arts center in China
An organic landscape, made of wooden strips, wraps this undulating of this performing arts center in the city of Dali, Yunnan, China.
Designed by Chinese architecture practice Studio Zhu-Pei, the 8,155-square-metre center creates a giant roof in which its partly sunken surfaces become an organic landscape beneath the roof.
West elevation
Named Yangliping Performing Arts Center, the new center is situated between the Cang mountain chain which reaches 4,000 meters in height, and the 40 kilometers long Lake Erhai, the city of Dali, a significant stop of the ancient tea and horse road, is an important tourism destination. The old town has largely preserved and still has some remains of the historic city wall with gate towers.
For the center, Zhu Pei, Principal of Studio Zhu-Pei, take inspiration from the powerful surrounding landscape to create this reverse mountainous roof to design an interactive space for users. As visitors walk under this roof, they can feel surrounded by mountains.
Cang mountain, Old town, the Performing Arts Center
To create this project, Zhu Pei searched for landscape related references to solve the architectonic challenges for the Performing Arts Center.
Offering a flowing indoor-outdoor experience, the program of the center consists of a theatre, an amphitheater, a rehearsal hall, multi-functions hall, a café, a teahouse, a restaurant, design shop, an office, loading and back of house function.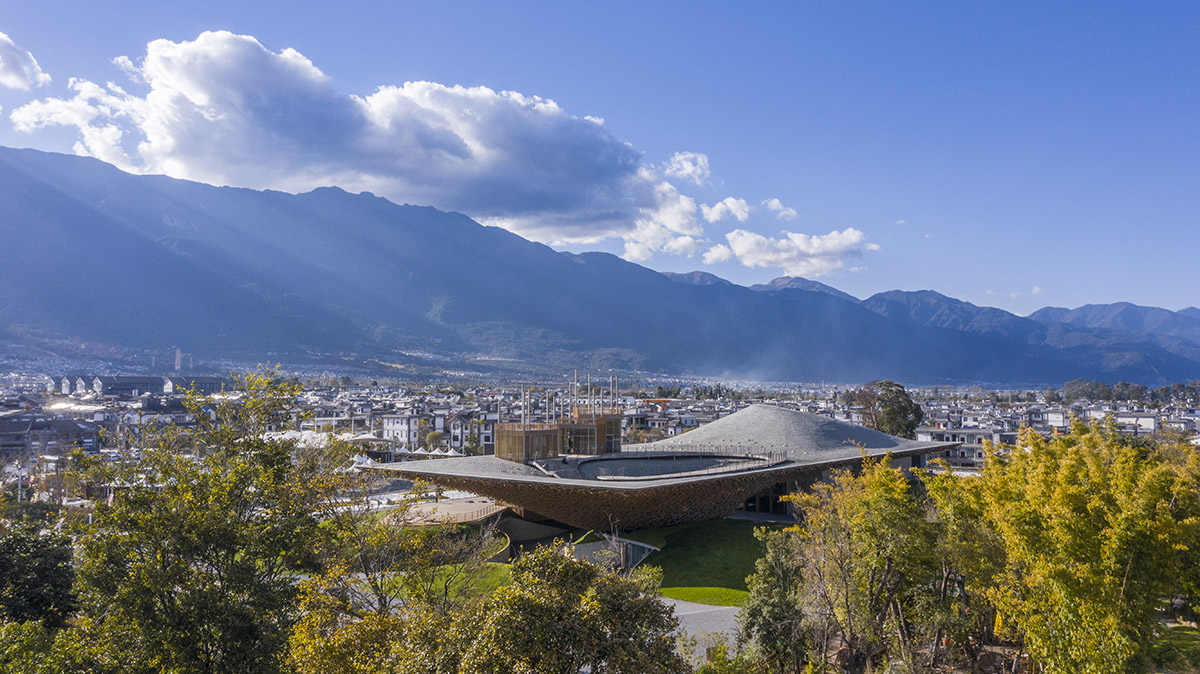 Southeast aerial view
A giant cantilevered rectangular roof spans across a built landscape of free-flowing indoor and outdoor spaces, some of which can be combined as an interacting spatial system.
"As with mountains and valleys, the strong shape of the roof reflects the more organic landscape below and points to the old Chinese principle of yin and yang, where two opposites form a whole together," said Zhu Pei, Principal of Studio Zhu-Pei.
View from outdoor theater to roof ramp
The center is formally expressed as organic=shaped hills, while the partly sunken spaces become like a natural garden landscape, promising a high experiential quality, which continues into the public theatre inside.
All programmatic functions are placed within separate volumes, while cafe and private tea house are protruded from the roof overlooking the surrounding landscape.
Teahouse
On the ground floor, visitors can visit performance area, outdoor platform, main entrance, outdoor square, rehearsal room, rest area and ticket office. Mechanical rooms, such as electrical room, air-conditioning plant room, fire pool, with locker room, stage lifting area, storage, kitchen and staff canteen are placed in the basement floor.
Aerial view
View from outdoor theater to roof ramp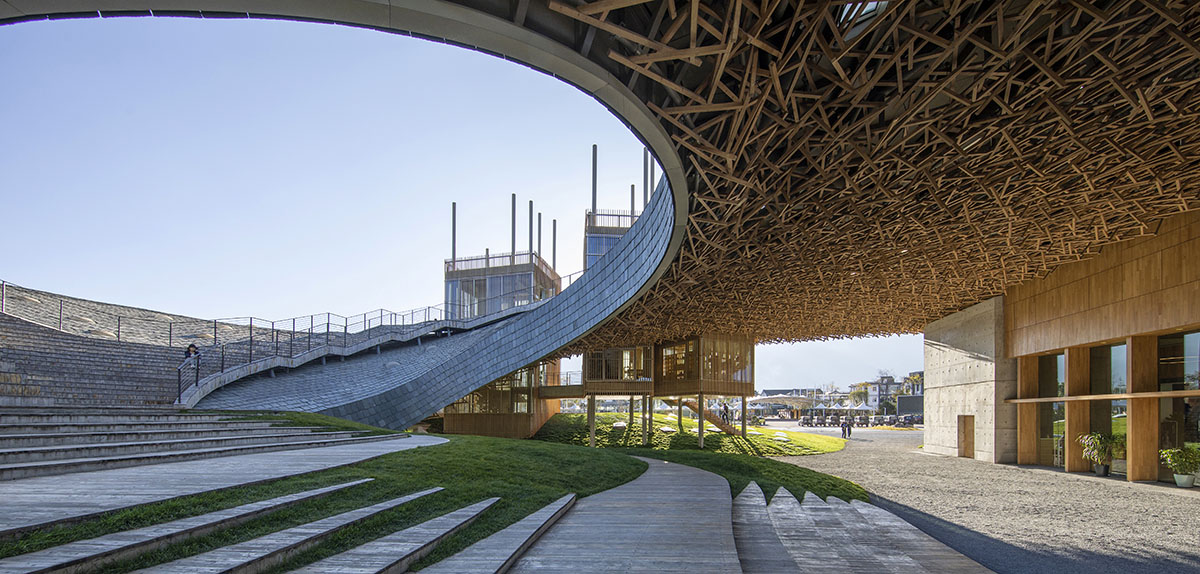 Outdoor theater and outdoor performance space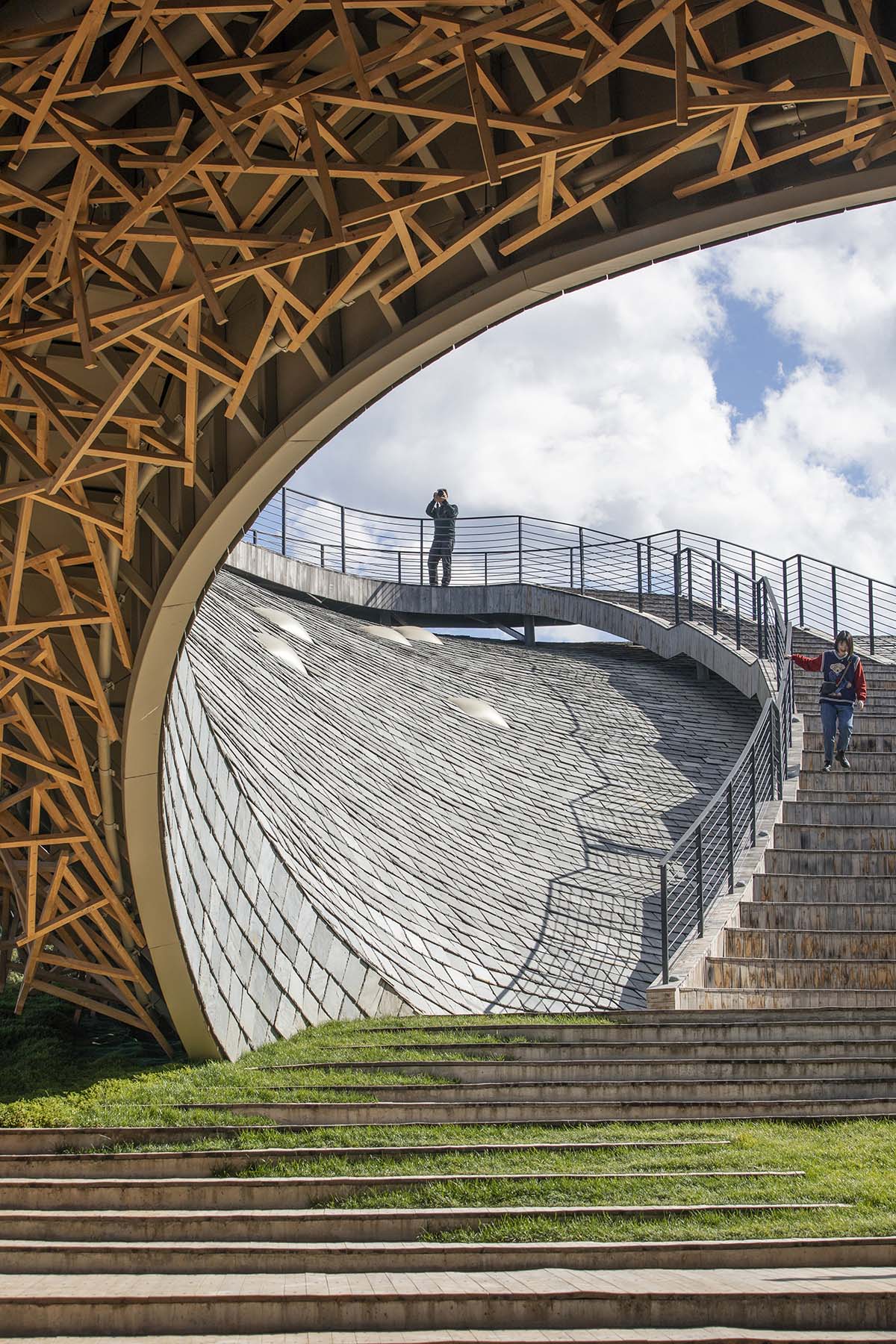 View from outdoor theater to roof ramp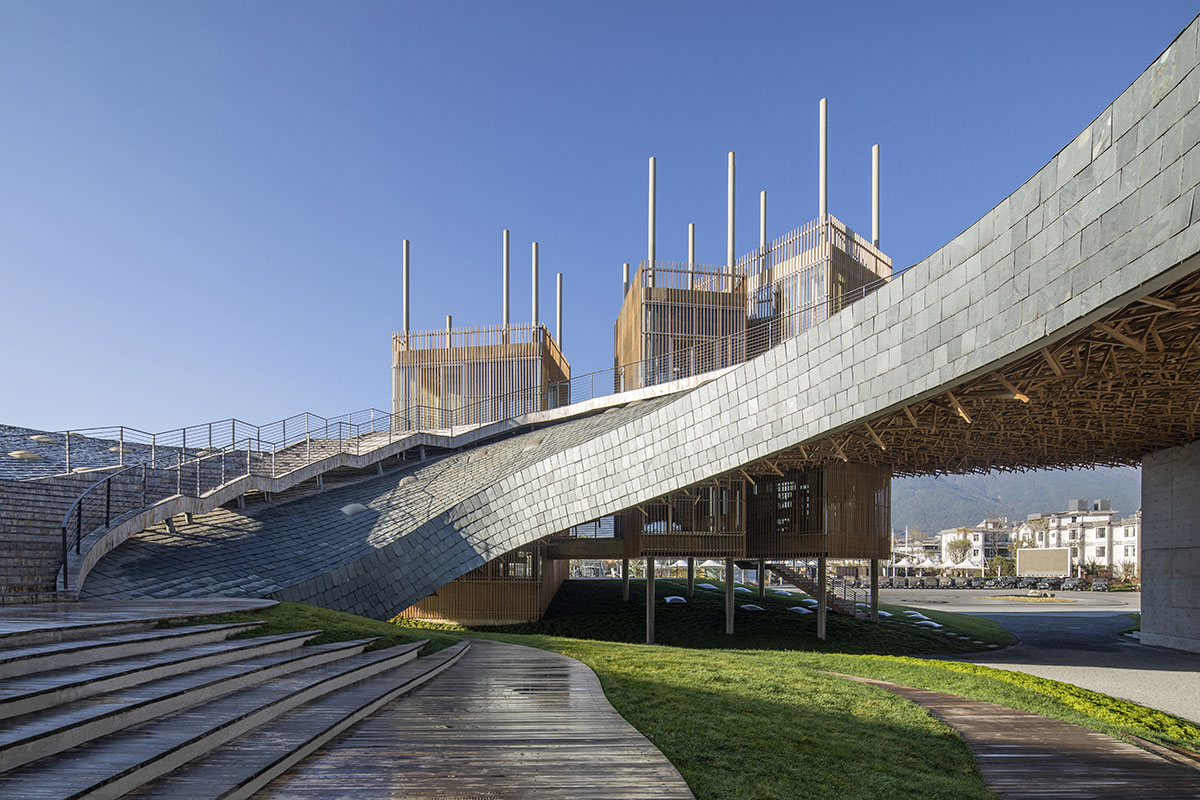 Teahouse and outdoor amphitheater
Roofscape and outdoor theater
Wooden roof and outdoor theater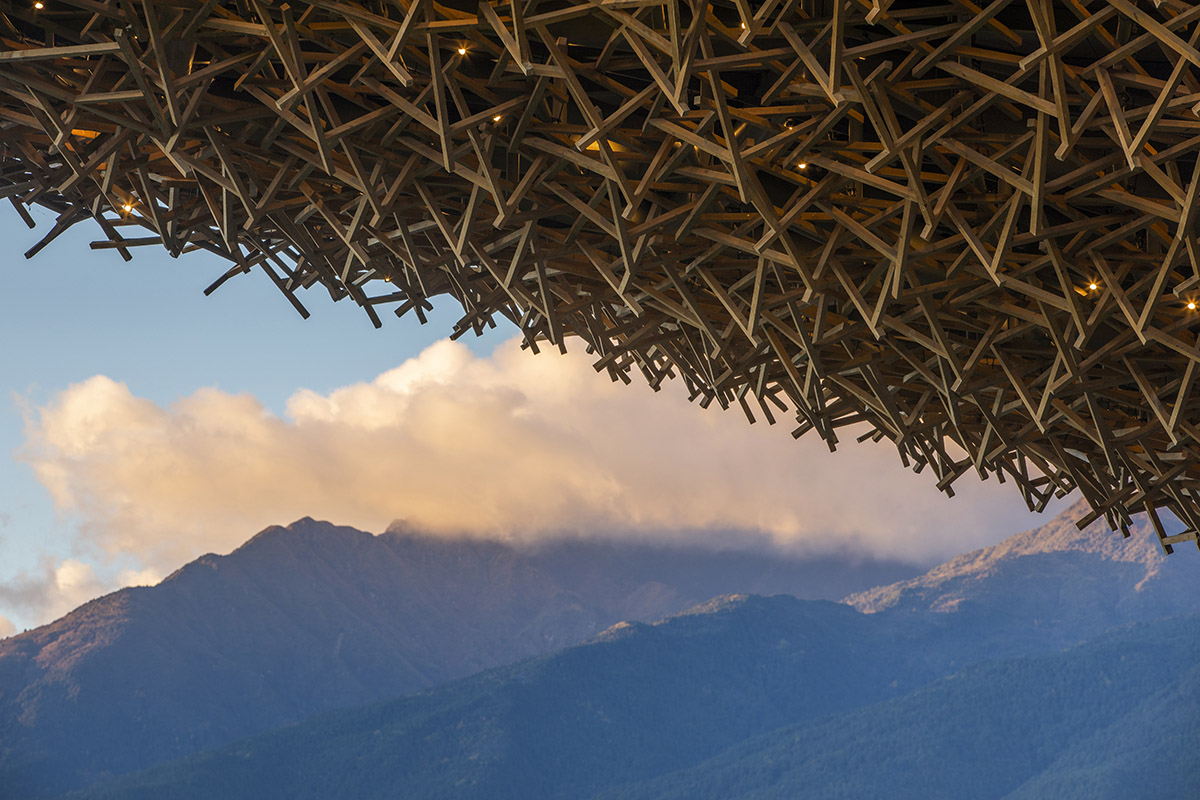 Wooden roof details
Roofscape
The Performing Arts Center at sunset
Lights lit up the theater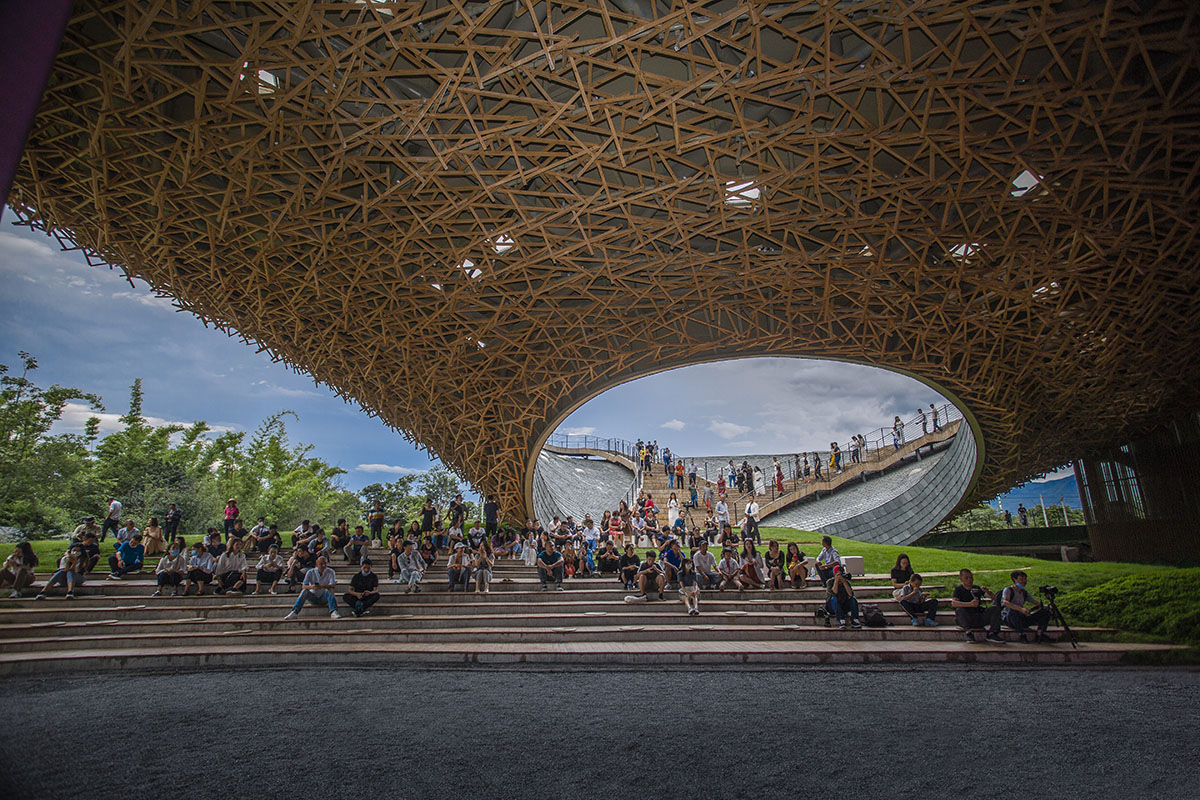 Outdoor theater. Image © Zhang Yao
Site plan
Roof plan
Ground floor plan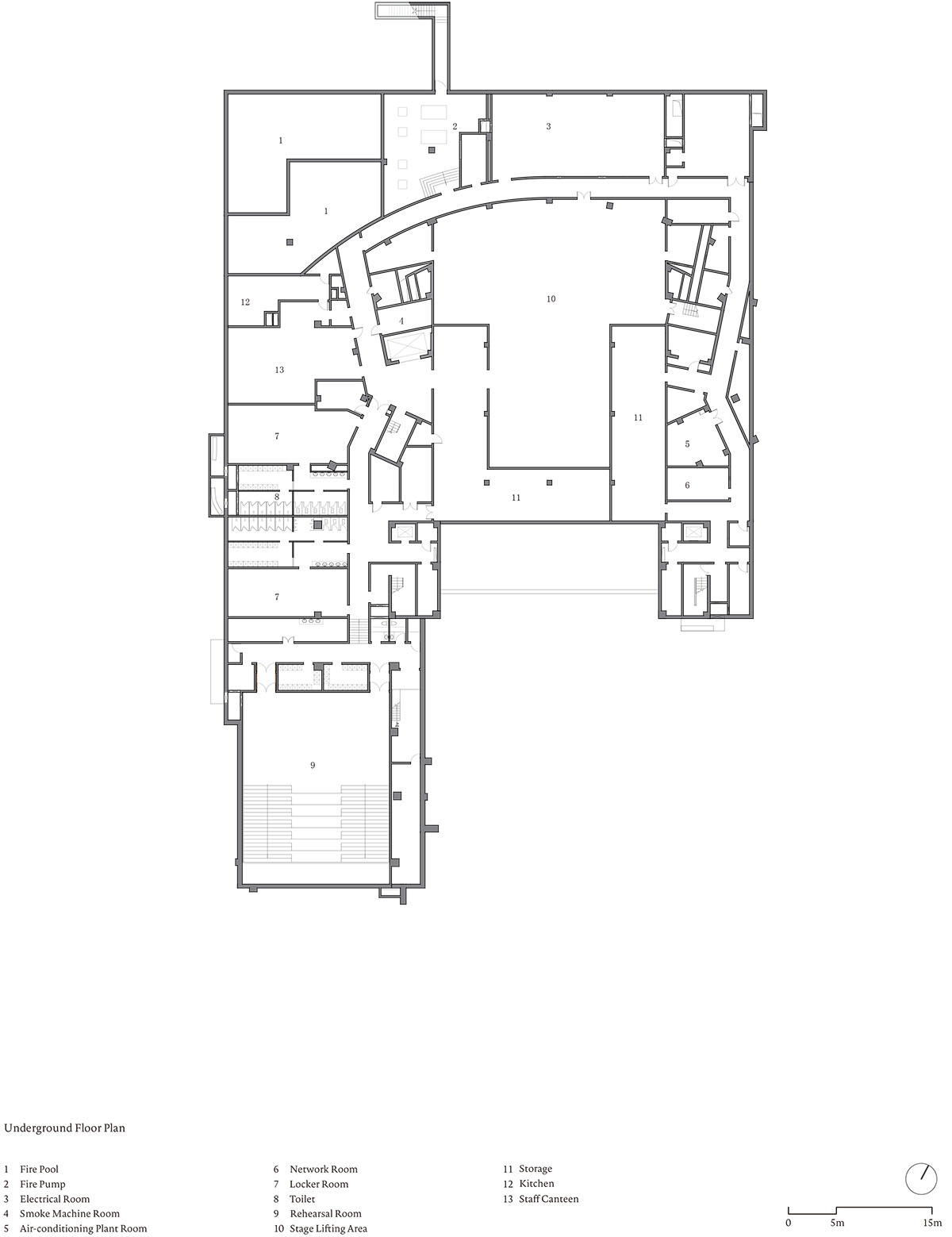 Underground floor plan
Sections
Section axonometric
Conceptual diagram of cave and nest
Conceptual diagram of YinYang
Zhu Pei's sketch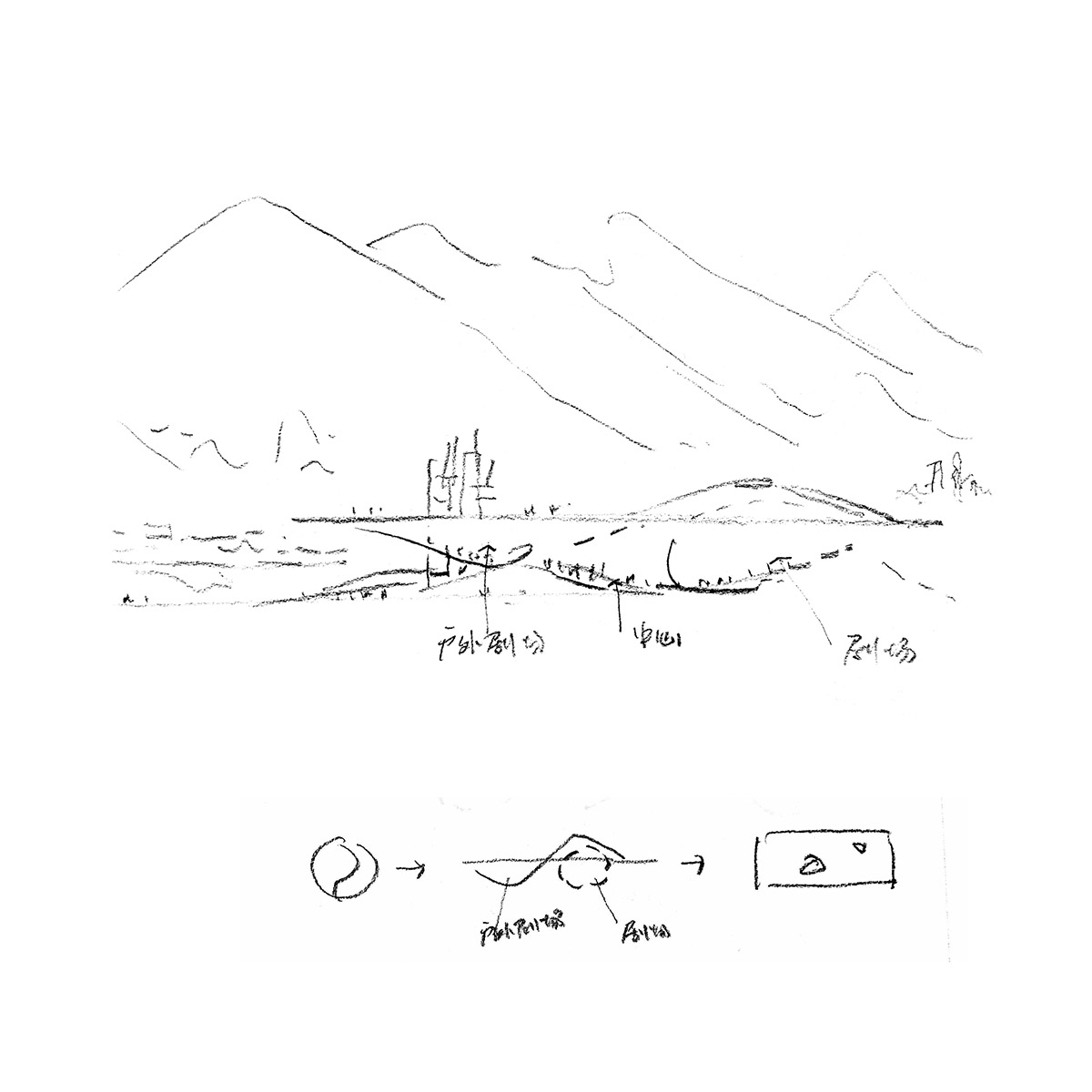 Zhu Pei's sketch
Study model
Yangliping Performing Arts Center was completed in 2020 and Studio Zhu-Pei was responsible architecture, interior and landscape design of the project.
Studio Zhu-Pei is led by Zhu Pei, one of the leading Chinese architects, and Pei received his Master's Degree in Architecture both from Tsinghua University and UC Berkeley. Zhu Pei founded Studio Zhu-Pei in Beijing in 2005.
Studio Zhu-Pei previously competed Jingdezhen Kiln Museum, made of giant vaults from recycled old kiln bricks, in Jiangxi, China, and Shou County Culture and Art Center in Anhui, China.
Project facts
Project name: Yangliping Performing Arts Center
Location: Dali, Yunnan, China
Completion Year: 2020
Area: 8,155sqm
Architecture, Interior and Landscape Design: Studio Zhu-Pei
Design Principal: Zhu Pei
Lead Designer: Edwin Lam, Shuhei Nakamura
Project in Charge: Virginia Melnyk
Design Team: You Changchen, Han Mo, He Fan, Liu Ling, Wu Zhigang, Gary Poon, Ke Jun, Wang Peng, Wang Zheng, Ding Xinyue, Feng Chaoying, Chen Yida, Han Yi, Lin Wendi, Du Yao
Consultants:
Theater: dUCKS scéno, Creative Solution Integration LTD.
Structure: Professor Fu Xueyi, Master of National Engineering Survey and Design
MEP: CCDI
Facade: Shenzhen Dadi Facade Technology CO., LTD.
Lighting: Ning Field Lighting Design CO., LTD.
Acoustic: China IPPR International Engineering CO., LTD.
Client: Dali Yang Liping Grand Theatre Co., LTD
Construction: The Third Construction CO., LTD. of YCIH
All images © Jin Weiqi unless otherwise stated.
All drawings © Studio Zhu-Pei
> via Studio Zhu-Pei