The Greater Accra Regional Hospital by Perkins+Will
Designed by the international firm Perkins+Will, this project is a major component of the urban fabric of North Ridge in Accra, Ghana. It is the result of the transformation of a small, simple hospital dating from the 1920s into a modern, expandable facility. It was a wood-frame building with 191 beds. As a result, the facility now stands on five levels with nearly 600 beds and more than 12 operating theatres to meet the country's growing need for quality health care.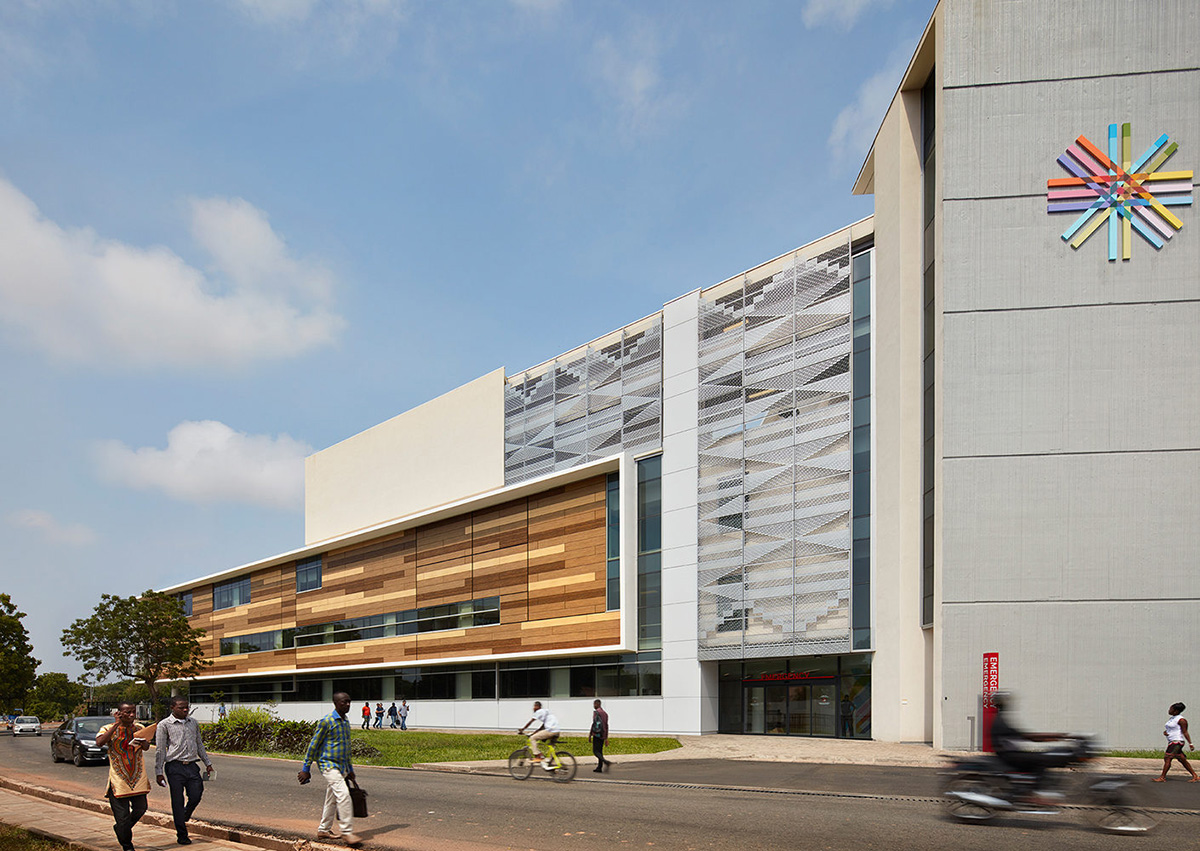 Beauty and cultural heritage © Image courtesy of Perkins+Will
The design team understood very well that this was a different context, with limited resources and technologies and high constraints. Lacking state-of-the-art technology, they exploited other means to give the project optimal resilience. The facility is designed to operate independently of technology, electricity and water supplied by the municipality.
Bright and colourful interior © Image courtesy of Perkins+Will
To achieve maximum efficiency and autonomy, the facility is designed to make the most of the resources offered by the site and its environment. Numerous ingenious systems have thus been implemented. Some of the most basic are the recovery, storage and use of rainwater, as well as the passive cooling of the various spaces. All areas that do not present high risk thus benefit from natural ventilation. Natural gas-powered generators provide backup energy in the event of a power failure. Water is also reused and solar heating is used to meet hot water needs. Besides, the choice of locally sourced, light-coloured exterior materials reduces solar gain while enhancing the cultural aspect. In this respect, the design of the facades was inspired by the Kente fabric, an icon of African heritage around the world. Concrete, wood and steel, the major materials used in the project are traditional Ghanaian building materials.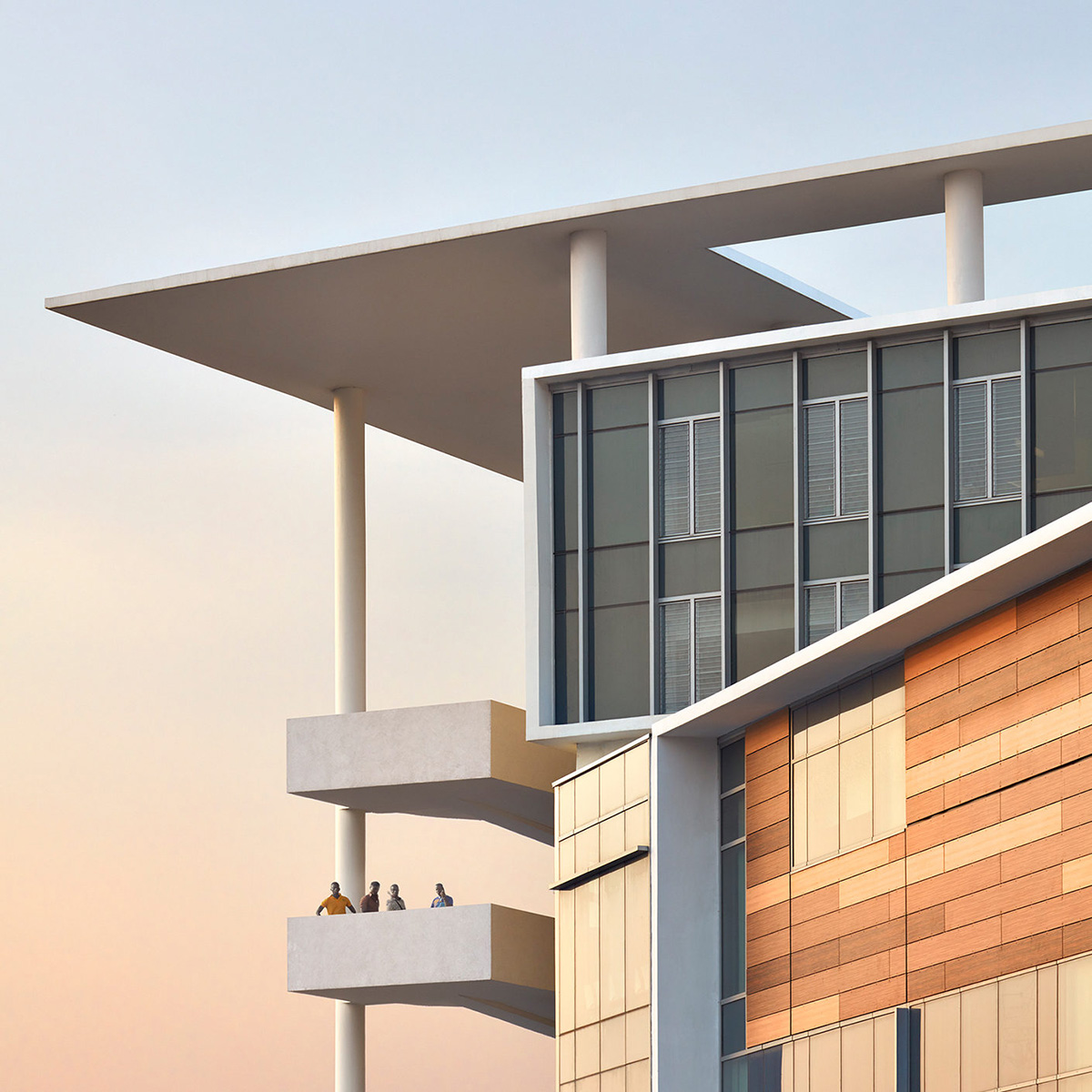 Outdoor spaces creating a link with nature. Image © Mark Herboth, courtesy of Perkins+Will
The project significantly improves the quality of life of both patients and their families, as well as that of medical, administrative and support staff through the way it meets their needs and expectations. Referring to the local architecture where circulation and gathering spaces have a cultural value, the designers attach great importance to these spaces. Besides, the facilities create links between Ghana and the global medical community. A radiologist at the Johns Hopkins Medical Center, for instance, can consult information from Ghana. As a result, the facility offers comfortable and pleasant spaces that enhance the experience for patients and caregivers.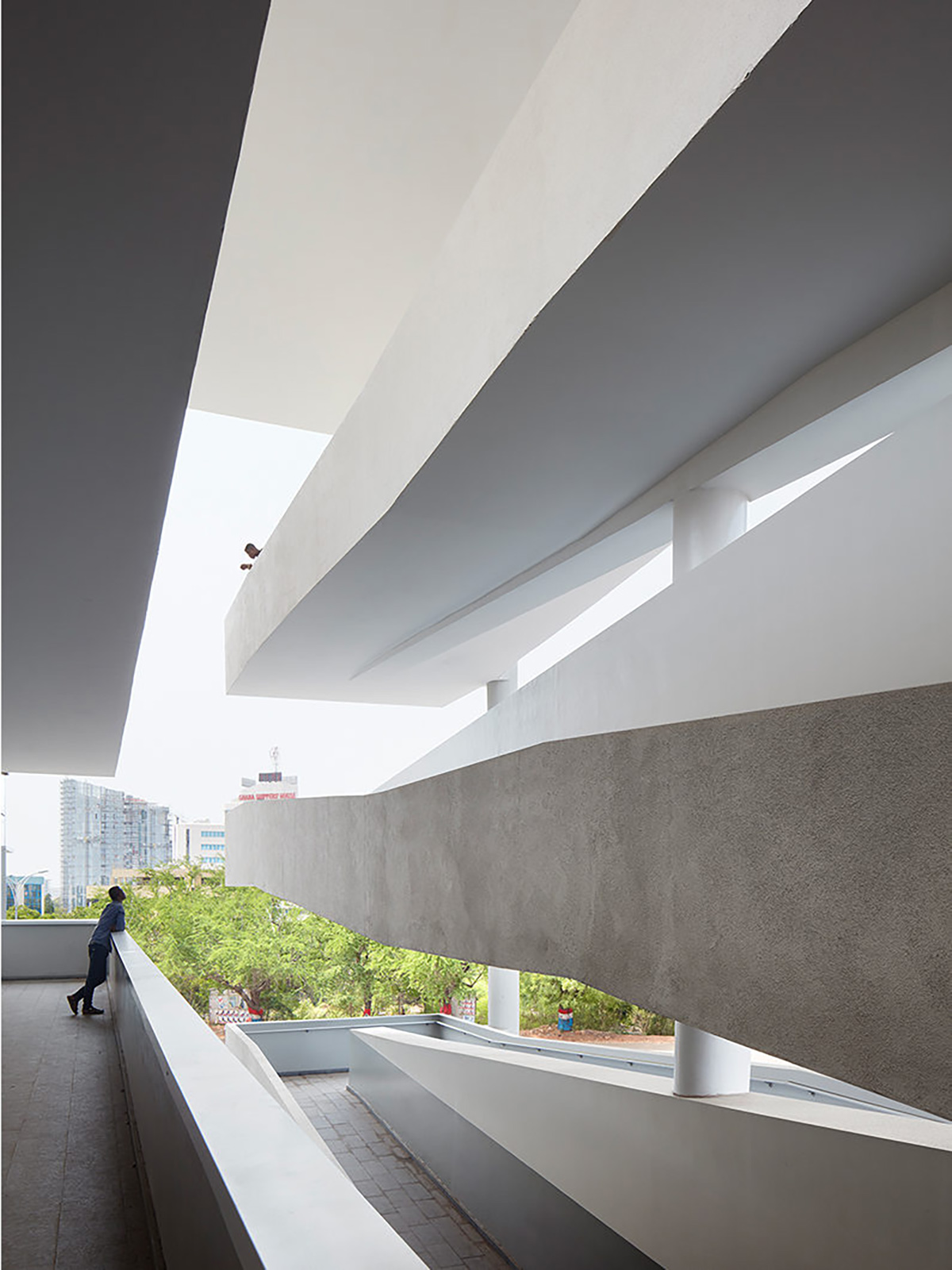 Covered outdoor ramp © Image courtesy of Perkins+Will
The Greater Accra Regional Hospital has become the largest hospital in the country to date. But beyond its monumental appearance, the project is above all very sustainable, which has earned it LEED Silver certification. In fact, it is the first healthcare institution to receive this certification on the African continent.
Easy access © Image courtesy of Perkins+Will
All Images © Perkins+Will
> via Perkins+Will