Sustainability By Design in Subtropical Australia
Sustainable design is a way to minimise impacts on the natural environment, improving the ecosystem and human health. Climate change is one of the most significant human impacts on the natural world and human societies as it is occurring at a global scale, destabilising the atmosphere and oceans worldwide. Therefore it poses significant risks to the natural environment and threatens sustainable human development everywhere. Human uses of fossil fuels for energy, transportation, industrial, and agricultural needs are the major contributors to the elevated levels of carbon dioxide that are currently the main driver of climate change. Reducing carbon emissions is one of the best ways to minimise the impacts of climate change in the long term and reach sustainability. Operating buildings accounts for about 28% of global carbon emissions. Better design that is appropriate to its climatic context can reduce those emissions significantly. Australia has eight climate zones defined by the National Construction Code (NCC), each climate zone needs different design strategies and has different construction requirements. Within this context, Rob Price wrote about a couple who run an architectural practice focused on sustainability who designed their own house in response to the subtropical climate in New South Wales in order to reduce their carbon emissions and other environmental impacts.
Read Rob Price's story with his own description below. The text is published with the permission of Rob Price. "Hidden in the lush forest of northeastern New South Wales near Mount Warning and the village of Chillingham, a talented husband and wife team have been working on environmentally friendly building design solutions for decades. Erwin and Adrienne Weber of Subtropical Solar Design, run an architectural practice dedicated to creating smart, water and energy-efficient buildings. Their creations capture all their water, process their sewage and generate up to 96% of their power. Since the early 1980s, the Webers have been walking their talk, having never been connected to mains power, water or sewage.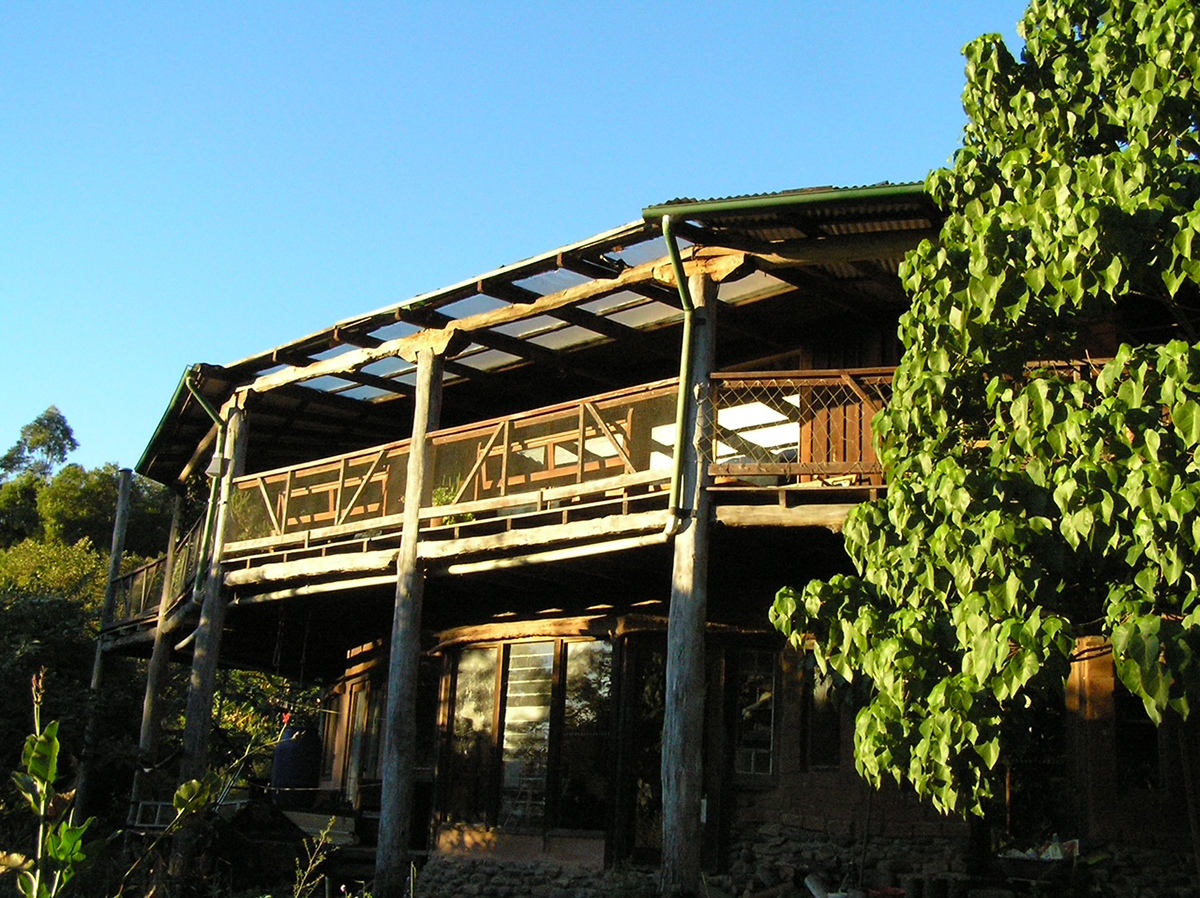 Image © Lui Weber
Image © Rob Price
Erwin and Adrienne, aged 57 and 56, met in Sydney in 1973. They shared a love of the wilderness and art as well as an awareness of the damaging impact society was having on the planet and the need to implement sustainable solutions. With this in mind, they set out to put a socially and environmentally responsible lifestyle into practice.
Driving along with the meandering approach to their home, Erwin points out with genuine excitement that in the early 1980s the lush forest wasn't even here. Through planting over 10 thousand trees, and natural regeneration the 'rundown, weedy, ex-banana farm' as Adrienne describes the land they bought, has been converted to a subtropical paradise.
Image © Lui Weber
Image © Lui Weber
We pull over to be greeted by chickens scratching through a civilized wilderness. Their gazebo and fire pit are landscaped with a profusion of herbs, fruit trees and rainforest plants. As we walk across the ramp to the second storey wrap-around veranda, the impression is Swiss Family Robinson meets Lord of the Rings.
As we enter the house we are greeted by a dramatic northerly view across rainforest-clad mountains through large plate glass windows. Morning light floods the house, illuminating an artistic, rustic, yet elegant interior, decorated with a profusion of impressive paintings and printed wall hangings, all their own work. Erwin and Adrienne are dressed neatly in slightly worn clothing, looking both happy and glowing with health. With enthusiasm, eloquence and no shortage of smiles and playful banter, they point out the impressive number of environmentally friendly features built into their remarkable home.
Ideally, in the southern hemisphere, the long axis of the building with most of the windows should be oriented northward to maximise sunlight penetration in winter and minimise it in summer. In addition to this passive solar orientation, Weber's home incorporates a number of other passive design features to help moderate temperature. These features give them a more comfortable home year-round without fossil fuel-powered heating and cooling.
"The starting point for any smart building is good design," says Erwin.
Image © Lui Weber
A copper-clad 'solar chimney' creates an updraft in summer, drawing cooler air from the lower storey and venting hot air from the vaulted ceiling. Downstairs, mud brick and river-rock walls and an extra-thick concrete slab are set into the hillside. The thermal mass of the building and the earth buffers extremes of temperature in all seasons. Throughout the house, abundant, thoughtfully designed ventilation allows breezes to pass through the house without obstruction when required.
Despite the lack of air-conditioning, which was made obsolete through smart design there is no shortage of mod cons. A television, washing machine, computers and an electric refrigerator all powered from a 1.45 Kilowatt solar system that recharges a battery array. Their hot water comes primarily from a 300-litre solar hot water system and is backed up by a slow combustion wood heater for cloudy days.
Image © Lui Weber
A natural gas generator provides back up electricity at such times, however, with modern solar panels and their large battery array, an impressive 96% of their electricity still comes from the sun. Combine their use of renewable energy and their reafforestation efforts and this may be one of the few Australian families with a negative carbon footprint. As for water consumption, their dry composting toilets and efficient appliances and fittings give them an impressive water use average of 40 litres per person per day, less than a third of the average Brisbane residents' usage. "It is not difficult or expensive to halve energy and water consumption," Erwin says earnestly as we leave the house. "Even 90 per cent reduction of energy consumption is very achievable and a worthy goal".
Anna Keenan, a community outreach officer from the Brisbane office of the Australian Conservation Foundation agrees that reducing energy consumption is not difficult and can actually save us money. "Buildings in Australia account for just under a quarter of the nation's greenhouse emissions," she says '" and with simple energy efficiency measures, this could be cut in half - saving energy and money at the same time." It seems the Webers were ahead of their time, in a carbon-constrained world, with a growing population and water shortages, their style of smart design may be just what the world now needs."
Video © Rob Price
Top image courtesy of yourhome.gov.au.
> via Rob Price