Do we need to go back to the drawing board with respect to Black Displacement in Canada?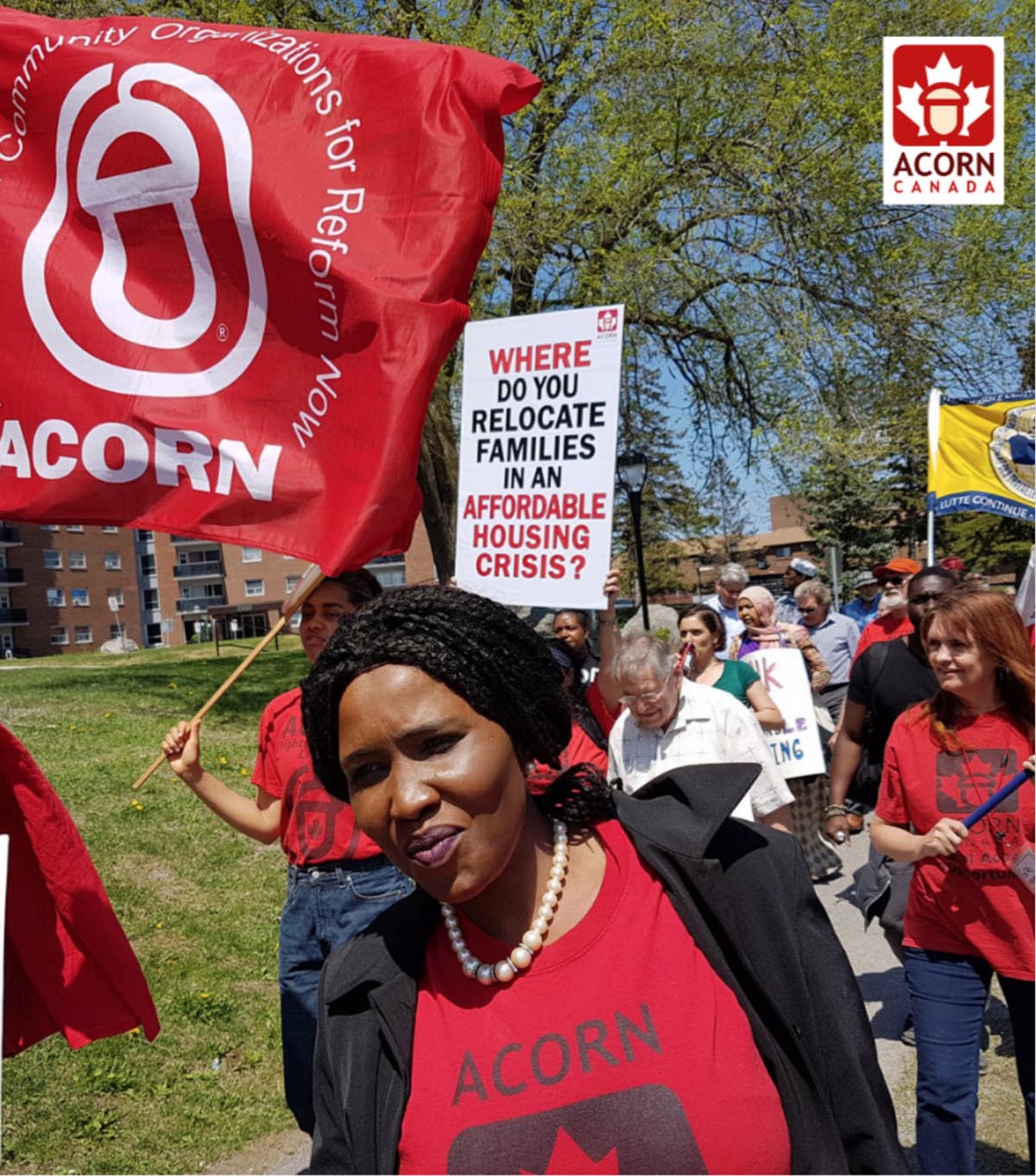 "I had been sleepin there for a long time hwen the Fort Worth police put up no-loiterin signs all over the place and made me have to move my sleepin spot. I found out later some rich white folks was "revitalizin" downtown. Raggedy black fellas sleepin ont he sidwalks wadn't part of the plan." - Ron Hall wrote in the book of Same Kind of Different as Me: A Modern-Day Slave, an International Art Dealer, and the Unlikely Woman Who Bound Them Together.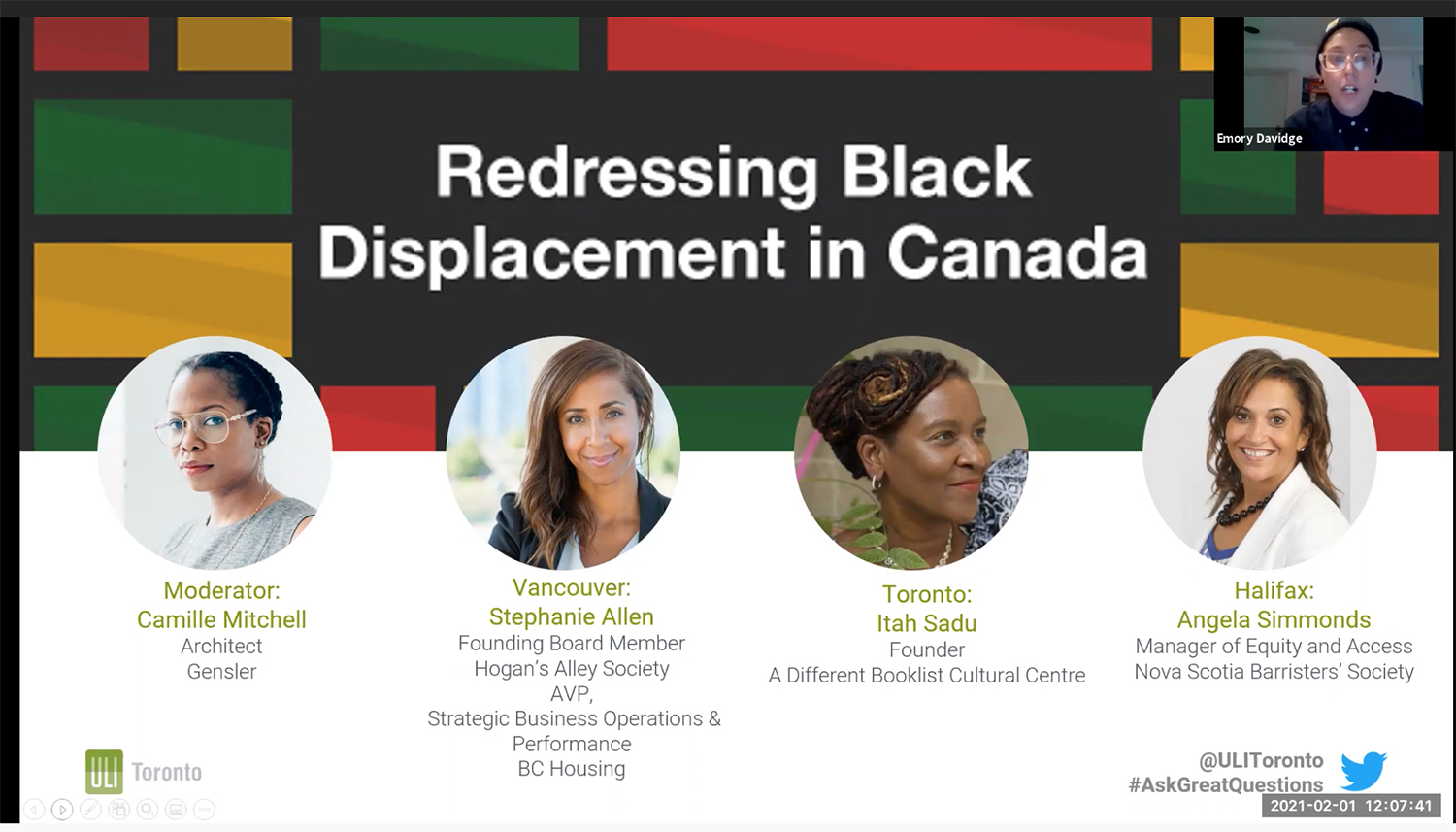 ULI's webinar on Redressing Black Displacement in Canada. Image © Screenshot taken by Roseann (Anju) George.
With the pandemic looming large and the first year of my PhD taking shape, it took a while for me to write about the brilliant talk that was hosted by the Urban Land Institute (ULI) in early February of this year, titled "Redressing Black Displacement in Canada". It was held during Black History Month. I, for one, do not believe that a month is remotely sufficient to celebrate the achievements of Black folk who played an integral role in building the Americas as it stands. Discussions like these are also especially important in light of the atrocities meted out to the Indigenous peoples of this land. Injustices need to be identified and inequities need to be addressed.
Jay Pitter, in one of the panels hosted by the Canadian Urban Institute, quipped that anti-Black racism was lodged deep within the foundation of North American cities. What does it mean to be a non-White person within the realm of urban planning? How do the members of the BIPOC community face discrimination at every nook and cranny? This event brought to the forefront some very real issues and I was extremely fortunate to be privy to an intellectually stimulating conversation.
Sifting through pages of articles that speak to the real issue of racism and discrimination embedded in the world of urban planning, makes my blood boil and I am reminded of why I have taken on the daunting course of pursuing a PhD. Will a White man ever understand what it is to be Black and face the world, when he has been the one who has always been making the decisions and holding positions of power? With mission statements that consist of words like equity and equal access, are urban planners merely checking boxes or are they really interested in the achievement of just outcomes that are realized in the world we live in?
Canadian cities have been defined by colonial town planning principles that have centered the economic prosperity and comfort of White settler populations at the expense of Indigenous and Black lives1. Exclusionary zoning, residential segregation and other racist urban planning practices that amount to systemic racism continue to this day. Multiple studies of North American cities have alluded to the geographic distribution of urban heat islands and tree canopy cover being stratified by race2. As urban planners who practice on the Canadian side of the border, we are quick to affirm that these practices are more pronounced in the United States, because of which we are better off. Brushing off this issue with the aforementioned argument only makes matters worse.
Community anger reflected in this sign. Image © Rene Johnston, Getty Images.
ULI has an unwavering commitment to the overarching purpose of dismantling systemic racism in our communities and institutions. Their discussion brought together leading experts from Vancouver's Hogan's Alley, Toronto's Mirvish Village and Halifax's North Preston, to particularly highlight how the experts' communities endured the effects of urban renewal, and how they were fighting past injustices for the future generations to come. The moderator for the event was Camille Mitchell, an Architect at Gensler.
The panelists were:
Stephanie Allen from Vancouver, British Columbia: Founding Board Member and Hogan's Alley Society & Associate Vice-President, Strategic Business Operations and Performance, BC Housing

Itah Sadu from Toronto, Ontario: Co-Owner, A Different Booklist Cultural Centre
Angela Simmonds from Halifax, Nova Scotia: Manager of Equity and Access, Nova Scotia Barristers' Society
Camille believes that it is extremely important for under-represented groups to be involved with the design of their built environments. As an advocate of equal opportunities at the workplace, she was nominated to join ULI's Women in Leadership Initiative Championship Team.
Camille started off the discourse by raising a very important point about the need for Canadian history to be revisited because of the way Canadians romanticized their Black history by lobbying against the Black neighbours of the South as being 'better than'. She then asked everyone to narrate their stories on the journeys that they had taken to get to where they were now. Each of their stories was compelling because of their unique lived experiences. Their journeys happen to resonate with a lot of us because we, as members of the BIPOC urban planning community, have no choice but to fight these battles every day.
Speakers speaking passionately to the experience of displacement. Image © Screenshot taken by Roseann (Anju) George.
Angela Simmonds and Nova Scotia
Angela's powerful opening remarks spoke to the historic injustices with respect to the involvement and discussion about the supposed promised lands to African Nova Scotians (particularly marginalized folks). She also briefly mentioned the disturbing reality of the British government making empty promises that did not translate to the entitlement or ownership of lands by enslaved people who had travelled to the country to fight for the War. They instead were furnished with a 'Licence to Occupy' that did not provide any clarity on land ownership.
A place reminiscent of the historic injustices suffered by the Black populace
Nova Scotia is emblematic of the Black presence within the Eastern coast of Canada since the 1700s. The Land Titles Clarifications Act was one of the regulations put in place that furthered the arguments surrounding promised lands to the African Nova Scotians (with a special focus on the marginalized communities).
Itah Sadu and Mirvish Village
Proud of her Barbadian roots and her upbringing in a builder's household, Itah's words pierced the audience; she said that she was very much a part of when Canada moved from colonialism to independence and was witness to how the government intentionally gave people lands that were displaced because of the plantation economy.
Where change meant redevelopment
At the intersection of Bathurst and Bloor stands a thriving Black business community known as the Mirvish Village. When the developer turned up in Mirvish Village to bring about 'change', the people of the community did not bow down in fright, but chose to voice out their concerns against displacement and gentrification. Custodian of the bookstore, A Different Booklist, Itah speaks of the store as an organic expression of a cultural centre.
Stephanie Allen and Hogan's Alley
Stephanie's opening statement on her life story was particularly gripping when she said that the North American Real Estate industry is definitely rooted in White supremacy. She furthered her argument by stating that White supremacy is not always explicit, like what happened at the United States Capitol in Washington DC, but is often systemic in nature, that orders people, and puts certain power structures in place that favour some and disadvantage others.
Story of a Black people who were forced out by an infamous land policy
"This community was targeted by land use policy for eviction," Stephanie quips. Hogan's Alley was a Black community that came into being in the late 1800s-early 1900s, where racialized people, as Stephanie points out, "were allowed to live". It was a small vibrant community where the big names of Black Entertainment, like Ella Fitzgerald and Sammy Davis, Jr., hung out after hours.
The panelists' anecdotes were not stand-alone stories, but instead were stories that were connected by a common thread that spoke about the pain suffered by the displacement of Black folks in their communities. Their work was largely influenced by these forced displacements as well.
'Forgotten' lands
Africville, Nova Scotia. Image © The Candian Encyclopaedia.
Camille's first question to the panelists was whether land rights help in the protection of forgotten lands and whether using the term 'forgotten' actually did justice to the issue of communities not getting their due recognition.
Angela took the first stab at answering this question by stating that the legislation behind the Act does act as a guide, but it is, in fact, the people behind the scenes who are essentially the driving force behind the incorrect interpretation and enforcement of the policy, which leads to the exacerbation of the oppression of marginalized communities. She echoed the idea of Community Land Trusts, which was initially brought about by Stephanie, as being an important concept that would help Black folk own lands and keep it that way for generations to come.
Urban renewal and Black displacement
Historic photo of Bathurst. Image © Al Peabody.
Camille's second question about the nexus between urban renewal and Black displacement within the realm of new developments seemed to hit the right note because of its relevance in a developer-oriented Canadian landscape. She asked, "With urban renewal, how can we guide new developments to be mindful of purchasing land so that change can be effected for generational wealth?".
Stephanie responded to the above with the affirmation of slavery being one that was a rights-based property ownership system that excluded Black folk whose lives were considered mortgageable interest. She was convinced that the onus was not on the developers to make a sweeping change in property ownership, but on policy makers to see that communities were being benefited. Itah was very vocal in her argument; she voiced her concerns regarding bringing down the barriers that surrounded the topic of land ownership and Land Trusts.
White folk were quick to make assumptions about Black folk lacking the expertise on the topic. They were also convinced that the Blacks would not be able to find a way around the underlying complexities that revolved around Land Trusts and land ownership. "We can have all sorts of conversations among ourselves, but when we come to a room, we cannot be seen as charitable, or as less than, or as somebody who has been given a hand down," said Itah.
She went on to remind the audience by reiterating that the conversation was a Canadian one about Blackness and not a Black conversation in Canada.
Overpolicing of Black communities
Protesters outside the TO Police Headquarters. Image © Chris Young, The Canadian Press.
Camille's final question spoke to the issue of overpolicing of Black communities and the effect of the same on the work of the panelists.
Political leaders and intellectuals over the years have asserted that Blacks are naturally inferior. They have been termed as savages, and their savagery supposedly intrinsic and immutable3.
Stephanie recited the quote by Jennifer Nelson who wrote at length about Africville in her book. "When we think about the convergence of race and poverty and the fact that Black communities are existing on their own terms in Canada remains inconceivable." Stephanie's choice of words with respect to the policing of Black folks was on point. She said that the lives of Black folks were "surveilled, monitored and criminalized", right from when slavery reared its ugly head. She emphasized the subject of systemic racism by stating that we are in fact the architects of these structures and help reinforce them in more ways than one.
Itah eloquently spoke to the sheer presence of policing that ultimately amounted to a form of intimidation. She also brought up a disturbing, yet realistic truth about Black people not even being considered human. She spoke about several instances of policing within communities. Policing within the Lawrence Heights community on a quiet and tranquil day; policing conducted by the tenants who resided in the condos above the Cultural centre; neighbours of Black folk wanting to move out… The list was endless.
Conclusion
One of the overarching themes of this discussion was a call for Black people to partake in healthy engagement with planners, architects, builders and landowners, when it comes to the subject of development projects that negatively impact Black communities. The panelists' observed that planners and policymakers needed to join hands in the quest for the promotion of an inclusive planning process for all members of the BIPOC community within a colonial planning system. The very first step integral to this happening is the reformation of current land use policies that are largely exclusionary in practice, and the inclusion of communities in the discourse surrounding the improvement of land use policy to accommodate communities in the long-term.
As a social scientist who wishes to change the world in her little way, it is high time that I, along with my fellow urban planning peers, start thinking constructively about how we ought to plan our cities that do not perpetuate inequalities, and celebrate the lives of each and every resident.
References:
1. Maynard, R. (2017). Policing Black Lives: State Violence in Canada from Slavery to the Present. Halifax and Winnipeg: Fernwood Publishing.
2. B. M. Jesdale, R. Morello-Frosch, L. Cushing. (2013). The racial/ethnic distribution of heat risk-related land cover in relation to residential segregation. Environ. Health
Perspect, 121, 811–817.
3. Article on Race. Britannica.
Redressing Black Displacement in Canada. (2021, February 2). [Video]. YouTube. https://www.youtube.com/watch?v=tlNV1C4Cnks
Top Cover Image: Fight Against Displacement. Image © Ottawa Acorn Herongate CBA Report.