ARKxSITE announces winners for Site Tower competition in Alentejo, Portugal
ARKxSITE has announced winners for its Site Tower competition in Alentejo, Portugal. This international one-stage architecture ideas competition invited all architecture students, young architects and young professionals with a degree in architecture studies (≤ 40 years old) to develop and submit compelling ideas for the design of a Site Tower located in the beautiful scenery of Monsaraz, Alentejo, Portugal.
The village of Monsaraz and the great lake of Alqueva are significant landmarks located within a remarkable territory; a beautiful landscape scenery where the remains of the rural hermitage nestled amongst rolling hills with sporadic vegetation and slate stone are notable natural features within this setting.
When generating a vision for an intervention located within such a remarkable place, it was essential that each design proposal emphasises, respects and celebrates the site and existing ruin, while providing a unique and memorable experience.
The Site Tower is a secluded landmark, a place to capture the history of the site and engage with the landscape and beautiful scenery of the Alqueva lake. Mediating between exterior and interior spaces from the ground to the emptiness above, it is an embodied experience of light and air through movement and places of rest; a contemplative journey through memory, time and place.
See the winners with their short jury comments below:
---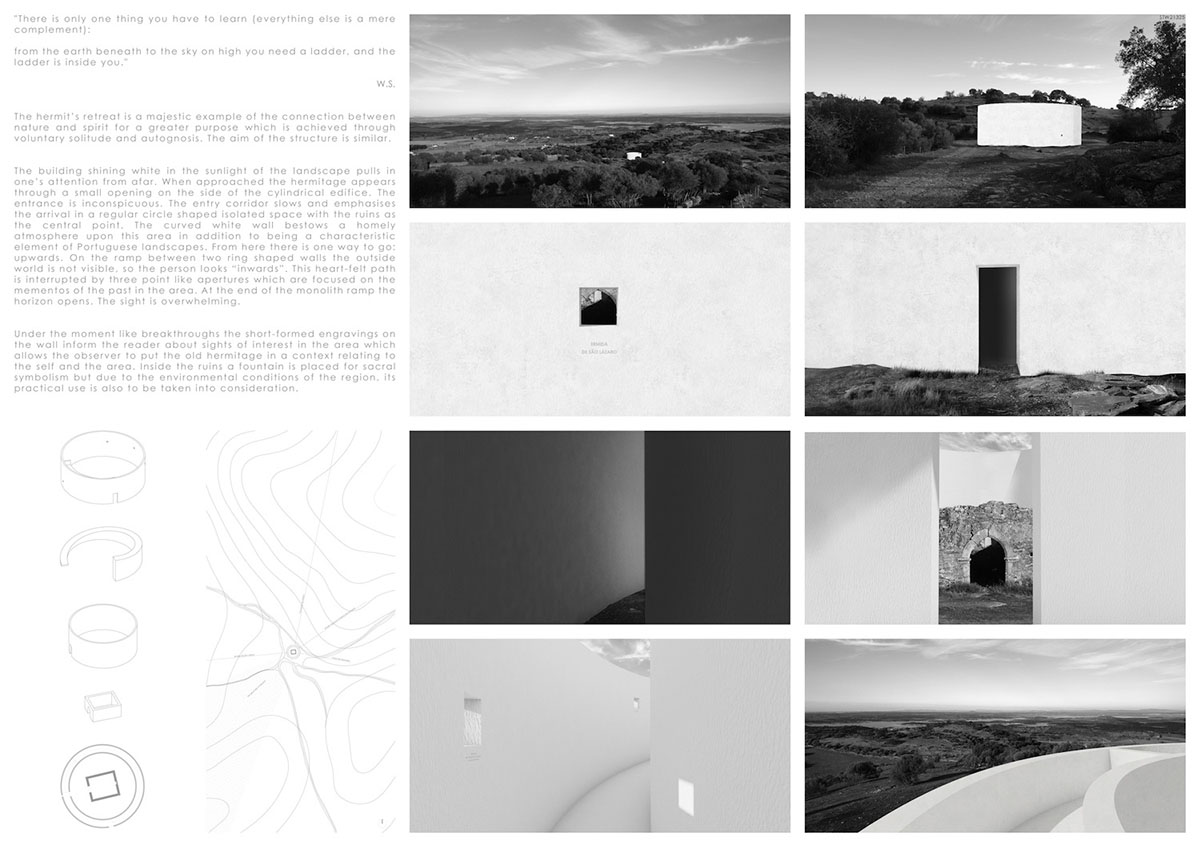 Image courtesy of András Ábrahám-Fúrús and Kata Macsek (Hungary)
1st Prize: András Ábrahám-Fúrús and Kata Macsek (Hungary)
Jury's remarks:
"An essential, sober, clean, simple project. Makes a perfect reading of the territory understanding to avoid impact. Look for an architecture of the territory, of reduced scale. Both the occupation strategy and the architecture itself are a good result of understanding the context.
The simple but striking geometry and the careful placement of openings create a structure with a strong narrative. Visitors are guided on a poetically choreographed path from arriving at the site to encountering the old hermitage to finally look out at the surrounding landscape.
A cohesive project that understands and approaches the guidelines in a very clear way. Its architecture allows the user to remember its own history and provides the space, path and voids to merge this individual memory into the sites own history.
Congratulations!"
Image courtesy of Pablo Briceno, Gabrielle Chapuis and Valentin Rozier.
2nd Prize: Pablo Briceno, Gabrielle Chapuis and Valentin Rozier (France)
Jury's remarks:
"An intervention contained in forms and respectful of heritage. Find simple elements to tie the tower to the context. It applies an occupation logic arising from a perfect reading of the territory. It generates a system of references in which it manages to make a unitary project of the entire territory.
The series of concrete additions to the hermitage and in its surroundings provides a rich palette of different experiences without putting the old structure in the background.
The way that this project approaches the assignment honors the context's history, it accentuates the pass of time though the path it proposes, with spaces – that are always aware of its surroundings- dedicated to reflect and contemplate.
Congratulations!".
Image courtesy of Francisco Silva and Barbara Stallone
3rd Prize: Francisco Silva and Barbara Stallone (France)
Jury's remarks:
"A radical and austere intervention in forms. Seeks to be able to observe the territory. For this, it rises radically by making an alien element but perfectly embedded in textures and materials. The tower is within a perfect scenery.
The bold new additions created from materials on site provides a new perspective on the old hermitage and a direct connection to the elements.
A project that is not afraid of integrating to its context and that is not scared either of becoming part of this context and merge through time with its surroundings. It propitiate the ruin and it uses light and the human scale to find a place in our collective memory.
Congratulations!."
Honorable Mentions
Stefánia Janka Jaczkó, Ágota Gunther,
Zsuzsa Madarász and Franciska Márki (Hungary)
Marcel Bodenhausen and Magnus Reich (Germany)
Axel Burkhard and Gamisch Janis (Germany)
Kevin Sweeney (Ireland)
Xavier Loureiro (Spain)
Greta Curati and Marilde Bianco (Portugal)
Monika Marinova and George Allen (Bulgaria)
The jury composed of Björn Förstberg + Mikael Ling (Malmö, Sweden) _ Förstberg Ling, Daniel Villanueva + Miguel Valverde (Guadalajara, México) _ V taller, Pablo Millán (Sevilla, Spain) _ Pablo Millán | Estudio de Arquitectura
Read more about the winners on ARKxSITE's website.
> via ARKxSITE