Kengo Kuma & Associates completes suspended cocoon-like family house on Jura Mountains
Kengo Kuma's firm Kengo Kuma & Associates has completed a suspended family house at the foot of the Jura Mountains in Switzerland, close to the deep forest.
Named Suspended Forest, the cocoon-like house is lifted from the from the ground and wrapped by wooden envelope and special facade system that is made of white steel plates for waterproofing.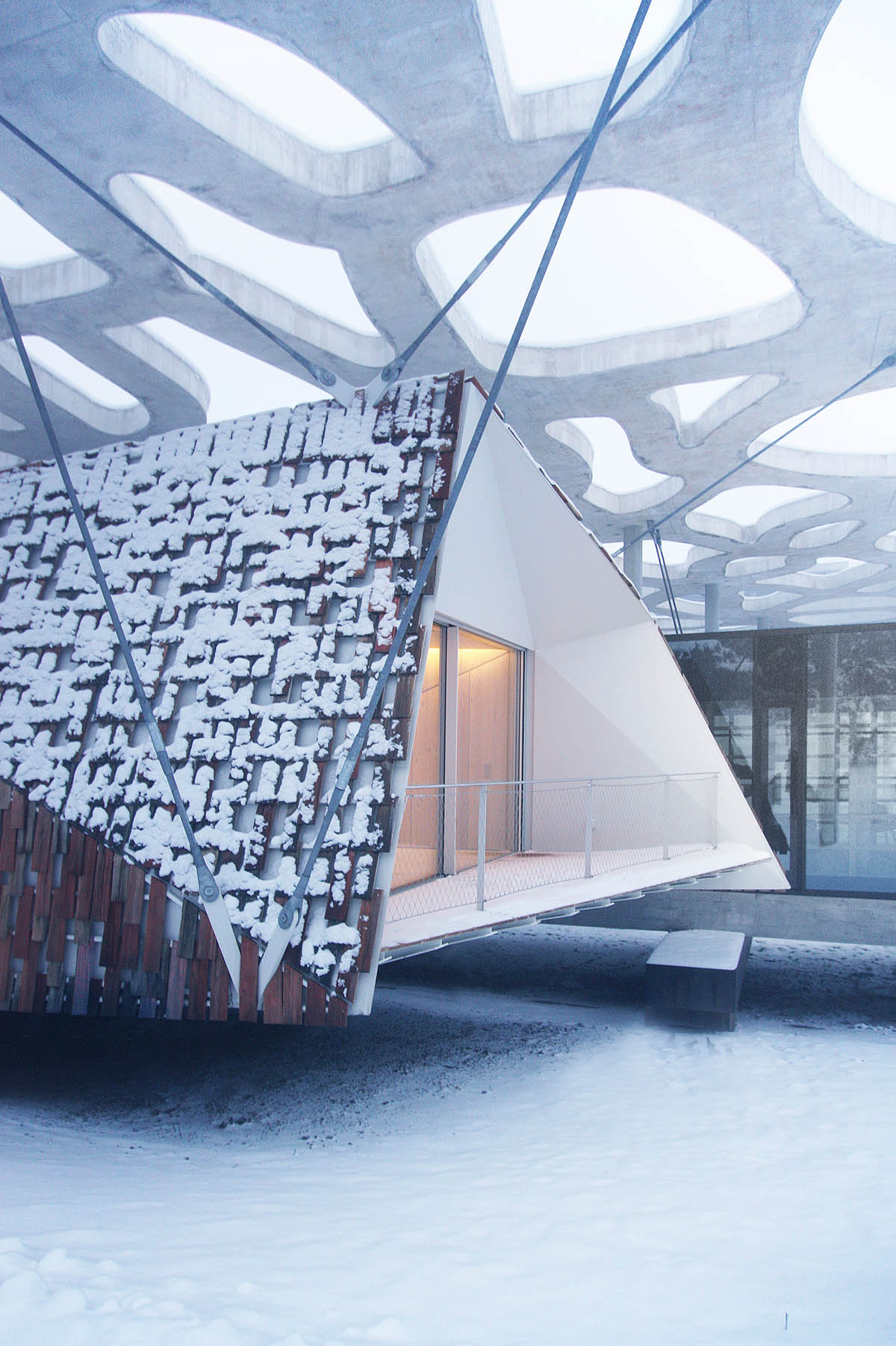 The house is perceived as a floating sculptural structure that is suspended from the existing concrete canopy already part of the foundation. The house looks like a shining architectural element within this canopy.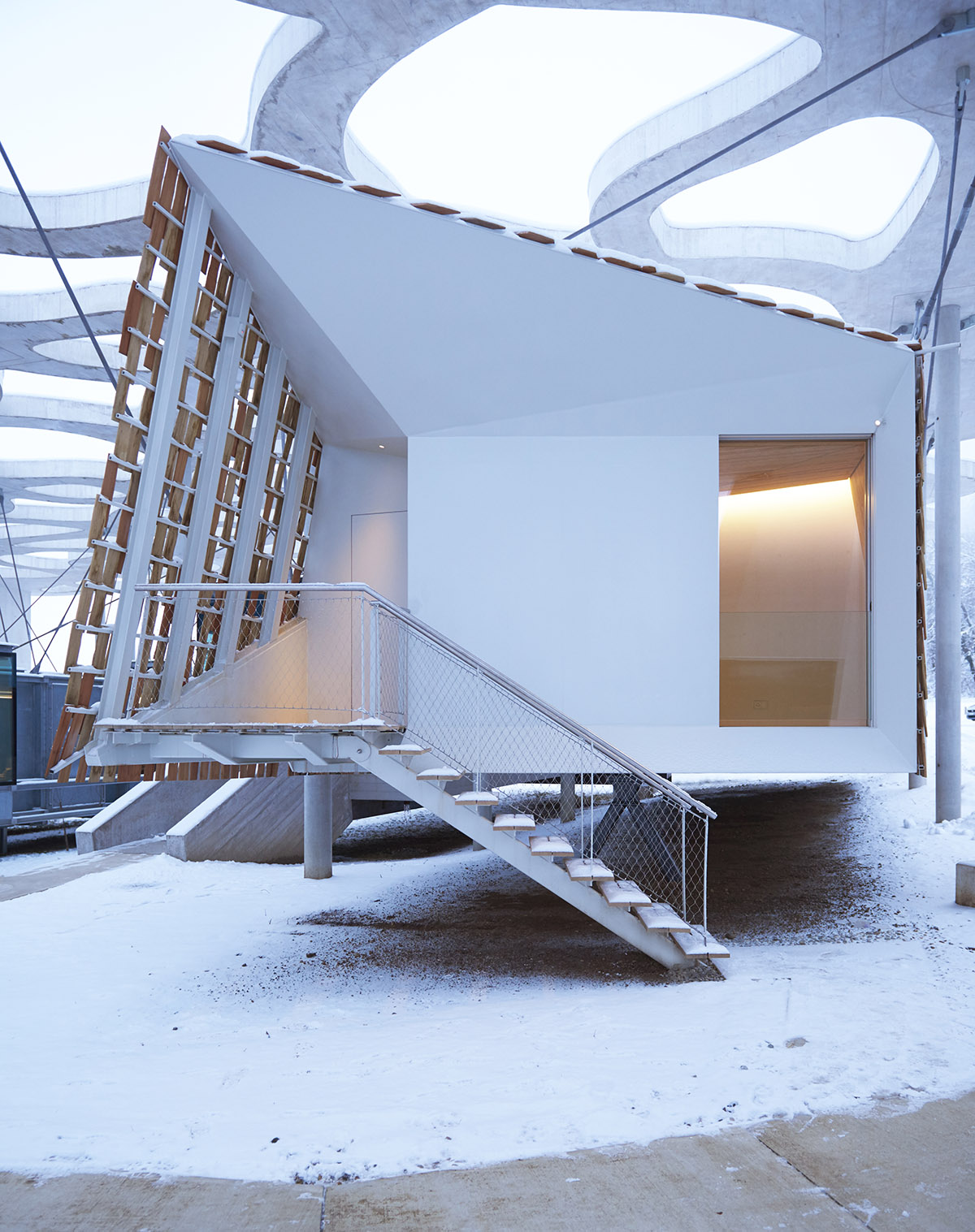 The elongated family house was designed for the Jan Michalski Foundation, established for Writing and Literature by Vera Michalski-Hoffmann in 2004 in Montricher. The Foundation's mission is to foster literary creation and the practice of reading.
"It was our intention to organically relate the different spaces of the house. We designed a cocoon-like, gradual and continuous space containing all the functionalities," said Kengo Kuma & Associates.
The house is comprised of a long corridor running from the entrance to the main living space, where the floating balcony connects the interior with the surrounding environment. Then lateral apertures let the light come into the house.
The architects obtained this non-parallel shape from triangular polygons to achieve higher rigidity as structure. The house is suspended from the vertex and fixed to pre-defined points around the columns of the concrete canopy.
The entrance staircase is also suspended from the main structure. To reinforce the idea of a wrapping space, plywood panels in larch are coating the interior walls and ceilings, as a negative of the exterior wooden façade.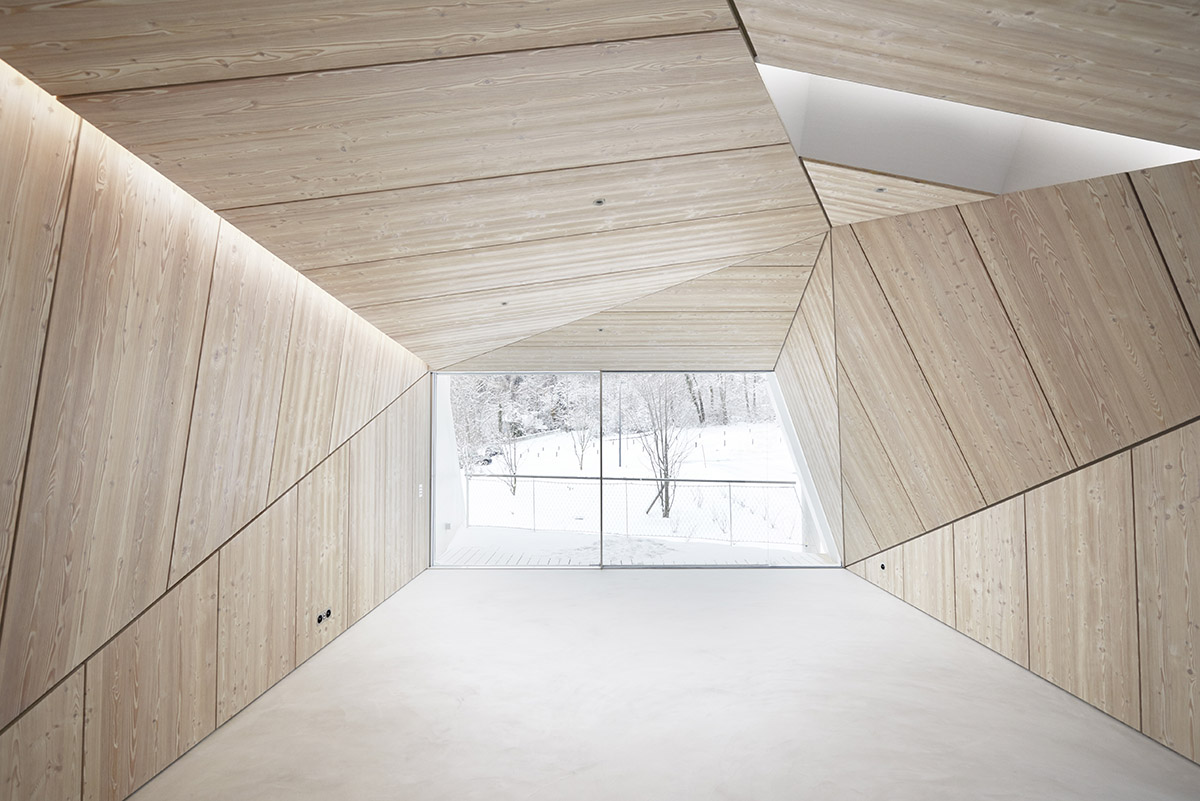 Kengo Kuma is known for his innovative use of local materials for any type of buildings. Kuma, once more, reinterpreted the traditional wooden roof systems with a new implementation.
Working together with a local craftsman to bring off a contemporary expression of the traditional wooden roof and facade system, Kuma's office transformed this covering into a filter system.
The house is covered by white steel plates covering the main structure and they are also used for waterproofing. The sparkling view of the house is provided by wooden pieces onto the panels and the each one of the wooden pieces is manually cut and comes from local forests.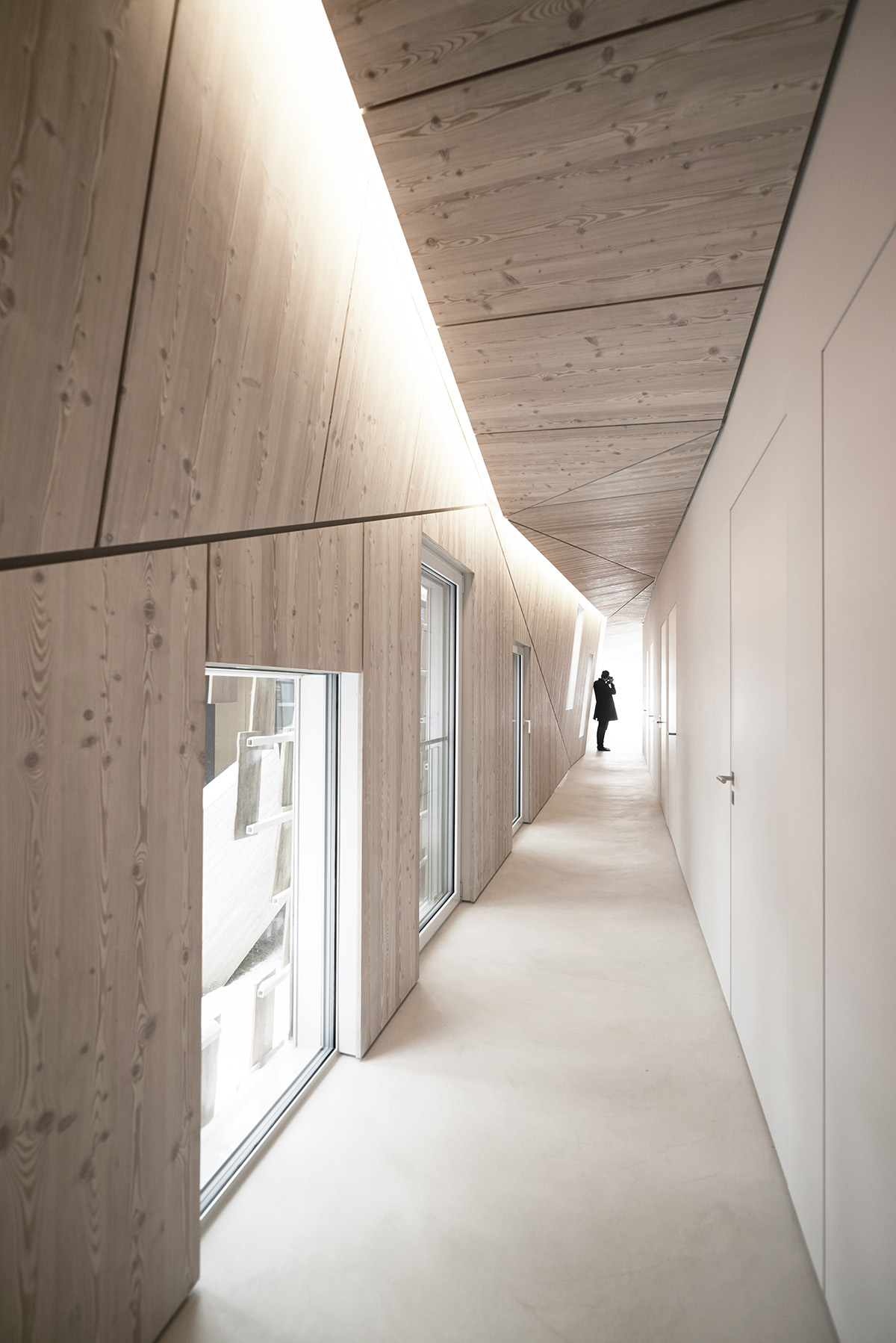 "We worked with two different species and two different dimensions, 120x300 mm for the oak and 120x500 mm for the larch, placed in checkered pattern which is altered in a random and organic way," said Kengo Kuma & Associates.
"We chose to not treat the wood so it will age with the house, generating shades diversity in the façade, depending on the sun, rain and snow exposure," added the firm.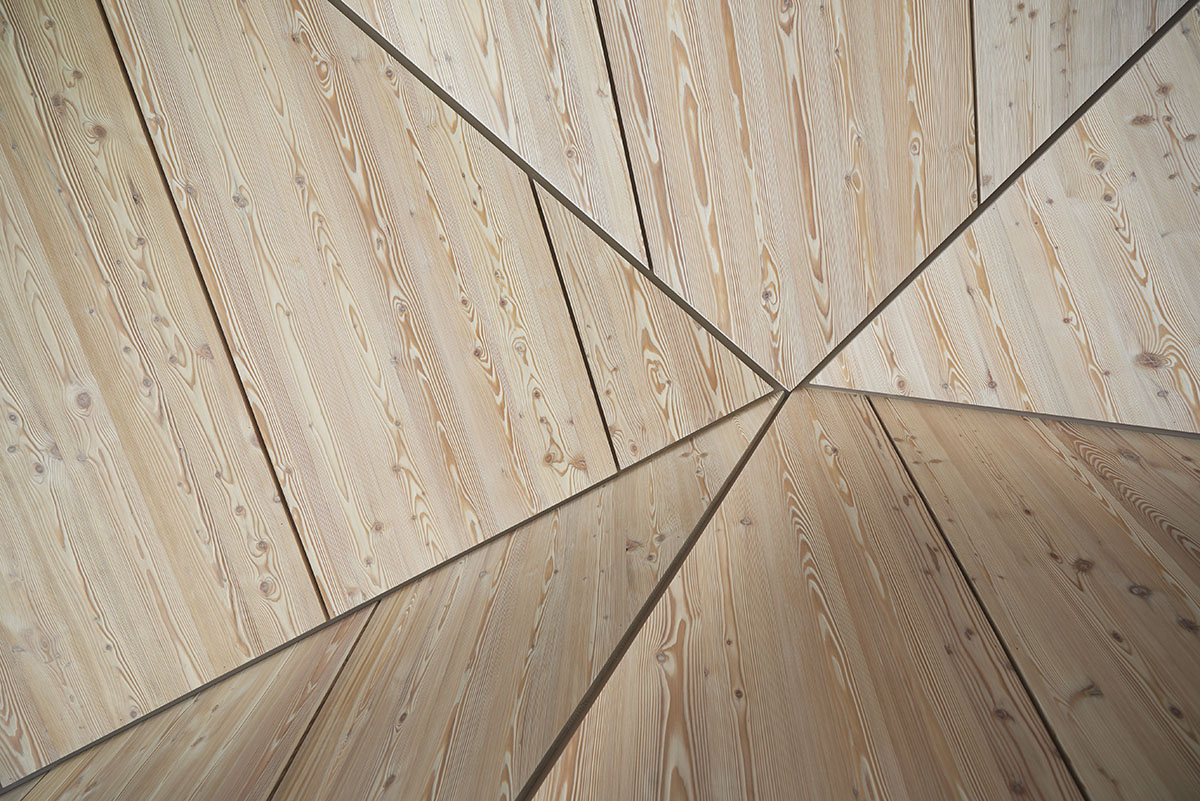 Site plan. Image © Kengo Kuma & Associates
Ground floor plan and roof plan. Image © Kengo Kuma & Associates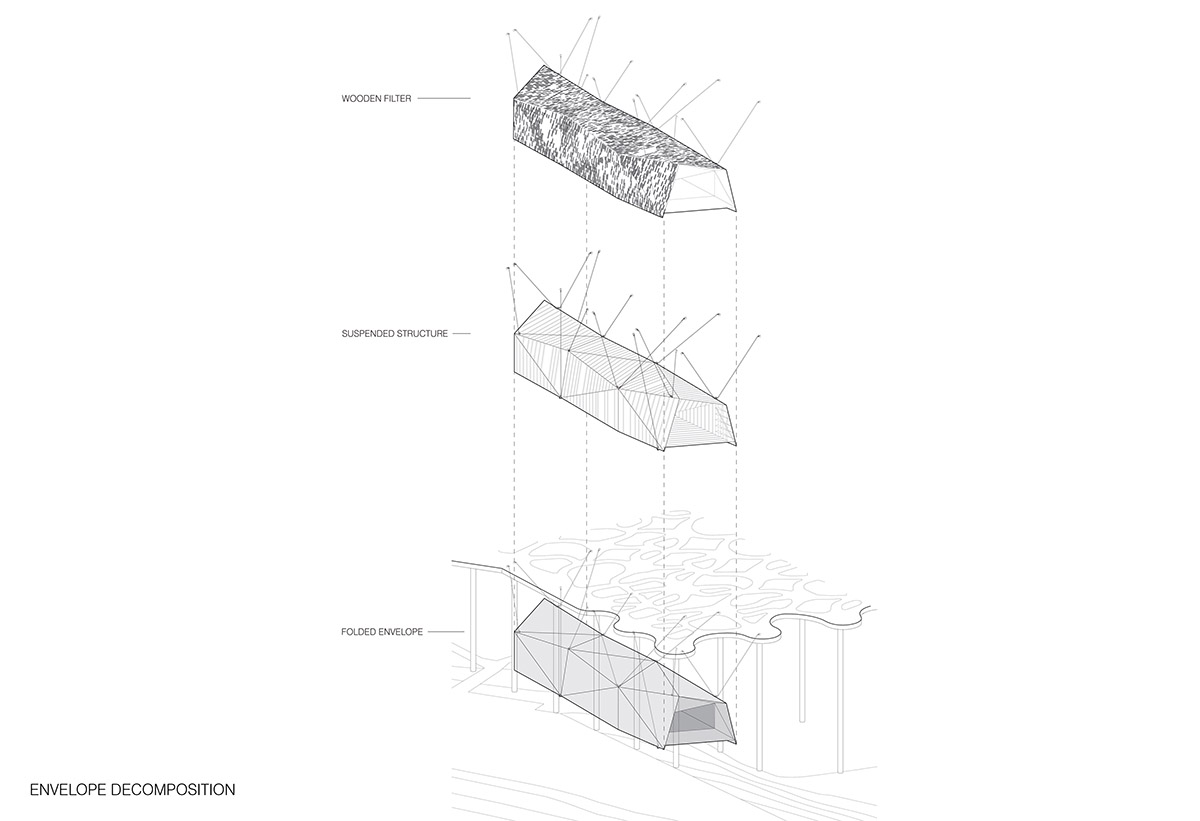 Envelope decomposition. Image © Kengo Kuma & Associates
Facade principle. Image © Kengo Kuma & Associates
Project facts
Client: Jan Michalski Foundation
Architect: Kengo Kuma & Associates, Kengo Kuma, Matthieu Wotling, Silvia Fernandez, Paolo Amato
General contractor: Losinger Marazzi
Structural engineer: Muttoni & Fernandez ingénieurs conseils
Mechanical engineers: Sorane (HVAC), Louis Richard ingénieurs conseils (Electrical engineers)
Craftsman for exterior wooden tiles: Olivier Veuve
All photographs © CAPimages, courtesy of Kengo Kuma & Associates
> via Kengo Kuma & Associates