Stefano Boeri Architetti designs Albania's first Vertical Forest Tower in Tirana
Italian architecture firm Stefano Boeri Architetti has unveiled its new vertical forest tower for Tirana, which will be the first vertical forest of Albania as part of a masterplan.
Stefano Boeri is known with his vertical forest concepts proposed in many cities of the worlds, including Italy, Netherlands and Paris. The project, named the Tirana Vertical Forest, will be the latest addition to his green concept varied with 3200 of shrubs and bushes and 145 trees on its façade.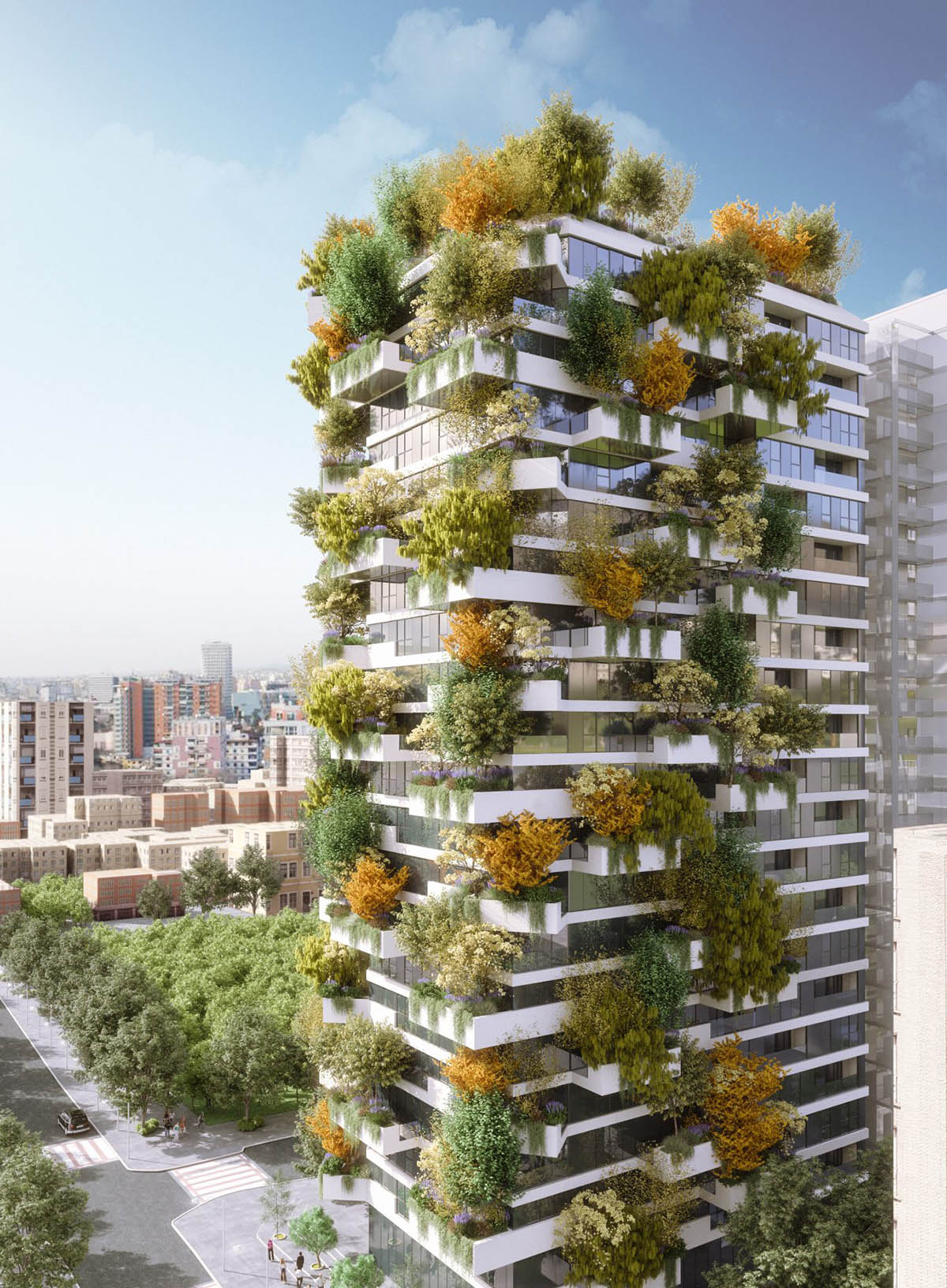 The project is envisioned as part of the new Development Plan designed 3 years ago by the Milanese office, that envisages a significant containment of the usage of the land in the metropolitan area and a substantial increase in the green and wooded surfaces around and in the city.
The proposed tower will rise in the city centre near Mother Teresa Square, one of the endpoints of the historic Dëshmorët e Kombit Boulevard, in the area of the Grand Park of Tirana (Parku i Madh i Tiranë).
Stefano Boeri's new structure faces the blind façade of a building to then "open like a flower" with its three green sides towards the new Stadium and Mother Teresa Square, thus completing the new skyline of the city.
The Vertical Forest of Tirana will reach 21floors with 4 additional underground levels that, above a mainly commercial ground floor, will host 105 apartments.
"We have worked on the theme of the façade, overturning the convention in which the main façade of each building is the longest, and completely opening the short side of this new Vertical Forest towards the city," said architect Francesca Cesa Bianchi, Project Director of Stefano Boeri Architetti.
The entire façade of the tower is completely glassed and composed of floor-to-ceiling windows to maximise the relationship with the green and with the view of the city. The first Albanian Vertical Forest will host more than 3200 of shrubs and bushes and 145 trees for a total of more than 550 square metres of green surface that will increase the biodiversity of the living species, contributing to the generation of a new urban ecosystem.
The plant biomass will mitigate atmospheric pollution by absorbing CO2 and fine particles, producing oxygen and contributing to the creation of a healthier microclimate.
Boeri will work with botanist and landscape architect Laura Gatti on this project. "Tirana is a Mediterranean capital, which is why we have chosen different essences typical of this particular ecosystem for the first Albanian Vertical Forest; shrubs characterised by a very vivid green colour and brightly coloured flowers in yellow and violet, as well as scented plants, such as myrtle and rosemary," said botanist and landscape architect, Laura Gatti.
Project facts
Project architect: Stefano Boeri Architetti
Partner: Stefano Boeri
Project director: Francesca Cesa Bianchi
Project leader: Paolo Russo
Team: Daniele Barillari, Jacopo Colatarci, Elisa Versari, Andrea Zucchi Botanic consultant: Studio Laura Gatti
Engineering consultant: SCE Project
MEP consultant: ESA engineering
Executive design: SCE Project
Structural engineer: LEAL-CSE
Hydraulic system design: Artan Dersha
Mechanical system design: Gener 2, Diana Brahaj
Electrical system design: Zavalani Consulting
Fire protection system design: Artan Dersha
Local architect: Gener 2
All images © Stefano Boeri Architetti
All drawings © Stefano Boeri Architetti
> via Stefano Boeri Architetti